First Impressions at the Queens DA Forum
Lugo Arrives Late, Katz Leaves Early, Nieves Rambles, Lasak is Most Experienced in the Current Way of Doing Things, Lancman is an Articulate Politician Who was Knowledgeable but not Experienced, and Caban seemed Articulate, with Relevant Experience & a Vision for the Future
April 29, 2019 / Jackson Heights Neighborhood / Queens Neighborhoods / Queens Politics & Government / News Analysis & Opinion / Queens Buzz NYC.
I attended a forum for the candidates running for the Queens District Attorney's Office at the Jackson Heights Jewish Center in Queens this evening.
Six candidates came to the Meet the Candidates forum for the Queens District Attorney at the Jackson Heights Jewish Center on Monday night. The center was filled with folks interested in learning more about the candidates seeking to replace outgoing Queens District Attorney Richard Brown, who has occupied the office for nearly 30 years [1991].
To many the Queens District Attorney's Office is in dire need of reform. Others cite the generally low crime rates in Queens in the outgoing District Attorney's defense.
Two Local Politicians & a Private Practice Attorney Vie for the Job
Two politicians, Queens Borough President Melinda Katz and NYC Councilmember Rory Lancman, are running for the office, presenting themselves as reform candidates, who don't have any experience as criminal prosecutors or defenders - but who have borough-wide name recognition, political connections and wealthy donor contributors - who claimed that the first two of these three characterizations, will enable them to reform the system. Unlike the other three candidates present at the forum [Lugo came late and hence we have no response from her], these two politicians said they do accept contributions from Political Action Committees or Real Estate Developers. And both of these candidates, in additon to their government experience have also - for a time - been practicing civil [not criminal] court attorneys.
Another candidate, Betty Lugo, has criminal justice experience that seems to have started and ended in the 1980's. Ever since she has been a partner in a Latina law firm, and according to her website, she seems to be a well connected attorney who participates in a multitude of organizations.
The Candidates Who Have the Education, Experience & Careers Working in the Criminal Justice System
I found one of the candidates, Jose Nieves, to be a sleepy speaker, seeming to take us in the audience on a circuitous journey before making his point - if a relevant point was ever made at all. But I visited his website and he has what looks to be a solid resume, with relevant education and experience including eleven years experience working in the Brooklyn DA's Office [ending in 2011]. Since then, Nieves has done several two to three year gigs with the FAA, the City Department of Corrections and the NYS Attorney General. But on the night I saw him, that knowledge and experience didn't seem to come through.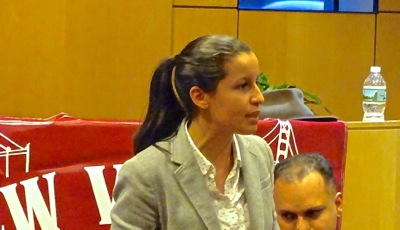 The two candidates that most impressed me were former Judge Gregory Lasak, who has 35 years experience working in various capacities in the criminal justice system. He seems very well qualified.
And last but not least, Tiffany Caban. Tiffany Caban introduced herself as a gay attorney, with seven years experience as a Legal Aid attorney and Public Defender who has tried over 1,000 cases. She says she wants to reform the justice system by using the Queens District Attorney office to address and correct the behavior of small time offenders, so she can shift resources to go after the real criminals in society who oftentimes get off free.
Harassment Landlords are a Repeated Topic of Conversation
One group of offenders, harassment landlords, was highlighted several times during the forum. These landlords attempt to harass tenants out of the rent stabilized apartments in their buildings, so the landlords can take possession of the rent stabilization benefit that is rightfully the tenants - not the owners' - and make outsized illegal profits by monetizing the government benefit as their own. It seems to me that harassment landlords are guilty of attempted grand larceny - given that the differential value of a rent stablized apartment vis a vis a similar free market apartment - can easily be worth a quarter to a half million dollars per unit over a ten or twenty year time period.
There are three more Queens District Attorney forums this week, and several more in May - including a debate on May 15th at the Jamaica Performing Arts Center.
---
First Impressions at the Queens DA Forum
Lugo Arrives Late, Katz Leaves Early, Nieves Rambles, Lasak is Most Experienced in the Current Way of Doing Things, Lancman is an Articulate Politician Who was Knowledgeable but not Experienced, and Caban seemed Articulate, with Relevant Experience & a Vision for the Future
April 29, 2019 / Jackson Heights Neighborhood / Queens Neighborhoods / Queens Politics & Government / News Analysis & Opinion / Queens Buzz NYC. Continued.
On Tuesday, April 30th, the next Queens District Attorney forum will run from 6.45 - 9 pm at Bellozino's Party Hall on 72-11 Roosevelt Avenue in Jackson Heights.
On Wednesday, May 1st, there's a Queens DA forum at the Queensbridge Houses at the Community Center at 12-11 40th Avenue in Long Island City.
On Thursday, May 2nd, there's a Queens District Attorney candidates forum at the Museum of the Moving Image at 36-01 35th Avenue hosted by the [NFL] Players' Coalition beginning at 6.30 pm in Astoria.
There are other forums in between here, which we'll list next week.
On Wednesday, May 15th there will be a debate from 6 - 9 pm at the Jamaica Performing Arts Center at 153-10 Jamaica Avenue in Jamaica. You may obtain a free ticket at Eventbrite.
Note that there's a seventh candidate, Mina Malik, who did not show for the forum.
---
Jackson Heights / Elmhurst Related Info
$element(adman,groupad,Catgry Realestate)$
Click this link for promotions, discounts and coupons in Jackson Heights, Corona and Queens.
Click this link to go to the Jackson Heights & Elmhurst Neighborhood News / Jackson Heights Restaurants / Jackson Heights & Elmhurst Shopping.
---
$element(adman,groupad,NHoodJHTS)$
Site Search Tips. 1) For best results, when typing in more than one word, use quotation marks - eg "Astoria Park". 2) Also try either singular or plural words when searching for a specific item such as "gym" or "gyms".
$element(bwcore,insert_search,N)$
Click this link to search for something in our Queens Business Directory.
---
$element(adman,groupads,Sectional Ad)$
---
Click the log in link below to create an ID and post an opinion.
Or send this story to a friend by filling in the appropriate box below.
---