Rossi Tops Charts With Retro 60's Show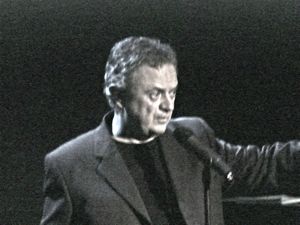 Flushing Meadows Corona Park / Queens NY / December 7, 2008. Sam Rossi's 60's Chart Toppers completed its weekend run at Queens Theatre In The Park on Sunday. The show stayed true to its billing as most of the music came from the hits of the sixties. Sam's show was a medley of performances, albeit in what was essentially a one man show. In the beginning I felt as if I was sitting in a sixties night club as Sam belted out a few of the oldies, accompanied by Wells Hanley on the piano. More on this event has been posted below.
---
The 60's Chart Toppers Continued
Flushing / December 7, 2008. I had the opportunity to see Sam Rossi at Queens Theatre In The Park on Sunday performing in his first solo act since 2003. He's been performing in various venues as a supporting vocalist, but only recently put together this collection of tunes for a solo vocals act. He was supported by Wells Hanley on the piano, with whom he collaborated on the project over the course of several months.
Live Music By Local Artist
Sam's performance reminded me of a sixties era night club act. The kind Frank Sinatra might have done many years ago. Sam did a nice job of singing the songs and also provided a running commentary, which included the history and context of the songs he sang.
Musical Lore Mixed Into The Performance
Rossi referenced the 'British Invasion' which refers to the musical and cultural invasion by the Brits into American in the sixties. The Beatles, Rolling Stones and a number of other pop and rock groups are associated with this cultural change. Sam infused his emotions into many of the tunes he sang, one of which was "The Joke Was On Me", written by the Bee Gees. Rossi noted that the Bee Gees were also a part of the British invasion, although they are frequently more closely associated with disco in the seventies.
During intermission, I heard one woman exclaim, "Oh, what a voice!" as if she'd just seen Tom Jones perform at a night club. I felt a bit like I was back in the seventies. For those not familiar with Tom, he wore tight seventies era pants, swung his hips and sang with a deep rich voice that made the women swoon. Although she was possibly too old to be interested in starting a Sam Rossi fan club, the way she made the statement caused me to believe that, were this years ago - she might have.
Willie Mosquera - Singer / Guitarist
After the intermission, Willie Mosquera performed a couple of solo pieces for us. The first was written referencing his father who had once told him that, "Could I do things all over again, I would do some things differently." The song is called 'Differencia' and was sung in Spanish, while Willie played guitar. Willie's solo performance had a Spanish folk flavor to it. Sam then joined Willie on stage to perform a duet of 'Words Are All I Have To Take Your Heart' and a spanish Chart Topper called Sandra which was an old fashioned Spanish cantata.
This was followed by Sam performing several of his own musical compositions, one of which was first written by him in his childhood. Although edited from time to time over the years, it remained intact about his boyhood crush on Diana Ross of the Supremes. He had another one about the trailing arbutus, which is the Massachusetts mayflower and another one about a strange man. Sam sang some Diana Ross and other Motown tunes to which he added a sort of emotional and dramatic flair.
Piano Accompanist – Wells Hanley
Rossi's performance was a mix of musical theater, drama and night club act. There were some instances in which he sang his heart out, so much so that he shed the microphone so that he did knock us over in the Studio Theater. And toward the end, Rossi paid tribute to his piano accompanist, Wells Hanley.
Queens Theatre In The Park – Studio Theater
His performance was given in the Studio Theater, which seats around 80. The audience was comprised mostly of couples and of parents with children. My audience guesstimate is that the theater was somewhere a bit south of half full, on a cold December Sunday afternoon. Sam, Wells and Willie all did a nice job of entertaining the audience. The only thing missing was a double martini shaken not stirred and a beautiful woman sitting next to me at my night club table.
Queens Theatre In The Park / Flushing Queens NY - Related Links
Click here for a map showing the location of Queens Theatre In The Park in Flushing Queens NY. Click this link to obtain the contact info and website url for the Queens Theatre In The Park in Flushing Queens NY. Click here for related stories including Jerry Stiller at Queens Theatre In The Park, Kevin Bacon at Queens Theatre In The Park, and Legislative Revue at Queens Theatre In The Park.
Click this link to go to the Flushing & Corona Neighborhood News / Flushing & Corona Neighborhood Guide and Map / Flushing & Corona Restaurants Guide & Map / Flushing & Corona Shops Guide & Map / Queens & Flushing & Corona Events / Flushing Business Directory / Flushing & Corona Shop Announcements.
RETURN LINK TO Queens Buzz Front Page.