---
Click the heading above to view social issues events this month in Queens. Click the following links to go directly into one of these Queens Neighborhoods: Astoria, Flushing, Jackson Heights, Jamaica, Long Island City and Sunnyside.
---
A Look Inside Renaissance Charter School
One Of The Finest & One Of The First NYC Charter Schools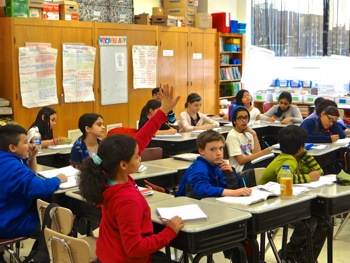 February 23, 2015 / Jackson Heights / Queens Schools / Queens Buzz.
I spent parts of a couple of days at the Renaissance Charter School in Jackson Heights recently. One of the visits was to hear testimony given by the community with respect to renewing the school's NYC Department of Education charter. The second visit was to tour through the school to view the classrooms, facilities and become aquainted with the curriculums. What follows is an account of these visits, supplemented by a bit of outside research into ongoing debate and battle about the role of charter schools in the NYC public school system.
I arrived around lunchtime and met Peggy Heeney of the Development & Outreach department of the school. After a brief orientation and discussion about the tour upon which we were about to embark, we headed toward the back of the building on the first floor of the school. The Renaissance Charter School is located just off 37th Avenue at 81st Street in Jackson Heights.
Peggy told me that the building was previously a department store and that the school had moved into it several years after its founding. She informed me that the Renaissance School actually preceded the incorporation of charter schools in the NYC public school system in the 1990's.
We'll have more later this week about the Renaissance Charter School in Jackson Heights.
---
Affordable Care Act Insurance Deadline
February 15th Is Final Day To Begin NYS Insurance Enrollment
Deadline For Enrollment Completion Extended To February 28th
Updated February 15 / February 12, 2014 / Manhattan Healthcare / Gotham Buzz.
New Enrollments For ACA Health Insurance Ends February 15, 2015. Those who have begun the enrollment process by February 15th will have until February 28th to complete them. The deadline is February 15th to begin an enrollment. We received reports that many folks were having difficulty in getting through to a telephone operator, so it looks like there was a spike in demand near the deadline, which also happened in 2014.
On Saturday, NY State of Health extended the enrollment deadline by two weeks to enable those who do not complete their enrollments by Sunday, February 15th. Hence, enrollees now have until February 28th to complete enrollments in the New York State health insurance plans associated with the Affordable Care Act. It's worth mentioning that the NY State Of Health does not have operators available on Sunday and that they are only available Saturday from 9 am - 1 pm.
Enrollment On Target With Government Incentives. According to recent national news services, there were already 9.5 million enrollees in the Affordable Care Act plan as of a few weeks ago [mid / late January 2015]. The total enrollment target nationally for this year is 10.5 million. Last year the New York State of Health - which runs the NYS Affordable Care Act enrollments - signed up nearly 371,000 people. There were reports in January 2015 that the number of NY State of Health enrollees has grown this year. We also understand that the folks who enrolled last year and are currently participants in a plan will be automatically renewed in their Affordable Care Act Health insurance, so they are not required to update their enrollment with the state. But that said, they must renew their status with their health insurance provider around the time of the anniversary of their enrollment.
One news site recommended that folks already enrolled in the plan ought to review and update their enrollment to make sure they want to stay with their present insurer, and that they fully understand the tax consequences of their healthcare choices.
Tax Penalties 2015. One report noted that the majority of Affordable Care Act enrollees get some measure of monetary incentive to enroll in the plan. In 2014 the tax penalty for not having health insurance was $95 per adult or 1% of household income. In 2015 the penalty rises to $325 per adult or 2% of income.
Click here to view the New York State of Health website.
---
Battle For Public School Budget Underway
Constitutional Right To Education & Public School Funding
January 12, 2015 / Jackson Heights / Queens Schools / Queens Buzz News & Analyis. I attended a Town Hall Meeting entitled State Of Our Schools at PS 69 in Jackson Heights on Thursday evening. The town hall included a number of panelists who spoke about some of the top concerns and issues facing NYC and Queens public schools in the current round of budget negotiations currently underway in the NYS state capitol of Albany.
Cathy Nolan, NYS Assembly Chair of the Committee on Education, and Daniel Dromm, Chair of the NYC Council Education Committe, were joined by speakers representing The Alliance for Quality Education, Make The Road NY, Jackson Heights People For Public Schools, Community Education Council 30 and the Parent Association of PS 69.
The intent of the town hall was to inform residents about the issues currently being debated in the NYS State Capitol as the Assembly and Senate work on budget bills to fund public education in the state of New York.
Some of the issues discussed included every citizen's constitutional right to a quality public education, which was interpreted by the Courts to mean providing every citizen with the skills to compete in the 21st century economy and the capacity to function as a contributing member of society.
Other issues included discussion of the current tax cap bill - which would cap property taxes at 2.5% - and thus limit the money available for public education. Currently about 30% of NYC residents are property owners. Over the past decade an increasing percentage of city property has been acquired by large corporations known as Real Estate Investment Trusts. It's worth noting that one of the NYC tabloids, the NY Daily News, is owned by the billionaire founder of an NYC Real Estate Investment Trust.
Property owners say they already pay too much in taxes. One homeowner opined that government and school officials need to manage the funding more efficiently, and develop innovative / technological methods to achieve their educational goals. Many of the older, original charter schools were opened to do just that by exploring different approaches to educating the public.
Another initiative underway is to cap charter schools expansion. As mentioned above, many of the original charter schools were founded to explore different approaches to providing a quality public school education. In recent years some of the newer charter schools, particularly the charter school groups [Ed Note: such as Success Academy Charter Schools], have been seen as limiting the promise of an equal opportunity in public school education.
Charter School groups have been accused of targeting areas where they can attract high performing students away from the publicly run schools and then demand equivalent public funding per child. Charter school groups allegedly claim their test scores are attributable to their educational efforts, not the higher quality of their student enrollment [this alleged claim is at odds with independent studies]. As of this date only a small percentage of the charter schools have been audited as one of them - Success Academy - filed and won a lawsuit that prevented the NYS Comptroller from auditing them based on a NYS Supreme Court Justice Thomas Breslin ruling in June 2013. Its worth noting that Success Academy Charter Schools also reportedly receives funding from Hedge Fund b/millionaires who may also have stakes in Real Estate Investment Trusts.
Public educators note that the schools that service the broader based demographic population have higher per student funding requirements in order to assist students with special needs. They go on to note that standardized testing doesn't account for progress made with a broad based diversified student population that includes students with special needs such as: children with disabilities, children from troubled homes, children with less aptitude or less motivation, and children who need to learn English [English Language Learners ELL] in addition to the general curriculum. Additional resources are required to fund different approaches / programs designed to reach, motivate and develop these children's intrinsic abilities [eg. band students perform higher in math] and enable them to become contributing members to their families, their employers and the community.
A tax break for private education is also being debated at the state level. The tax break for private education was portrayed by one of the speakers as another tax break for those who already have the means and have chosen to send their children to non-public schools. Just as the property tax cap is expected to limit public education funding, so too the private school tax break is expected to limit the total funding available to educate those who attend public schools.
Families who send their children to private schools argue that they are reducing the strain on public school resources. They note that they are not asking for a total reimbursement [meaning total payback of private tuition] but rather a deduction, which would reduce their tax bill by some percentage of their private school tuition payments. It's worth mentioning that according to the 2012 Census update, the NYC Public School system paid over $20,000 per student per year, which is a far higher cost per student than any other public school system in the nation. The Boston public school system was a close second and the Washington DC public school system came in third.
This is just a summary of some of the challenges and issues discussed at the Town Hall related to NYS public school education funding. We'll delve into these in a bit more detail at a later date.
---
Role of Daily News Coverage In Queens Library Takeover
A Closer Look into Role of the Daily News Coverage in Takeover of Queens Library
Real Estate Billionaire Mortimer Zuckerman's Daily News Continuously Portrays the Fiscally Sound, Award Winning Queens Library Board of Trustees & CEO in a Negative Light

While Lauding the Brooklyn Public Library Trustees for Sale of Real Estate to Developer to Obtain Needed $40 Million Cash
The Queens Library has 62 Branch Locations Sitting Atop Some of the Best Real Estate in Queens Worth Hundred$ of Million$ or more

Queensborough President Melinda Katz Appears to have had Prior Relationship with Daily News Owner Mortimer Zuckerman's Boston Properties as Lobbyist
Updated December 20 / December 16, 2014 / Queens Library / Queens News Analysis & Opinion - Issues / Queens Buzz / By Michael Wood / Edited By Agnes Wood.
Please note that to date no public official have spoken about any development deals using Queens Library property.
Daily News Publication of Leaks with No Announcement of Real Wrongdoing - What Happened to Presumption of Innocence?
I'm going to work under the assumption that Queens Library CEO Thomas Galante is innocent of all charges until proven guilty. That is the way things are supposed to be done in America.
Many leaks of all kinds of confidential information about the Queens Library CEO have made their way into Real Estate Billionaire Mortimer Zuckerman's Daily News this year - including plenty of minutiae - but not a single word about any real wrongdoing.
Daily News Headlines Appear to Play Role in Queens Library Takeover - Urging Replacement of Governance Team
The Daily News appears to have done more than just report on the Queens Library crisis of confidence. In fact, the Daily News was the first to report the crisis - and they appear to have played a major role throughout it - as their organization urged the dismissal of Galante and the trustees who supported him on numerous occasions in the headlines alone. The following are some examples of headlines taken from stories in the NY Daily News:
March 31, 2014 - Headline reads: "Turn The Page On Tom / Why the Queens Library Chief can no longer be trusted"
June 27, 2014 - Headline reads: "Sack them all / Bye-bye to Queens Library chief Tom Galante — and the board members who enabled his reign of greed"
July 24, 2014 - Headline reads: "Sack Galante next / Incompetent Queens Library board being dismantled"
December 11, 2014 - Headline reads: "Fat city fathead / Thousands of reasons to fire Tom Galante"
The Daily News - Name Calling CEO Galante in its Editorial Coverage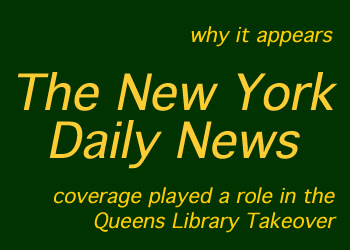 Last week, the Daily News provided the public with more details of Queens Library CEO Thomas Galante's expense reports over the past (few) year(s). Their presentation of the information appeared one-sided and cast Queens Library CEO in a negative light, as little effort seems to have been made to explain the business purpose or provide context for the expenditures.
The Daily News also published an editorial, which resorted to name-calling including calling Galante:
"fathead"
"little piggy"
"emperor"
and characterizing his spending as "preposterous"
This was not the first time they called him names in their publication this year.
We'll explore recent coverage by the Daily News in a more detail further down in this report, as it is reflective of their coverage of this crisis of confidence in the Queens Library all year. A crisis which the Daily News in fact began, with a series of exclusive reports earlier in the year.
Queens Borough President Melinda Katz Appears To Have Had Prior Relationship with Daily News Owner Mortimer Zuckerman's Boston Properties as a Lobbyist
According to a source, Queens Borough President Melinda Katz appears to have had prior relationship with Daily News Owner Mortimer Zuckerman's Boston Properties as a lobbyist working for Greenberg Traurig law firm in 2012.
A New York Observer story dated, April 10, 2012, states:
"... Still, Manhattan Borough President Scott Stringer has expressed skepticism toward the project, which he would like to see reduced in size, and the community panned the rezoning outright."
"To help makes its case, NYU recently retained Ed Wallace and Melinda Katz, two land-use attorneys who have helped shape a number of important development projects as they wended their way through public review—not least because both of them also once spent time as members of the City Council, the body that will have the ultimate say on NYU's rezoning."
And a bit later in the story.
"Mr. Wallace served as the councilman-at-large for Manhattan and chief of staff to the council president back in the old days of the Board of Estimate, after which he joined Mort Zuckerman's Boston Properties before moving over to Greenberg Traurig, the law firm where he is now co-managing partner of the New York office. Ms. Katz joined the firm in 2010 as a partner in the real estate division after serving two terms in the council, one of which was spent as chair of the influential land-use committee, where she oversaw a number of redevelopments similar to NYU's."
The NYC government maintains a website showing registered lobbyists' relationships with clients. We took this image from the NYC.gov website which shows that from March through December of 2012 - one year before she became Queens Borough President - Melinda Katz was a registered lobbyist working for the lawfirm of Greenberg Traurig, with a client relationship with Mortimer Zuckerman's Boston Properties.

Click here to read our report regarding the Queens Library controversy and the Daily News reporting of it.
---
Queens Library Trustees Drop Lawsuit
Whistleblower / Freedom Of Information Law Request Continues
QBP Katz Does About Face On Providing Public With Transparency
Updated Dec 9th / December 1, 2014 / Queens Neighborhoods / Queens Libraries / Queens Buzz / News Analysis & Opinion. The six former trustees of the Queens Library decided to drop their lawsuit against Queens Borough President Melinda Katz, Attorney General Schneiderman and the State of New York last week.
The Judge signed their Notice of Dismissal [shown at right] on November 26, 2014. The Notice of Dismissal states:
"PLEASE TAKE NOTICE that whereas no party has served an answer or motion for summary judgment, Plaintiffs, by their undersigned counsel, hereby dismiss the above-captioned action, and all claims asserted in it, without prejudice, pursuant to Rule 41(a)(1)(A) of the Federal Rules of Civil Procedure."
The Queens Borough President issued a press release stating, 'Judge dismisses lawsuit against BP Katz'. What actually happened is that the Notice of Dismissal was made at the request of the plaintiffs as shown in the document to your right and signed by the Judge.
Many of the local newspapers re-published portions of the press release without citing that the dismissal was at the request of the plaintiffs - thus making it appear as though the Judge had decided to dismiss the case - not that the plaintiffs had decided to drop it.
Whistleblower Investigation: Was The Law Broken?
The plaintiffs will continue with their Whistleblower / Freedom Of Information [aka FOIL] request, which according to one source, the six former Queens Library Trustees will pursue until the information is released to the public.
The Whistleblower complaint was determine whether someone on the Queens Library Board of Trustees was not adhering to their fiduciary responsibility to keep confidential Queens Library Board of Trustee information. The investigation was to determine from where the leaks were coming. The lawsuit alleged that the leaks were coming from the Queens Borough President's representative on the Board.
It Appears The Leaked Information Was Used To Gain Control Of Queens Public Library
The leaked information was published by the Daily News in a couple of 'exclusive' reports in January and March of 2014 [click links to view Daily News stories]. The Queens Borough President then took the leaked information once made public, and used it to call for Queens Library reforms. She enlisted the support of two Queens NYS legislators in crafting legislation called the Queens Library Reform Act, which was primarily redundant legislation to laws already on the books, except that it also included a change of control of the Queens Library Board of Trustees from independent board to one completely beholden to the Queens Borough President and the NYC Mayor - as trustees became expendable without recourse within a week of notice. The Queens Borough President and the NYC Mayor were also given defacto approval rights to Queens Library new key hires.
The lawsuit was dropped last week by the six trustees who cited resource constraints; but the FOIL request to make the Whistleblower complaint report public continues.
Governance In Queens & NYS: Where's The American 'Due Process' & What Happened To The American Axiom Of 'Assumed Innocent Until Proven Guilty'?
One of the most disturbing aspects of this case was that three investigative bodies have been evaluating the Queens Library since late February / early March of 2014. To date [December 2014] not one of them has publicly announced that there's been any wrongdoing.
Yet, if you search 'Queens Library corruption' or 'Thomas Galante corruption', you'd think that there definitely was corruption at the Queens Library.
And over five months ago the entire New York State Assembly and entire the New York State Senate [save one] and the New York State Governor drafted and passed a bill to 'reform the Queens Library' on the 'ASSUMPTION that something was broken', because the investigative bodies are still looking into the matter and to date have still not determined whether any laws were even broken.
This is akin to having a mechanic fix your car before they told you what was wrong with it. Or having a doctor prescribing drugs or performing an operation on you before they had told you what ailment you had. I thought that in America you're assumed to be 'innocent until proven guilty' - not 'guilty until proven innocent' as appears to be the case here.
If you believe that following due process and that the assumption of innocence until proven guilty are the right way to do things, then it seems that the passing of the Queens Library Reform Act prior to receiving the investigative reports - regardless of the investigative findings - was simply the wrong way to address this situation.
Queens Public Library: Where's The Tranparency?
Currently the Queens Borough President and the Queens Library are either denying or ignoring [which is legally a denial] FOIL requests for information pertaining to the Whistleblower inquiry investigation.
Queens Borough President Melinda Katz, after spending the first eight months of her presidency calling for public transparency into the operations of the Queens Library, now finds herself in the position of denying the public transparency into the alleged - and possibly unlawful - role of her Office in stirring up the Queens Library conflict.
The Queens Library's management of funds came into the public eye in January / February of 2014 when reports about the Chief Executive's compensation, second job and office renovations were highlighted in a number of 'exclusive' reports published by the Daily News. The FBI, NYC Department of Investigations and NYC Comptroller have been investigating the Queens Library since late February / early March of 2014 and to date no wrongdoing has been announced.
Investigations: Watergate 17 Months. Queens Public Library 9 Months & Counting
As a point of comparison, the investigation has been ongoing for nine months, which is more than half as long as the Watergate investigation [17 months] wherein the most powerful man in the world was playing investigative defense. The CEO of the Queens Library has been on paid leave since September of 2014.
Was There Any Wrongdoing? How Long Will The Award Winning Queens Public Library Be Held Under A Cloud Of Suspicion?
The question now is how long will these investigative bodies hold the award winning Queens Public Library under a cloud of suspicion, before they announce that there WAS or WAS NOT any wrongdoing?
Government officials have provided detailed excerpts of CEO Galante's time sheets and expense reports, but nothing that - thus far - indicates any wrongdoing.
Ongoing Investigative Cloud Of Suspicion May Cost NYC Taxpayers Million$ Or Cost Queens Residents Loss Of Library Services
The unresolved allegations [google - queens library corruption] leaves a cloud of suspicion over the Queens Public Library and must certainly make fundraising for the non-profit far more challenging, while continuing to distract many of the library staff as they carry out their duties.
This cloud of suspicion could cost the taxpayer millions in additional public funding [to make up the deterioration in non-profit funds raised], or cause a loss of library services for Queens residents. Only the NYC Comptroller's Office provided us with an estimate of when they expect to complete their investigation [Winter / Spring 2015]. The FBI and DOI do not comment on ongoing investigations.
More to come either later in December or sometime in January, as we continue our investigation into this important story.
---
Air Beam: What Are You Breathing?
Adventurous Bike Ride With TA Queens ... On The Road To Find Out
November 10, 2014 / Queens Neighborhoods / Biking Queens / Queens Buzz. I just returned from a bike ride that began at the Central Park Boathouse and ended in Jackson Heights at 34th Street and the BQE Expressway. Celia Castellan, who is the organizer for Transportation Alternatives Queens [aka TA Queens] collaborated with me on this story which is about Queens & Manhattan air quality and also about biking. Celia is shown in the photo to your right, atop the Queensboro Bridge around 6 pm Monday night as we bike commuted from Manhattan to Queens.
It was a beautiful night with clear, dry air and temperatures around 60. Our mission was to test the Air Beam, a new device designed to enable people to measure the air quality, and then map the information to a public website, so that the public can begin to see what's going on with the air they breathe. The Air Beam is a blue, slightly-larger-than-a-cell-phone device, that you wear to measure the air [quality].
We began the ride in Central Park. We were on our way after receiving only a couple minutes of instruction. The device is brand-spanking new and must be sync'ed to an Android cell phone. The inventors work for a non-profit and are trying to raise a bit of money to mass produce it.
I'm going to take you on the rest of the ride, including a sampling of the air quality readings along the way, and provide some photos of the Queensboro Bridge bicycle commute a bit later this week. In the meantime, check out the Air Casting website and if you want to help, there are a few more days left on their Kickstarter campaign.
---
Affordable Housing In Queens - Hunters Point South
Hunters Point South Opens Spring 2015
'Affordable' Housing Applications Begin Mid October
September 29, 2014 / Sunnyside NY / Sunnyside Real Estate / News & Analysis / Queens Buzz. On Monday evening I headed over to Sunnyside Community Services Center to attend the Hunters Point South Affordable Housing meeting. Several years ago the Hunters Point South development was approved by Community Board 2 and subsequently approved by the New York City Council and Mayor. Click the link above to read the earlier report.
The site has been under construction for years, and according to a Related Companies spokesperson at the meeting, the two towers containing affordable housing are to open to residents in the Spring of 2015. Naturally this assumes that all goes according to plan.
Hence on Monday evening, Related Companies representatives in tandem with Community Board Chairman Joe Conley, NY CCM Jimmy Van Bramer, NYS Assemblywoman Cathy Nolan [and NYS Senator Michael Gianaris was scheduled to appear but did not make it] - began the outreach to the community regarding the application process for the low income and affordable housing units in the two buildings.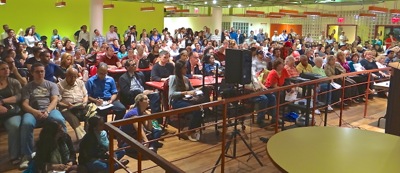 Attendance and interest by the community was very high and folks who arrived late were turned away as the Sunnyside Community Service Center was filled to capacity. That said there are two more of these outreach programs scheduled, the details of which you can find in our Things To Do calendar in the Business section. Click these links to gain a broader perspective of the Long Island City Neighborhood in which these units reside, as well as of the LIC real estate market for apts and condos or the Long Island City real estate market in general.
Full Report Contains Slides & Info On Qualification & Application Process For Hunters Point South Affordable Housing Units In LIC & Evaluation Of Affordability Versus Income & Apt Rents In LIC
Click here to read the rest of our report, including a photo slide show of the presentation of Affordable Housing in Hunters Point South in LIC Queens. I left out most of the presentation that dealt with how to set up a Housing Connect Profile and how to fill out the online application as it seemed pretty straightforward and you can also call the NYC Housing Authority [aka NYCHA] if you need help.
---
Queens Library Reform Bill: Quality & Controversy
A Trojan Horse: Queens Library Reform Bill
NYS Senator Ushers Bill Through Assembly Calling For Czar-Like Control Of Queens Library Trustees
In Whose Best Interest Is This ... Really?
June 12, 2014 / Queens Education / Op Ed Queens / News Analysis & Opinion / Queens Buzz / By Michael Wood & Edited by Patrick Wood.
This report goes behind the fanfare and political posturing that have gone on the past few months, and looks at the issues surrounding legislation that is currently working its way through the New York legislature. It also compares the legislation to a similar prior bill which was passed into law less than a year ago. And ultimately we provide rationale for intelligently asking whether this legislation is a political play or good for the Queens Library and its constituents. The report contains links to our Queens Opinion section which contains the comments of two informed sources who have been following the controversy from different vantage points.
Click here to read our report on the Queens Library Reform Bill: Quality & Controversy.
---
Queens Schools - NYC Public Education Issues
People For Public Schools – In Jackson Heights
Dromm Discusses Educational Issues & What Can Parents Do To Help
May 28, 2014 / Jackson Heights / Queens Schools / Queens Buzz. I attended what was essentially a communal sit down dialogue Daniel Dromm, Chair of the NYC City Council Education Committee. He met with a six-month-old group that goes by the name of the Jackson Heights People For Public Schools. And together they discussed the plethora of issues being grappled with by educators, policymakers, parents and pupils in the wake of the Bloomberg Administration's departure.
I consider myself to still be in the learning mode of trying to understand all of the issues faced by those managing public education so what follows is essentially a partial record of the discussion.
As background based what I do know from prior coverage in the Queens educational arena, the Bloomberg Administration embarked on an effort that appeared in some respects to favor de-unionizing and privatizing the NY Public School system via the closing of public schools which were staffed with generally experienced, unionized teachers; and opening privately run charter schools, generally run by fairly new teachers who worked for non-union wages. The Bloomberg Administration also moved toward splitting schools into smaller entities.
Click here to read more about a dialogue with Daniel Dromm, NYC City Council Chair of the Education Committee, about education & public schools in Queens.
---
---
Making Vision Zero Happen
Corona Residents Respond To Call To Action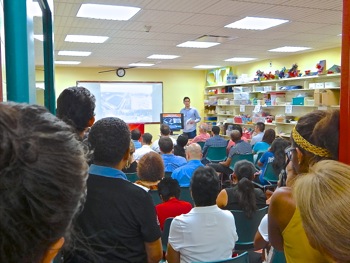 July 27, 2014 / Jackson Heights & Corona Neighborhood / Queens Issues / Queens Buzz. I attended a Vision Zero Workshop at the Corona Library on July 16th. The event was sponsored by Transporation Alterantives in conjunction with a host of other organizations and some local government officials, all of whom I will name at the end of this story when I complete it.
As you can see from the photo, there was no shortage of interest in the effort, as Jackson Heights and Corona are one of the 'Ground Zero' places where pedestrians are being killed or injured by motorists.
The effort had a number of components to it including education, law enforcement and untangling a road, biking and pedestrian system that was put together piecemeal instead of as a holistic approach to human movement ... like dance.
We'll post more about this at a later date including photo slide show.
---
Queens School Changes
Educational Infrastructure Lags Population Growth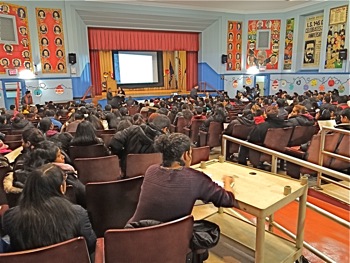 January 28, 2014 / Jackson Heights & Woodside Neighborhood / Queens Schools / Queens Buzz. I attended a Department of Education meeting to discuss the proposed changes scheduled for Intermediate Schools 230 and 145 in Jackson Heights. The plan calls for adding new space to I.S. 230, and then redrawing the district map for the two schools, so that going forward some children who would have attended I.S. 145 will enroll in I.S. 230. The children currently attending I.S. 145 will not be affected.
The intent of the plan is to alleviate the overcrowding in I.S. 145 which is operating above capacity. The overcrowding would be addressed by redrawing the school district maps following the completion of the new building at I.S. 230, so that fewer students would enroll in I.S. 145 going forward. The meeting was well attended as the I.S. 145 auditorium was fairly full when I arrived.
About half or better of the attendees were spanish language speakers and the Department of Education had not brought enough Spanish translation headsets to conduct the meeting bilingually without having the English presentation followed by a Spanish translation by a volunteer in attendance. A couple of community leaders drew my attention to this, and one of whom - an educator himself - was very irate. He explained that by not having enough headsets, the meeting would now accomplish about half as much in the same time period because of the time consumed in explaining things first in English and then in Spanish. With the headsets, the explanations would be been communicated simultaneously. He also noted that the translator was a volunteer and there wasn't any mechanism in place to ensure that the volunteer's translations were correct.
I.S. 145 recently suffered a tragic loss, as a student was killed by a motorist only blocks away from the school. Within the past six months three school age children living in the Jackson Heights vicinity have been killed by motorists, and the safety plan for the new building was one of the many concerns on the agenda. We'll post more about the meeting, and include an update about some of the proposed changes to address overcrowding in a Woodside school as well.
It seems that Queens schools, like other aspects of Queens public infrastructure [the #7 subway line / mass transit] and affordable housing, are lagging well behind Queens population growth and private development.
---
Queens OpEd / Queens Opinions - Audience Opinions Posted On Queens Buzz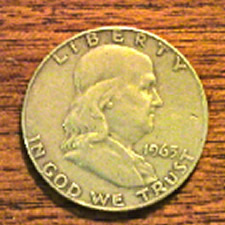 Queens Buzz Audience Opinions. This section contains opinions of our readers. These opinions reflect the perspective of those who authored them, not of Queens Buzz.


To have an opinion posted, it must meet the following requirements: 1) it must be grammatically written, 2) it must not contain spelling errors, 3) it must not contain hateful or abusive references and 4) it must not contain any personal attacks.


We reserve the right not to publish any submission, even in cases where they may meet the above criteria, which is subject to change as we become more experienced in moderating open public debate.
Send opinions to the editor [at] / using our web magazine name [queensbuzz.com].
---
Charter School Owner Closes Her 22 NYC Public Schools To Bus Her Students To Albany To Serve Her Purposes
Capital New York reports that Success Academy CEO Eva Moskowitz "is closing all 22 of her schools for the day to attempt to rally support in Albany, and has asked teachers to provide instruction to students on buses up to the Capitol."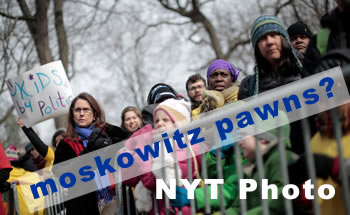 I am deeply concerned about the legality of a school leader closing schools for entirely political purposes. As chair of the New York City Council Education Committee, I intend to hold an oversight hearing to investigate whether any laws or Chancellor's regulations have been violated by Moskowitz unilaterally closing schools to effectively force children to lobby on her behalf.
This is the second time that Moskowitz has closed her schools for what seems to have been political purposes. In October, Moskowitz closed her Success Academy charter schools to lead a political march across the Brooklyn Bridge to protest Bill de Blasio. This must stop. No educator should be allowed to use children as pawns for their political agenda. Serious questions arise about closing schools for political gain.
As the recipient of public funding, I am also troubled by reports of the Success Academy paying administrators extraordinary salaries.
I also intend to use my oversight powers to investigate Moskowitz's extensive marketing campaigns costing millions of dollars.
Field trips can be an important part of the educational experience. Dragging children to Albany to further Moskowitz's political agenda serves no public or pedagogical purpose.
Statement by Council Member Daniel Dromm, Chair of New York City Council Education Committee
Published March 1, 2014
---
Editor's Notes: Moskowitz Actions, Charters & School Performance, & DOE Actions In Astoria
What would you think if the United Federation of Teachers Union [UFT] closed all NYC public schools and used the school children for a union rally [aka their own political purposes], like Eva Moskowitz / Success Academy appears to have done above in Albany on March 4th, 2014? The photo above links to the NYT story.
****
In a report we did a couple years ago, a Stanford University Study showed that the inclusion of charters in a school system improves overall performance, although over time the charters in their study underperformed the non-charters.
In researching the story on school closings, the one thing we learned is that there are no easy answers and that there are many factors at play in measuring school performance. However, according to the summary results of a National Education Longitudinal Study published in Education Week, the most critical factors in determining the success of a school are the children and families who enroll in the school. Parental supervision and participation in their children's academic performance is critical to both the child's and school's success.
****
The Bloomberg Department of Education [DOE] began an attempt to partition one of Queens most successful schools [PS 122 in Astoria] while Eva Moskowitz's Success Academy was making plans to open a charter in Queens. Many parents of the school did not find this to be coincidence. After a public outrage, the DOE quickly backed down.
It's not a big stretch to surmise that this sort of coincidence may have occurred previously. Some believe that the Bloomberg DOE may have facilitated Moskowitz's success by enabling Success Academy to make targeted enrollments at the expense of the surrounding schools / students.
Eva Moskowitz caught the public's attention during the Bloomberg Administration second and third terms, for opening a record 22 charter schools in the NYC public education system in less than seven years. This represents between 1% and 2% of all NYC public schools [there are approximately 1700 in total] and 12% of all NYC public charter schools [there are 183 as of 2013 / 2014 school year].
March 1, 2014
****
Editor's Update - NYC Co-location Approval Criteria / Success Academy Funding / LIC H.S.
In late February Mayor de Blasio approved 35 of 45 school co-locations. He said that he turned down the school co-locations based on the following criteria: 1) not put any elementary schools in with high schools, 2) not open schools with less than 250 students because they wouldn't receive enough resource to provide a proper education, 3) no co-locations requiring heavy construction and 4) no co-locations requiring the dislocation of the neediest kids.
De Blasio approved five of eight co-locations for Eva Moskowitz / Success Academy charter schools. Three of eight of Success Academy's co-locations were not approved because they did not take into account the needs of kids with special needs.
Moskowitz's Success Academy is funded in part by many NYC hedge fund operators. These hedge fund operators are in the tax bracket targeted to fund NYC education. Many of the public advertising campaigns launched by Eva Moskowitz / Success Academy / Charterswork.org are funded by them, pushing their point of view.
Mayor de Blasio drew attention to the fact that some charter school programs, like those funded by private sources [aka high net income / net worth individuals] at Success Academy, cannot be replicated in the remaining public schools, without receipt of the additional funding.
Editor's Suggestion: If these privately funded charter school programs are successful, perhaps the city can ask these wealthy donors to Success Academy, to increase their investments in the NYC school system to enable these programs to be replicated throughout the entire NYC public school system.
LIC High School was one of the schools targeted for a co-location that was nixed. LIC High School is one of the remaining large high schools in the city.
April 6, 2014
****
Editor's Update - NYS Court Bars NYS Comptroller From Auditing Charter Schools
Thomas Di Napoli, NYS Comptroller, sent us this link to a story / editorial about how the Supreme Court barred his office from auditing NYS charter schools.
Eva Moskowitz / Success Academy sued the NYS Comptroller when he made an attempt to audit them. According to Mercedes Schneider, a blogger of the Huffington Post, in 2011, just nine schools of Success Academy received about $50 million in public funding. As mentioned above, Success Academy currently operates 22 charter schools in the NYC public school system.
According to the Times Union Editorial [the Times Union is a newspaper in Albany], New York State currently has 233 charter schools, with an enrollment of 87,000 children and costs taxpayers over $1 billion per year.
March 22, 2014
****
Thomas Di Napoli, NYS Comptroller, sent us this link to a story about a special education audit showing financial abuse of public funds.
DiNapoli: Special Education Provider Pleads Guilty to Felony Charges. The executive director of special education provider IncludED Educational Services pleaded guilty in Manhattan Supreme Court Friday to grand larceny charges stemming from an audit and investigation by State Comptroller Thomas P. DiNapoli. Morton Kramer agreed to pay $418,000 in restitution as part of his plea agreement and is banned for life from providing special education services for the state.
May 24, 2014
---
---
Affordable Healthcare Deadline Monday
Enrollment Trending Toward 7 Million Target
New York State Of Health Surpasses 1.1 Million Applicants & 782K Enrollees
March 31, 2014 / Jackson Heights / Queens Healthcare / Queens Buzz. Get ready for an endless spin game about the enrollment numbers of the Affordable Healthcare Act aka Obamacare.
It appears the Administration is on target to achieve the first target they had set, prior to running into innumerable problems in October 2013 with the federal healthcare insurance website - healthcare.gov - when enrollments first began. Following the opening website debacle, the Administration lowered the enrollment targets from seven million to six million. They hit the six million number last week and the application and enrollment activity has spiked during the final week to submit an application.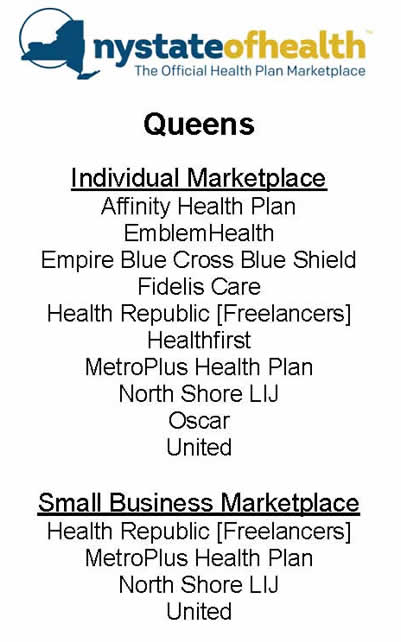 There are 36 states participating in the rollout of the national health insurance plan and 14 states which have opted out of the plan. New York state is one of the 36 participants and as of Sunday night, New York State had received over 1.1 million applications and nearly 800,000 people had enrolled. These numbers are up significantly versus three weeks ago, when applications were at about 900,000 and enrollment at about 500,000. As of early March, we were informed that about 70% of the enrollees were people who had not previously had health insurance. Hence by that metric the plan appears to be achieving its goal in New York State.
According to national reports, it also appears that the late applicants are skewing younger, which was another important metric for the Administration. The composition of young and older ages is needed to enable insurance company participants / healthcare plan providers make the financials work.
Opponents of the Affordable Care Act [ACA] say that the enrollment numbers are inflated, as the enrollment numbers don't take into account enrollees making their first payments. Some opponents are also predicting that the enrollees are largely comprised of folks who will need government subsidies to pay their insurance premiums. Proponents have said that giving tax deductions for health insurance to people trying to maintain their health, is no different than providing tax deductions for interest on loans used to purchase a home.
We've attended a number of sessions about the Affordable Care Act and the regular folks attending these sessions have made statements saying that they are no longer locked into jobs they don't like because of health insurance, that the Affordable Care Act has significantly lowered their healthcare costs and that they are relieved to finally be covered by health insurance. Some healthcare providers we've spoken to have said that the Affordable Care Act will negatively impact their businesses, as while volume will possibly increase, the revenue per client will decrease.
Applications must be submitted no later than 11.59 pm Monday night, March 31st. We understand that national applicants will have another 7 days to provide documentation for application submissions that fail to meet the application criteria. And in New York State that deadline appears to be April 15th, but in both cases we suggest you confirm it by calling the group with which you're working.
---
ACA Deadline Extended To 12/23
Registration For January 1st 2014 Insurance Coverage Extended To Dec 23rd In Queens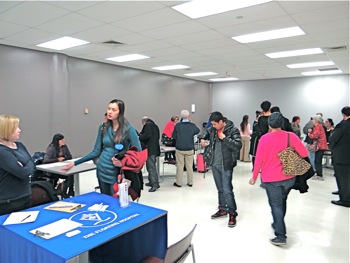 December 17, 2013 / Healthcare in Queens / Queens Buzz. The deadline for registering with the New York State healthcare / insurance exchange for January 1st, 2014 insurnace coverage has been pushed back a week from December 15th to December 23rd. We understand that implementation of the Affordable Care Act [ACA aka Obamacare] continues to be affected by executional problems, but according to experts, the problems are being addressed and the number of issues are abating.
In the photo to your right are Queens residents talking to Affordable Healthcare Act navigators who provide free assistance to people in selecting a healthcare plan. This event was sponsored by the office of City Councilmember Jimmy Van Bramer at LaGuardia Community College in LIC.
There are a few things we've picked up over the past week that are worth mentioning at this point.
First be aware that the providers listed on any given insurer's website is subject to change and sometimes the providers listed have quit the program and sometimes there are providers who are participating in the program who are not listed. This situation also oftentimes occurs with other insurance providers / health maintenance organizations. According to a policy expert from the Robert Wood Foundation, a healthcare focused non-profit, the listing / not listing issue on insurers' sites has increased by about 10% since the implementation of the Affordable Healthcare Act began in Queens on October 1st. The reason for this is that healthcare providers and insurers continue to analyze and evaluate how they are going to manage their networks to accommodate the influx of new patients / clients.
Another thing participants need to pay attention to is that participants need to obtain a card or member number from the insurance company in order to obtain / use the benefits from the listed healthcare providers. As we understand it, a number of people have registered using the NYS exchange and thought they had completed the process prior to obtaining their member number / insurance card. Exchange registrants need to follow up with the insurers to obtain the card. We also understand - but this has not been confirmed - that participants need to make their first payment for the plan they choose, prior to being able to obtain the benefits / use the healthcare system.
Lastly, another item we picked up refers to a clause in the program with respect to people who switch plans. Healthcare Plan Switchers are able to change providers during the year, but those who do so will be subject to higher co-pays. So try to choose a provider you think you will work for the long haul. We'll have more on the implementation of the Affordable Healthcare Act in Queens later this month.
Click here for prior coverage of the Affordable Healthcare Act in Queens [aka Obamacare in Queens].
---
Obamacare Comes To Queens
Obamacare Comes To Queens
Queens Prepares For The Affordable Healthcare Act
November 13, 2013. Update - Over 197,000 New Yorkers Have Completed Applications of which over 48,000 have already selected and enrolled in a plan. Over 142,000 people were helped by the New York State of Health which runs the health plan marketplace for New York State. Note that open enrollment for the tax year 2014 ends on March 31, 2014.
November 7, 2013 / Astoria Neighborhood / Healthcare in Queens / Queens Buzz. I just returned from the United Civic Community Association [UCCA] sponsored forum on Obamacare at the Museum of the Moving Image. The forum did a nice job of providing what appeared to be a good summary look into what the federal government's Affordable Healthcare Act [also known as Obamacare] is really all about.
The forum was moderated by Rose Marie Poveromo, President of the United Community Civic Association of Astoria and included a panel of experts. The panel included U.S. Congressman Joseph Crowley, Rebecca Jackson, a NY State of Health Project Coordinator, Caryn Schwab Executive Director of Mount Sinai Queens, Judy Trilivas Chief Operating Officer of Mount Sinai Queens and Minna Elias Congresswoman Maloney's Chief of Staff. They are shown seated from left to right in the photo above, at the UCCA hosted Obamacare Forum at the Museum of the Moving Image in Astoria.
Click here to read more about Obamacare comes to Queens.
---
NYC Municipal Election 2013
NYC Municipal Elections 2013
NYC Mayor, Queens Borough President & Six Ballot Proposals
November 5, 2013 / Flushing Neighborhood / Queens Government / Queens Buzz. On Tuesday voters get to decide who will run the city for the next four years. You get to weigh in on who will be the next NYC Mayor, Queens Borough President, City Comptroller, Public Advocate and City Councilmembers.
There are also six NY State Ballot proposals some of which are changes to the Constitution: 1) whether to authorize casino gambling in NYS, 2) a credit for qualified veterans with disabilities in the civil service, 3) exclusion of sewage treatment facility investments from county and municipal constitutional debt limits, 4) proposal to have NYS give up land rights in the Adirondacks to private enterprise in an exchange deal, 5) proposal to allow a private company to conduct mining operations on forest preserve land in a trade deal and 6) extending the length of time judges may serve past the age of 70.
Click here for our coverage of the NYC Municipal Elecitons, including details of the controversial Queens Borough President debate between Melinda Katz and Tony Arcabascio at QPTV in Flushing in October. Story & photos by Michael Wood.
---
Jackson Heights Beautification Group - JHBG
JHBG Celebrates 25 Years Of Service
Jackson Heights Beautification Group Celebrates 25
September 30, 2013 / Jackson Heights Neighborhood / Queens Issues / Queens Buzz News. I had the pleasure of spending some time at the celebration of the 25th anniversary of the Jackson Heights Beautification Group's existence. During the course of the evening I had the opportunity to talk to a number of members, many of whom had been with the organization for decades. And during the course of these conversations I came away having learned something about their collective accomplishments, and in some senses, the early to modern history of Jackson Heights.
Some of the JHBG's Accomplishments
The Jackson Heights Beautification Group [also known as JHBG] started when a group of residents decided to 'take back the neighborhood' from vandals doing property damage [grafitti], real estate developers knocking down high quality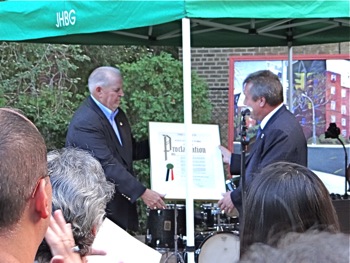 historic buildings, people breaking sanitation laws [doggie doo], and developers trying to obtain zoning variances that would downgrade the neighborhood. But the community organization was not just about participating in the governance process and ensuring that the city laws and ordinances were enforced; they also sought to enhance the quality of neighborhood life.
Hence the Jackson Heights Beautification Group sought funding for summer concerts, helped bring a farmers market to Jackson Heights, worked collaboratively to create more public parkland [78th Playstreet & the Garden School Athletic Field], and most recently helped start an orchestra. They will be the first to tell you that they didn't do these things by themselves, but however modest, they did play an important role.
In the photo above City Councilmember Daniel Dromm gives an award to Jackson Heights Beautification Group President Edwin O'Keefe Westley honoring the neighborhood group's service to the community.
And so you may click here to learn a bit about the formation and history of the Jackson Heights Beautification Group, as well as a bit about the 20th century life in Jackson Heights as told by those who lived it.
---
Queens Borough President Election 2013
Queens Borough President Election
Democratic Party Hierarchy & NYC Developers Back Katz & Quinn
September 9, 2013 / Queens Politics / Queens News Analysis & Issues / Opinion / Queens Buzz. So after answering countless annoying and largely uninformative robocalls from those seeking to govern us [what happened to our ability to 'Opt Out' of telemarketing?], and receiving voluminous junk mailers, tomorrow we get to decide who's going to govern us.
Tomorrow matters, because about 80% of the elections in NYC are decided in the primaries.
In the photo above right, Peter Vallone takes Melinda Katz to task for sending out mailers that attempt to demonize him with distorted visuals and labels.
NYC Mayoral Candidates - Final Polls & Agendas & You Decide
There are five major candidates running for Mayor on the Democratic side [de Blasio, Quinn, Weiner, Thompson & Liu] and two on the Republican side [Lhota & Catsimatidis]. The most recent polls show DeBlasio well ahead of the pack, but he needs 40% of the vote to avoid having a runoff election later in the month. Thompson is the runner up and Quinn, once the leading candidate, is running a distant third.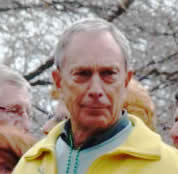 Quinn has sometimes been referred to as Mayor Bloomberg's lapdog because of her 'dogged' support of his agenda. In spite of that moniker, the Mayor did not endorse her even though she had helped Bloomberg reverse a plebiscite on municipal office term limits and passed the majority of his agenda. Both Quinn and Katz did win the endorsement of the Democratic Party hierachy and the monied support of NYC real estate developers.
Runoffs Weaken Mayoral Candidates
The last time we had an open NYC Mayoral election [meaning no incumbents] it resulted in a Democratic primary runoff. Fernando Ferrer won the primary with 279,000 votes [35.5%]. Mark Green won enough votes [243,000 votes] to compete in a runoff. In the runoff Mark Green prevailed, and then went on to lose against Michael Bloomberg by 35,000 votes. A hotly contested Democratic primary runoff weakens the Democratic candidate shortly before the final election.
Queens Borough President Candidates 2013
There are three Democrats running for Queens Borough President [Vallone, Katz & Brown] and one on the Republican side [Arcabascio]. Tony Avella is on the ballot, but he has dropped out of the race.
There are also a number of City Councilmember races, which we don't have the time to discuss today.
Click For More About Queens Borough President Candidates 2013
Click here to read more about the NYC Primary Elections, with more about the backgrounds of the Queens Borough President candidates, and including a link to find your Queens polling place.
---
Proposed Changes For PS 122
Astoria Moms Defend Children's Rights
Madmen: Bloomberg Dept of Education Does A Don Draper
March 19, 2013 / Astoria Neighborhood / Queens Schools / Queens Buzz. Editorial / Report. We attended a Community Board One Meeting Tuesday evening, following up on the concerns of Astoria parents, regarding the proposed changes to PS 122, which were recently announced by the Department of Education [DOE].
Having spent a week in pursuit of information from the DOE about the proposed changes – statements regarding the difficulty in obtaining information from them - rang true.
In the photo above, Anastasia Cunningham and her son talk about how the Dept of Ed hasn't put anything in writing, hasn't conducted any impact study,

and she talked about how the changes could possibly destroy the learning environment that contributes to the success of PS 122 in Astoria.
Click here to read the rest of our Editorial / Report on the Community Board One Meeting regarding Department of Education proposed changes to PS 122 Astoria. Story & photos by Michael Wood.
---
Dept of Ed Plans Big Changes For PS 122
Battle For Control Of PS 122 Astoria
Dept of Ed Announces Big Changes & Few Details
Public Education Could Be Defining Issue Of NYC Mayoral Race
March 17, 2013 / Astoria Neighborhood / Queens Schools / Queens Buzz. The Department of Education announced its intention to make sweeping changes to PS 122 on February 28, 2013 to the PTA of the school. We were told of the general gist of these changes by PS 122 PTA members and parents. We then followed up with the Department of Education, to be sure we understood the Department of Education's announcement correctly.
Before we discuss the general gist of the Department of Education plans for PS 122, it helps to have a bit of background to better understand what appears to be happening.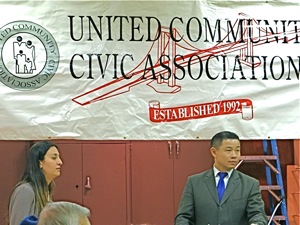 There are several important elements that seem to be at the core of the issue: 1) the Department of Education's plans to reconfigure one of the most successful public elementary / intermediate schools in Queens and the NYC school system, 2) the Department of Education's sudden interest in providing the school children of PS 122 grades K through 5 with the opportunity to continue matriculation within the same school [building] throughout all eight grades [6 – 8], and 3) Success Academy Charter Schools announcement that they plan to open a new charter school in Queens school district 30 in August of 2014.
Click here to read the beginning of our DRAFT report about the Department of Education Plans to reconfigure PS 122 in Astoria. Be advised that there is a Community Board One Meeting March 19, Tuesday evening beginning at 6.30 pm at the Astoria World Manor and a PEP Meeting on March 20th in Brooklyn. The large top photo above was published with permission by Nigel McKenna and the second photo was taken by Queens Buzz of NYC Comptroller and possible Mayoral candidate John Liu listening to concerned PS 122 parents at a United Community Civic Association meeting in Astoria.
---
CB Votes Split On USTA Expansion Plan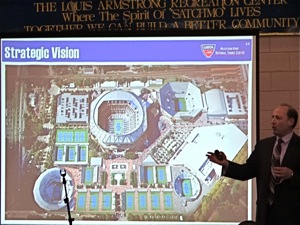 March 14, 2013 / Flushing Corona / Issues Facing Queens / Queens Buzz. The USTA has asked the city of New York to give it .68 of an acre of Flushing Meadows Corona Park so that it can proceed with an expansion plan. The expansion plan is estimated to increase the sports complex capacity for the U.S. Open by about a third, while increasing the USTA footprint in the park by .68 of an acre. The USTA informed the audience attending the Community Board 3 meeting that this will result in more jobs in Queens. They also talked about the positive estimated annual $784 million economic impact that the USTA has had on NYC - according to a study done by a private consulting firm named AKRF, Inc.
The detractors informed the audience that this is the first step in a much larger effort toward a massive privatization of Flushing Meadows Corona Park by several large, well-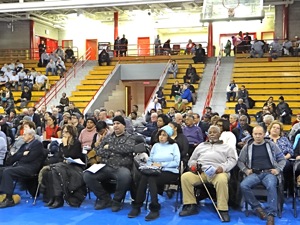 funded corporate interests. The opponents talked about three other proposals which were not a part of the USTA plan. These other proposals to develop private interests on public parkland include the development of a shopping mall by a private investment group in tandem with the owners of CitiField; 2) a condominium / hotel complex done by another group of private investors; and 3) a 13 acre soccer stadium by Major League Soccer, which is also a privately held corporation.
Community Board Tally & Boro Prez Candidates Positions
In the end Community Board 3 voted against the expansion plan, citing among other things, promises not kept when the USTA asked to expand its footpint in 1993. All six Community Boards have now voted on the USTA Expansion proposal, with three voting for it and three voting against it. We'll post a far more complete report on this Community Board Meeting at a later date.
While I was attending the Community Board 3 Meeting in Corona, all six Queens Borough Presidential candidates were attending a forum about the issues facing Queens at the Greater Astoria Historical Society in Astoria. The issue of turning over public parkland to private interests came up during the forum. To date only City Councilmember Tony Avella has come out against giving up public parkland to private interests. NY Senator Jose Peralta is the only other candidate to take a stance on the issue, but only on one of the proposed developments, namely the erection of the MLS Soccer Stadium on 13 acres of FMC Parkland [which he conditionally supports if MLS fulfills all of their promises]. All four other candidates have taken a wait-and-see stance on the issue.
Click here to read our past reports related to the proposed development plans for Flushing Meadows Corona Park. The first report provides an early history of Flushing Meadows Corona Park I and the second report provided an intermediate history of Flushing Meadows Corona Park II which included a number of relevant historic lessons related to sports complex developments in FMCP as well as NYC.
---
1964 Worlds Fair - NYC World's Fair 1964 - 1965
The NYC World's Fair: 1964 - 1965 in Flushing Queens
NYC Stadiums: Battle of the Titans - PART II - Battle for the Heart of a Park & ... and the Soul of a Borough
January 21, 2013 / Queens Neighborhoods / Queens Issues / Queens Buzz. Click here for Part I of our report series on Developments in Flushing Meadows Corona Park where we journeyed back to the Corona Ash Dump, immortalized in the Great Gatsby, and later transformed into a World's Fair utopia by Robert Moses, Fiorello LaGuardia and the 1939 World's Fair committee.
The 1939 World's Fair attracted over 40 million people, but lost over $100 million, as it opened the year Nazi Germany began invading its European neighbors, and while Japan was busy invading China. Nonetheless, in spite of a financial failure for the 1939 World's Fair bondholders, the fair had enabled NYC and Robert Moses to complete phase one of his vision to transform the Corona Ash Dump into NYC's premier city park, and build a whole new network of highways around it.
Ebbets Field in Brooklyn & The Brooklyn Dodgers
We resume our story, after WWII, as a young lawyer in Brooklyn began working for the Brooklyn Dodgers. The Dodgers played at Ebbets Field just east of Prospect Park in what was once part of the Flatbush neighborhood [now Crown Heights] of Brooklyn. The year is 1943 as a 40 year-old lawyer, Walter O'Malley, leaves the Brooklyn Trust Company where he had oversight responsibilities for troubled companies, including the Brooklyn Dodgers.
You can click here later today to read Part II of our report on proposed developments in Flushing Meadows Corona Park entitled NYC Stadiums & Battle of the Titans. Or click this link in the meantime to view Part I of our report series about the beginnings of Flushing Meadows Corona Park and the 1939 World's Fair. Story & photos by Michael Wood.
---
Development, Healthcare, Education - Queens News
Development, Healthcare, Education & Social Issues in Queens - News Briefs
News Briefs About Real Estate Development, Health, Education & Social Issues in Queens
February 24, 2013 / LIC & Astoria / Queens Buzz. This is a collection of art news briefs from Queens nieghborhoods.
Click here for more Real Estate Development, Healthcare, Education & Social Issues in Queens News briefs.
---
---
Click to quick scroll down to:
---
---

---
1939 Worlds Fair - NYC World's Fair 1939 - 1940
NYC World's Fair - 1939 - 1940 in Flushing Queens
Part I - Out of the Ashes Rises the Phoenix
Battle for the Heart of a Park …
... and the Soul of a Borough
January 12, 2013 / Queens Neighborhoods / Queens Issues / Queens Buzz. Over the past six months we've been watching with interest as events have been unfolding regarding the building of a 25,000 seat soccer stadium right in the heart of Flushing Meadows Corona Park. There are also a number of other proposals working their way through the political process / local government, which calls for the cessation of public lands to build private enterprises on various sections of Flushing Meadows Corona Park.
Currently four separate proposals are in process for planned developments in Flushing Meadow Corona Park. They include: 1) a chain store shopping mall / complex in the southwest corner of the Citifield parking lot [pink], 2) a housing / condominium / hotel complex on the lands the city acquired in its use of eminent domain to develop Willets Point [blue], 3) the expansion of the USTA facilities in the northwest section of the USTA franchise in the park [orange] and 4) the erection of a thirteen plus acre stadium / sports complex in the middle of Flushing Meadows Corona Park [yellowish green].
The graphic above was provided by one of the community groups opposed to the Flushing Meadow Corona Park developments. It's worth noting that most of the colored areas already have pavement or structures covering the land. The exception is that of the proposed Stadium & Concert venue [yellowish green], which would be a completely new development, replacing water vessels which were created for the Worlds Fair. See the map in the header of this series [top of page] where the dark red square represents the approximate acreage and location of the proposed stadium / concert venue.
Queens Buzz has put together a series of reports, which we will run in the coming days about the proposed developments in Flushing Meadow Corona Park. This report starts with a bit of the history of the park, which began around the turn of the last century when Flushing Meadows Corona Park was just an ashpile. The focus of this report is the 1939 NYC World's Fair which was held in Flushing Meadow Park as it was then called. Story & photos by Michael Wood.
---
Pedestrian Malls In Queens - Newtown Plaza Astoria
Pedestrian Malls In Queens
Meeting On Astoria Pedestrian Mall Tuesday
September 10, 2012 / Astoria / Queens Community Issues / Queens Buzz. On Tuesday evening September 11, there's a Community Board 1 meeting at the Astoria World Manor on 25-22 Astoria Blvd. One of the topics on the agenda is which DOT [Department of Transportation] proposal to approve, regarding changing the traffic configuration in and around the intersection of Newtown Avenue and 30th Avenue in Astoria.
According to the Queens DOT, this intersection is the site of numerous accidents, and is more dangerous than approximately 90% of all intersections in Queens. It's not difficult to understand why, as it is the nexus point for five roads: east & west on 30th Avenue, north & south on 33rd Street and northwest on Newtown Avenue [see map on next page]. The photo to your left was taken on August 25th when Newtown Avenue was temporarily converted into a pedestrian plaza.
Click here to read our report on the Newtown Plaza, in which we include related reports on other pedestrian malls in Queens, NYC and NYS.
---
Community Development in Queens
---
---
---

---
Doctors in Queens Astoria LIC & Sunnyside
Finding Dr. Right - Doctors in Queens
Doctors and Healthcare in LIC, Astoria, Sunnyside, Woodside & Queens
February 16, 2012 / Long Island City / Queens Buzz. I attended a community lecture put on by Mount Sinai Queens entitled Finding Doctor Right. It was hosted at the Avalon Riverview, which is located down on 2-01 50th Avenue near the East River in LIC.
When I arrived, I took note of the audience demographics which had a female / male skew of about two to one; and the ages ranged from starting a family to planning retirement. Our speaker was Dr. Nierman, VP of Medical Affairs and Chief Medical Officer, and one of the people responsible for hiring doctors at Mount Sinai Queens.
Click here to read our report and view photos about finding Dr. Right – doctors and healthcare in LIC and Queens.
---
Elmhurst Hospital - Queens
Elmhurst Hospital - Jackson Heights
April 19, 2010 / Elmhurst & Jackson Heights / Queens Buzz. I arranged to conduct an interview and take a tour of the Elmhurst Hospital in Queens. The hospital's Associate Executive Director of External Affairs, Dario Centorcelli made time in his schedule to accommodate my visit. I arrived mid morning and we immediately struck up a lively dialogue about Elmhurst and Queens hospitals which would last past lunchtime. During that time I found Dario had a near encyclopedic mind about the hospitals in Queens. In the photo to your left you see surgery being performed at Elmhurst Hospital in Queens.
Click here to read the rest of the story including numerous photos and a slide show of Elmhurst Hospital in Queens NY.
---
Hospitals, Clinics & Healthcare in Queens
---
---
---
Queens High School Closings LIC & Bryant
Queens High School Closings
How Are Queens High Schools Performing, Are They Being Evaluated Fairly & How Do Public Schools Perform Vs Charter Schools
April 21, 2012 / Education in Queens / Queens Buzz. Is the Mayor trying to improve NYC school system performance or is he trying to privatize the NYC public school system? When I began a journey to better understand the issues surrounding public school system performance beginning about a year ago, I had no idea I would end this segment of the journey pondering the question articulated above.
Over the course of the past year I've attended a number of meetings and rallies held at public high schools in Queens concerning the performance of public high schools in the Queens school districts. My last visit was on Tuesday, April 17, 2012, when I attended the public hearing at LIC High School regarding the Department of Education recommendation to close it.
As I entered the building I was surprised to see such a large turn out for the meeting. An auditorium that seats nearly a thousand people, was nearly full.
Click here to read our report about the public high school closings in Queens. Story & photos by Michael Wood.
---
Colleges & Universities In Queens - Queens College
Queens College In Flushing
NYC Educators Making Things Happen
January 26, 2011 / Flushing / Queens Buzz. The following report is about a recent visit to Queens College in Flushing. The school is public, but only receives one third of its funding from the state. And so the school has sought help from alumni of the college who have supported many of the college's efforts to enhance its facilities and programs through private donations.
The result is that Queens College provides NYC & Queens residents with a very good college education at affordable prices.
Click here to read our full report about Queens College in Flushing including a look at the Colden Auditorium, LeFrak Concert Hall and the Godwin-Ternbach Museum.
---
Education & Schools in Queens
---
---

---
Occupy Astoria LIC
Occupy Astoria, LIC & Queens
August 20, 2012 / Astoria & LIC / Social Issues in Queens / Queens Buzz. I attended the Occupy the Citi rally on June 27th at Citibank to learn a bit more about the Occupy Astoria / LIC movement. As it was only a few days before a number of large Queens high schools were to be re-opened as new schools [on July 1st, 2012], I found several teachers participating who were anxious about being able to keep their jobs. There were also a number of musicians in attendance and one of them was playing a tune on his sax.
As this was a protest of sorts, I had kind of expected to see a more angry crowd, but instead I encountered more of a mellow mood. Disillusionment? To be sure, but also some good old fashioned American optimism and tenaciousness right alongside it.
Click here to become more familiar with the Occupy Astoria LIC movement in Queens, as we introduce you to some of its members and include a photo slide show.
---
U.S. Census Data 2010 - Queens
Queens Census 2010
For Jackson Heights, Elmhurst, Flushing & Woodside
October 25, 2011 / Jackson Heights Neighborhood / Real Estate in Jackson Heights / Queens Buzz. I just returned from a fascinating look into the Census data for Jackson Heights, Corona, Elmhurst, Flushing and Woodside.
Fascinating? Yes, fascinating. Fascinating because there have been significant demographic shifts in these neighborhoods over the past decade. And because Steven A. Romalewski, Director of CUNY Mapping Services, gave us a demographic map presentation, the likes of which I'd never seen before. Arturo-Ignacio Sanchez of Community Board Three added quite a bit of qualitative flavor to the presentation, reminding me of some of my best college professors [because he was knowledgeable and enthusiastic]. Danny Dromm, the NYC City Councilmember of Jackson Heights was the sponsor of this presentation.
But I digress. Click here to view our report on the 2010 Queens census [with exclusive emphasis on Jackson Heights / Corona / Elmhurst & adjacent neighborhoods], including slide show with many of Steven Romalewski's slides and a link to an interactive mapping site.
---
Social Issues & Immigration in Queens
---
---

---
Queens Employment - Jobs Sectors & Employment In Queens
Queens County Employment Bests NYC
Queens is one of NYC's Top Employment Performers
December 19, 2012 / Queens Neighborhoods / Employment in Queens / Queens Buzz. Tis the season to be jolly and reflect on what's happened economically over the past year while contemplating and planning for what lies ahead. To that end we did a bit of research into Queens current economic trends, specifically in the employment area.
Queens Employment & Economy is Diversified
Queens has a relatively diversified employment base. Queens County industries include: 1) transportation facilities such as JFK and LaGuardia Airports, Long Island Railroad stations, a network of MTA subways and buses, and a network of federal, state and local roadways,
2) energy infrastructure including two major power plants along the East River,
3) a growing hospitality section including hotels, a large casino, two horse race tracks, a major league baseball team, thousands of small to large retailers,
4) an array of about 2,200 restaurants,
5) a full service construction industry,
6) some light manufacturing and
7) government / social services / education as Queens is home to about a dozen hospitals [both private & public] and over three hundred public schools.
Click here to read our report on employment, unemployment & industry in Queens.
---
Political Advertising Workshop In Astoria Queens - Museum of the Moving Image
Analyzing & Creating Political Advertising
Museum of the Moving Image & The NYC / Queens YMCA
November 1, 2012 / Astoria / Film in Queens / Queens Buzz. I visited the Museum of the Moving Image Friday evening to observe a political advertising educational program, being offered to the YMCA's Teens Take The City group.
Although New York has the second highest state population in the nation and is home to the second highest number of Electoral College votes; the state has not been the recipient [or shall I say victim] of a barrage of political advertising – as are not the inhabitants and voters of one of the 2012 swing states.
But, Christopher Wisniewski, the Museum of the Moving Image Deputy Director of Education, reminded me that in 2013 we will likely be inundated with a whole barrage of political ads, as the coming municipal elections include the selection of a new mayor and city council members.
In the photo above you can see one group of teens discussing the infamous 'Daisy' commercial broadcast by Lyndon Johnson during the 1964 presidential election. Click here to read more about the Museum of the Moving Image political advertising film workshops in Astoria Queens.
---
Lessons of a Queens Hurricane Chaser
Lessons of a Queens Hurricane Chaser
Chasing Hurricane Sandy in Queens
October 30, 2012 / Queens NY / Queens Weather / Queens Buzz. It was 5 pm Monday evening as I set out on my bicycle to truly experience the tropical winds of Hurricane Sandy. I chose the evening hours because it was after the high winds would have arrived, shaking loose (hopefully) most of what was to be shaken loose, so I would not be hit in the head by any debris.
The early evening was also just a few hours ahead of the 'tidal surge' we had been warned about, which was supposed to peak in the East River at about 8 pm. And since it would still be light out, I could get some photos of my journey into the tropical storm as it hit Queens.
In the photo above you can see a tree bending to the winds of Hurricane Sandy, with the new LIC skyscapers along the East River in the background. The winds were blowing fiercely along the East River.
Click here to read more about The Lessons of a Queens Hurricane Chaser - photos of Hurricane Sandy in Queens.
---
Elections, Laws & Compliance in Queens
---
---
---
Queens Related Info
Click this link for promotions, discounts and coupons in Woodside, Sunnyside and Queens.
Click this link to go to the Astoria Neighborhood / Long Island City LIC Neighborhood / Sunnyside Woodside Neighborhood News / Jackson Heights Elmhurst Neighborhood / Flushing Corona Neighborhood / Jamaica Neighborhood.
---
Site Search Tips. 1) For best results, when typing in more than one word, use quotation marks - eg "Astoria Park". 2) Also try either singular or plural words when searching for a specific item such as "gym" or "gyms".
---
Archives - TBD
---
Click this link to search for something in our Queens Business Directory.
Click the log in link below to create an ID and post an opinion.
Or send this story to a friend by filling in the appropriate box below.
---
---
---