Queens College In Flushing
NYC Educators Making Things Happen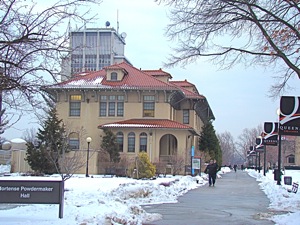 February 7, 2011 / Flushing / Queens Buzz. The following report is about a recent visit to Queens College in Flushing. The school is public, but only receives one third of its funding from the state. And so the school has sought help from alumni of the college who have supported many of the college's efforts to enhance its facilities and programs through private donations.
The result is that Queens College provides NYC & Queens residents with a very good college education at affordable prices.
Click here to read our full report about Queens College in Flushing including a look at the Colden Auditorium, LeFrak Concert Hall and the Godwin-Ternbach Museum.
---
Queens College In Flushing
NYC Educators Making Things Happen
February 7, 2011 / Flushing / Queens Buzz. Continued.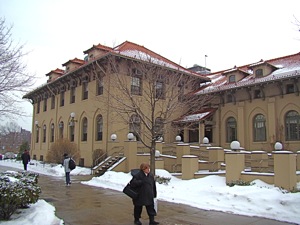 Queens College began in 1937 shortly after the City University Of New York [hereafter referred to as CUNY] opened Brooklyn College. The original buildings on the campus sport a Spanish style of architecture, and on my tour I counted a few of them that are still in existence today. See one of the original spanish style buildings on the Queens College campus in the photo to your right.
Phyllis Cohen-Stevens, the Deputy Director of News Services organized the visit and we started at the top of Kiely Hall where we met with Queens College President, James L. Muyskens.
James Muyskens - Queens College President
President Muyskens is a tall, lean personable man who worked at Hunter College in NYC, in Atlanta as well as in the Midwest before beginning as the president of Queens College in 2002. We sat in his office and an hour flew by as I was given broad brushstrokes of how Queens College had originated, evolved and where it is heading.
Before delving into the institution, I asked President Muyskens about his career prior to Queens College. He told me that he had started his journey in the Midwest at the University of Michigan where he graduated with a PhD. in Philosophy. He went onto the University of Kansas where he worked as the dean of the College of Arts & Sciences, and then took a position at the University of Georgia where he became the Chief Academic Officer. He came to Queens College in 2002. President Muyskens is shown in the photo above.
Queens College In Flushing - Brief History

Queens College first president was Paul Klapper, an NYU PhD. graduate who wanted to create a liberal arts college with a "core" curriculum that included two yeear s of basic course and two years of concentration in a specialized area of study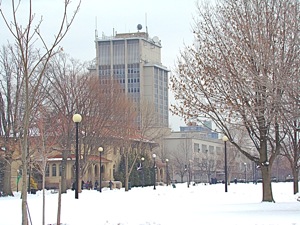 . The emphasis on a core curriculum is to ensure that all college graduates have a solid academic foundation in the critical, or core, areas of knowledge. If this foundation is properly built prior to students leaving school, they will be able to build upon it as they go through life. Kiely Hall, the administration building, is shown in the photo to your left.
A core curriculum generally includes literature so one learns to read and write critically and insightfully, philosophy and mathematics so one learns to reason, science so one understands how the physical world functions, and the social sciences so that one learns about man's nature, history and institutions, as well as how to critically process information.
As it turns out, many people returning from WWII started matriculating at Queens College. The core curriculum must have held them in good stead, as many Queens College alumni were financially successful, and later returned to contribute to the school's endowment.
Queens College - Evolving Institution
Queens College has 21,000 students, 16,000 of whom are undergraduates. The graduate school degrees include: Education, Library Science, Speech Pathology, Music, Theater and Risk Management. We will delve a bit deeper into some of these subject areas later in this report. The Benjamin Rosenthal Library and Chaney-Goodman-Schwerner Clock Tower are shown in the photo to your left.
Funding Educational Excellence - Queens College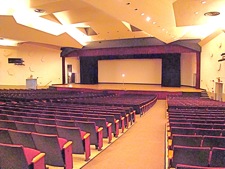 Almost weekly one can see in the press that voters' interest in funding public education appears to be limited. Hence Queens College pursues funding from private benefactors in order to enrich and expand its facilities and educational offerings. These enhancements help to attract high quality educators and students to the school.
Examples of this sort of alumni backing include donations by alumni who contributed millions to fund the arts. Of note are Selma and Max Kupferberg, whose largess resulted in the renaming of the Colden Center to the Kupferberg Center for the Visual and Performing Arts in March 2006. The Colden Center was built in 1961 and named after the founder of Queens College [see Colden Auditorium in the photo to your right]. The Lefrak Concert Hall was built in 1989 [see photo below] and included as part of the complex. Other examples of alumni support include donations which went toward the development of the school's speech pathology program, which is part of the college's department of linguistics and communications disorders, and the Aaron Copeland School of Music.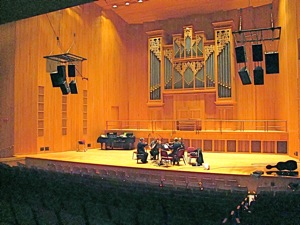 President Muyskens talked about plans for the next fundraising campaign given the school's needs and the dire economic climate.
A Very Good College Education At Affordable Prices
I looked up the academic ranking of Queens College in U.S. News & World Report to see how Queens College had been faring. Harvard is ranked #1, has a score of 100 and costs about $40,000 per year. NYU is ranked 33, has a score of 66 and costs about $40,000 per year.
Given these numbers, Queens College seems to compare favorably. Queens College is ranked 58, has a score of 42 and costs under $5,000 per year. As we stated in the introduction, this is just one example of how NYC educators are making things happen. To be fair, Harvard and NYU are ranked in a separate category 'Best National Universities', while Queens College is ranked as one of the 'Best Regional Universities'. One of the major differences between these two categories is that regional universites have few, if any doctoral programs.
Queens College - Liberal Arts Education In Queens
The idea of the core curriculum espoused by President Muyskens and the Queens College faculty has evolved over time. In the 1960's and 1970's many schools began experimenting with developmental courses that strayed from the original discipline and body of knowledge of an academic subject.
Over time many educators came to the conclusion that required courses shouldn't stray from the core academic discipline and body of knowledge, as they represent essential components of a college education. Hence colleges began migrating back to defining academic requirements more in line with tradition. At Queens College as of 2009 core requirements include courses in writing, math, abstract or qualitative reasoning, a foreign language, art, literature and natural sciences, one of which has a lab component. This was in contrast to elective courses, which may lead one into some of the more esoteric branches of a given field of study.
Four Year Liberal Arts Colleges In Queens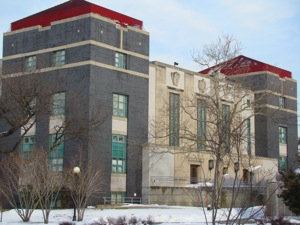 Queens College is a four year college, wherein most full-time students take 12 to 16 credits, with each course representing about three credits. Queens College also offers many graduate programs. Most PhD students attend classes at the CUNY Graduate Center at 365 Fifth Avenue in Manhattan (former B. Altman building), which grants their degrees.
Queens College is well known for its music and theater departments. Quite a number of students have graduated in these areas and gone on to have quite successful careers. Some of the College's famous alumni include: producer / actor Jerry Seinfeld, singer / songwriter Paul Simon, composer Marvin Hamlisch, singer / songwriter Carol King, and actor Ray Romano.
About 85% of the school's graduates remain in the NYC Metro and surrounding area, while about 15% leave for distant pastures, such as southern Florida, southern California and Boston.
College Level Online Learning In Flushing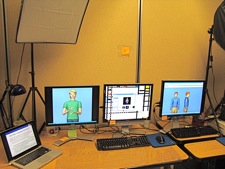 I asked President Muyskens how Queens College is responding to the trend toward online learning. He told me about his experience while working for the University of Georgia where he had led an experimental foray into this area of college education.
Queens College has begun experimenting with online learning by providing some / segments of classes online, where students can log into classes, participate digitally and be queried interactively. He noted that other schools, like the University of North Dakota, are fairly advanced in using online technologies for college courses because of the long distances students must commute to physically attend classes and the impediment of severe weather such as snowstorms.
City University Of New York - CUNY Colleges
I asked President Muyskens how Queens College fits into the CUNY system. Essentially there are four public colleges in Queens: 1) Queens College, 2) York College, 3) LaGuardia Community College and 4) Queensborough Community College. CUNY also has a Law School, which is located in Flushing, but which is scheduled to begin operations in Long Island City in the fall of 2012.
The first two CUNY colleges mentioned above offer four year programs, while the latter two colleges offer two year programs. Hence many LaGuardia and Queensborough graduates transfer into Queens College or York College to complete their four year degrees. Some also transfer into SUNY colleges, such as nearby Nassau Community College. As an aside, the State University Of New York [also known as SUNY], is comprised of the public New York State colleges many of which lie outside NYC.
College Tuition - Queens College & CUNY
One of the great benefits of matriculating at CUNY colleges is the price. Tuition for a semester at Queens College in 2011 costs $2,415, which means that the full year tuition cost is still less than $5,000. Compare that with what many private colleges are now charging students, which runs between $30,000 and $40,000 for a full year. The advantage is that many Queens College students start their work life or enter into graduate school with little debt.
CUNY College Tuition Aid - Other Sources Of Funds
There are also a number of financial assistance programs that enable families of four or more, earning less than $60,000 per year, to enroll in public college. The following are three examples:
TAP – Tuition Assistance Program is one a New York State program.
PELL Grants, named after former Senator Pell of Rhode Island, are a federal program providing assistance to low / middle income families.
Private Fundraising also helps, by providing funds to Queens College students with exceptional academic achievement.
I left President Muyskens office feeling like I had become better acquainted with Queens College. Phyllis and I walked across the campus, enjoying the Spanish architecture of the old buildings. She pointed out the campus clock tower, which was named after three 1960's activists who traveled down to Mississippi in support of equal rights for African Americans. In doing so, she told me, they lost their lives. The Clocktower was shown in a photo near the beginning of this story.
Click here to view Part II of Queens College In Flushing. Part II delves a bit more deeply into the performing arts venues and academic areas. Click here to view a location map of Queens College, including transit information.
Queens College in Flushing - Part II
A Private College Education at Public School Prices
February 7, 2011 / Flushing / Queens Buzz. Continued / If necessary, use the search function to find story introduction.
Linguistics Assistive Technology - Queens College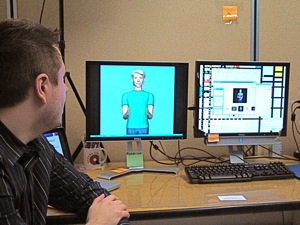 We headed into the Linguistic Assistive Technology Laboratory where we met Matt Huenerfauth, PhD and Assistant Professor in the Computer Sciences department. Matthew had the enthusiasm and intellectual absorption of a very engaged professor.
Matt has been studying sign language in order to animate it using digital technologies. He works in a computer science 'laboratory' where he creates animated sequences to help provide information to the deaf online. Apparently many deaf people have impaired English language skills because their language skills weren't developed in tandem with the development of the language portion of their brains as children. The language learning capability of the brain begins to diminish from age six onward. Hence sometimes text is an inadequate means of communication to the deaf since they might not have fully comprehended the use of the language.
Sign Language Linguistics - Computer Animation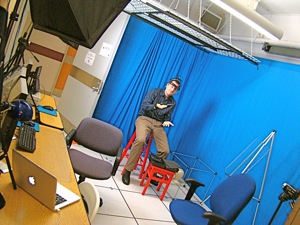 Enter Matt and computer science. Matt studies deaf 'signers' by hooking them up to a headset and suit [Matt is shown wearing the suit in the photo to your left]. The suit records their bodily movements using a wired screen above the 'performer' and records it in the computer. Matt then aggregates signers' movements to find the optimal means of signing so that he can use that information to build computer models which he then uses to create animated communications. He then tests the animated signings with deaf people.
Some of the factors that influence good signing are the use of the whole body. ASL [American Sign Language] signing is a geospatial practice and hence the speed and timing of a signer can signficantly influence their ability to be understood. The body suit worn by deaf signers in the lab at Queens College enables Matt to capture and better understand these nuances.
QC Linguistics & Computer Science Collaboration
There's a blend of human [linguistic] and computer science skills [mathematical models / animation] that come to play in this area of study. This duality appeals to Matt's intellectual curiosity. We were informed that governments from around the globe have used some of Matt's work to augment their online communication to the deaf.
Matt told us that an estimated 10,000 to 20,000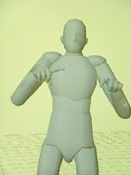 deaf people live in the NYC metro area. About 500,000 people are believed to be deaf in the U.S.. Mathematically this translates into about 10 million deaf people worldwide, but these figures do not include the hearing impaired.

Before we left the Computer Science Labs, Matt translated some of the animated sequences he had put together. One animation included a father and daughter talking about the salary and benefits of a potential employment opportunity. Another animation included a woman talking about a car coming up to the house. And a third animation was about wild bear problems encountered by tourists in the National Parks.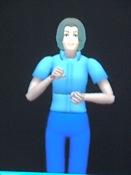 Examples of computer animated signings are shown in the three photos to your right.
Graduates of Matt's classes can use the skills they develop here to create video game animations. Matt's interest extends beyond animation sequences to identifying what we can learn about how language is used. He points out that in some languages there are many words for the same thing and in others one word that can mean many things. It's worth noting that animations are written in programming languages.
The Kupferberg Center for the Visual and Performing Arts
Our next stop was the Kupferberg Center of Queens College. We met with Vivian Charlop who is the Director of the center. Vivian provided us with background and information about the center and its various components, while giving us a tour of the facilities.
Performing Arts Facilities In Queens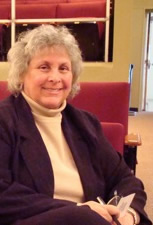 The Kupferberg Center embraces the other arts facilities and entities at Queens College, including the Godwin-Ternbach Museum, Queens College Art Center, Department of Drama, Theatre and Dance; Aaron Copland School of Music, Louis Armstrong House (in Corona, Queens) & Archives and Department of Media Studies.
There are three main venues in the Kupfenberg Center: 1) Colden Auditorium, 2) LeFrak Concert Hall and 3) Goldstein Theater. The Colden Center was built in 1961 and has 2,124 seats, the LeFrak Concert Hall was built in 1989 and has 489 seats and the Goldstein Theater was also built in 1961 and has 479 seats.
Vivian told us that each of these performing arts centers cater to various audiences within the college. She also informed us that Queens College also hosts government functions [such as the Queens Borough President's State of the Borough address], public high school graduations and recitals, and that the Colden Auditorium [only] is also regularly rented to public and private organizations. The rentals help defray the costs associated with operating the center.
Vivian noted that May and June are the busiest months of the year as the Colden Auditorium handles over 40 local high / intermediate / school commencement ceremonies [including rehearsals] in addition to a number of end-of-school year recitals. Vivian Charlop, Director, is shown seated in the Colden Performing Arts Center in the photo to your left.
Colden Auditorium / LeFrak Concert Hall / Goldstein Theater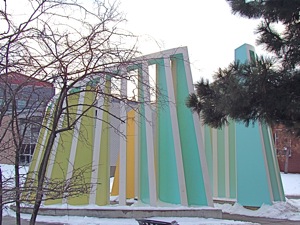 The Colden Auditorium is used for large functions such as hosting productions by famous people, large local ethnic group events, and public functions such as high school commencements.
The LeFrak Concert Hall is used for musical performances of a more intimate nature such as chamber music.
And the Goldstein Theater is used for theatrical productions, such as Shakespearean plays put on by the college. In the photo to your right is a sculpture which lies in front of the LeFrak Concert Hall and Aaron Copland School of Music.
The Colden Auditorium - Queens College In Flushing
The Queens College Kupferberg Center for the Arts hosts a continuous calendar of many professional performances that include music, theater and dance. These productions, which are also open to the public, provide students with a continuous flow of opportunities to explore the world without leaving the campus.
Click here to view the Queens Buzz Events Calendar which periodically posts performances being given on the Kupferberg Center for the Arts on the Queens College campus.
Exploring World Cultures At Queens College
It's also worth mentioning that Queens College, as a liberal arts school, has begun to explore different cultures from around the world to help broaden its students' world view. This program also reflects some of the diversity of Queens County.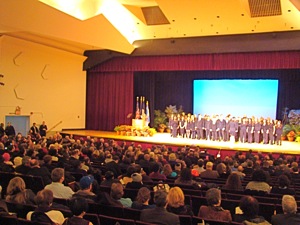 2010 - 2011 was the first academic year of this effort and Chinese culture was featured. Next year [2011 – 2012] the school will focus on Turkish culture, which includes ancient Byzantium as well as the Ottoman Empire. India will be featured in 2012 – 2013, Brazil in 2013 – 2014, and South Africa in 2014 – 2015.
The result of this program is that during the course of four years, students will be exposed to a number of foreign cultures. Vivian mentioned that as part of the college's evolving effort in this area, the school plans to reach out to local ethnic and cultural groups to invite them to play some sort of role in the program. Each year relevant ethnic groups may contact Queens College using the link below to find out how to participate in this program.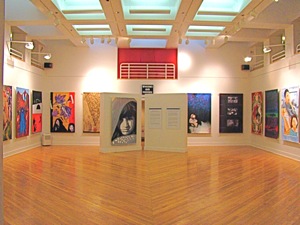 Information about each of these facilities, including prices and contact information may be found on the Kupferberg Center website.
Godwin-Ternbach Museum - Art Exhibits In Flushing
Our next stop was a visit to the Godwin-Ternbach Museum. There on exhibit were artworks reflecting some of the ongoing turmoil in Afghanistan. I briefly met with Amy Winter who talked about the museum's continuous flow of art exhibits which are open to the general public.
Graduate Programs In CUNY - Queens College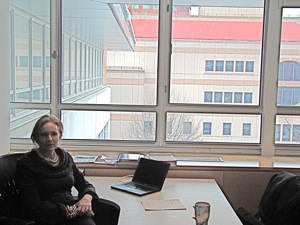 We made one last stop to visit Diane Coogan-Pushner who is the Associate Dean of Social Sciences. Diane is one of the professors teaching in Queens College emerging graduate programs. Diane teaches graduate level courses for those seeking a Masters of Science [MS] degree in Risk Management / Economics.
Diane explained that there are many categories of risk management. Some of the risk management courses address: 1) detecting and remedying failures in the compliance and control systems, 2) identifying and managing production / service process risks, 3) regulatory compliance and corporate communications risks and 4) managing business liability and property exposure.
MS In Risk Management - Queens College / CUNY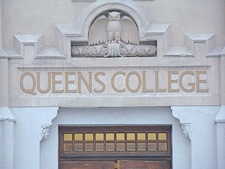 The MS in Risk Management program is two years old. The program has already enrolled 42 students and about ten members of the faculty teach courses in the program. Queens College offers three graduate degrees in Risk Management. Each degree differs in its emphasis on the use of mathematics, accounting and finance. Diane said that it's important to note that this is not an MBA program, but rather a Masters in an emerging area of Economics. Generally graduates of the program would be looking for careers in insurance, accounting or finance.
It was late in the day as I walked back across campus to Kissena Blvd. Special thanks to President James Muyskens, Matt Huenerfauth, Vivian Charlop, Amy Winter, Diane Coogan-Pushner, Phyllis Cohen Stevens and Maria Terrone.
Click here to view a location map of Queens College, including transit information.
---
Flushing / Corona Related Info
$element(adman,groupad,Catgry Rest)$
Click this link for promotions by advertisers in Queens.
Click this link to go to the Flushing Neighborhood.
$element(adman,groupad,Catgry Wedding)$
Site Search Tips. 1) For best results, when typing in more than one word, use quotation marks - eg "Astoria Park". 2) Also try either singular or plural words when searching for a specific item such as "gym" or "gyms".
$element(bwcore,insert_search,N)$
Click this link to search for something in our Queens Business Directory.
---
$element(adman,groupads,Sectional Ad)$
---
Click the log in link below to create an ID and post an opinion.
Or send this story to a friend by filling in the appropriate box below.
---