St Sebastian's Catholic Grade School - Woodside
One Of The Leading Grade Schools In Queens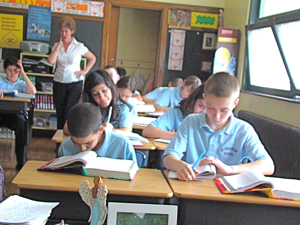 Woodside / June 14, 2010 / Queens Buzz. I just returned from a tour of St Sebastian's grade school in the Woodside neighborhood of Queens. The school is one of about 55 Catholic grade schools in Queens. St Sebastian's has an enrollment of between 400 and 450 students from nursery through the eighth grade. And the school's student body scores highly compared with the nation on standardized education tests covering math, reading comprehension and writing.
In this report we provide a brief history of St Sebastian's, an overview of it's academic, athletic and other programs, and include related information pertaining to Catholic grade schools in the Queens area. Included in this report is information about St Sebastian's tuition, enrollment fees and a summary time line of the enrollment application process [scroll down / scan the headlines to find the information you're seeking].
Click this link to read the rest of the story and view the photos of St Sebastian's Catholic Grade School in Woodside.
---
St Sebastian's School - Woodside
Full Report About St Sebastian's School In Queens - History
Continued / June 13, 2010 / Woodside / Queens Buzz. The parish of St Sebastian's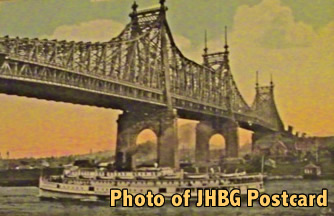 began in 1894. At the time Woodside was a predominantly Irish Catholic parish, which was augmented with Italian immigrants throughout the first half of the 20th century, well into the 1960's and 1970's. St Sebastian's grade school was erected some thirty years later, in 1926, concurrently with the Sunnyside Gardens development.
Since the turn of the 20th century [1900] new conduits and means of transportation made commuting to and from Queens possible. The Queens Bridge was erected in 1909, two new subway lines [Astoria / Flushing] were completed by 1920, and the ongoing development of the LIRR [Long Island Railroad] facilitated workers' commutes into Manhattan. Hence the sleepy little parish of St Sebastian's of 1894, was in great demand by the 1920's. Shortly after the school of St Sebastian's had been finished in 1926, the parish priest began celebrating masses in the school auditorium, as the original church could no longer accommodate the rapid influx of new parishioners.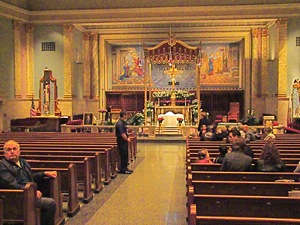 In the 1950's the Supreme Court prohibited the powerful Hollywood studios from owning movie theater chains. The intent of this ruling was to provide independent movie theater operators with a chance to compete, as well as to enable them to decide what movies they wanted to show in their theaters [prior to that the Hollywood studios frequently dictated what the movie theater owners could show]. Hence in 1952 St Sebastian's purchased the Loew's Theatre on 58th Street and Roosevelt Avenue, which it subsequently converted into a new church. I'm not an architect, but it appears that the parish did a thoughtful job of preserving much of the building's architectural beauty and integrity.
St Sebastian's & Catholic Schools In Queens
Influence Of The Brooklyn Diocese
The Brooklyn Diocese was founded in the middle of the 1800's and encompasses both Brooklyn and Queens. In the 1960's the bishop of the Brooklyn diocese began building high schools throughout both boroughs [the New York Archdiocese is separate and the Arch Bishop is first among equals]. At that time St Sebastian's sought permission to build a high school, which was denied.
St Sebastian's Parish Center - World Class Athletic Facility
Hence St Sebastian's went on to build a Parish Center, which includes an indoor swimming pool, and a full sized basketball court that includes bleachers and is configurable into 4 half-court basketball courts. The basketball / gymnasium also includes a stage so that this room may also be used as a large auditorium. And the Parish Center also includes a fully equipped weight room, an exercise room with treadmills / other machines and computer equipped classrooms [see slide show or click photo album link below].
Today the Parish Center is widely used by the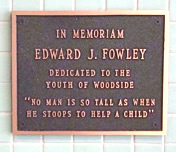 grade school for its athletic programs and after school programs. Edward J. Fowley, the now deceased former owner of Shelley's Bar in Woodside [the bar has reportedly changed hands several times since his death] took the lead in helping build the Parish Center, along with the help of over 300 other members of the community. There's a plaque in the Parish Center lobby dedicated to Fowley, that includes a quote that I have to believe inspired its creation: "No man is so tall as when he stoops to help a child."
Catholic Grade Schools In Queens – Recent History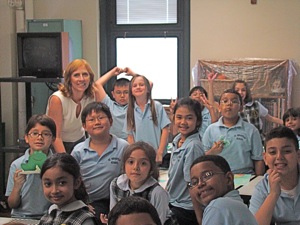 During the latter part of the 20th century and into the beginning of this century, Catholic grade schools witnessed rapid declines in enrollments. This trend was due in part to rapidly declining birth rates, the emigration out of Queens by Irish and Italian Americans, and increasingly challenging economic times for Catholic schools as they sought to attract good teachers with more competitive salaries. Hence the Catholic school system in the Brooklyn / Queens neighborhoods declined from a near high enrollment of 132,000 students in 1977 to 65,000 students today. This enrollment figure encompasses both boroughs; and both grade schools and high schools.
In the middle of this decade, specifically in 2005, eight Queens Catholic grade schools were closed due to significant operating losses and declining enrollments. In the St Sebastian area this meant St Teresa's on 50-15 44th Street in Woodside, Queen of the Angels on 44th Street and Skillman Avenue in Sunnyside, and St Mary's on 70-31 48th Avenue in Flushing [near Woodside] all closed their doors in 2005. Many of the children from St Mary's and Queen Of Angels transferred into St Sebastian's and many of the children from St Teresa's transferred into St Raphael's which is technically in Long Island City but is located in an area that most of us would think of being a part of Sunnyside or Woodside.
Catholic Schools In Queens Regroup – New Demographics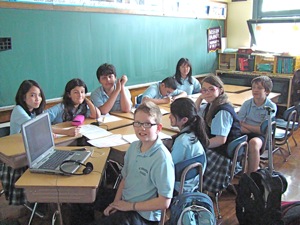 As mentioned earlier, today St Sebastian's has an enrollment of 429 students. The demographic mix is as interesting as the neighborhoods St Sebastian's serves. Today about a third of the student body is Hispanic, another third of the student body is Asian and another third of the student body is comprised primarily of children of European descent as well as some African Americans. About one fourth of the student population is not Catholic, providing some religious diversity as well.
St Sebastian's Academic Performance
St Sebastian's has a commendable record academically. Generally private schools outperform public schools and in the case of St Sebastian's they do so strikingly. Given the average or median performance on tests by all schools nationwide is the 50th percentile, the average score by St Sebastian's graduating 8th grade class ranges between the 70th and 75th percentiles. This means that the average St Sebastian graduate has an average test performance score that is 40% to 50% above the national average.
St Sebastian's Enrollment Process / Enrollment & Related Fees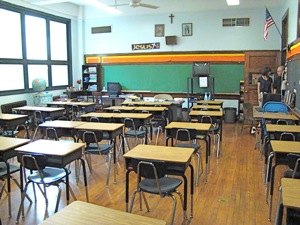 St Sebastian's begins planning for its fall enrollment at the beginning of the calendar year. Enrollment forms are available in early February and the school hosts open houses around this time [January / February] so that prospective parents and students can visit the school. Parents of prospective students are given school tours by eighth graders as part of their public service work. A non-refundable $150 registration fee is charged by the school to help cover some of the costs associated with accommodating, processing and evaluating prospective students' applications.
Within one to two months, the school begins interviewing prospective students / parents. The interviews are generally conducted by the would-be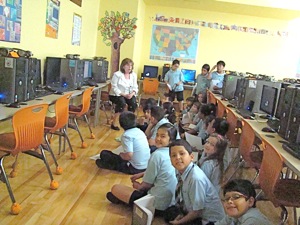 teachers of the prospective students. Some of the things taken into consideration include how the child will perform academically, and whether the school can meet the child's academic needs. Concurrent with the enrollment, tours and interviews, St Sebastian's administration works to balance class sizes with existing teacher contracts and new teacher hires. Things are frequently in a state of flux as people's jobs, housing and other factors are continually changing which in turn affects the school's headcount. They recommend applying as early as you can so that you'll be first in line, should they have a tight class and someone decides to drop out at the last minute. Generally, somewhere between the months of April and June, the fall class of the coming school year has been selected.
St Sebastian Tuition & Financial Aid - Private Schools Queens
St Sebastian's offers financial aid to parents who may not be able to afford the full tuition, which is $4150 for the 2010 – 2011 school year. There is also a registration fee of $150 [as previously mentioned] and a materials fee of $250 and there are two mandatory fund raising events during the school year [magazine subscription and candy sales]. At the time of this writing, non-Catholics are charged an additional $800.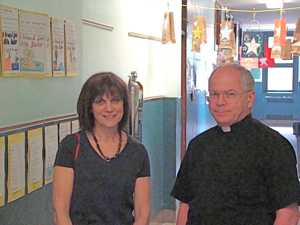 Financial aid is available to those who need it. Both the principal and the monsignor told me that they encourage everyone who is interested in having their child attend St Sebastian's do so regardless of their financial situation. Private school assistance is available to those who qualify and scholarships are also granted based on established criteria. Private institutions also support interested students by providing financial assistance. And Monsignor Hardiman made special mention that the Alive And Hope Foundation has helped numerous students over the years by making $1400 grants toward applicants' tuition.
Academic Performance Post St Sebastian's
Many St Sebastian graduates go onto enroll in Catholic high schools and then onto colleges of all sorts. I asked if they had kept records of how many alumni went onto colleges and which colleges, but St Sebastian's didn't track that sort of information. Nonetheless, they were able to provide anecdotal information about how their graduates were doing in securing high school scholarship grants. The 2010 graduating class of sixty students had, to date, accumulated over $300,000 in grants. This averages out to a $5,000 grant per student … TO ATTEND HIGH SCHOOL.
St Sebastian's Alumni Provide Support
There are approximately 7,000 St Sebastian alumni, of which about 700 are actively involved in the school. Over the past couple of years the alumni group sponsored new tables, chairs and blackboards in the science room. And one family, the Ashtons, created a foundation that has dedicated much of its effort to helping St Sebastian's.
Thomas J. Ashton was an alumnus and an electrician who died in the 911 WTC collapse in 2001. His parents and two sisters, all St Sebastian's alumni, started the Thomas J. Ashton foundation.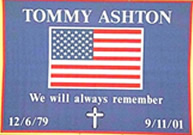 In recent years the Thomas J. Ashton Foundation has provided the school with a new Science Lab, a new air conditioned computer room which is equipped with a couple of dozen computers and a new library / media center. It's heartening to know, that out of such evil, goodwill can still blossom. Every year, in April, the Thomas J. Ashton Foundation holds a basketball fundraiser at St Sebastian's Parish Center to help raise funds for the school.
St Sebastian's Grades - Catholic Schools In Queens
As mentioned earlier, St Sebastian's educates children from ages 3 – 13. The nursery program is the school's first offering, followed by their Pre-K program, kindergarten and then grades one through eight. The school's principal, JoAnn Dolan, informed me that the children's academic testing performance rises as the kids progress through school, so that by the time they graduate, on average, they are significantly outperforming their peers vis a vis the national average [see specifics above].
St Sebastian's Class Size – Special Programs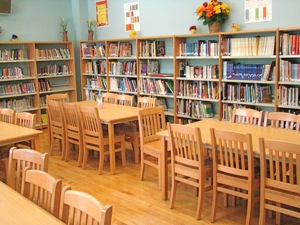 St Sebastian's class sizes range from 22 to 30. According to educational experts this is a good classroom size as it enables a teacher to move a class along quickly enough to keep most students interested, while providing enough time to address students who may require a bit of extra attention.
St Sebastian's also inherited a Title One reading / math remediation treacher from one of the Catholic schools that was closed in 2005. For two days each week, children who need extra help with reading – get it. And for another two days each week, children who need extra help with math – get it.
School Hours / After School Programs
St Sebastian's school day starts at 8 AM and runs through to 2.45 PM. St Sebastian's is a full service school, providing extended hours [from 2.45 – 6 PM] for parents who work full time jobs. Hence during after school hours, for an added fee, children are monitored in a structured program that includes time for homework, access to computers, a snack and some play time in the gym.
Standard & Enhanced Curriculum / Private Schools - Queens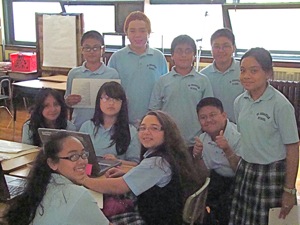 St Sebastian's curriculum includes the standard assortment of studies as required by the educational accreditation program provided by the state. St Sebastian's curriculum includes: 1) Math, 2) English, 3) Science, 4) Social Studies, and of course being a Catholic school, 5) Religion. Religious studies cover different topics each year ranging from biblical studies, to the history of the church, to studying the life of Jesus, and so on.
In addition to these subjects students are required to attend a computer lab once per week where they learn how to use the computer. The school also began an experimental introduction to the Spanish language program that was so successful it was incorporated into the curriculum. It is also given once per week. St Sebastian's provides art classes, wherein the art teacher works with teachers from other disciplines, for example social studies, to identify themes for artistic expression.
Sports, Athletic Programs & Lunch
No educational curriculum is complete without physical education. St Sebastian's students are blessed with pretty liberal access to the Parish Center for athletics and a large expanse of fenced in lawn / yard for sports games and related activities. St Sebastian's offers a full line of traditional sports programs including baseball for boys, softball for girls, and basketball and swimming for both sexes. Students bring their own lunches which are eaten in the auditorium.
Click here to view the St Sebastian's website for further information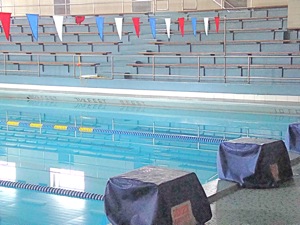 Special thanks for Monsignor Hardiman and St Sebastian's Principal JoAnn Dolan for providing me with access to the school and much of the information used here to compile this report. JoAnn Dolan has been the principal at St Sebastian's for six years and was the principal at another diocesan school during the seven years preceding her appointment to St Sebastian's. Monsignor Hardiman has been managing the St Sebastian parish since 2002, and has an impressive resume that includes decades of experience in education, administration and as a parish priest. Click here to go to the St Sebastian School in Woodside Queens website.
---
Saint Sebastians In Woodside - Slide Show / Photos
Also, click here to view the album of photos taken of St Sebastian's facilities and students in the Woodside neighborhood of Queens.
$element(ophoto,photo_slideshow,80,550,,5.00,fade)$
---
Woodside Related Sections. Click this link to go to the Woodside Neighborhood News / Woodside Restaurants Guide & Map / Woodside Shopping Center & Map.
Site Search Tips. 1) For best results, when typing in more than one word, use quotation marks - eg "Astoria Park". 2) Also try either singular or plural words when searching for a specific item such as "gym" or "gyms".
$element(bwcore,insert_search,N)$
Click this link to search for something in our Queens Business Directory.
---
Send this story to a friend by filling in the appropriate box below. Or click the log in link below to create an ID and post an opinion.
---