Jackson Heights Public & Private Schools - Section
January 15, 2018 / Jackson Heights Neighborhood / Queens Schools / Queens Buzz NYC.
This section is dedicated to covering private and public schools in Jackson Heights and Corona. The section also includes a number of reports which address issues universal to public education in Queens and NYC as a whole, due in part to the fact that Jackson Heights NYC Councilmember Daniel Dromm had been the Chair of the NYC Council Education Committee from 2013 - 2017 and hosted a number of events dedicated to helping the public understand the issues facing public educators and the system as a whole.
---
Jackson Heights Public Schools & Private Schools 2016
---
$element(bwcore,article_picker,1153,Y,N,page_title_home,N)$
$element(adman,groupad,Catgry Realestate)$
$element(adman,groupad,NhoodJHTS)$
---
People Power & Queens Public Schools
Group Self Organizes to Improve Neighborhood Public Schools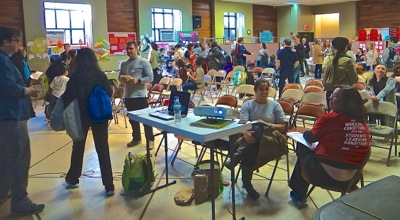 April 4, 2016 / Jackson Heights Neighborhood / Queens Public Schools / Queens Buzz.
On the afternoon of March 12th, I attended a series of workshops organized by the Jackson Heights People for Public Schools at the Community United Methodist Church. As I entered the building there was a swirling of human activity ranging from youngsters to not-so-old parents.
The purpose of the workshops was to engage not just parents, but anyone interested in helping make Jackson Heights public schools better. The group had reached out to several municipal and state government officials for help, but I was informed that only NY City Council Member Daniel Dromm responded affirmatively to their solicitation for help.
What will follow later today is a report about some of the issues addressed at the Jackson Heights Schools workshop, as well as a deeper dive into some of the issues facing the Jackson Heights, Queens and NYC public school system including the Core Curriculum, testing and the charters versus public schools debate.
---
Jackson Heights Private & Public Schools by Year
Click any of these links to scroll down to view the Jackson Heights News / Corona News briefs from prior years.
---
$element(adman,groupads,Sectional Ad)$
---
Jackson Heights Public Schools & Private Schools 2015
---
$element(bwcore,article_picker,1131,Y,N,page_title_home,N)$
---
A Look Inside Renaissance Charter School
One Of The Finest & One Of The First NYC Charter Schools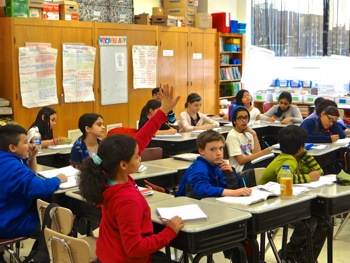 February 23, 2015 / Jackson Heights / Queens Schools / Queens Buzz.
I spent parts of a couple of days at the Renaissance Charter School in Jackson Heights recently. One of the visits was to hear testimony given by the community with respect to renewing the school's NYC Department of Education charter. The second visit was to tour through the school to view the classrooms, facilities and become aquainted with the curriculums. What follows is an account of these visits, supplemented by a bit of outside research into ongoing debate and battle about the role of charter schools in the NYC public school system.
I arrived around lunchtime and met Peggy Heeney of the Development & Outreach department of the school. After a brief orientation and discussion about the tour upon which we were about to embark, we headed toward the back of the building on the first floor of the school. The Renaissance Charter School is located just off 37th Avenue at 81st Street in Jackson Heights.
Peggy told me that the building was previously a department store and that the school had moved into it several years after its founding. She informed me that the Renaissance School actually preceded the incorporation of charter schools in the NYC public school system in the 1990's.
We'll have more at a later date about the Renaissance Charter School in Jackson Heights.
---
Battle For Public School Budget Underway
Constitutional Right To Education & Public School Funding
January 12, 2015 / Jackson Heights / Queens Schools / Queens Buzz News & Analyis.
I attended a Town Hall Meeting entitled State Of Our Schools at PS 69 in Jackson Heights on Thursday evening. The town hall included a number of panelists who spoke about some of the top concerns and issues facing NYC and Queens public schools in the current round of budget negotiations currently underway in the NYS state capitol of Albany.
Cathy Nolan, NYS Assembly Chair of the Committee on Education, and Daniel Dromm, Chair of the NYC Council Education Committe, were joined by speakers representing The Alliance for Quality Education, Make The Road NY, Jackson Heights People For Public Schools, Community Education Council 30 and the Parent Association of PS 69.
The intent of the town hall was to inform residents about the issues currently being debated in the NYS State Capitol as the Assembly and Senate work on budget bills to fund public education in the state of New York.
Some of the issues discussed included every citizen's constitutional right to a quality public education, which was interpreted by the Courts to mean providing every citizen with the skills to compete in the 21st century economy and the capacity to function as a contributing member of society.
Other issues included discussion of the current tax cap bill - which would cap property taxes at 2.5% - and thus limit the money available for public education. Currently about 30% of NYC residents are property owners. Over the past decade an increasing percentage of city property has been acquired by large corporations known as Real Estate Investment Trusts. It's worth noting that one of the NYC tabloids, the NY Daily News, is owned by the billionaire founder of an NYC Real Estate Investment Trust.
Property owners say they already pay too much in taxes. One homeowner opined that government and school officials need to manage the funding more efficiently, and develop innovative / technological methods to achieve their educational goals. Many of the older, original charter schools were opened to do just that by exploring different approaches to educating the public.
Another initiative underway is to cap charter schools expansion. As mentioned above, many of the original charter schools were founded to explore different approaches to providing a quality public school education. In recent years some of the newer charter schools, particularly the charter school groups [Ed Note: such as Success Academy Charter Schools], have been seen as limiting the promise of an equal opportunity in public school education.
Charter School groups have been accused of targeting areas where they can attract high performing students away from the publicly run schools and then demand equivalent public funding per child. Charter school groups allegedly claim their test scores are attributable to their educational efforts, not the higher quality of their student enrollment [this alleged claim is at odds with independent studies]. As of this date only a small percentage of the charter schools have been audited as one of them - Success Academy - filed and won a lawsuit that prevented the NYS Comptroller from auditing them based on a NYS Supreme Court Justice Thomas Breslin ruling in June 2013. Its worth noting that Success Academy Charter Schools also reportedly receives funding from Hedge Fund b/millionaires who may also have stakes in Real Estate Investment Trusts.
Public educators note that the schools that service the broader based demographic population have higher per student funding requirements in order to assist students with special needs. They go on to note that standardized testing doesn't account for progress made with a broad based diversified student population that includes students with special needs such as: children with disabilities, children from troubled homes, children with less aptitude or less motivation, and children who need to learn English [English Language Learners ELL] in addition to the general curriculum. Additional resources are required to fund different approaches / programs designed to reach, motivate and develop these children's intrinsic abilities [eg. band students perform higher in math] and enable them to become contributing members to their families, their employers and the community.
A tax break for private education is also being debated at the state level. The tax break for private education was portrayed by one of the speakers as another tax break for those who already have the means and have chosen to send their children to non-public schools. Just as the property tax cap is expected to limit public education funding, so too the private school tax break is expected to limit the total funding available to educate those who attend public schools.
Families who send their children to private schools argue that they are reducing the strain on public school resources. They note that they are not asking for a total reimbursement [meaning total payback of private tuition] but rather a deduction, which would reduce their tax bill by some percentage of their private school tuition payments. It's worth mentioning that according to the 2012 Census update, the NYC Public School system paid over $20,000 per student per year, which is a far higher cost per student than any other public school system in the nation. The Boston public school system was a close second and the Washington DC public school system came in third.
This is just a summary of some of the challenges and issues discussed at the Town Hall related to NYS public school education funding. We'll delve into these in a bit more detail at a later date.
---
$element(adman,groupad,Catgry Foodwine)$
$element(adman,groupad,Catgry Rest)$
---
Jackson Heights Public Schools & Private Schools 2014
---
$element(bwcore,article_picker,1059,Y,N,page_title_home,N)$
---
Queens School Changes
Educational Infrastructure Lags Population Growth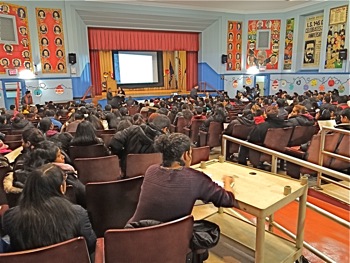 January 28, 2014 / Jackson Heights & Woodside Neighborhood / Queens Schools / Queens Buzz. I attended a Department of Education meeting to discuss the proposed changes scheduled for Intermediate Schools 230 and 145 in Jackson Heights. The plan calls for adding new space to I.S. 230, and then redrawing the district map for the two schools, so that going forward some children who would have attended I.S. 145 will enroll in I.S. 230. The children currently attending I.S. 145 will not be affected.
The intent of the plan is to alleviate the overcrowding in I.S. 145 which is operating above capacity. The overcrowding would be addressed by redrawing the school district maps following the completion of the new building at I.S. 230, so that fewer students would enroll in I.S. 145 going forward. The meeting was well attended as the I.S. 145 auditorium was fairly full when I arrived.
About half or better of the attendees were spanish language speakers and the Department of Education had not brought enough Spanish translation headsets to conduct the meeting bilingually without having the English presentation followed by a Spanish translation by a volunteer in attendance. A couple of community leaders drew my attention to this, and one of whom - an educator himself - was very irate. He explained that by not having enough headsets, the meeting would now accomplish about half as much in the same time period because of the time consumed in explaining things first in English and then in Spanish. With the headsets, the explanations would be been communicated simultaneously. He also noted that the translator was a volunteer and there wasn't any mechanism in place to ensure that the volunteer's translations were correct.
I.S. 145 recently suffered a tragic loss, as a student was killed by a motorist only blocks away from the school. Within the past six months three school age children living in the Jackson Heights vicinity have been killed by motorists, and the safety plan for the new building was one of the many concerns on the agenda. We'll post more about the meeting, and include an update about some of the proposed changes to address overcrowding in a Woodside school as well.
It seems that Queens schools, like other aspects of Queens public infrastructure [the #7 subway line / mass transit] and affordable housing, are lagging well behind Queens population growth and private development.
---
Jackson Heights / Elmhurst Related Info
$element(adman,groupad,Catgry Finance)$
Click this link for promotions, discounts and coupons in Jackson Heights, Corona and Queens.
Click this link to go to the Jackson Heights & Elmhurst Neighborhood News / Jackson Heights Restaurants / Jackson Heights & Elmhurst Shopping.
---
$element(adman,groupad,NHoodJHTS)$
Site Search Tips. 1) For best results, when typing in more than one word, use quotation marks - eg "Astoria Park". 2) Also try either singular or plural words when searching for a specific item such as "gym" or "gyms".
$element(bwcore,insert_search,N)$
Click this link to search for something in our Queens Business Directory.
---
Click the log in link below to create an ID and post an opinion.
Or send this story to a friend by filling in the appropriate box below.
---
$element(adman,groupads,Sectional2 Ad)$
---