---
De Blasio's State of the City Address 2016
Moving NYC from 'Tale of Two Cities' to 'One New York'?
February 6, 2016 / Kingsbridge Heights Neighborhood Bronx / NYC Neighborhoods / NYC Politics & Government / Queens Buzz.
I attended Mayor de Blasio's second State of the City Address delivered at the Performing Arts Center at Lehman College in the Kingsbridge Heights neighborhood of the Bronx. In spite of its northern, non-central location, the speech was well attended. About three dozen protesters also made their way north of Manhattan into the Central west Bronx, wielding placards asking the Mayor to stop gentrification and something about fair labor practices.
I took my place among the press corps where we were seated right in the middle of the auditorium. After settling in, I started photographing the slides whizzing by on the main stage, showing the accomplishments of the de Blasio Administation during its first two years. I have included a slide show a bit later in this report, which contains some of the slides that I photographed.
Unlike last year, when the Mayor and the Police Commissioner were having difficulties adjusting to each other, this year the mood seemed buoyant. In front of me was a group of students from the Laboratory School of Finance & Technology - MS 223 - at 360 East 145th Street in the Mott Haven neighborhood in the Bronx. The school is connected with Bronx Prep and hence handles grades 6 through 12.
Click here to read our report of Mayor de Blasio's State of the City Address 2016. The report includes video excerpts of the Mayor's speech, as well as two other short video pieces including the harmony singing of the National Anthem by a talented Bronx choral group, and the teachers and students of MS 223.
---
Van Bramer & Peralta Support $8 Tolls on Queensboro Bridge
Move NY Congestion Traffic Pricing Plan
Proposal To Toll Tax Away NYC Traffic Congestion Caused By A Century Of NYC Infrastructure Designed With Manhattan As The Hub
Van Bramer & Peralta Support 'Move NY' Plan Which Calls For The Installation Of $8 Tolls On Queensboro, Brooklyn, Manhattan & Williamsburg Bridges
November 9, 2015 / Queens Neighborhoods / Queens Government & Politics / News Analysis & Opinion / Queens Buzz.
NYC Councilmember Jimmy Van Bramer and 14 Democratic Progressives recently embraced the Move NY Congestion Traffic Price Plan, which among other things, calls for $8 tolls [or $5.54 with the use of an EZ Pass] on all East River Bridges, including Queensboro, Brooklyn, Manhattan & Williamsburg Bridges.
NYS Senator Jose Peralta of Jackson Heights / Corona has been an early advocate of the Move NY Congestion Traffic Price Plan.
Most of the rest of the Queens government officials do not support the plan. And hence we decided to take a closer look into the plan, to better understand what the issues are.
And we were more than a little bit surprised at what we found.
How Do The Plan Assumptions Stack With Known Realities?
In this report we're going to describe the Move NY repackaged Congestion Traffic Price Plan. Specifically we will explore the assumptions upon which the plan is based, and then go behind the curtain to explore some of the relationships between the different groups pushing the plan, in order to better understand the economics of the politics.
Move NY Congestion Traffic Pricing Plan Organizers & Shadow Lobbyists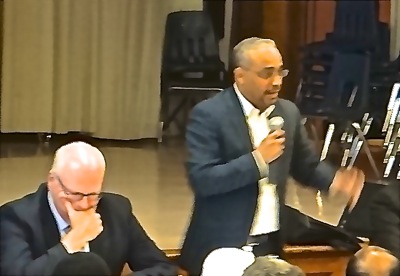 After the meeting I started investigating the Move NY Fair Plan and stumbled across a website name that feeds into the Move NY organization's website. The current Move NY official website name is www.iheartmoveny.org - but you can also get there using www.move-ny.org - which will forward you to the same site.
The owners of the www.move-ny.org site are listed as Blue State Digital, which is a public relations firm. Their website says that they,
"... build and galvanize communities on behalf of some of the world's leading nonprofits, advocacy groups, and brands."
They were written up in a New York Times OpEd piece by Thomas Edsell entitled Shadow Lobbyists, as a new class of public relations firms that galvanize public opinion in the same way that one galvanizes support for political candidates. It's still public relations, but the techniques are different. We'll probe the vested interested parties in more detail a bit further into the story.
In Move NY 'Fair' Plan There's More Than A Dozen(s) Of "Komanoff Assumptions or Estimates"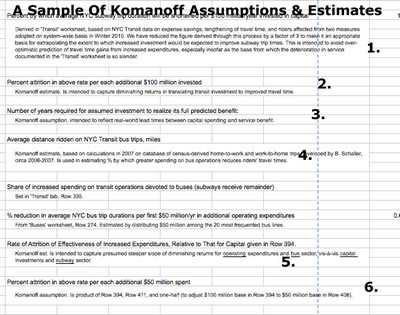 Charles Komanoff is a consultant for the Sam Schwartz Move NY 'Fair' Plan. The Move NY Plan appears to have relied very heavily [or entirely?] on Komanoff's BTA or Balance Transportation Analyzer. In a quick perusal at some of the underlying math, I found easily more than a dozen estimates and assumptions which were entitled 'Komanoff Estimate' or 'Komanoff Assumption'.
It's worth noting that in general, economic models such as the Balanced Transportation Analyzer or BTA, can be made to produce any conclusion one wants, if one is in control of the underlying assumptions.
Congestion Traffic Pricing Plan Assumptions & Pricing Elasticity
There are many underlying assumptions baked into the Move NY Plan that are worth questioning in far greater detail. But the biggest key assumption to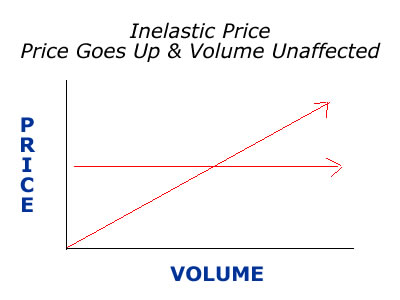 investigate is the pricing elasticities baked into the plan. Pricing elasticity predicts whether or not people will drive over a bridge or a road, if the price of the toll on the bridge / road increases or decreases.
Based on a number of studies done over the past decade, including two in the New York City area, some drivers will adjust the time of day they travel over a toll bridge or road slightly, in order to obtain a discounted rate, but few appear to decide whether or not to use a bridge or toll road because of a toll price increase.
Part of the implicit positioning of the plan is that it will reduce carbon emissions. Implicit because both Komanoff who provided the BTA [Balanced Transportation Analyzer] econometric model for the Move NY Plan, and Matthiessen who runs the public relations firm lobbying for the Move NY organization, are on the board of the Carbon Tax Center. More on this later.
Independent Studies Have Shown That Toll Price Increases Negligibly Impact WHETHER Or Not Drivers Will Use Bridges Or Roads Vs Public Transit, But Can Impact WHEN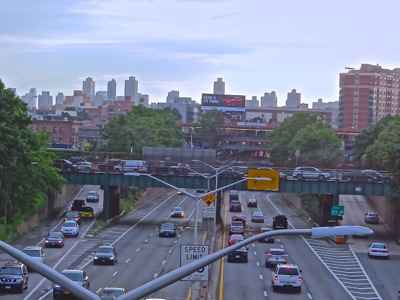 The studies of the impact of toll price changes on roads and bridges, were done by independent institutions like established universities and governments. The goal was to determine if pricing can be used to alter traffic patterns. We will provide you with the results of some of these studies further into this report, so you can judge for yourself whether or not to rely on the assumptions embedded in the Make NY Plan by consultant Charles Komanoff.
For those of you who didn't get a chance (or weren't interested) in studying economics, price elasticity is:
"… is a measure of the responsiveness of demand or supply of a good or service to changes in price. The price elasticity of demand measures the ratio of the proportionate change in quantity demanded to the proportionate change of the price."
An elastic price means if the price goes up, the quantity goes down and vice versa. An inelastic price means that people won't change their behaviors much in response to price increases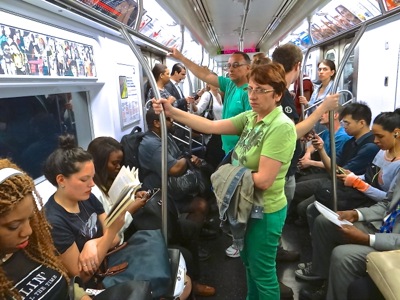 - oftentimes because they don't have what they consider to be reasonable alternatives.
Take electricity into your household prior to deregulation as an example. If the monopoly power company took a price increase, you didn't quit using the lights, stove, TV, furnace or washer / dryer because the options weren't that reasonable. Apparently the folks who use the toll bridges and toll roads don't feel they have good options either. So if the price of a toll bridge or toll road goes up, there's a negligible change in usage behavior - except with respect to shifting the time of use.
Of course in this case, the Move NY Plan is really advocating more than a toll price increase, as they are advocating the introduction of tolls where they had not been.
Toll prices appear to influence bridge / road usage times [eg. motorists plan their trips either immediately before or after peak periods] but do not appear to alter the means of transportation chosen [eg. take the car vs take the train]. The implication is that there may not be an ecological benefit to this plan.
Congestion Pricing Experience In London
London, Stockholm and Milan have implemented Congestion Traffic Pricing Plans in parts of their cities. One cannot underestimate the differences between New York City and its European counterparts including road widths [the plans targeted European Medieval town centers], the population density [Manhattan is many times more dense than of any of them], the geography [Manhattan is an island connected by 18 bridges and tunnels, while London, Milan & Stockholm are not] and so forth.
That said, London was the first city to implement congestion traffic pricing in 2003. We will take a brief look into some of the outcomes of that implementation later in this report, but the two key findings that stick with me are: 1) London never went forward with extending the Congestion Traffic Pricing zone and 2) it's been reported that the implementation infrastructure costs were very sizeable, and that less than half of the new revenue ended up in proposed infrastructure development.
New York City Transit System Designed in 1900 & Built by 1961 When NYC Was A Different Place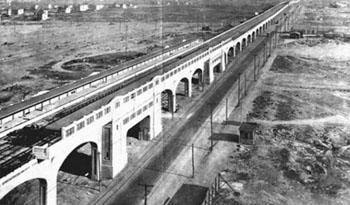 In 1900 Manhattan represented 52% of the population of New York City and Brooklyn represented 33% - the remaining 15% was spread in the other three boroughs which were somewhat rural and low density population areas.
Around the turn into the 20th century city planning, by necessity, came into vogue. And it was also the time during which New York City mass transit began being built. By 1940 most of the build out was completed save the Brooklyn Battery Tunnel (1950), the Verrazano Narrows Bridge (1961) and the Throgs Neck Bridge (1961).
Today Manhattan represents about 20% of the population, while Brooklyn is about 30%, Queens 27%, Bronx 17% and Staten Island 6%. If you look at the map below, you'll see how the bridges and tunnel transportation infrastructure converges on Manhattan because that's historically and still the New York City hub.
Can The City Toll Price Its Way Out Of A Century Of Infrastructure Design & Build?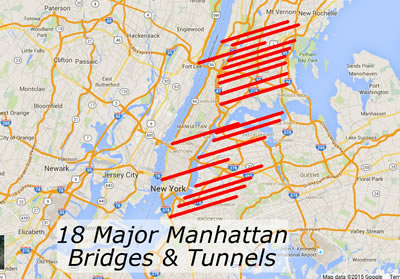 The total bridge / tunnel crossings of the outer four boroughs is 28 and 15 of them are with Manhattan. Manhattan by itself has a total of 18 crossings, including the 15 just mentioned and another 3 major crossings coming in from New Jersey.
Decades of prior New York City Mayors and New York State Governors & the respective legislative bodies have failed to recognize and address perhaps the most basic reality and issue facing the New York City transportation system today - that the overall transportation infrastructure was designed and built 70 to 100 years ago to serving Manhattan as the hub.
While the population densities of the boroughs has changed significantly, Manhattan still remains the center of the city in terms of commercial and cultural activity and this is due in part to its accessibility.
How Fair Is The Move NY 'Fair' Plan?
Sam Schwartz's Move NY Congestion Traffic Pricing Plan appears to be a socially and economically regressive tax increase because if it succeeds, the brunt of the pain will be borne by the lower and middle income wage earners who will bear the costs if they can't leave their car - and if they do, who will put an even greater strain on the subway system which already appears to be running near full capacity. The subway system is a transit category upon which the Move NY Plan only marginally touched upon.
Geographically the burden targets the Bronx, Manhattan and other motorists who cross Manhattan at 60th Street and the motorists including from Queens, Brooklyn and Manhattan who cross the East River. They are not, as the Move NY Plan states, crossing for free because they contribute plenty to the public coffers in high rents, property taxes and municipal taxes that support both New York City and New York State infrastructure. And many of whom likely need to use their cars to enter Manhattan because they probably don't have good choices, contrary to what Move NY Plan hypothecates.
The Move NY Plan will certainly raise needed funds for public transit, and might possibly reduce carbon emissions IF the motorists re-schedule their trips AND the new tolls REDUCE bottlenecks at the East River Bridges and along 60th Avenue in Manhattan - not make them worse. Currently neither the bridges nor the 60th Street cross line have tolls.
The research indicates that the plan will not likely reduce the number of motorist trips as toll pricing appears to be inelastic and thus not a deciding variable as to whether or not people use their cars. And if the London experience is any guide, expect a sizable chunk of new revenue to go toward creating and managing the implementation of the Congestion Traffic Pricing Plan in lieu of investments in other public transit.
Click here for the rest of our story about the Move NY Congestion Traffic Pricing Plan as we explore in greater detail a connected web of people, lobbyists and organizations behind Move NY Congestion Traffic Pricing Plan and their possible motivations. We critique the plan including a review of the assumptions, and a closer look at independent studies done with regard to motorists response to toll prices and changes.
---
Grodenchik Wins District 23 Primary
Defeats Friedrich, Lynch, Parhar, Najmi & Dosamantes in Democratic Primary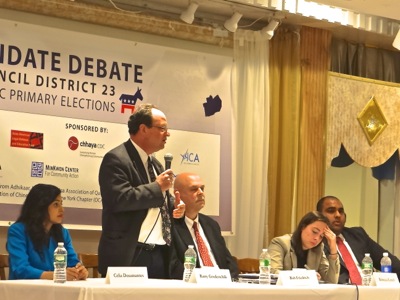 September 10, 2015 / Queens Politics / Queens Neigbhorhoods / News & Analysis. Queens Buzz. The special election for the Queens District 23 City Council seat was won by the Democratic party backed candidate, Barry Grodenchik.
Grodenchik (26%) edged out Bob Friedrich in a crowded field, with less than 30% of the vote. Friedrich was a close second (22%), followed by Lynch (20%), Parhar (17%), Najmi (10%) and Dosamantes (4%).
The ethnic vote - represented by the tallies of the last three candidates - represented over 30% of the vote. If the ethnic vote had been unified, an ethnic candidate would have been able to win the primary. That said, the non-ethnic vote as represented by the tallies of the first three candidates, was also split among three candidates, and represents two thirds of those who showed up to cast votes. About 6,300 votes were cast in total. This report is based on the vote tallies reported by the Queens Tribune and the New York Observer.
Grodenchik will go on to face Republican Joe Concannon on November 3rd in what many pundits believe is only a formality, given that the Queens Democratic electorate in the last Mayoral election [2013] represented nearly 90% of the Queens vote in the primary, and about 70% of the Queens vote in the general election.
Naturally political affiliation can vary by district, and there are a few pockets of Queens held by Republicans, but based on the general voting history of Queens District 23, it does not appear to be one of them. Click here to read an earlier report on the Queens District 23 NYC City Council candidates which includes a video of one of the forums.
---
Queens City Council Primary Thursday
Queens District 23
September 10, 2015 / Queens Politics / Queens Neigbhorhoods / Queens Buzz.
The special election primary is Thursday, September 10, for the seat vacated by Mark Weprin. Queens City Council District 23 includes all or parts of the following neighborhoods: Bayside, Bellerose, Douglaston, Floral Park, Fresh Meadows, Glen Oaks, Hollis, Hollis Hills, Little Neck, Oakland Gardens and Queens Village. And apparently a small part of New Hyde Park, most of which is located in Nassau County of Long Island, is also a part of the 23rd District and of Queens.
Click here to find a Queens polling place near you. Polls open at 6 am and close promptly at 9 pm. Click here to read a story and watch the Queens District 23 NYC City Council candidates ask each other questions and make their closing statements.
---
Queens Politics & The Democratic Party Machine
A Closer Look At The NYC City Council Race In Queens District 23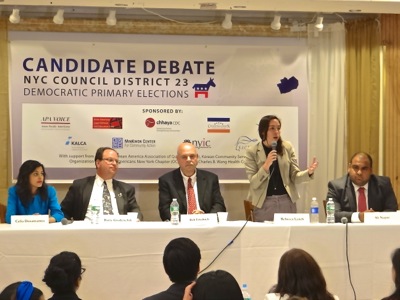 August 30, 2015 / District 23 Queens Neighborhoods / Queens Politics / News Analysis & Opinion / Queens Buzz.
On Thursday, August 27, 2015 I headed down to listen to the candidates vying for the 23rd District election seat recently vacated by Mark Weprin. There are six candidates in the Democratic primary vying for NYC City Council District 23, a seat that has been held by the Weprin family for 14 years. David Weprin first won the office in 2001. He was followed by his brother Mark who won the office in 2009, who recently left the position for a job working for Andrew Cuomo as Deputy Secretary for Legislative Affairs.
NYC Council Race Venues: District 23 Queens
The candidate forum was held at Hillside Banquet at 206-12 Hillside Avenue [at 206th Street]. The event was organized by 12 non-profit / community organizations that serve various ethnic populations in the NYC City Council 23rd District – many of which are South Asian. Winning a majority of the constituents of these organizations could result in a win for the ethnic population, and a possible upset for the Queens Democratic Party Machine, which has held this seat for four decades and likely longer.
Neighborhood Composition: NYC City Council Queens District 23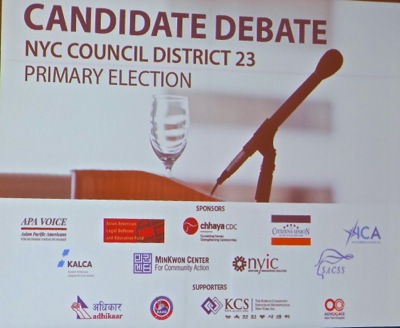 NYC City Council District 23 is comprised of all or parts of the following neighborhoods: Bayside, Bellerose, Douglaston, Floral Park, Fresh Meadows, Glen Oaks, Hollis, Hollis Hills, Little Neck, Oakland Gardens and Queens Village. Contrary to at least one candidate's assertion, New Hyde Park in Nassau County on Long Island, is not a part of the 23rd District nor even a part of Queens.
Sponsors Of NYC Council Candidates Forum
The sponsoring organizations include: Chhaya CDC, Asian Pacific Association Voice, Asian American Legal Defense and Education Fund, Citizens Union, Indo-Caribbean Alliance, Korean American League for Civic Action, Minkwon Center for Community Action, New York Immigration Coalition and the South Asian Council for Social Services.
New York City Council Candidates In Queens District 23
The candidates included: Celia Dosamantes, Bob Friedrich, Barry Grodenchik, Rebecca Lynch and Ali Najmi. One of the Democratic candidates, Satnam Parhar, was not present nor was the Republican candidate Joe Concannon.
Queens District 23 City Council Issues & Answers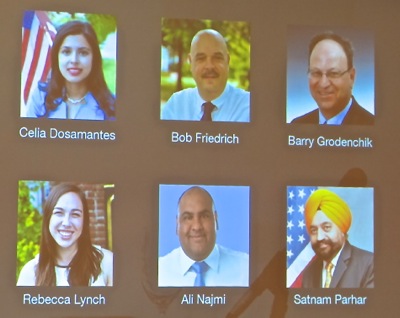 The following is a summary of the questions posed and the answers given by the candidates. The moderators of the forum were Richard S. David, Co-Founder of the Caribbean Alliance and Linda Lee, Executive Director of Korean Community Services of Metropolitan New York.
1. Do the candidates approve of a Creedmor Church development [not sure I have this right]? All candidates answered yes.
2. Are the candidates for participatory budgeting? All candidates answered yes, except Friedrich who said it's a gimmick.
3. Are the candidates for establishing uniform standards for Community Boards? All answered yes, if they could agree on what those standards would be [they allowed themselves plenty of wiggle room here].
4. Are the candidates for the ranking by voters of candidates on the ballot to avoid costly runoff elections? All answered yes, except Dosamantes who answered no.
5. Are they for giving non-citizen residents an opportunity to vote on local issues / local candidates only? I think Dosamantes, Friedrich and Grodenchik said no, while Lynch and Najmi said yes.
Click here to learn more about the Queens Democratic Party Machine and the NYC City Council race in District 23 in Queens.
---
New York City Makes 'Budget Handshake'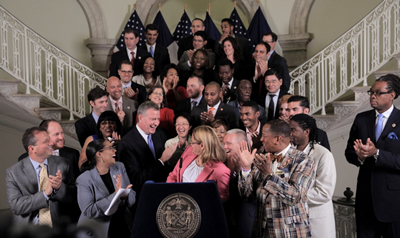 June 23, 2015 / Queens Neigbhorhoods / Queens Politics / Queens Buzz.
We received this missive from New York City Councilmember Helen Rosenthal of the Upper West Side. We've made few edits, but the text is essentially a reprint of her email.
Over 100 hours of budget hearings revealed much information that helped to shape the final agreement. [Helen Rosenthal said that] As a member of the City Council's Finance Committee and the Budget Negotiating Team, I can honestly say that all 51 members of the Council had input to ensure that New Yorkers in every borough will get the services they need. In addition to major investments in neighborhood police, there is additional funding for mental health services, veterans, and Vision Zero education.

Photo Credit: William Alatriste for the New York City Council
Education and Youth
• There will be an increase of 80 school crossing guards citywide, and the Upper West Side will gain more crossing guards. Renewed focus on recruitment and retention will happen in discussions over the summer.
• There are unprecedented amounts of funding for our young adults from summer jobs and year-round jobs to support for City University of New York (CUNY) students to keep them in college and help them graduate. 
• The additional $39 million for libraries will yield 6-7 day a week service in every borough. 
• The free lunch program in middle schools will continue, and there will be an expansion of the "breakfast after the bell" program, so that all elementary schools will offer it by 2018.
• Teachers will receive up to $125 in reimbursement for school supplies that they bring into the classroom. While this is an improvement, it is not enough. We must give teachers all the tools they need to teach well, and I will continue to work to improve this system in the next fiscal year.
Tenant Protections
• Over $35 million for lawyers, clinics, and advocacy to support tenants who experience harassment by landlords - the largest the City has ever dedicated to this issue.
• Dedicated legal advice for public housing (NYCHA) residents in housing court at 250 Broadway.
• Dedicated team of inspectors to investigate particularly egregious landlords.
Seniors and Safety Net
• Elimination of the wait list for seniors needing home care services.
• Commitment to build 5,000 new units of senior affordable housing over the next five years with dedicated on-site social services.
• Additional funding for the emergency food program and local food banks.
• The largest investment in addressing elder abuse through outreach and social services.
Small Business Support
• Dedicated funds to local Business Improvement Districts (BIDs) and civic associations. Council members will be able to designate money to support small business in their area.
• Double the investments in worker cooperative support yielding an additional 30-40 new worker-owned businesses throughout the City.
Contract Services 
• Community-based organizations providing EarlyLearn NYC services will receive wage parity with DOE employees providing that service.
• Increase of the minimum wage of "Human Service" contract workers to $11.50/hour with targeted career ladder support.
• Funding to continue providing local services from small, community non-profits that lost contracts through the citywide process. 
The City Council will formally "adopt" the City's budget at a Stated meeting later this week. At that time, we will have additional information about my dedicated funding for the Upper West Side. 
Again, this a reprint of an email from New York City Councilmember Helen Rosenthal of the Upper West Side.
---
---
Albany Legislative Session To End Friday
Pending Bills: Public School Funding & Rent Stabilization Law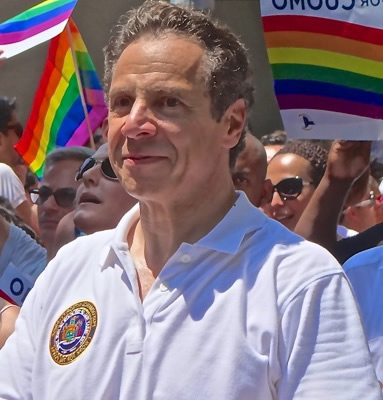 June 15, 2015 / Queens Neighborhoods / Queens Politics / Queens Buzz.
There are two important bills expected to be finalized by the New York State Legislature this week: 1) one having to do with taxation and funding for the public schools and 2) the second having to do with NYC rent stabilization law.
I've been paying some modest measure of attention to both of these bills, and the following is a brief snapshot of a critical talking point in each bill.
Use Public Money To Fund Private Education?
From what I can gather, perhaps the most contentious item in the public education funding bill is the provision for sizeable tax deductions for those who choose to send their children to private, not public schools.
As I understand it, these tax deductions would be included as part of the funding for the public schools budget and therefore will reduce what's left for the NYS / NYC public school systems.
It's worth noting that private school tuition in NYC can cost in the range of about $5,000 to $30,000 per year per student. And that there are about 900 private schools in NYC alone, so depending on how these proposed deductions are ultimately structured, the funds reallocated from the public schools to private individuals would be in the tens to hundreds of millions of dollars and possibly more.
You might want to contact Governor Cuomo's office at 1.518.474.8390 to let him know you support or oppose the measure, since we understand that he's been the major force pushing for this public school funding change. You can also send him an email via the Governor's contact form.
Albany & Expiring Rent Stabilization Laws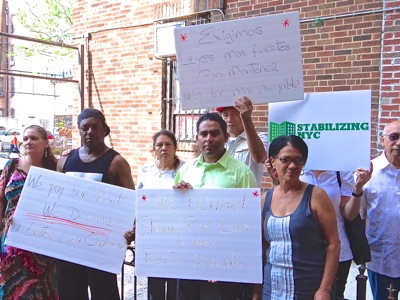 The Rent Stabilization Laws are due to expire tonight, June 15, 2015.
There was talk earlier this year that there would be a push to expand or strengthen the Rent Stabilization Laws given the rapid growth in homelessness in New York City. The NYC homeless population is currently estimated at over 60,000 or nearly 1% of the entire NYC population. About 70% of New York City residents are renters, of which about two million of less than eight and a half million residents, live in rent stabilized apartments.
Over the past decade or so, the Rent Stabilization Laws have been curtailed in the favor of the free market and landlords. The curtailment of rent price control legislation is believed to have spurred additional real estate development investment, as the profits of most new buildings are no longer affected by rent stabilization laws.
Much of the rapid growth in homelessness over the past decade is believed to be the result of tenants losing their rent stabilized apartments, as new owners of buildings have found ways to circumvent the laws. A recent NYU Furman Center Study has shown the loss of over 330,000 unsubsidized affordable apartments since 2002, due in part to the rent stabilization legislative changes referenced above.
NYS legislative insiders told me that tenants rights supporters were hoping to make legislative gains this year, but that the NYS Assemblypeople and NYS Senators opposing the changes, were going to allow the rent stabilization laws to expire as a negotiating tactic.
Vicki Been, Commissioner of NYC Department of Housing Preservation and Development, informed us that the current rent stabilization laws remain in effect through the term of existing leases and leases up for renewal that are already in the hands of the tenants. She also said that tenants should call 311 with any questions or problems.
Cuomo & NYS Officials - Quinnipiac Poll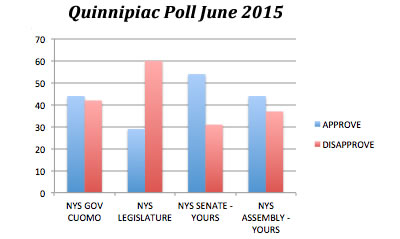 On June 3, 2015 Quinnipiac released a poll showing voters are feeling negatively about the NYS Legislature as a whole, while continuing to favor their local representatives. In the poll Governor Cuomo has only a 2% margin of those favoring him.
Governor Cuomo had a 44% approval rating versus 42% disapproval rating, as voters are not satisfied with his handling of the corruption scandals that have plagued Albany this year. In February 2015 Assembly Speaker Sheldon Silver [Democrat Manhattan] was indicted on federal corruption charges. And in May 2015 NYS Senate Leader Dean Skelos [Republican Long Island] was indicted by a federal Grand Jury.
Less than a year ago, NYS gubernatorial candidate Zephyr Teachout, a law professor at Fordham University surprised polls by garnering nearly 2 votes for every 3 won by the governor in the NYS Democratic primary. Ms. Teachout did not have much in the way of significant private backing or union support, but won nearly 40% of the vote waging an online campaign.
According to the Quinnipiac poll, voters by a margin of 52% - 32% said that with respect to Albany's corruption problem:
"... the Governor is part of the problem, not part of the solution."
As for the NYS Assemblymembers and NYS Senators the Quinnipiac Poll reported the following:
"Voters disapprove 60 - 26 percent of the job the State Legislature is doing, but approve 44 - 37 percent of their own Assembly member and approve 54 - 31 percent of their own state senator."
"At the same time, 45 percent of voters say their state senator should be thrown out in a general house-cleaning, while 40 percent say their senator deserves reelection."
"Voters are divided 41 - 41 percent on whether their Assembly member should be reelected or thrown out."
As you can see, the sentiments collected in the Quinnipiac poll seem a bit contradictory, as the answers received depend on how the questions are stated. Nonetheless, this looks to be an interesting legislative week as things wind down in Albany, and as the 2016 election cycle begins to ramp up.
---
State of the Borough Address
Queens Borough President Melinda Katz Gives Her First Address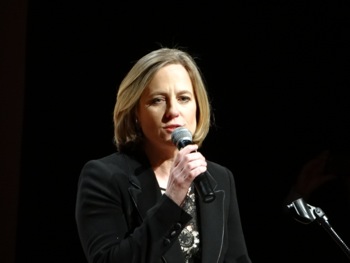 January 22, 2015 / Flushing / Queens Government & Politics / Queens Buzz. I arrived at the Colden Auditorium at Queens College around 11 am to hear Queens Borough President Melinda Katz deliver her first State of the Borough Address.
To my surprise the auditorium was filled to capacity. I spoke to several members of the audience afterwards to learn a bit more about who had come. Based on a small sample size, many of folks in attendance had affiliations with either community organizations or the unions.
Queens Borough President Melinda Katz's address was preceded by a number of traditional ceremonies including the presentation of colors, the Pledge of Allegiance, the singing of the National Anthem and introductory remarks by City Councilmember Julissa Ferreras of Corona and Dr. Felix V. Matos Rodriguez, President of Queens College. These ceremonies were followed by a musical performance by some of the students from the Frank Sinatra School of the Arts of Astoria.
Before Queens Borough President Melinda Katz arrived on stage in person, we were shown a video of her by her office talking about Queens and family.
Click here a bit later in the quarter for a full report of the State of the Borough Address.
---
---
Queens Election Results
Cuomo Wins, Avella Retains Seat, Comrie Unseats Smith
September 9, 2014 / Queens Politics / Queens Buzz. NYS Senator Tony Avella defeated challenger former NYC Comptroller and NYC Mayoral candidate John Liu for the District 11 NYS Senate seat in the primaries on Tuesday. John Liu was backed by the Queens Democratic party because of Avella's independent streak.
Leroy Comrie handily defeated incumbent Malcolm Smith for the District 14 NYS Senate seat by a margin of 3:1. NYS Senator Toby Stavitsky defeated challenger S. J. Jung by 15 percentage points, although Jung beat expectations by capturing the lion's share of the ethnic Asian vote [Jung is Korean].
Assemblywoman Margaret Markey defeated challenger Dmytro Fedkowskyj by a margin of 3:1 for the Assembly District 30.
And Andrew Cuomo and Kathy Hochul both garned in the neighborhood of 60% of the votes defeating their challengers. The challengers significantly beat expectations by capturing in the neighborhood of 40% of the votes. Neither challenger was well known and neither had much in the way of funding or large voting block support.
---
Tuesday - Primary Elections
The Real 'Choice' Is In The Primaries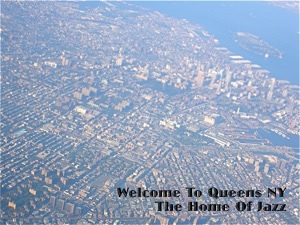 September 8, 2014 / Queens Politics / Queens Buzz. Tuesday, September 9th, is an important election day as most Queens races are decided at that time given the borough of Queens is comprised of about 80% - 90% Democrats.
On Tuesday the polls open at 6 am and close at 9 pm for the primary elections for New York state and federal offices. The polls are primarily staffed by civic volunteers.
There are a few races of interest this primary season. Leroy Comrie is hoping to win the NY Senate seat of embattled Democrat Malcolm Smith after stepping down as Queens Deputy Borough President earlier this year. And John Liu is hoping to make a comeback after a poor showing in the NYC Mayoral election last year, by unseating incumbent Democrat NY Senator Tony Avella.
The number of people who vote in the primaries is about 10 - 25% of the electorate, generally ending up on the lower end of that range. Hence, every vote carries far more weight than in the general election.
Knowing who the candidates are, what they really stand for and voting for them is one of the key pillars of our democracy. Many of our ancestors died fighting for this right and almost all of our early American ancestors took great risks to come here to exercise that right.
One of my favorite quotes of Thomas Jefferson is, "If a nation expects to be ignorant and free . . . it expects what never was and never will be".
I know you're busy with all kinds of other responsibilities. But I hope you'll do your best to stay informed about who the candidates are and make the effort to vote for those who best represent your point of view. It's a small investment to make to ensure we maintain our rights and freedoms. You needn't look far around the world to see what life is like in places that don't enjoy the right to elect / choose those who govern them.
Click here to find your Queens polling place - and again polls are open from 6 am - 9 pm.
---
---
Queens Community Boards
CB Application Deadline Is January 31st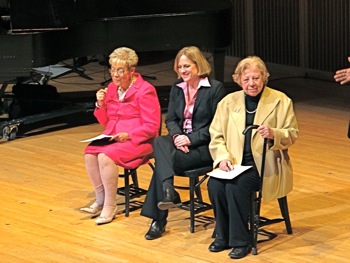 January 13, 2014 / Queens Politics / Queens Buzz. The new Queens Borough President, Melinda Katz, was sworn in on Thursday, January 9th. During her campaign and since she was elected, Ms. Katz indicated her top priority is going to be economic / real estate development in the borough, including borough infrastructure.
In reviewing Melinda Katz's background, it appears she has spent her entire life preparing to be Queens Borough President, with an eye toward economic / real estate development.
Melinda has worked with Community Boards as a liaison for a previous administration, chaired the Land Use Committe as a member of City Council, and took a position as a development lobbyist for a large international law firm in Manhattan. Melinda stated during her campaign and since taking office that she's very interested in bringing new economic and real estate developments to the borough.
New development will create new construction and service jobs, and increase demand for private goods and services; as well as public services such as private and public transit, parking space, open space / parks and schools. Hence, there are a wide variety of considerations that must be taken into account as new developments move through the governmental process.
Community Boards are the primary mechanism in the governmental process for the provision of community input. For decades they have played, and will continue to play, a key role in community development.
The deadline to apply for a position on a Queens Community Board is January 31st. Click this link to obtain an application from the Office of the Queens Borough President. Community Board members are selected by the Queens Borough President and the City Councilmember of the District. The new Community Board terms begin April 1, 2014.
---
Leroy Comrie Named QBP Deputy
Katz Names Comrie Deputy Queens Borough President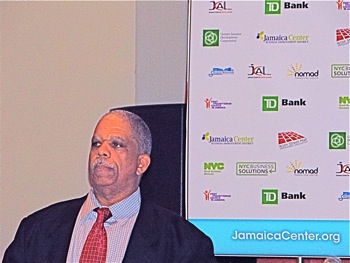 December 3, 2013 / Jamaica Neighborhood / Queens Politics / Queens Buzz. We attended a business meeting in Jamaica on Tuesday afternoon where we learned that Leroy Comrie had just been selected to be the Deputy Queens Borough President. Melinda Katz, Queens Borough President-elect made the announcement earlier in the day.
We've covered a number of events sponsored by or in which Leroy Comrie participated and found him to be well versed in borough issues, hard working and a soft spoken government official who works behind-the-scenes. City Councilman Comrie served two terms in the NYC Council serving the Jamaica and surrounding neighborhoods of St Albans, Rosedale, Cambria Heights and Hollis. During his tenure in office Comrie served as the Democratic Majority Whip, and for a period was head of the Queens delegation.
Shortly after Comrie took office in 2002 [succeeding former City Councilman Archie Spigner] the JFK Airtrain began operations between JFK Airport and the Jamaica railroad and subway station [December 2003]. Comrie was also City Councilmember during the transformation / renovation of the First Dutch Reformed Church into Jamaica Performing Arts Center - which was completed in 2009. During Comrie's tenure as City Councilmember, the Jamaica area was re-zoned [along with the rest of Queens] to accommodate building and growth.
We'll post more about these evolving events at a later date.
---
Melinda Katz Wins Boro Presidency
Bill de Blasio Becomes Mayor Elect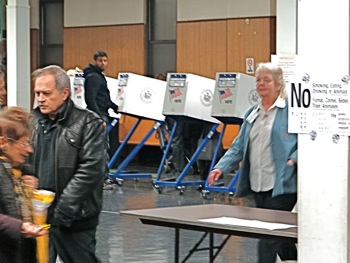 November 6, 2013 / Sunnyside Neighborhood / Queens Politics / Queens Buzz. Democrat Melinda Katz handily won the Queens Borough Presidency with about 80% of the vote, defeating Republican Tony Arcabascio with less than 18% of the vote and Independent Everly Brown who won about 2% of the vote.
Katz's victory was expected given that the borough is comprised of about 80% Democrats and less than 20% Republicans.
In Queens City Council races Democrat Costa Constantinides won 66% of the vote defeating Green Party candidate Lynn Serpe (15%) and Republican Daniel Paterson (11%). He will replace Peter Vallone as Astoria's City Councilmember. Paul Vallone won in a very tight race. Mark S. Weprin, Daneek Miller, Rory Lancman and Elizabeth Crowley won handily. And the race between Republican incumbent Eric Ulrich and Democrat Lew Simon was very close and possibly contestable.
Bill de Blasio's victory was also expected, as the polls had shown him leading Republican Lhota by a wide margin. It's worth noting that there hasn't been a Democratic NYC Mayor since Guiliani won the position in 1994, some 20 years ago.
Some pundits believe that this election was a referendum on the Bloomberg Administration. Bill de Blasio's campaign theme of the 'Tale of Two Cities' - meaning the wealthy and everyone else - appears to have struck a resonant chord with NYC voters.
We wish both de Blasio and Katz the best in the coming years and hope they will govern wisely.
Click here for prior Queens Buzz election coverage and politics in Queens.
---
---
NYC Municipal Election 2013
NYC Municipal Elections 2013
NYC Mayor, Queens Borough President & Six Ballot Proposals
November 5, 2013 / Flushing Neighborhood / Queens Government / Queens Buzz. On Tuesday voters get to decide who will run the city for the next four years. You get to weigh in on who will be the next NYC Mayor, Queens Borough President, City Comptroller, Public Advocate and City Councilmembers.
There are also six NY State Ballot proposals some of which are changes to the Constitution: 1) whether to authorize casino gambling in NYS, 2) a credit for qualified veterans with disabilities in the civil service, 3) exclusion of sewage treatment facility investments from county and municipal constitutional debt limits, 4) proposal to have NYS give up land rights in the Adirondacks to private enterprise in an exchange deal, 5) proposal to allow a private company to conduct mining operations on forest preserve land in a trade deal and 6) extending the length of time judges may serve past the age of 70.
Click here for our coverage of the NYC Municipal Elecitons, including details of the controversial Queens Borough President debate between Melinda Katz and Tony Arcabascio at QPTV in Flushing in October. Story & photos by Michael Wood.
---
Queens Primary Election Results
Katz Wins Boro Prez / de Blasio Doesn't Face Runoff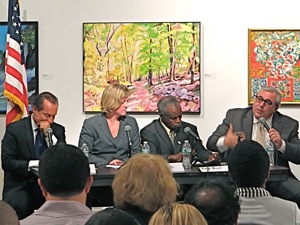 Update / September 17, 2013 / Queens Buzz. Thompson ceded to de Blasio and there won't be any runoff. So de Blasio goes onto face Lhota in the November General Election.
Election Night / September 11, 2013 / Queens Neighborhoods / Queens Politics / Queens Buzz. Melinda Katz received nearly 45% of the vote in the race for Queens Borough President. Peter Vallone was the runner up with nearly 34%. Everly Brown captured nearly 13% and Tony Avella whose name was on the ballot, but had dropped out of the race, won 9% of the vote. Katz will go onto face Republican Tony Arcabascio in November.
In the photo to your right, Republican candidate Tony Arcabascio speaks as Peter Vallone, Melinda Katz and Everly Brown listen at the Queens Borough President Forum held at Flushing Town Hall on August 26th.
Bill de Blasio was the winner of the Mayoral primary, but at press time it initially remained unclear whether he won over 40% of the vote which would preclude any runoff against Thompson who was the runner up with 26% of the vote. Some paper ballots remained to be counted which could have swayed the tally. Christine Quinn, once the front runner, won only 16% of the vote and Queens' John Liu came in fourth place with 7% and Anthony Weiner netted 5%. On the Republican side Joe Lhota won 53% of the vote, beating out billionaire John Catsimatidis who netted 43%.
As for Queens City Council races, many incumbent candidates went uncontested in the primaries. Paul Vallone appears to have won with 31% of the vote in the 19th District but there could be a runoff. Costa Constatinides handily won the 22nd District [currently Peter Vallone's District] with 56% of the vote. Rory Lancman won the 24th District with 62% of the vote. Ruben Willis won the 28th District with 49% of the vote. Donovan Richards won the 31st District with 52% of the vote. Lew Simon won the 32nd District with 65% of the vote. And Antonio Reynoso won the 34th District with 49% of the vote beating out Vito Lopez. And Daneek Miller is ahead with 24% of the vote in the 27th District.
The general election will be held on Tuesday, November 5th.
---
The 'Machine' is Back
Party Controlled Board of Elections Opts For Old Voting Machines To Process The Votes 'More Quickly & Accurately In The Primaries Only'
September 10, 2013 / Queens News & Opinion / Queens Buzz. You can imagine my surprise this morning when I arrived to do my civic duty and vote for the candidates of my choice.
I saw the old voting machines and asked what had happened to the newer scanner voting machines we'd used in the general election only a year ago. The people facilitating the voting process didn't seem to know the answer to that question.
So I went online and found that the New York Times had posted a story on Sunday, explaining that the Board of Elections had decided to use the older machines for the primaries, while promising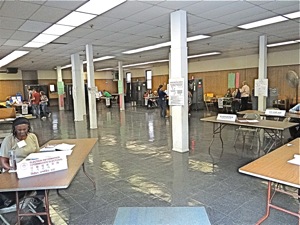 the newer machines would be ready for the general election.
The NYT had been told by the Board of Elections that the older machines would enable them to report the results more quickly and accurately than the new machines, so that if there were any runoff, they could turn things around in time.
Pardon me, while I try to process the logic of this turn of events. A year ago the City of New York spent $95 million dollars to install a new voting technology / process, that was good enough to be used for the general election last year and that is good enough to be used for the general election this year.
But - help me make sense of this - then the Board of Elections goes on to tell us that the newer voting technology isn't good enough to be used in the primaries - where at least 80% of the races are decided.
I think it's also worth noting that the Board of Elections is controlled by the two major parties [Democrats & Republicans]. Mayor Bloomberg blasted the Board in his radio talk show. Hmm, wonder why. Story & photo by Michael Wood.
---
Queens Borough President Election 2013
Queens Borough President Election
Democratic Party Hierarchy & NYC Developers Back Katz & Quinn
September 9, 2013 / Queens Politics / Queens News Analysis & Issues / Opinion / Queens Buzz. So after answering countless annoying and largely uninformative robocalls from those seeking to govern us [what happened to our ability to 'Opt Out' of telemarketing?], and receiving voluminous junk mailers, tomorrow we get to decide who's going to govern us.
Tomorrow matters, because about 80% of the elections in NYC are decided in the primaries.
In the photo above right, Peter Vallone takes Melinda Katz to task for sending out mailers that attempt to demonize him with distorted visuals and labels.
NYC Mayoral Candidates - Final Polls & Agendas & You Decide
There are five major candidates running for Mayor on the Democratic side [de Blasio, Quinn, Weiner, Thompson & Liu] and two on the Republican side [Lhota & Catsimatidis]. The most recent polls show DeBlasio well ahead of the pack, but he needs 40% of the vote to avoid having a runoff election later in the month. Thompson is the runner up and Quinn, once the leading candidate, is running a distant third.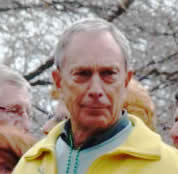 Quinn has sometimes been referred to as Mayor Bloomberg's lapdog because of her 'dogged' support of his agenda. In spite of that moniker, the Mayor did not endorse her even though she had helped Bloomberg reverse a plebiscite on municipal office term limits and passed the majority of his agenda. Both Quinn and Katz did win the endorsement of the Democratic Party hierachy and the monied support of NYC real estate developers.
Runoffs Weaken Mayoral Candidates
The last time we had an open NYC Mayoral election [meaning no incumbents] it resulted in a Democratic primary runoff. Fernando Ferrer won the primary with 279,000 votes [35.5%]. Mark Green won enough votes [243,000 votes] to compete in a runoff. In the runoff Mark Green prevailed, and then went on to lose against Michael Bloomberg by 35,000 votes. A hotly contested Democratic primary runoff weakens the Democratic candidate shortly before the final election.
Queens Borough President Candidates 2013
There are three Democrats running for Queens Borough President [Vallone, Katz & Brown] and one on the Republican side [Arcabascio]. Tony Avella is on the ballot, but he has dropped out of the race.
There are also a number of City Councilmember races, which we don't have the time to discuss today.
Click For More About Queens Borough President Candidates 2013
Click here to read more about the NYC Primary Elections, with more about the backgrounds of the Queens Borough President candidates, and including a link to find your Queens polling place.
---
Boro President Race Heats Up
Avella, Katz & Vallone Battle For Dem Nomination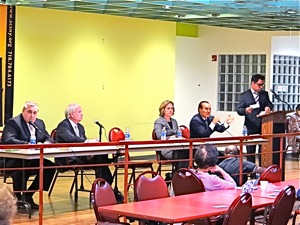 July 29, 2013 / Sunnyside Neighborhood / Queens Government / Queens Buzz. I attended two of the Queens Borough Presidential Forums over the past couple of months. One was on July 25th, hosted by Sunnyside Community Services; and the other was on June 13th, hosted by Chhaya at PS 69 in Jackson Heights.
In late May, Deputy Borough President Barry Grodenchik and NYS Senator Jose Peralta, dropped out of the race, just before petitioning to get on the ballot began. On July 13th City Councilmember LeRoy Comrie withdrew his bid.
Currently NYS Senator Tony Avella, former City Councilmember Melinda Katz and City Councilmember Peter Vallone Jr. remain on the Democratic ticket, and businessman Tony Arcabascio is the sole candidate on the Republican ticket. In the photo above are [L to R] Tony Arcabascio, Tony Avella, Melinda Katz, Peter Vallone Jr. and moderator Rocco Vertuccio of NY1.
The Democratic primary is on September 10th, so the focus of this report will be on the Democratic candidates, as we have two months following the primary, to file a report about Tony Arcabascio vis a vis whomever turns out to be his contender.
Later this week you'll be able to click here to read the rest of our report about the Queens Borough President Forums / Debates we attended.
---
NYC Mayoral Candidates Forum
Record Homeless In NYC Shelters & NYC Developers
April 15, 2013 / Queens Government / Queens Buzz / by Michael Wood. I attended a Mayoral Forum last week at NYU in Manhattan where the six Mayoral candidates answered questions posed by Brian Lehrer of WNYC. The event was hosted by the Furman Center for Real Estate and Urban Policy and the topic for discussion was real estate development, housing and urban policy.
One of the things I learned was that NYC has record numbers living in its homeless shelters and that over 20,000 school age children are now living in homeless shelters. This topic came up time and again and all of the candidates said that the current administration was clearly not doing enough to address the problem.
The candidates also talked about all of the new development projects going on in NYC. Many of the candidates said the Administration was not negotiating hard enough to obtain more concessions / better deals from NYC developers who have profited greatly by virtue of help and incentives given by the city.
We'll have more on these issues at a later date. Story & photo by Michael Wood.
---
---
CB Votes Split On USTA Expansion Plan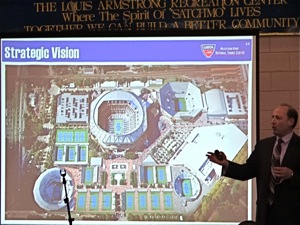 March 14, 2013 / Flushing Corona / Issues Facing Queens / Queens Buzz. The USTA has asked the city of New York to give it .68 of an acre of Flushing Meadows Corona Park so that it can proceed with an expansion plan. The expansion plan is estimated to increase the sports complex capacity for the U.S. Open by about a third, while increasing the USTA footprint in the park by .68 of an acre. The USTA informed the audience attending the Community Board 3 meeting that this will result in more jobs in Queens. They also talked about the positive estimated annual $784 million economic impact that the USTA has had on NYC - according to a study done by a private consulting firm named AKRF, Inc.
The detractors informed the audience that this is the first step in a much larger effort toward a massive privatization of Flushing Meadows Corona Park by several large, well-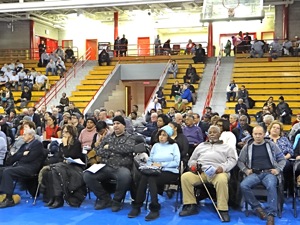 funded corporate interests. The opponents talked about three other proposals which were not a part of the USTA plan. These other proposals to develop private interests on public parkland include the development of a shopping mall by a private investment group in tandem with the owners of CitiField; 2) a condominium / hotel complex done by another group of private investors; and 3) a 13 acre soccer stadium by Major League Soccer, which is also a privately held corporation.
Community Board Tally & Boro Prez Candidates Positions
In the end Community Board 3 voted against the expansion plan, citing among other things, promises not kept when the USTA asked to expand its footpint in 1993. All six Community Boards have now voted on the USTA Expansion proposal, with three voting for it and three voting against it. We'll post a far more complete report on this Community Board Meeting at a later date.
While I was attending the Community Board 3 Meeting in Corona, all six Queens Borough Presidential candidates were attending a forum about the issues facing Queens at the Greater Astoria Historical Society in Astoria. The issue of turning over public parkland to private interests came up during the forum. To date only City Councilmember Tony Avella has come out against giving up public parkland to private interests. NY Senator Jose Peralta is the only other candidate to take a stance on the issue, but only on one of the proposed developments, namely the erection of the MLS Soccer Stadium on 13 acres of FMC Parkland [which he conditionally supports if MLS fulfills all of their promises]. All four other candidates have taken a wait-and-see stance on the issue.
Click here to read our past reports related to the proposed development plans for Flushing Meadows Corona Park. The first report provides an early history of Flushing Meadows Corona Park I and the second report provided an intermediate history of Flushing Meadows Corona Park II which included a number of relevant historic lessons related to sports complex developments in FMCP as well as NYC.
---
Legislative Agendas For Western Queens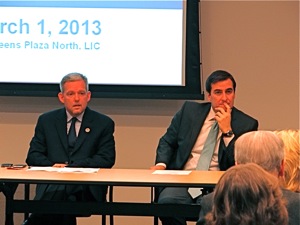 March 9, 2013 / Long Island City / Queens Business / Queens Buzz. I attended a Legislative breakfast hosted by the Long Island City Partnership on Friday. NYS Senator Michael Gianaris and NYC Councilmember Jimmy Van Bramer were on hand to talk about what is going on legislatively in Albany and downtown at city hall.
EDUCATION & QUEENS SCHOOLS. Education and school closings were discussed with both government officials opposing the approach being taken by the Mayor to close Queens high schools. It was noted that Senator Gianaris graduated from LIC H.S. and then went onto graduate from Harvard, that Assemblywoman Nolan graduated from Ridgewood H.S. and went onto graduate from NYU and that NYC Councilmember Van Bramer graduated from Bryant H.S. and went onto graduate from St. John's College. All three of these high schools were on the chopping block in Spring of 2012 [click here for our Spring 2012 report on Queens high school closings].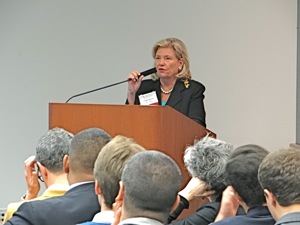 School construction was also discussed. Currently the facilities at many Queens schools are at, near or even over capacity. Hence school construction is something these government officials believe is important going forward, given the growth of the borough.
HIGH TECH JOBS / TAX BREAKS. They talked about the pending development of a high tech college campus on Roosevelt Island in the coming decade. They saw this as a potential source of good jobs in the area, given Queens proximity to the campus and talked about the possibility of using tax breaks to incent start ups to stay in NYC. They cited the TV Film Industry Tax breaks given several years ago as being good for the TV film industry in Queens.
POWER INDUSTRY IN QUEENS. They also talked about the power industry in Queens. Queens is the source of 60% of all of NYC's power generation. The old Poletti Power Plant is in the process of being de-constructed, and the newer power plants have been able to continue to provide power without disruption.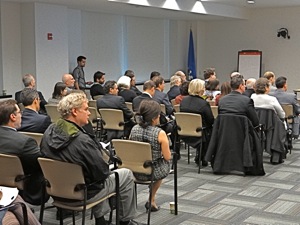 PARKING IN LIC. Lastly, but not least, Michele Beaudoin of BRG Realty in LIC inquired about future plans for managing the parking situation in LIC. Unbeknownst to most folks, LIC remain the only neighborhood that does not have alternative side parking regulations, which are used to eliminate 'car storage' on city streets, while simultaneously enabling street cleaning. LIC is also the only neighborhood in NYC that does not receive street cleaning services.
We were told that the Department of Transporation is not interested in building any new city parking lots. And that the LIC community is deeply divided on this issue, but that something must be done, as the parking congestion in LIC continues to grow.
Click here to read other brief reports containing LIC News.
---
Astoria Park Performance Space
Draft Plans Shown – Public Comment Sought
February 21, 2013 / Astoria News / Astoria Neighborhood / Queens Buzz. I attended the Community Board 1 meeting on Wednesday night where the Parks Department unveiled their draft plans for the new performance space in Astoria Park. The presentation included a brief history of the Astoria Pool Diving area where the new performance space will be installed, as well as draft details of what is planned.
City Councilmember Peter Vallone was credited with securing $4.5 million in NYC funds for the project, which he described as a beginning. There were a number of Astoria and Queens arts groups present at the meeting and they made comments following the presentation. We'll post more about the Astoria Park Performance space later.
Click here to go to the Astoria Neighborhood section of this site, or on the photo above for other Astoria News briefs.
---
State of the Borough Address 2013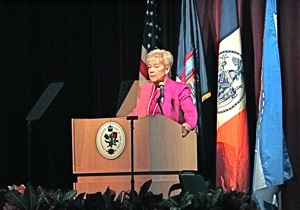 January 23, 2013 / Queens Neighborhoods / Queens Business / Queens Buzz. Helen Marshall gave her last State of the Borough Address on Tuesday morning at the Colden Auditorium on the Queens College campus.
As she's done the past few years we've been covering this event, she took us through each category of borough administration, recounting the efforts of her administration since she became Borough President in January of 2002.
Generally things in the borough look fairly good, given the givens [challenging economy & Sandy]. And based upon her presentation, it appears she's been a good steward of Queens borough affairs. Click here later this week to read our full report on Helen Marshall's State of the Borough Address 2013 for Queens.
---
Queens Employment - Jobs Sectors & Employment In Queens
Queens County Employment Bests NYC
Queens is one of NYC's Top Employment Performers
December 19, 2012 / Queens Neighborhoods / Employment in Queens / Queens Buzz. Tis the season to be jolly and reflect on what's happened economically over the past year while contemplating and planning for what lies ahead. To that end we did a bit of research into Queens current economic trends, specifically in the employment area.
Queens Employment & Economy is Diversified
Queens has a relatively diversified employment base. Queens County industries include: 1) transportation facilities such as JFK and LaGuardia Airports, Long Island Railroad stations, a network of MTA subways and buses, and a network of federal, state and local roadways,
2) energy infrastructure including two major power plants along the East River,
3) a growing hospitality section including hotels, a large casino, two horse race tracks, a major league baseball team, thousands of small to large retailers,
4) an array of about 2,200 restaurants,
5) a full service construction industry,
6) some light manufacturing and
7) government / social services / education as Queens is home to about a dozen hospitals [both private & public] and over three hundred public schools.
Click here to read our report on employment, unemployment & industry in Queens.
---
Helen Marshall - Queens State of the Borough Address
Queens State of the Borough Address
Boro President Helen Marshall Informs Us We're Holding Our Own
January 24, 2012 / Flushing / Queens Government & Economy / Queens Buzz. Today I attended the Borough President's State of the Borough Address in the Colden Auditorium at Queens College in Flushing. Queens College President Dr. James Muyskens opened the program, followed by City Council Speaker Christine Quinn.
There were hundreds of people in attendance. The audience included government officials, members of the police, fire and sanitation departments, a number of community board members, educators, healthcare administrators as well as members of the press.
Helen Marshall's address covered education, healthcare, parks, the economy, business, development, aviation [the airports], culture, historic preservation and awards to a few denizens of the borough for outstanding work. In the photo Queens Borough President Helen Marshall looks a graphic which includes the plans for the new technical center planned for Roosevelt Island by Cornell University and Technion. Click here to our report with photos of the Queens State of the Borough Address 2012.
---
Employment & Unemployment In Queens
Employment & Unemployment - Queens
Queens Unemployment Versus NYC, NYS & U.S.
March 11, 2011 / Queens Business / Queens Buzz. I recently attended a conference where I was able to obtain some information about the employment composition of Queens. I also obtained recent NYC, NYS, U.S. and Queens unemployment statistics, all of which are included in this report.
It's worth noting at the outset that Queens has a very diversified economic base. This explains why Queens is outperforming the city, the state and the nation in creating jobs for its people.
Click here to read more about unemployment / employment in Queens 2011.
---
---
Debt Ceiling Deal & Budget Talks 2011
What About The Debt Ceiling Deal?
Opinion & Perspective - Here's My Two Cents
August 3, 2011 / Queens NY / Queens Buzz. These have been a grueling two weeks for anyone watching the budget battles on Capitol Hill. The Senate, Congress and Executive branches of government got into the ring and slugged it out until they [and we] were exhausted.
Democracy is messy. It's about debate. It's about proposing ideas, listening to the ideas of others, and then rounds of endless repetitive rebuttals. It's not as clean as one dictator, king or self-anointed group of cronies, neatly deciding what to do, with no argument, no transparency, and no say by anyone else.
Click here to read the rest of the opinion on the debt ceiling deficit reduction budget deal of 2011.
---
Supreme Court Campaign Finance Ruling
Supreme Court Re-writes Constitution
Gives Legal Entities Rights To Meddle In Electoral Process
Queens / January 21, 2010. This is an opinion piece about the Supreme Court campaign finance ruling in favor of giving legal entities the right to spend unlimited sums of money in support of political candidates. Our opinion is that legal entities should not be allowed to spend any resource whatsoever in support of a political candidate.
If the people governing a legal entity [regardless of whether it is a corporation or a labor union] want to donate money or resource to a candidate, let them do so as individuals. But disallow them from reaching into the pockets of their shareholders, employees or membership to further their own special interests. Let these people [shareholders, employees and members] speak for themselves.
We compare this ruling to what happens in the book 'Animal Farm' written by author George Orwell in the middle of the 20th century, whereby some of the pigs in the book are made more equal than others. Our argument is that these people already have too much power vis a vis everyone else, and their unchecked influence will be harmful to the republic. Click here to read our opinion on the Supreme Court Campaign Finance Ruling.
---
State Of The Borough Address - Helen Marshall
The State Of The Borough Address
Queens President Helen Marshall Talks 2010 - 2011
January 25, 2011 / Queens College / Queens Buzz. I attended Queens Borough President Helen Marshall's state of the borough address which she gave at the Colden Center in the Queens College campus on Tuesday.
She structured the presentation in such a manner that it moved from issue to issue or in some cases from department to department, wherein she talked about what had happened over time periods ranging from last year to time periods which began when she took office in 2002.
Most of Queens prominent city council members and state representatives were in attendance – most of whom you can see in the slide show at the end of the report. There were also some former municipal government officials including Peter Vallone Sr who was once the city council speaker and Claire Schulman who was once borough president. Click here to read a full report on the State Of The Borough Address 2011 by Helen Marshall.
---
Queens Opinions - Op Ed On Queens Buzz
Queens OpEd / Queens Opinions - Audience Opinions Posted On Queens Buzz
Queens Buzz Audience Opinions. This section contains opinions of our readers. These opinions reflect the perspective of those who authored them, not of Queens Buzz.


To have an opinion posted, it must meet the following requirements: 1) it must be grammatically written, 2) it must not contain spelling errors, 3) it must not contain hateful or abusive references and 4) it must not contain any personal attacks.


We reserve the right not to publish any submission, even in cases where they may meet the above criteria, which is subject to change as we become more experienced in moderating open public debate.
Send opinions to the editor [at] / using our web magazine name [queensbuzz.com].
---
BIDs Are Undemocratic And Would Raise Rents On Small Businesses
By Tania Mattos and Marty Kirchner of Queens Neighborhoods United
Like many New Yorkers, we at Queens Neighborhoods United were saddened to recently read that the Union Square Café will close its doors due to rising rents. If one of the city's top-rated restaurants can't make it, what hope is there for the rest of us?
It turns out that one of the factors in the restaurant's skyrocketing costs was the presence of a Business Improvement District, which significantly contributed to Union Square becoming a high-rent district. BIDs like Union Squares' claim to represent the interests of small businesses. Yet, the Union Square Partnership didn't prevent this culinary landmark from being displaced. We looked into the impact that BIDs have had on neighborhoods across the city.
BIDs are partnerships between the city government and the private sector to advance the interests of commercial property owners within a specific geographic area. Although BIDs market themselves as a resource for small business owners and even for the whole community, they are established as a means to raise land values, which means sharp rent increases for commercial and residential tenants. The BIDs' often-recited message of "safe and clean" tends to obscure more controversial objectives that BIDs seek, including the private management of public space, land-use planning, and tourism promotion.
BIDs are highly undemocratic in their decision-making. Though commercial tenants often pay the higher costs of having a BID, landlords comprise a majority of a BID's board of directors. And while significant portion of BID budgets come from taxpayers, residents are practically excluded from deciding how the money gets spent.
When we started talking to people about the BID, we found small business owners and residents along Roosevelt Avenue and Junction Boulevard were overwhelmingly against the proposed expansion of the 82nd Street Partnership. Many business owners point to the many corporate chain stores on 82nd Street as an example of what would happen to Roosevelt Avenue.
And while the 82nd Street Partnership claims that a BID will protect small businesses against the Willets West mall in Flushing Meadows Corona Park, a Freedom of Information Law request revealed that the mall developers have committed to give $500,000 to the BID over the next ten years. Business owners and residents ask us, how can we believe this revenue won't influence BID decisions?
One way to establish a sense of belonging in one's neighborhood is through the civic activity of planting trees and community gardens. To send a message that our neighborhoods do not want or need a BID, residents and small business owners have begun planting trees, painting storefronts, and sweeping the sidewalks along Roosevelt Avenue every other Saturday. We don't intend to replace services that the city should be providing. Instead, we want to draw attention to the fact that our elected officials have long neglected us, and that privatizing these basic services in the form of a BID will only further destabilize our neighborhoods.
To help or for more information, contact us at 347-678-6122 or QueensNeighborhoodsUnited@gmail.com. or view our Queens Neighborhoods United Facebook page.
Posted on July 6, 2014
Editor's Note - scroll down for an opinion posted in November of 2013 by 82nd Street Partnership BID.
---
Jackson Heights – Corona Business Improvement District: Investing in a Sustainable Future
November 6, 2013

By Seth Taylor - Executive Director at 82nd Street Partnership

As readers of Queens Latino know, the proposal to form the new Jackson Heights – Corona Business Improvement District has sparked discussion and debate in the community about the future of the neighborhood's commercial corridors, in particular Roosevelt Avenue. Ultimately, this dialogue has produced a thoughtful neighborhood-based plan that will work to strengthen and grow the district's greatest assets—its entrepreneurial, diverse, and immigrant-owned businesses.

With a mission to improve neighborhood quality of life and promote small business growth by creating cleaner, safer, and more inviting commercial corridors, the Jackson Heights – Corona Business Improvement District offers an inclusive bottom-up solution to help kick-start and sustain the regeneration that so many Roosevelt Avenue and Junction Boulevard stakeholders want to see happen.
Support is widespread and broad-based, and it is growing by the day. Even individuals who just weeks ago were protesting the plan have now signed on as supporters. By taking a closer look at the proposal—its cost, services, governance and goals—stakeholders see this as a great opportunity to organize and invest in the neighborhood's future.

In recent weeks, support for the proposal to form the new Jackson Heights – Corona Business Improvement District has increased significantly. As of today, hundreds of small business owners, residents, property owners, civic and community members have pledged support for the formation of what will be one of New York City's most vital and diverse business improvement districts.

Like all 68 business improvement districts in New York City, the new Jackson Heights – Corona one will be funded by property owners and commercial tenants making annual contributions based on a fair formula that factors building foot frontage and property value. In this case, the majority of property owners will be charged on average about $75 per month, which equals roughly $2.50 a day. The property owners and commercial tenants typically negotiate on their terms how the assessment is split. This is a small investment that will bring tangible returns.

With a budget of about $860,000 per year—raised by property owners and commercial tenants, and collected by the Department of Finance—the Jackson Heights – Corona Business Improvement District will fund special services that go above and beyond what the city provides, including daily sidewalk sweeping and graffiti removal, holiday lights, cultural events, shopping guides, landscaping and streetscape beautification. As an organization made up of nearly 1,000 businesses, the Jackson Heights – Corona Business Improvement District will be a strong and effective advocate for the neighborhood.

A board of directors composed of property owners, commercial tenants, residents, community board members, street vendors, and representatives from city government, including the Mayor, Comptroller, Borough President and City Council member, will govern the organization. The board of directors will be a diverse and representative body, voted in by the membership of the business improvement district: every business, resident, and property owner located within the boundaries has a vote.

To understand the impact a business improvement district has on a neighborhood, we can look to 82nd Street, where property owners and commercial tenants have been making an annual investment for nearly a quarter century. With beautiful street trees, ample bicycle parking, outdoor seating, a community garden, clean sidewalks, and attractive storefronts, shoppers come to 82nd Street to enjoy the vibrant retail mix and pleasant atmosphere.

By making 82nd Street inviting to local shoppers, and by providing direct assistance to small business owners, the commercial corridor is given the opportunity to thrive and grow.

That is why nearly 75% of the ground floor businesses located in the 82nd Street business improvement district are still independently owned and operated, many by immigrant families.

As one of 82nd Street's business owners, Araceli Bastida of Sonrisas Sanas, says about the improvement district, "It feels good to know that there's somebody taking care of the community, freeing us to focus on growing our business."

Now is the time to give the same opportunity to the hundreds of business owners on Roosevelt Avenue and Junction Boulevard in Jackson Heights and Corona. Together we can create a successful and sustainable local economy for generations to come.
---
---
Queens Government & Employment Related Info
Click this link for promotions, discounts and coupons in Queens.
Click this link to go to the Astoria Neighborhood / Long Island City LIC Neighborhood / Sunnyside Woodside Neighborhood News / Jackson Heights Elmhurst Neighborhood / Flushing Corona Neighborhood / Jamaica Neighborhood.
---
Site Search Tips. 1) For best results, when typing in more than one word, use quotation marks - eg "Astoria Park". 2) Also try either singular or plural words when searching for a specific item such as "gym" or "gyms".
---
Archives - TBD
---
Click this link to search for something in our Queens Business Directory.
---
Click the log in link below to create an ID and post an opinion.
Or send this story to a friend by filling in the appropriate box below.
---