Government & Employment - Queens
---
Queens Public Notices - Astoria, LIC, Sunnyside, Woodside, Jackson Heights, Corona, Flushing, Jamaica Public Notices
Queens Public Notices - Employment, Funding, Arts Open Calls, Housing & Business
This section of the site is dedicated to posting notices about government issues, the environment, community issues and art / cultural issues and opportunities. Queens Public Notices includes public notices for the neighborhoods of Astoria, LIC, Sunnyside, Woodside, Jackson Heights, Corona, Flushing, Jamaica neighborhoods of Queens NY.
We post select public notices for non-profits, community organizations, cultural organizations and some independent notices for free. Please note that particular events should be posted in the Member Calendar [contact us for instructions] and that this section is designated for NOTICES meaning things like soliciting input for upcoming public hearings, grant opportunities and deadlines and so forth.
Please send notices to notices [at] queensbuzz.com.
Thanks for your interest in the Queens Buzz.
---
Queens Community Boards
CB Application Deadline Is January 31st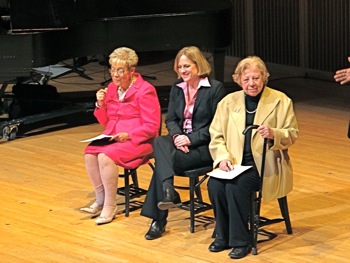 January 13, 2014 / Queens Politics / Queens Buzz. The new Queens Borough President, Melinda Katz, was sworn in on Thursday, January 9th. During her campaign and since she was elected, Ms. Katz indicated her top priority is going to be economic / real estate development in the borough, including borough infrastructure.
In reviewing Melinda Katz's background, it appears she has spent her entire life preparing to be Queens Borough President, with an eye toward economic / real estate development.
Melinda has worked with Community Boards as a liaison for a previous administration, chaired the Land Use Committe as a member of City Council, and took a position as a development lobbyist for a large international law firm in Manhattan. Melinda stated during her campaign and since taking office that she's very interested in bringing new economic and real estate developments to the borough.
New development will create new construction and service jobs, and increase demand for private goods and services; as well as public services such as private and public transit, parking space, open space / parks and schools. Hence, there are a wide variety of considerations that must be taken into account as new developments move through the governmental process.
Community Boards are the primary mechanism in the governmental process for the provision of community input. For decades they have played, and will continue to play, a key role in community development.
The deadline to apply for a position on a Queens Community Board is January 31st. Click this link to obtain an application from the Office of the Queens Borough President. Community Board members are selected by the Queens Borough President and the City Councilmember of the District. The new Community Board terms begin April 1, 2014.
---
Leroy Comrie Named QBP Deputy
Katz Names Comrie Deputy Queens Borough President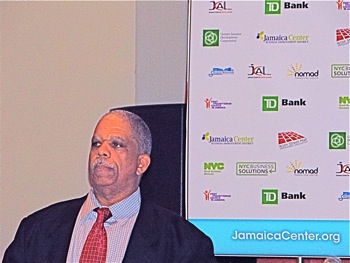 December 3, 2013 / Jamaica Neighborhood / Queens Politics / Queens Buzz. We attended a business meeting in Jamaica on Tuesday afternoon where we learned that Leroy Comrie had just been selected to be the Deputy Queens Borough President. Melinda Katz, Queens Borough President-elect made the announcement earlier in the day.
We've covered a number of events sponsored by or in which Leroy Comrie participated and found him to be well versed in borough issues, hard working and a soft spoken government official who works behind-the-scenes. City Councilman Comrie served two terms in the NYC Council serving the Jamaica and surrounding neighborhoods of St Albans, Rosedale, Cambria Heights and Hollis. During his tenure in office Comrie served as the Democratic Majority Whip, and for a period was head of the Queens delegation.
Shortly after Comrie took office in 2002 [succeeding former City Councilman Archie Spigner] the JFK Airtrain began operations between JFK Airport and the Jamaica railroad and subway station [December 2003]. Comrie was also City Councilmember during the transformation / renovation of the First Dutch Reformed Church into Jamaica Performing Arts Center - which was completed in 2009. During Comrie's tenure as City Councilmember, the Jamaica area was re-zoned [along with the rest of Queens] to accommodate building and growth.
We'll post more about these evolving events at a later date.
---
Melinda Katz Wins Boro Presidency
Bill de Blasio Becomes Mayor Elect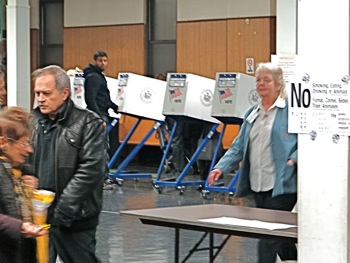 November 6, 2013 / Sunnyside Neighborhood / Queens Politics / Queens Buzz. Democrat Melinda Katz handily won the Queens Borough Presidency with about 80% of the vote, defeating Republican Tony Arcabascio with less than 18% of the vote and Independent Everly Brown who won about 2% of the vote.
Katz's victory was expected given that the borough is comprised of about 80% Democrats and less than 20% Republicans.
In Queens City Council races Democrat Costa Constantinides won 66% of the vote defeating Green Party candidate Lynn Serpe (15%) and Republican Daniel Paterson (11%). He will replace Peter Vallone as Astoria's City Councilmember. Paul Vallone won in a very tight race. Mark S. Weprin, Daneek Miller, Rory Lancman and Elizabeth Crowley won handily. And the race between Republican incumbent Eric Ulrich and Democrat Lew Simon was very close and possibly contestable.
Bill de Blasio's victory was also expected, as the polls had shown him leading Republican Lhota by a wide margin. It's worth noting that there hasn't been a Democratic NYC Mayor since Guiliani won the position in 1994, some 20 years ago.
Some pundits believe that this election was a referendum on the Bloomberg Administration. Bill de Blasio's campaign theme of the 'Tale of Two Cities' - meaning the wealthy and everyone else - appears to have struck a resonant chord with NYC voters.
We wish both de Blasio and Katz the best in the coming years and hope they will govern wisely.
Click here for prior Queens Buzz election coverage and politics in Queens.
---
NYC Municipal Election 2013
NYC Municipal Elections 2013
NYC Mayor, Queens Borough President & Six Ballot Proposals
November 5, 2013 / Flushing Neighborhood / Queens Government / Queens Buzz. On Tuesday voters get to decide who will run the city for the next four years. You get to weigh in on who will be the next NYC Mayor, Queens Borough President, City Comptroller, Public Advocate and City Councilmembers.
There are also six NY State Ballot proposals some of which are changes to the Constitution: 1) whether to authorize casino gambling in NYS, 2) a credit for qualified veterans with disabilities in the civil service, 3) exclusion of sewage treatment facility investments from county and municipal constitutional debt limits, 4) proposal to have NYS give up land rights in the Adirondacks to private enterprise in an exchange deal, 5) proposal to allow a private company to conduct mining operations on forest preserve land in a trade deal and 6) extending the length of time judges may serve past the age of 70.
Click here for our coverage of the NYC Municipal Elecitons, including details of the controversial Queens Borough President debate between Melinda Katz and Tony Arcabascio at QPTV in Flushing in October. Story & photos by Michael Wood.
---
Queens Primary Election Results
Katz Wins Boro Prez / de Blasio Doesn't Face Runoff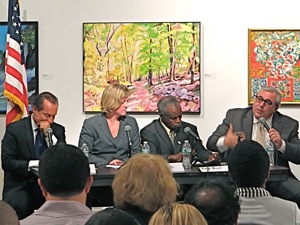 Update / September 17, 2013 / Queens Buzz. Thompson ceded to de Blasio and there won't be any runoff. So de Blasio goes onto face Lhota in the November General Election.
Election Night / September 11, 2013 / Queens Neighborhoods / Queens Politics / Queens Buzz. Melinda Katz received nearly 45% of the vote in the race for Queens Borough President. Peter Vallone was the runner up with nearly 34%. Everly Brown captured nearly 13% and Tony Avella whose name was on the ballot, but had dropped out of the race, won 9% of the vote. Katz will go onto face Republican Tony Arcabascio in November.
In the photo to your right, Republican candidate Tony Arcabascio speaks as Peter Vallone, Melinda Katz and Everly Brown listen at the Queens Borough President Forum held at Flushing Town Hall on August 26th.
Bill de Blasio was the winner of the Mayoral primary, but at press time it initially remained unclear whether he won over 40% of the vote which would preclude any runoff against Thompson who was the runner up with 26% of the vote. Some paper ballots remained to be counted which could have swayed the tally. Christine Quinn, once the front runner, won only 16% of the vote and Queens' John Liu came in fourth place with 7% and Anthony Weiner netted 5%. On the Republican side Joe Lhota won 53% of the vote, beating out billionaire John Catsimatidis who netted 43%.
As for Queens City Council races, many incumbent candidates went uncontested in the primaries. Paul Vallone appears to have won with 31% of the vote in the 19th District but there could be a runoff. Costa Constatinides handily won the 22nd District [currently Peter Vallone's District] with 56% of the vote. Rory Lancman won the 24th District with 62% of the vote. Ruben Willis won the 28th District with 49% of the vote. Donovan Richards won the 31st District with 52% of the vote. Lew Simon won the 32nd District with 65% of the vote. And Antonio Reynoso won the 34th District with 49% of the vote beating out Vito Lopez. And Daneek Miller is ahead with 24% of the vote in the 27th District.
The general election will be held on Tuesday, November 5th.
---
The 'Machine' is Back
Party Controlled Board of Elections Opts For Old Voting Machines To Process The Votes 'More Quickly & Accurately In The Primaries Only'
September 10, 2013 / Queens News & Opinion / Queens Buzz. You can imagine my surprise this morning when I arrived to do my civic duty and vote for the candidates of my choice.
I saw the old voting machines and asked what had happened to the newer scanner voting machines we'd used in the general election only a year ago. The people facilitating the voting process didn't seem to know the answer to that question.
So I went online and found that the New York Times had posted a story on Sunday, explaining that the Board of Elections had decided to use the older machines for the primaries, while promising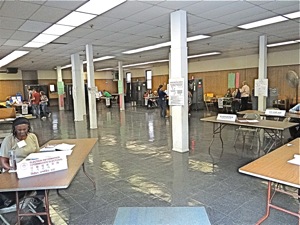 the newer machines would be ready for the general election.
The NYT had been told by the Board of Elections that the older machines would enable them to report the results more quickly and accurately than the new machines, so that if there were any runoff, they could turn things around in time.
Pardon me, while I try to process the logic of this turn of events. A year ago the City of New York spent $95 million dollars to install a new voting technology / process, that was good enough to be used for the general election last year and that is good enough to be used for the general election this year.
But - help me make sense of this - then the Board of Elections goes on to tell us that the newer voting technology isn't good enough to be used in the primaries - where at least 80% of the races are decided.
I think it's also worth noting that the Board of Elections is controlled by the two major parties [Democrats & Republicans]. Mayor Bloomberg blasted the Board in his radio talk show. Hmm, wonder why. Story & photo by Michael Wood.
---
Queens Borough President Election 2013
Queens Borough President Election
Democratic Party Hierarchy & NYC Developers Back Katz & Quinn
September 9, 2013 / Queens Politics / Queens News Analysis & Issues / Opinion / Queens Buzz. So after answering countless annoying and largely uninformative robocalls from those seeking to govern us [what happened to our ability to 'Opt Out' for telemarketing?], and receiving voluminous junk mailers, tomorrow we get to decide who's going to govern us.
Tomorrow matters, because about 80% of the elections in NYC are decided in the primaries.
In the photo above right, Peter Vallone takes Melinda Katz to task for sending out mailers that attempt to demonize him with distorted visuals and labels.
NYC Mayoral Candidates - Final Polls & Agendas & You Decide
There are five major candidates running for Mayor on the Democratic side [de Blasio, Quinn, Weiner, Thompson & Liu] and two on the Republican side [Lhota & Catsimatidis]. The most recent polls show DeBlasio well ahead of the pack, but he needs 40% of the vote to avoid having a runoff election later in the month. Thompson is the runner up and Quinn, once the leading candidate, is running a distant third.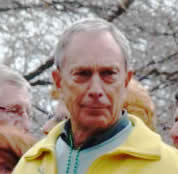 Quinn, sometimes referred to as Mayor Bloomberg's lapdog because of her 'dogged' support of his agenda, failed to obtain his endorsement, even after helping Bloomberg reverse a plebiscite on municipal office term limits [she's got to be feeling pretty used]. But both Quinn and Katz did win the endorsement of the Democratic Party hierachy and the monied support of NYC real estate developers.
Runoffs Weaken Mayoral Candidates
The last time we had an open NYC Mayoral election [meaning no incumbents] it resulted in a Democratic primary runoff. Fernando Ferrer won the primary with 279,000 votes [35.5%]. Mark Green won enough votes [243,000 votes] to compete in a runoff. In the runoff Mark Green prevailed, and then went on to lose against Michael Bloomberg by 35,000 votes. A hotly contested Democratic primary runoff weakens the Democratic candidate shortly before the final election.
Queens Borough President Candidates 2013
There are three Democrats running for Queens Borough President [Vallone, Katz & Brown] and one on the Republican side [Arcabascio]. Tony Avella is on the ballot, but he has dropped out of the race.
There are also a number of City Councilmember races, which we don't have the time to discuss today.
Click For More About Queens Borough President Candidates 2013
Click here to read more about the NYC Primary Elections, with more about the backgrounds of the Queens Borough President candidates, and including a link to find your Queens polling place.
---
Boro President Race Heats Up
Avella, Katz & Vallone Battle For Dem Nomination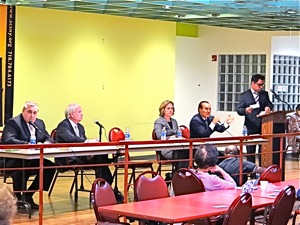 July 29, 2013 / Sunnyside Neighborhood / Queens Government / Queens Buzz. I attended two of the Queens Borough Presidential Forums over the past couple of months. One was on July 25th, hosted by Sunnyside Community Services; and the other was on June 13th, hosted by Chhaya at PS 69 in Jackson Heights.
In late May, Deputy Borough President Barry Grodenchik and NYS Senator Jose Peralta, dropped out of the race, just before petitioning to get on the ballot began. On July 13th City Councilmember LeRoy Comrie withdrew his bid.
Currently NYS Senator Tony Avella, former City Councilmember Melinda Katz and City Councilmember Peter Vallone Jr. remain on the Democratic ticket, and businessman Tony Arcabascio is the sole candidate on the Republican ticket. In the photo above are [L to R] Tony Arcabascio, Tony Avella, Melinda Katz, Peter Vallone Jr. and moderator Rocco Vertuccio of NY1.
The Democratic primary is on September 10th, so the focus of this report will be on the Democratic candidates, as we have two months following the primary, to file a report about Tony Arcabascio vis a vis whomever turns out to be his contender.
Later this week you'll be able to click here to read the rest of our report about the Queens Borough President Forums / Debates we attended.
---
NYC Mayoral Candidates Forum
Record Homeless In NYC Shelters & NYC Developers
April 15, 2013 / Queens Government / Queens Buzz / by Michael Wood. I attended a Mayoral Forum last week at NYU in Manhattan where the six Mayoral candidates answered questions posed by Brian Lehrer of WNYC. The event was hosted by the Furman Center for Real Estate and Urban Policy and the topic for discussion was real estate development, housing and urban policy.
One of the things I learned was that NYC has record numbers living in its homeless shelters and that over 20,000 school age children are now living in homeless shelters. This topic came up time and again and all of the candidates said that the current administration was clearly not doing enough to address the problem.
The candidates also talked about all of the new development projects going on in NYC. Many of the candidates said the Administration was not negotiating hard enough to obtain more concessions / better deals from NYC developers who have profited greatly by virtue of help and incentives given by the city.
We'll have more on these issues at a later date. Story & photo by Michael Wood.
---
CB Votes Split On USTA Expansion Plan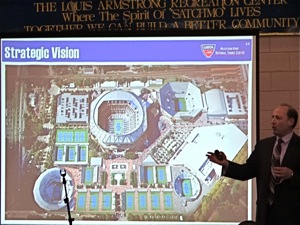 March 14, 2013 / Flushing Corona / Issues Facing Queens / Queens Buzz. The USTA has asked the city of New York to give it .68 of an acre of Flushing Meadows Corona Park so that it can proceed with an expansion plan. The expansion plan is estimated to increase the sports complex capacity for the U.S. Open by about a third, while increasing the USTA footprint in the park by .68 of an acre. The USTA informed the audience attending the Community Board 3 meeting that this will result in more jobs in Queens. They also talked about the positive estimated annual $784 million economic impact that the USTA has had on NYC - according to a study done by a private consulting firm named AKRF, Inc.
The detractors informed the audience that this is the first step in a much larger effort toward a massive privatization of Flushing Meadows Corona Park by several large, well-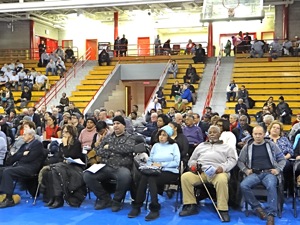 funded corporate interests. The opponents talked about three other proposals which were not a part of the USTA plan. These other proposals to develop private interests on public parkland include the development of a shopping mall by a private investment group in tandem with the owners of CitiField; 2) a condominium / hotel complex done by another group of private investors; and 3) a 13 acre soccer stadium by Major League Soccer, which is also a privately held corporation.
Community Board Tally & Boro Prez Candidates Positions
In the end Community Board 3 voted against the expansion plan, citing among other things, promises not kept when the USTA asked to expand its footpint in 1993. All six Community Boards have now voted on the USTA Expansion proposal, with three voting for it and three voting against it. We'll post a far more complete report on this Community Board Meeting at a later date.
While I was attending the Community Board 3 Meeting in Corona, all six Queens Borough Presidential candidates were attending a forum about the issues facing Queens at the Greater Astoria Historical Society in Astoria. The issue of turning over public parkland to private interests came up during the forum. To date only City Councilmember Tony Avella has come out against giving up public parkland to private interests. NY Senator Jose Peralta is the only other candidate to take a stance on the issue, but only on one of the proposed developments, namely the erection of the MLS Soccer Stadium on 13 acres of FMC Parkland [which he conditionally supports if MLS fulfills all of their promises]. All four other candidates have taken a wait-and-see stance on the issue.
Click here to read our past reports related to the proposed development plans for Flushing Meadows Corona Park. The first report provides an early history of Flushing Meadows Corona Park I and the second report provided an intermediate history of Flushing Meadows Corona Park II which included a number of relevant historic lessons related to sports complex developments in FMCP as well as NYC.
---
Legislative Agendas For Western Queens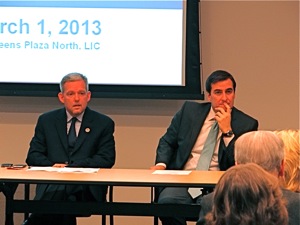 March 9, 2013 / Long Island City / Queens Business / Queens Buzz. I attended a Legislative breakfast hosted by the Long Island City Partnership on Friday. NYS Senator Michael Gianaris and NYC Councilmember Jimmy Van Bramer were on hand to talk about what is going on legislatively in Albany and downtown at city hall.
EDUCATION & QUEENS SCHOOLS. Education and school closings were discussed with both government officials opposing the approach being taken by the Mayor to close Queens high schools. It was noted that Senator Gianaris graduated from LIC H.S. and then went onto graduate from Harvard, that Assemblywoman Nolan graduated from Ridgewood H.S. and went onto graduate from NYU and that NYC Councilmember Van Bramer graduated from Bryant H.S. and went onto graduate from St. John's College. All three of these high schools were on the chopping block in Spring of 2012 [click here for our Spring 2012 report on Queens high school closings].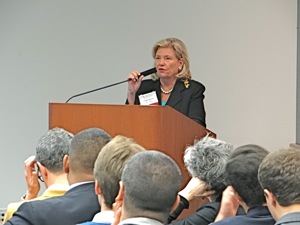 School construction was also discussed. Currently the facilities at many Queens schools are at, near or even over capacity. Hence school construction is something these government officials believe is important going forward, given the growth of the borough.
HIGH TECH JOBS / TAX BREAKS. They talked about the pending development of a high tech college campus on Roosevelt Island in the coming decade. They saw this as a potential source of good jobs in the area, given Queens proximity to the campus and talked about the possibility of using tax breaks to incent start ups to stay in NYC. They cited the TV Film Industry Tax breaks given several years ago as being good for the TV film industry in Queens.
POWER INDUSTRY IN QUEENS. They also talked about the power industry in Queens. Queens is the source of 60% of all of NYC's power generation. The old Poletti Power Plant is in the process of being de-constructed, and the newer power plants have been able to continue to provide power without disruption.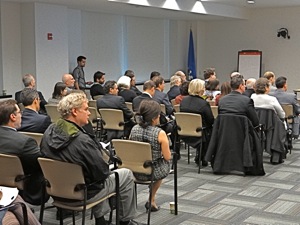 PARKING IN LIC. Lastly, but not least, Michele Beaudoin of BRG Realty in LIC inquired about future plans for managing the parking situation in LIC. Unbeknownst to most folks, LIC remain the only neighborhood that does not have alternative side parking regulations, which are used to eliminate 'car storage' on city streets, while simultaneously enabling street cleaning. LIC is also the only neighborhood in NYC that does not receive street cleaning services.
We were told that the Department of Transporation is not interested in building any new city parking lots. And that the LIC community is deeply divided on this issue, but that something must be done, as the parking congestion in LIC continues to grow.
Click here to read other brief reports containing LIC News.
---
Astoria Park Performance Space
Draft Plans Shown – Public Comment Sought
February 21, 2013 / Astoria News / Astoria Neighborhood / Queens Buzz. I attended the Community Board 1 meeting on Wednesday night where the Parks Department unveiled their draft plans for the new performance space in Astoria Park. The presentation included a brief history of the Astoria Pool Diving area where the new performance space will be installed, as well as draft details of what is planned.
City Councilmember Peter Vallone was credited with securing $4.5 million in NYC funds for the project, which he described as a beginning. There were a number of Astoria and Queens arts groups present at the meeting and they made comments following the presentation. We'll post more about the Astoria Park Performance space later.
Click here to go to the Astoria Neighborhood section of this site, or on the photo above for other Astoria News briefs.
---
State of the Borough Address 2013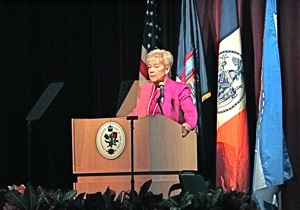 January 23, 2013 / Queens Neighborhoods / Queens Business / Queens Buzz. Helen Marshall gave her last State of the Borough Address on Tuesday morning at the Colden Auditorium on the Queens College campus.
As she's done the past few years we've been covering this event, she took us through each category of borough administration, recounting the efforts of her administration since she became Borough President in January of 2002.
Generally things in the borough look fairly good, given the givens [challenging economy & Sandy]. And based upon her presentation, it appears she's been a good steward of Queens borough affairs. Click here later this week to read our full report on Helen Marshall's State of the Borough Address 2013 for Queens.
---
Queens Employment - Jobs Sectors & Employment In Queens
Queens County Employment Bests NYC
Queens is one of NYC's Top Employment Performers
December 19, 2012 / Queens Neighborhoods / Employment in Queens / Queens Buzz. Tis the season to be jolly and reflect on what's happened economically over the past year while contemplating and planning for what lies ahead. To that end we did a bit of research into Queens current economic trends, specifically in the employment area.
Queens Employment & Economy is Diversified
Queens has a relatively diversified employment base. Queens County industries include: 1) transportation facilities such as JFK and LaGuardia Airports, Long Island Railroad stations, a network of MTA subways and buses, and a network of federal, state and local roadways,
2) energy infrastructure including two major power plants along the East River,
3) a growing hospitality section including hotels, a large casino, two horse race tracks, a major league baseball team, thousands of small to large retailers,
4) an array of about 2,200 restaurants,
5) a full service construction industry,
6) some light manufacturing and
7) government / social services / education as Queens is home to about a dozen hospitals [both private & public] and over three hundred public schools.
Click here to read our report on employment, unemployment & industry in Queens.
---
Helen Marshall - Queens State of the Borough Address 2012
Queens State of the Borough Address 2012
Boro President Helen Marshall Informs Us We're Holding Our Own
January 24, 2012 / Flushing / Queens Government & Economy / Queens Buzz. Today I attended the Borough President's State of the Borough Address in the Colden Auditorium at Queens College in Flushing. Queens College President Dr. James Muyskens opened the program, followed by City Council Speaker Christine Quinn.
There were hundreds of people in attendance. The audience included government officials, members of the police, fire and sanitation departments, a number of community board members, educators, healthcare administrators as well as members of the press.
Helen Marshall's address covered education, healthcare, parks, the economy, business, development, aviation [the airports], culture, historic preservation and awards to a few denizens of the borough for outstanding work. In the photo Queens Borough President Helen Marshall looks a graphic which includes the plans for the new technical center planned for Roosevelt Island by Cornell University and Technion. Click here to our report with photos of the Queens State of the Borough Address 2012.
---
Employment & Unemployment In Queens
Employment & Unemployment - Queens
Queens Unemployment Versus NYC, NYS & U.S.
March 11, 2011 / Queens Business / Queens Buzz. I recently attended a conference where I was able to obtain some information about the employment composition of Queens. I also obtained recent NYC, NYS, U.S. and Queens unemployment statistics, all of which are included in this report.
It's worth noting at the outset that Queens has a very diversified economic base. This explains why Queens is outperforming the city, the state and the nation in creating jobs for its people.
Click here to read more about unemployment / employment in Queens 2011.
---
---
Debt Ceiling Deal & Budget Talks 2011
What About The Debt Ceiling Deal?
Opinion & Perspective - Here's My Two Cents
August 3, 2011 / Queens NY / Queens Buzz. These have been a grueling two weeks for anyone watching the budget battles on Capitol Hill. The Senate, Congress and Executive branches of government got into the ring and slugged it out until they [and we] were exhausted.
Democracy is messy. It's about debate. It's about proposing ideas, listening to the ideas of others, and then rounds of endless repetitive rebuttals. It's not as clean as one dictator, king or self-anointed group of cronies, neatly deciding what to do, with no argument, no transparency, and no say by anyone else.
Click here to read the rest of the opinion on the debt ceiling deficit reduction budget deal of 2011.
---
Supreme Court Campaign Finance Ruling
Supreme Court Re-writes Constitution
Gives Legal Entities Rights To Meddle In Electoral Process
Queens / January 21, 2010. This is an opinion piece about the Supreme Court campaign finance ruling in favor of giving legal entities the right to spend unlimited sums of money in support of political candidates. Our opinion is that legal entities should not be allowed to spend any resource whatsoever in support of a political candidate.
If the people governing a legal entity [regardless of whether it is a corporation or a labor union] want to donate money or resource to a candidate, let them do so as individuals. But disallow them from reaching into the pockets of their shareholders, employees or membership to further their own special interests. Let these people [shareholders, employees and members] speak for themselves.
We compare this ruling to what happens in the book 'Animal Farm' written by author George Orwell in the middle of the 20th century, whereby some of the pigs in the book are made more equal than others. Our argument is that these people already have too much power vis a vis everyone else, and their unchecked influence will be harmful to the republic. Click here to read our opinion on the Supreme Court Campaign Finance Ruling.
---
State Of The Borough Address - Helen Marshall
The State Of The Borough Address
Queens President Helen Marshall Talks 2010 - 2011
January 25, 2011 / Queens College / Queens Buzz. I attended Queens Borough President Helen Marshall's state of the borough address which she gave at the Colden Center in the Queens College campus on Tuesday.
She structured the presentation in such a manner that it moved from issue to issue or in some cases from department to department, wherein she talked about what had happened over time periods ranging from last year to time periods which began when she took office in 2002.
Most of Queens prominent city council members and state representatives were in attendance – most of whom you can see in the slide show at the end of the report. There were also some former municipal government officials including Peter Vallone Sr who was once the city council speaker and Claire Schulman who was once borough president. Click here to read a full report on the State Of The Borough Address 2011 by Helen Marshall.
---
Queens Opinions - Op Ed On Queens Buzz
Audience Opinions on QueensBuzz.com
Charter School Owner Closes Her 22 NYC Public Schools To Bus Her Students To Albany To Serve Her Purposes
Capital New York reports that Success Academy CEO Eva Moskowitz "is closing all 22 of her schools for the day to attempt to rally support in Albany, and has asked teachers to provide instruction to students on buses up to the Capitol."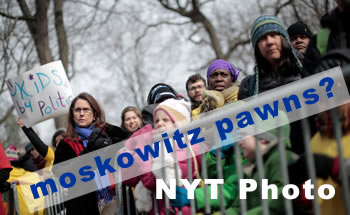 I am deeply concerned about the legality of a school leader closing schools for entirely political purposes. As chair of the New York City Council Education Committee, I intend to hold an oversight hearing to investigate whether any laws or Chancellor's regulations have been violated by Moskowitz unilaterally closing schools to effectively force children to lobby on her behalf.
This is the second time that Moskowitz has closed her schools for what seems to have been political purposes. In October, Moskowitz closed her Success Academy charter schools to lead a political march across the Brooklyn Bridge to protest Bill de Blasio. This must stop. No educator should be allowed to use children as pawns for their political agenda. Serious questions arise about closing schools for political gain.
As the recipient of public funding, I am also troubled by reports of the Success Academy paying administrators extraordinary salaries.
I also intend to use my oversight powers to investigate Moskowitz's extensive marketing campaigns costing millions of dollars.
Field trips can be an important part of the educational experience. Dragging children to Albany to further Moskowitz's political agenda serves no public or pedagogical purpose.
Statement by Council Member Daniel Dromm, Chair of New York City Council Education Committee
Published March 1, 2014
---
Editor's Notes: Moskowitz Actions, Charters & School Performance, & DOE Actions In Astoria
What would you think if the United Federation of Teachers Union [UFT] closed all NYC public schools and used the school children for a union rally [aka their own political purposes], like Eva Moskowitz / Success Academy appears to have done above in Albany on March 4th, 2014? The photo above links to the NYT story.
****
In a report we did a couple years ago, a Stanford University Study showed that the inclusion of charters in a school system improves overall performance, although over time the charters in their study underperformed the non-charters.
In researching the story on school closings, the one thing we learned is that there are no easy answers and that there are many factors at play in measuring school performance. However, according to the summary results of a National Education Longitudinal Study published in Education Week, the most critical factors in determining the success of a school are the children and families who enroll in the school. Parental supervision and participation in their children's academic performance is critical to both the child's and school's success.
****
The Bloomberg Department of Education [DOE] began an attempt to partition one of Queens most successful schools [PS 122 in Astoria] while Eva Moskowitz's Success Academy was making plans to open a charter in Queens. Many parents of the school did not find this to be coincidence. After a public outrage, the DOE quickly backed down.
It's not a big stretch to surmise that this sort of coincidence may have occurred previously. Some believe that the Bloomberg DOE may have facilitated Moskowitz's success by enabling Success Academy to make targeted enrollments at the expense of the surrounding schools / students.
Eva Moskowitz caught the public's attention during the Bloomberg Administration second and third terms, for opening a record 22 charter schools in the NYC public education system in less than seven years. This represents between 1% and 2% of all NYC public schools [there are approximately 1700 in total] and 12% of all NYC public charter schools [there are 183 as of 2013 / 2014 school year].
March 1, 2014
****
Editor's Update - NYC Co-location Approval Criteria / Success Academy Funding / LIC H.S.
In late February Mayor de Blasio approved 35 of 45 school co-locations. He said that he turned down the school co-locations based on the following criteria: 1) not put any elementary schools in with high schools, 2) not open schools with less than 250 students because they wouldn't receive enough resource to provide a proper education, 3) no co-locations requiring heavy construction and 4) no co-locations requiring the dislocation of the neediest kids.
De Blasio approved five of eight co-locations for Eva Moskowitz / Success Academy charter schools. Three of eight of Success Academy's co-locations were not approved because they did not take into account the needs of kids with special needs.
Moskowitz's Success Academy is funded in part by many NYC hedge fund operators. These hedge fund operators are in the tax bracket targeted to fund NYC education. Many of the public advertising campaigns launched by Eva Moskowitz / Success Academy / Charterswork.org are funded by them, pushing their point of view.
Mayor de Blasio drew attention to the fact that some charter school programs, like those funded by private sources [aka high net income / net worth individuals] at Success Academy, cannot be replicated in the remaining public schools, without receipt of the additional funding.
Editor's Suggestion: If these privately funded charter school programs are successful, perhaps the city can ask these wealthy donors to Success Academy, to increase their investments in the NYC school system to enable these programs to be replicated throughout the entire NYC public school system.
LIC High School was one of the schools targeted for a co-location that was nixed. LIC High School is one of the remaining large high schools in the city.
April 6, 2014
****
Editor's Update - NYS Court Bars NYS Comptroller From Auditing Charter Schools
Thomas Di Napoli, NYS Comptroller, sent us this link to a story / editorial about how the Supreme Court barred his office from auditing NYS charter schools.
Eva Moskowitz / Success Academy sued the NYS Comptroller when he made an attempt to audit them. According to Mercedes Schneider, a blogger of the Huffington Post, in 2011, just nine schools of Success Academy received about $50 million in public funding. As mentioned above, Success Academy currently operates 22 charter schools in the NYC public school system.
According to the Times Union Editorial [the Times Union is a newspaper in Albany], New York State currently has 233 charter schools, with an enrollment of 87,000 children and costs taxpayers over $1 billion per year.
March 22, 2014
---
Click here to view our audience opinions on Queens Buzz.
---
---
Queens Government & Employment Related Info
Click this link for promotions, discounts and coupons in Queens.
Click this link to go to the Astoria Neighborhood / Long Island City LIC Neighborhood / Sunnyside Woodside Neighborhood News / Jackson Heights Elmhurst Neighborhood / Flushing Corona Neighborhood / Jamaica Neighborhood.
---
Site Search Tips. 1) For best results, when typing in more than one word, use quotation marks - eg "Astoria Park". 2) Also try either singular or plural words when searching for a specific item such as "gym" or "gyms".
---
Archives - TBD
---
Click this link to search for something in our Queens Business Directory.
---
Click the log in link below to create an ID and post an opinion.
Or send this story to a friend by filling in the appropriate box below.
---