Economic Development In Queens
Deputy Mayor R.K. Steel Talks About 2010 - 2011
February 24, 2011 / Kew Gardens / Queens Business / Queens Buzz. I attended an address given by the NYC Deputy Mayor for Economic Development, Robert K. Steel at Borough Hall in Kew Gardens today. The event was sponsored by Borough President Helen M. Marshall and the Queens Economic Development Leadership Council.
There were somewhere close to one hundred people in attendance, representing many of the Business Improvement Districts, Business Development Corporations and Queens based businesses. The business people asked some tough questions following Steel's remarks, some of which were directly answered, and some of which were not. Click here to read our report on economic development in Queens.
---
Economic Development In Queens
Deputy Mayor R.K. Steel Talks About 2010 - 2011
February 24, 2011 / Kew Gardens / Queens Business / Queens Buzz. Continued - Use Search Function To Find Story Introduction. Please note that you can click on many of the photos below to go to a related story on that subject.
Age-Friendly New York City Initiative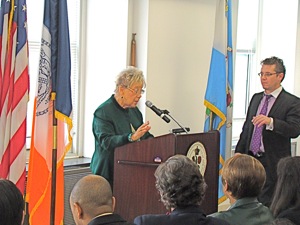 Helen Marshall opened the event by first introducing Robin Willner who is the Co-Chair of Age-Friendly NYC Commission and Chair of Age-Friendly Business Work Group. Robin talked about the importance of catering to the 65 and older crowd, which currently number one million and will grow to 1.5 million in the next twenty years. She threw out some interesting reasons for catering to this group as nationally they spend $1 trillion and they control 75% of the nation's assets.
Robin told us one of the ten ways to make small business more age-friendly was to provide chairs for them to sit down. I looked up some of the other ten tips, which included making the typeface on signs larger so seniors can read it and stocking items that are popular with seniors on lower shelves. Store hour operations were also mentioned [meaning a restaurant starting to serve dinners earlier]. In some of the research I did, it was noted that government budget cuts will likely cause many senior centers to shorten hours or be closed, which means more seniors may be active at other locations within the community.
---
Economic Development Initiatives In Queens
Helen Marshall then introduced Robert K. Steel, the Deputy Mayor of Economic Development.
Queens – Economy, Unemployment & Housing
Steel started out by describing the economic environment we're in, noting that New York City and Queens have slightly lower unemployment rates than the U.S. average and that the city as a whole [not the government] is currently creating jobs. New York is growing, while many other large American cities continue to decline, and last year New York City hosted 48 million tourist guests.
Steel noted that NYC culture is one of the biggest draws for people coming here, and about a third of all foreign visitors to the U.S. come to the U.S. to see NYC. The photo to your right shows the audience listening intently to Steel's remarks.
Some of the negatives Steel pointed to included that the unemployment rates for minority males was significantly higher than the overall unemployment average; and that NYC continues to work its way through a housing crisis. Click here for related stories on Queens unemployment picture which is actually a bit encouraging.
City Government Initiatives & Focus
The next section of his discussion talked about what the city government is doing to help alleviate and remedy the employment and housing crises. He framed his remarks in terms of short and long term fixes.
Queens Unemployment Remedy - NYC Workforce Centers
There's an NYC Workforce Center in Jamaica Queens. This is managed by a non-profit called New York Business Solutions which is a government sponsored non-profit working to train and qualify employees for local employers. Steel told us that last year these centers metro-wide found jobs for 30,000 people and they are hoping to increase that to 40,000 this year. He noted that 7,000 of those jobs were found by the Workforce Center in Jamaica in Queens.
Queens Housing Crisis – Increased Enforcement
He noted that there are 51,000 multi-family buildings in Queens and that the city stepped up its enforcement of hot water and heating checks this winter. Steel said that the city doled out 8,500 hot water / heating citations to landlords and that they followed up with 2,500 cases which went to court.
For the longer term Robert said that the city government funded about half of the estimated new housing units in 2010 [Editor's Note: I'm not sure I heard this correctly, but he said something along these lines].
New York City Business Express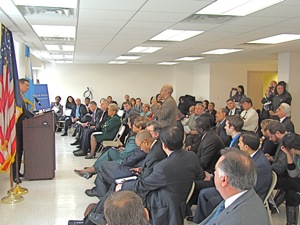 NYC Business Express is a government body designed to help new businesses get to market more quickly, by helping small businesses work through government processes. This unit opened a year ago and helped about 200 new businesses get started, most of which were restaurants.
NYC Business Express also helped 300 businesses obtain $2 million in financing. He notes that this helps finance new jobs. He said that the goal was to balance consumer safety with business productivity.
He mentioned something about an Economic Development Study which is due out this summer. It has something to do with the local wage rules. He noted that the government will review the study, but that it's approach toward business generally is to evaluate economic / business opportunities in terms of employment / jobs first. In the photo above you can see deputy mayor Robert K. Steel addressing Queens business people about economic conditions in NYC & Queens.
Development / Real Estate - Queens Neighborhoods
Robert talked about several initiatives, which Helen Marshall had mentioned a month ago in her State Of The Borough address. These include significant real estate investments / developments in Queens. These real estate development investments include Long Island City, Flushing and Jamaica.
Long Island City Real Estate – Hunters Point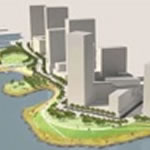 Long Island City has seen a significant influx of investment generally, and will soon see investments in Hunters Point South specifically. Based on the numbers, the Hunters Point South Apartment and Commercial space is a 6,700 unit development, for which 75% or 5,000 of the units will be dedicated to low and middle income housing [incomes of $32,000 to $130,000 for family of four]. The development will also include a park, a school and retail space. A graphic depiction of the Hunters Point development project is shown to your right. Click it to read more about the Hunters Point development in our section on real estate in Long Island City.
Flushing Real Estate – Willets Point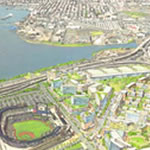 In Flushing, two real estate development plans are underway. One may yet involve the controversial use of eminent domain, wherein the city government may forcibly move owners off their property, in order to build an apartment complex. The new apartment complex is expected to include some affordable housing and a school. The Flushing Queens apartment complex will stand between the newly constructed CitiField and the Queens Transportation Facility for the greater Flushing area. A graphic depiction of the proposed convention center, office and retail space and housing is shown to your right. Click it to read more about the proposed Flushing development in our section on real estate in Flushing.
Flushing Real Estate – Flushing Commons Development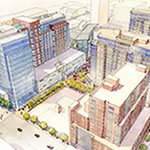 The other is the Flushing Commons Apartment and Retail Space Development, which is a 600 unit apartment complex with over 400,000 feet of retail and office space, as well as parking. In my research on this project, it seems the objections were about what impact this large development would have on the number 7 subway line, which is already stretched to capacity during peak hours. A graphic depiction of the Flushing Commons development project is shown to your right. Click on it to read more about the Flushing development in a story in our section on real estate in Flushing.
Jamaica Real Estate – Commercial Development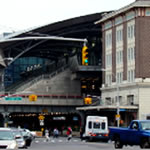 Downtown Jamaica was rezoned in 2007 and has seen continual changes designed to leverage the area's locale as one of Queens and NYC's largest transportation hubs. There's one large real estate development project designed to add a significant amount of commercial space to the area. The photo to your right shows the Sutphin Underpass where development changes are underway. Click on the photo to read more about development projects in Jamaica in our section on real estate in Jamaica NY.
Queens Transportation Infrastructure
Robert talked about 'metro mobility'. This is the ability to move people and goods via rail, road, water and air. One NYC initiative is the select bus program, which they just started testing in another borough. Another is the new ferry service, which will connect Queens to Brooklyn and the east side of Manhattan via the East River. And a third is based on a study that showed that 97% of taxi pick ups are done in Manhattan and the NYC airports, which means the outer boroughs don't have easy taxi pick up access. He didn't have a solution to this issue, but just wanted us to know he's aware of the problem.
NYC / Queens New Business Initiatives - Aviation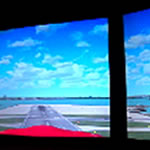 Robert echoed Helen Marshalls remarks during her State of the Borough Address that Queens benefits from having both airports in the borough and that transportation from those two hubs generate a lot of income and jobs for both the borough and the city. Jet Blue decided last year to remain in the borough and is re-locating from Forest Hills to LIC [I believe] this year and will add new jobs.
Queens Neighborhoods – Safety, Public Parks, Clean Air & Water, Recreation
He observed that Queens has a large well-educated population, which provides a significant labor pool from which employers can choose their employees. And that Queens is a desirable destination as evidenced by the fact that about 50% of the population of the borough was born somewhere else and decided to re-locate here. They do so because of the quality of life.
NYC / Queens Venture Capital – Science & Technology
He noted that NYC recently passed Boston as to become the second leading destination for venture capital. Silicon Valley is number one. He talked about NYC getting some of those technology jobs, but noted that the city's universities aren't as science-oriented as places like MIT of CalTech, but that one of the recent initiatives involved inviting science-oriented universities to open another location / campus here. Some of the successes he pointed to included BioLabs in Brooklyn and Alexander Life Sciences on the east side of NYC.
NYC Nurturing Industries – Fashion, Food & Sustainable Design
He talked about NYC as a food, fashion and architectural capital. He mentioned Queens specifically with respect to the recent opening of the Incubator Kitchens called the Entrepreneur Space in LIC [see photo to left]. And lastly he talked about the importance of education and healthcare, both of which he noted were significant employment industries in the metro area.
He closed by saying NYC has an educated workforce, good schools, but not where we need to be in terms of the sciences. He noted that unemployment and housing are still critical issues upon which the Bloomberg Administration is focused and that they want to grow jobs in collaboration with the Queens Borough President and other government officials by facilitating the growth of new businesses, supporting the investment in new developments and nurturing other industries like aviation, healthcare and education.
Questions & Answers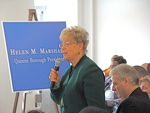 Helen Marshall was the first to ask a question, which was how she could get help to close the initiative to have a school built near Queens Hospital in Flushing. She noted the success of the Science High School at York College where the FDA has offices on campus. Steel agreed that extending the medical corridor of hospitals and schools along the upper east side in Manhattan across the East River into Queens made a lot of sense.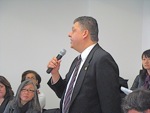 A Queens builder / architect wanted to know how Queens-based businesses could get a better shot at participating in government purchases of services. Steel told him to contact his office.
A man who runs a Long Island City based furniture company wanted to know how his company, which creates local jobs and uses local services, could participate in furniture purchases made by the city.
Steel noted that the NYC city government procurement is too complex, but noted that the procurement process is outside of his area. [Editor's Note: In a separate event Robert Walsh, Commissioner of NYC Department of Small Business, said that the NYC procurement process is undergoing modifications which should become effective sometime in April / May of 2011 and should make it easier for local businesses to compete].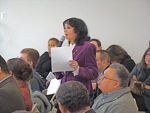 A woman associated with a Queens BID [Business Improvement District] wanted to have the city consider leasing space in her neighborhood where there are vacancies. Steel noted that the city is currently looking to reduce its office space.
Another man noted that southeastern Queens unemployment is at 18%. He said that because of the high local unemployment rate, his area of the borough has one of the highest foreclosure rates in the nation.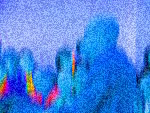 He inquired about the borough getting more autonomy in selecting vendors. He noted that his company oftentimes becomes a subcontractor for foreign owned companies who then hire out-of-state companies for whom his company then ends up working. He gave the example of how the recent casino project [we believe this is the new Acqueduct Casino project] was awarded to a foreign company who hired Nevada companies to do the work.
Steel said that these issues are out of his area, and that there are many issues surrounding procurement. He suggested the man contact the Deputy Mayor of Operations. Steel said more transparency in the procurement process was needed.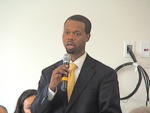 A man from St Albans said he lauded the city's increase in building inspections this winter to ensure landlords are in compliance with city codes. But he noted that the government agency that does those inspections needs to address its own compliance, as a building in his district that houses a daycare center has issues. Steel had an aid take a note and said he would look into it.
A woman from the Council For Airport Security said she wanted to develop a better connection with the city government vis a vis aviation jobs. She noted that her organization has placed 60,000 people in airport jobs since its inception in 1972, but lately has had difficulty collaborating with the government on securing aviation jobs. It was believed that some of the difficulties may stem from a high level of scrutiny due to security requirements.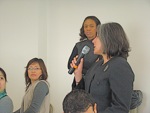 And lastly, a woman who manages a local cultural center noted that cultural investments generate significant additional spending for every dollar spent. As such she noted that cultural spending is a need to have, not a nice to have, in this tough economic climate.
Steel agreed with her and noted that most of the tourists who come to NYC cite culture as one of the primary reasons for choosing NYC as their tourist destination. But beyond that, Steel gave no advice and made no commitment with respect to funding cultural activities in Queens. Click here to go to Helen Marshall's State of the Borough Address where she talks frankly and in more detail about cultural and other NYC government spending.
---
Queens Related Info
$element(adman,groupad,Catgry Finance)$
Click this link for promotions, discounts and special offers in Astoria and Queens.
Click this link to go to the Astoria Neighborhood, click this link to go to Astoria Restaurants and click this link to go to Astoria Shopping.
$element(adman,groupad,Catgry Realestate)$
Site Search Tips. 1) For best results, when typing in more than one word, use quotation marks - eg "Astoria Park". 2) Also try either singular or plural words when searching for a specific item such as "gym" or "gyms".
$element(bwcore,insert_search,N)$
Click this link to search for something in our Queens Business Directory containing over 1,000 listings.
---
$element(adman,groupads,Sectional2 Ad)$
---
Send this story to a friend by filling in the appropriate box below.
---