Queens State of the Borough Address 2012
Boro President Helen Marshall Informs Us We're Holding Our Own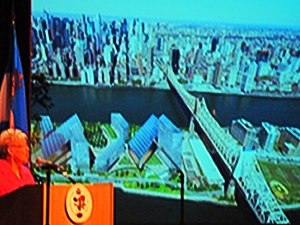 January 24, 2012 / Flushing / Queens Government & Economy / Queens Buzz. Today I attended the Borough President's State of the Borough Address in the Colden Auditorium at Queens College in Flushing. Queens College President Dr. James Muyskens opened the program, followed by City Council Speaker Christine Quinn.
There were hundreds of people in attendance. The audience included government officials, members of the police, fire and sanitation departments, a number of community board members, educators, healthcare administrators as well as members of the press.
Helen Marshall's address covered education, healthcare, parks, the economy, business, development, aviation [the airports], culture, historic preservation and awards to a few denizens of the borough for outstanding work. In the photo Queens Borough President Helen Marshall looks a graphic which includes the plans for the new technical center planned for Roosevelt Island by Cornell University and Technion. Click here to our report with photos of the Queens State of the Borough Address 2012.
---
Queens State of the Borough Address 2012
Boro President Helen Marshall Informs Us We're Holding Our Own
Continued. January 24, 2012 / Flushing / Queens Government & Economy / Queens Buzz. I arrived as Christine Quinn was presenting Borough President Helen Marshall to the audience. What follows is a summary of what I heard at her address. See the slide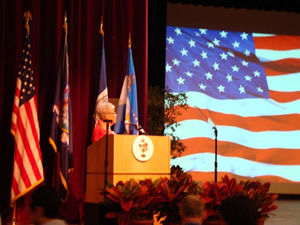 show for some of the slides she presented in tandem with Helen Marshall's State of the Borough Address for 2012.
Ms. Marshall started with a quick laundry list review of some of the events of 2011 including wet and windy weather systems, the tenth anniversary of 911, a native son of Queens in the Governor's mansion and recently appointment of a native son as Chief of White House staff, record NYC tourism, ongoing real estate developments in Long Island City and Flushing, the opening of the Aqueduct Casino in October, the proposal of a new [largest] NYC convention center near Aqueduct, the approval to build a technical educational facility on Roosevelt Island, the passing of marriage equality in New York State, among others. Then she began to delve into each of the major areas of 2011 events and governance in Queens. Click here to read our report of Queens Borough President Helen Marshall's State of the Borough Address delivered in 2010.
EDUCATION IN QUEENS
P.S. 96 in South Ozone and P.S. 19 of Corona is two of the most overcrowded schools in New York City. While some improvement has been made, there's still much to do. She noted that generally in Queens, 1700 new seats were created in Queens in four new buildings. Over the next four years, there are plans for ten new schools, adding 6,000 new seats.
She noted that many Queens high schools are managing double and triple sessions. Francis Lewis High School has one of the highest high school utilization rates in New York City, and yet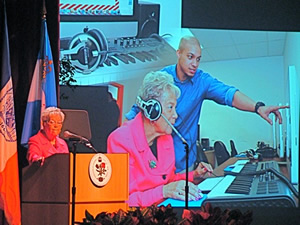 the school continues to perform well. She attributed part of the problem in the future to the possibility of losing federal funds, which are allocated based on the census.
In Jamaica they opened a new media center which she visited [see foto]. And the CUNY Law School, which she noted is ranked the number one public interest law school in the nation [I don't understand what this ranking means], will move from Flushing to Long Island City the fall of 2012. There were also capital improvements made at the Colden Center and Goldstein Theater at Queens College in Flushing. Click on the photos in this section to go to related stories about education in Queens, including a story about Queens College, York College, Vaughn College & Aeronautics school, St. Sebastian's catholic grade school, and Flushing Public High School.
HEALTHCARE IN QUEENS
She said that they were successful in saving a Penninsula Hospital from closing this year. She worked with Revival Home Health Care to try to turn this around, as it was losing $60 million per year. Northshore LIJ opened a new $300 million facility in Queens.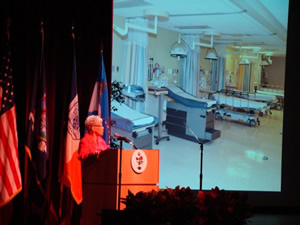 In Astoria, Mount Sinai filed an application to expand its facilities by adding four stories to triple the size of its emergency room and enhance the ambulance bay and triage facilities, and add an assortment of intensive care and general care patient rooms and operating rooms. Click on the photo to your left to go to a related story on Elmhurst Hospital.
In Flushing New York Hospital obtained Heal New York funds to construct new urgent care and dental emergency units that will open by February 2012. In the Rockaways, St. John's Episcopal Hospital will receive a new digital mammogram unit.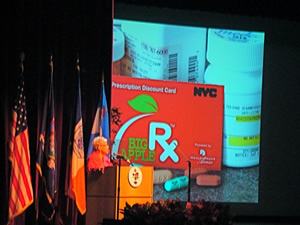 In October 2011 the City Department of Health announced a Big Apple Rx program. The program targets the uninsured, enabling them to obtain retail prescriptions at discounts averaging 47%.
In the U.S. more than 20 million people have kidney disease. All Queens dialysis centers are over-utilized, so many operate 24 hours per day. In October the Auburndale dialysis center opened which is operated by Rogosin Institute and can accommodate 230 patients per day.
She helped publicize the safe haven program at the Elmhurst Hospital in Elmhurst. And mothers can leave these new born infants with the fire department rather than abandon them. Children endangered of being abandoned within the first 30 days of their life are eligible for hospital care as well as the mother.
Nearly 400,000 [18%] of Queens residents are over 60 years old. New York City's seniors number 1.3 million and this number will grow nearly 50% over the next 25 years. She held a rally to protest proposed reductions in Title 20 Funding, which would have resulted in the closing of 27 Queens senior centers. This was averted, as were reductions in daycare, transportation and legal services for the elderly. On this she commended Christine Quinn for her help. [Editor's Note: Throughout the address she commended other government officials, most of which is not recorded here.]
QUEENS PARKS
Over the past decade over $100 million has been invested in the upgrading of Flushing Meadows Corona Park [Editor's Note: most of this went toward the Queens Natatorium and World Ice Arena]. A new boathouse was also built on Meadows Lake in Flushing Meadows Corona Park which is the home to the Dragon Boat Festival in the summer and TASCA, a sailing club will also provide lessons on how to sail. Click on the photo to your left to visit the Green / Parks section of this site.
Oakland Lake Park Ravine will be outfitted with a boardwalk that will encircle the entire lake. Roy Wilkins Park in Jamaica now offers year round tennis in a tennis bubble. Lou Lodati Park in Sunnyside will have two new dog runs and a makeover. In Elmhurst the site of the old Elmhurst gas tanks was cleaned up and has become Elmhurst Park. And two new cricket fields opened in Queens last year.
ECONOMIC DEVELOPMENT
Helen Marshall said that the three main commercial hubs in Queens remain strong: Flushing, Jamaica and Long Island City.
LONG ISLAND CITY REAL ESTATE DEVELOPMENT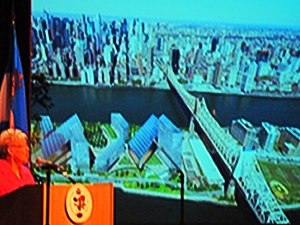 Long Island City now ranks as the fourth largest central business district in the entire metropolitan area. This year it becomes the home of Jet Blue headquarters [though they don't call it headquarters] and the CUNY Law School. It has a new park at the foot of the bridge, a number of new hotels, new office space, new housing and is quickly becoming one of the most desirable mixed-use districts. Click on the photo to your left to visit the Queens real estate section of this site.
And the LIC area should benefit from the multi-billion dollar investment by Cornell University and Technion, the Israel Institute of Technology. [Editor's Note: According to CBS the city will virtually give away the land for this two million square foot applied sciences facility and up to $100 million in additional infrastructure. They estimate it will create 8,000 new jobs. It will open in 2017, and they will finish the facility in 2027.]. Cornell and Technion will create educational programs for 10,000 NYC students and 200 NYC teachers in time, in an effort that will begin in the fall of 2012. Click on this link to visit the Long Island City real estate section of this site.
FLUSHING REAL ESTATE DEVELOPMENT
Flushing has grown over the past decade with the erection of Queens Crossing, Skyview Mall and in the future Flushing Commons. And an effort to rezone the Flushing waterfront is underway [Editor's Note: we believe this is being done in tandem with the Willetts Point Development project] to provide public access, housing and commercial opportunities. Click on the photo to your right to view the Flushing real estate section of this site.
JAMAICA REAL ESTATE DEVELOPMENT
Traffic improvements are underway which will, among other things, improve the Sutphin Blvd underpass. This will be completed in March 2012. The Atlantic Avenue Extension and the Station Plaza work will begin construction in 2013. Click this link to visit the Jamaica real estate section of this site.
WORKFORCE DEVELOPMENT & COMPENSATION
She told us that 36% of Queens residents report having difficulty putting food on the table. She noted that's why she's in favor of raising the minimum wage and an effort to ensure that city subsidized projects include balanced living wages.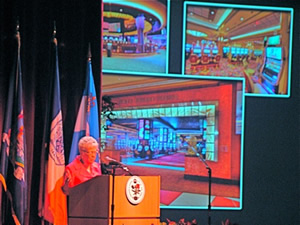 She talked about other efforts underway to help Queens residents with employment such as hosting job fairs, publishing resource guides, job training through apprenticeships and something about green certified buildings.
BUSINESS DEVELOPMENT & PLANNING
The new Aqueduct Casino opened in October 2011 and she told us that 70% of the jobs created there were filled by Queens residents.
Some forty-three neighborhoods in Queens have been re-zoned within the past decade. The most recent being Sunnyside and South Jamaica last year. This year they are working on East Elmhurst, Bellerose, Floral Park and Glen Oaks. Click on the photo above to visit the loans and banking in Queens section of this site. It includes information on how small businesses may seek help and capital.
HOUSING IN QUEENS
Helen Marshall wrote to Governor Cuomo urging him to restore funding for the New York State Foreclosure Prevention Services Program, which helps families, the neighborhoods and local economies by negotiating settlements with banks and lenders. Governor Cuomo also announced plans for a state foreclosure relief unit to provide counseling and mediation services to help residents keep their homes. Click here for a story about real estate lending in Queens.
HUNTERS POINT DEVELOPMENT PROJECT IN LIC
Currently the largest affordable housing initiative is in Hunters Point Long Island. In September 2012 they will break ground for one thousand of the five thousand units planned. Within two years these will be complete, while the marketing of the units will begin once construction is 50% complete, so if you're interested in living there, the clock starts ticking September 2012. In 2011 they installed sanitation, storm sewers, curbs and sidewalks and substantial work completed on an 1,100 seat school. Click here for a story about the Hunters Point South Development in Long Island City.
HALLETS POINT DEVELOPMENT PROJECT IN ASTORIA
This project is currently on the drawing boards and includes a waterfront park with connections to Astoria Houses. The development would create new residential towers, retail space including a supermarket, and additional affordable housing for seniors. It's estimated to be a $1 billion project which would create 300 permanent jobs.
WILLETS POINT DEVELOPMENT IN FLUSHING
The Willets Point project will be a very large, mixed use real estate development. In December 2011 they broke ground on some of the infrastructure for the project. A developer will be announced in 2012 for the first phase of the project which will include 400 units of mixed income apartments, retail space, a hotel and two acres of open space. There will also be a mid sized convention center there, which will be smaller than the Javits Convention Center. It is estimated that this will create 1,800 permanent jobs. [Editor's Note: critics of this development say that the #7 subway line is already operating at near capacity and that this development along with other Flushing developments could overwhelm an already overextended infrastructure. Currently there aren't any plans to increase mass transit capacity along the northern Queens corridor.]. Click here for a link to a story about the Willetts Point Development in Flushing.
MACEDONIA AME DEVELOPMENT FLUSHING
The Macedonia project includes 135 residential units as well as some commercial space, which will be erected near the church in downtown Flushing. This is near the large city parking lot in the vicinity. Helen Marshall told us that this development is shovel-ready.
She then went on to list a number of housing projects dedicated to seniors. They include a 182 unit place in Richmond Place / Richmond Hill which began construction in September 2011 and will be completed by the end of 2012. There's a 184 unit senior residence center called George Dourais which opened in 2011 in Astoria. There's a Presbyterian senior residence in Astoria, which will be completed in the fall of 2012. Catholic Charities just received approval for a 93 unit residence for seniors in Howard Beach. A senior center in Pomonok will open in February 2012. The Allen Neighborhood Preservation Corporation will open a 65 unit senior residence in Far Rockaway. And the old Rockaway Courthouse is currently under consideration for some sort of development.
ENVIRONMENTAL ISSUES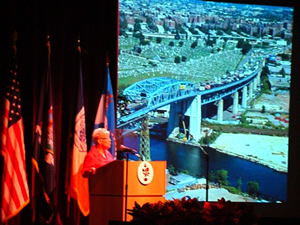 She mentioned the Newtown Creek superfund site [use search to find related in-depth story]. And she asked the state to delay issuing any hydrofracking permits until we can be sure it will not pollute NYC's drinking water. [Editor's Note: see the Newtown Creek story which is about losing access to drinking water in Brooklyn in the middle of the 20th century due to pollutants by the oil companies.]. Click here for a story about the Newtown Creek superfund site.

There was something mentioned about Con Ed's smart grid project and Governor Cuomo's upstate / downstate energy highway, but I didn't really understand it.

AVIATION IN QUEENS – LAGUARDIA AND JFK AIRPORTS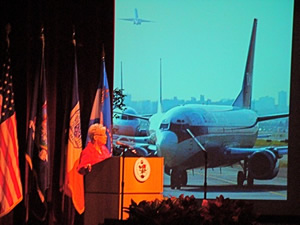 These two transportation hubs account for 319,000 jobs and $42 billion in economic activity. [Editor's Note: we don't know what these figures include / exclude]. It seems Delta Airlines is expanding at both LaGuardia and JFK, investing $100 million to expand its terminals at the former and $1.2 billion to rebuild its terminal four at the latter. Terminal 4 at JFK is expected to be completed in 2015. Click here for a story about Vaughn College and Aviation in NYC.
The Borough President said she's been urging the FAA to transition to air traffic control systems that will keep the planes higher in the air before landing and use non-residential paths into the airports [eg. Rivers / ocean instead of over Queens County].
POLICE & CRIME IN QUEENS
She commended the efforts by the two Queens Patrol Chiefs, James Secreto and Diane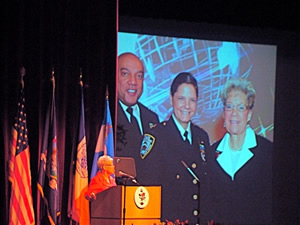 Pizzuti. And noted that the District Attorney Richard Brown is the longest serving DA in Queens.
There was an uptick in crime in 2011, particularly in the Rockaways which she noted had a dramatic increase and also in Astoria's 114th precinct. She has asked to include the Rockaways in operation impact which provides additional officers to the area.
She noted that Peter Vallone is the chair of the public safety committee. And that while they are still building a new $1 billion police academy in College Point, they've already begun some training there.
She also made some comments on domestic violence, the most notable being that "the wheels of justice only start turning when a complaint is filed."
FIRE DEPARTMENT IN QUEENS
Response times have improved across the board. The fire department saved 60 lives using their CPR training. The department now has mobile training, so that firefighters can train at their own stations, instead of going to the Randall's Island training facility. Click here for a story about a fire department in Queens.
CULTURAL ACTIVITIES IN QUEENS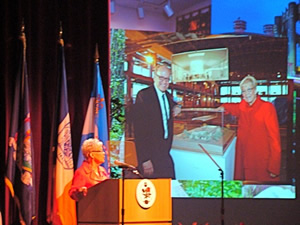 The Queens Museum of Art will complete its renovation project which will double the museum's size by next year. And the NY Hall of Science won a $3 million grant to create classroom science games to make learning science fun.
She mentioned a few of the cultural institutions that put on events in the borough. Anyone who visits this site is well familiar with the few she mentioned, and many more. Click into the top tool bar buttons for more information, or click here to view our montly Queens events calendar.
HISTORIC PRESERVATION IN QUEENS
Helen Marshall provided a laundry list of preservation projects going on in the borough. The oldest synagogue in the borough, Tifereth Israel of Corona, was given a million dollars toward securing its future. Queens County Farm of Glen Oaks is the oldest working farm in New York State and efforts continue to maintain it. They are restoring the site at the Poppenhusen Institute of College Point where the first kindergarten in the U.S. once stood. And they're investing $15 million in the Louis Armstrong House in Corona, which is managed [and possibly owned] by Queens College.
And they have a mix of repair projects going on like the roof at King Manor in Jamaica, the siding of the Louis Latimer House in Flushing, the windows at the Kingsland Homestead in Flushing, and continuing efforts on a project started on the Bowne House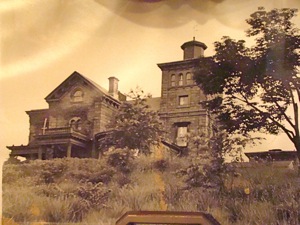 in Flushing several years ago [Editor's Note: the Bowne House has been closed for years and will open when they complete this project in 2012 / 2013].
[Editor's Note: There was still no mention about any effort to save the Steinway Mansion in Astoria. The last asking price I heard was $3.5 million. The Steinway Mansion was home to one of the most important New York figures of the 19th century [and Queens], William Steinway, who helped turn this city into one of the great cultural centers of the world starting with great musical performances on his pianos at Steinway Hall. And he was also one of the masterminds of modern public urban transit [aka the subways] in this city, having initiated the first tunnel digging project under the East River in the 19th century. The tunnel eventually became the #7 subway line tunnel into Grand Central Station.]. Click on the photo above to view a section of this site dedicated to the Steinway Mansion, or click here to read my favorite story about the Steinway Mansion in Queens
IMMIGRATION IN QUEENS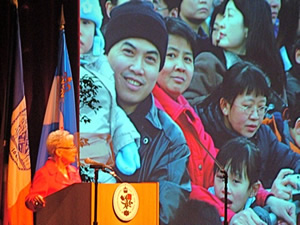 In December of 2011 the U.S. Citizen and Immigration Services opened up a full service office at 27-35 Jackson Avenue in Long Island City, Queens this year. The offices are near the G [Brooklyn], 7, E, F, Q and N subway lines – allowing for easy accessibility, as well as proximity to the largest population of immigrants in NYC – which is in Queens. Click here to view a story about the 2012 census in Queens.
Fun facts on the demographics of Queens. About 57% of residents in Queens speak a foreign language at home. There are about 200 languages and dialects spoken in Queens County. About 47% of the population of Queens is foreign born [Editor's Note: It's worth noting that many Queens residents are born as infants elsewhere and moved here with their parents. And many others moved here in the 60's and 70's – some going to school here – so in many cases you wouldn't know they were foreign born if they didn't tell you.]
Half of all Asian Americans living in NYC live in Queens. And the Hispanic population of Queens numbers 600,000 which she compared in size to the state of North Dakota. And she mentioned that City Councilmember Danny Dromm is the chair of the city council committee on immigration.
LIBRARIES IN QUEENS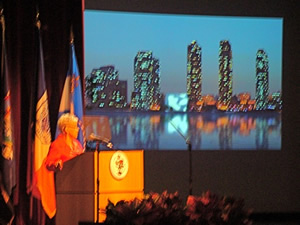 A children's library was opened in Jamaica this year, with Helen Marshall's name on it. It's located next to the main library in Jamaica where some renovations are going on. Elmhurst is getting a new library in 2013 [Editor's Note: there's a controversy regarding what to do with the old Elmhurst library which is considered by historians to be a landmark]. Another library is planned in East Elmhurst, where they will break ground in 2013. A design for a Far Rockaway library is currently in the works.
The Hunters Point library in LIC will begin construction in 2013. This was an effort initiated by City Councilmember Jimmy Van Bramer and Cathy Nolan [Editor's Note: and an LIC citizen, Fausta Ippolito who passed away in 2011]. The Glen Oaks library is being finished this year. She is working on getting a new library in Rego Park. And in March construction will begin on the renovation / expansion of Kew Gardens Hills library. This last project was pushed by the late Patricia Dolan. She also gave a special mention to deceased Community Board member Richard Italiano who died on January 19, 2012. [Editor's Note: Helen Marshall didn't talk about the library hours / service cuts this year].
OUTSTANDING DENIZENS APPRECIATION & MUSICAL PERFORMANCE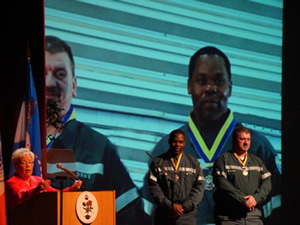 At the end she thanked a few outstanding denizens of the borough: 1) Arno Heller, a veteran who fought in WWII, 2) detectives Charles LoPresti and Richard Johnson, two policemen who collared alleged fire bombers [Queens Dec 2011], 3) Ronnie Daly a Woodside firefighter who saved someone from a burning home [Editor's Note: they were living inside an illegal basement apartment], and 4) Semi Knozi and Joseph Maneggio, two sanitation workers who saved a number of people from a burning home. See photos of all of them near the end of the slide show [click the reverse arrow to start at the end]. And lastly there was a musical performance by the students of P.S. 99Q and their Music Director Evelyn Zerner.
Best wishes for a happy, healthy and prosperous 2012.
---
Photos of Helen Marshall & The State Of The Borough Address
Click on this link to view an album containing photos of Borough President Helen Marshall the Queens State of the Borough Address 2012.
$element(ophoto,photo_slideshow,174,660,,5.00,fade)$
---
$element(adman,groupad,NHoodAstoria)$
Astoria / LIC Neighborhood Links
Click on these advertisements for promotions, discounts and coupons by retailers and restaurateurs in Astoria and nearby Queens.
Click this link to go to the:
Astoria Neighborhood or Astoria Business Directory
Astoria Real Estate or Events & Things To Do In Astoria
Restaurants In Astoria or Astoria Shops & Shopping
---
LIC Neighborhood - Long Island City Links
$element(adman,groupad,NHoodLIC)$
Click on these advertisements for promotions, discounts and coupons by retailers and restaurateurs in Long Island City LIC and nearby Queens.
Click this link to go to the:
Long Island City Neighborhood or LIC Business Directory
Long Island City Real Estate or Events & Things To Do In LIC
Restaurants In Long Island City or LIC Shops & Shopping
---
$element(adman,groupad,Catgry Entertain)$
Site Search Tips. 1) For best results, when typing in more than one word, use quotation marks - eg "Astoria Park". 2) Also try either singular or plural words when searching for a specific item such as "gym" or "gyms".
$element(bwcore,insert_search,N)$
Click this link to search for something in our Queens Business Directory.
---
$element(adman,groupad,Sectional2 Ad)$
Click the log in link below to create an ID and post an opinion.
Or send this story to a friend by filling in the appropriate box below.
---