Queens Mass Transit & Transportation
---
Sunnyside Yard
Sunnyside Yard: Finding Our Place In Space & Time
Part II. History Of Transit & Housing In Queens: Sunnyside Yard
March 18, 2015 / Sunnyside / Queens Real Estate / News Analysis & Opinion / Queens Buzz.
Click here to view our first report about Sunnyside Yard.
In Part I of this report series about Mayor de Blasio's proposed development of Sunnyside Yards, we saw how Queens evolved from the rolling woods and farmlands of the early 19th century, into an industrial and manufacturing center along the East River waterfront in the second half of that century. In 1898 Queens became a part of New York City and the dawn of the 20th century had begun.
Work On The Steinway Tunnel Resumes & Begins The Era Of The Commute
In 1892 William Steinway [he died in 1896] began digging a tunnel underneath the East River between Queens and Manhattan. He had envisioned completing it to enable mass transit flows between Queens and Manhattan to enhance the value of his vast Astoria / Long Island City real estate holdings, but he died before that vision came to fruition. The Steinway Tunnel, which was named in his honor and which it carries to this day, is now the underground tunnel for the #7 subway line between Flushing Main Street in Queens, and Times Square in Manhattan. I shot the photo to right at a LaGuardia Community College exhibit in LIC which shows a newspaper account of a 1907 test run of a trolley through the line, three years after the completion of the Steinway Tunnel between Manhattan and Queens in 1904.
Large Scale Real Estate Development Begins In Queens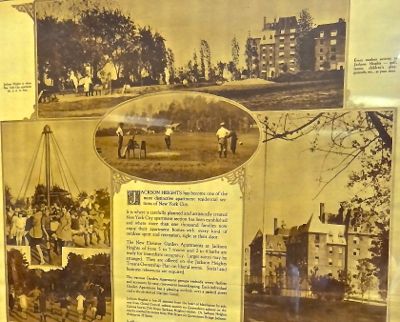 Following the creation of the interborough subway lines, affordable housing developments followed in Jackson Heights, Forest Hills and Sunnyside. The photo at right shows a 1922 real estate development in Jackson Heights built for the upwardly mobile growing middle class. I shot this photo at the Jackson Heights Beautification Group's Historic House [Garden] Tour Weekend.
We ended Part I talking about Public Housing that ultimately became low income housing, and which had systemic problems attributed to the civil rights struggle of the mid 20th century, and which was followed by social upheaval accompanied by narcotics. While remnants of the past remain with us, the most egregious aspects of these historical issues have been ameliorated.
And so we begin Part II by taking a deeper dive into the evolution of New York City's transportation system and housing development, with an eye toward how mass transit and the auto enabled the daily movement of millions of people / workers between their workplaces in Manhattan to their homes in the outer boroughs - most notably of Queens.
What follows is Part II of a deeper look into the Mayor's proposed development of the Sunnyside Yard.
---
MTA Rush Hour Power Outage
#7 Subway Line Down For Hours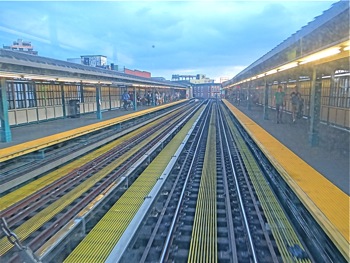 December 10, 2013 / Queens Neighborhoods / Queens Buzz. What's wrong with this picture? There aren't any subways running on these tracks during rush hour on Tuesday evening.
The #7 subway is the busiest single subway in NYC and it's the second busiest subway line, after the 4, 5, 6 line that runs north and south along the east side of Manhattan.
According to an attendant there was a power outage along the entire line beginning around 5 pm Tuesday, which was partially repaired within several hours. The trains were running limited service by about 9 pm Tuesday due to ongoing signal problems at a few stations. The MTA expects to have the #7 subway back into full operations by rush hour Wednesday morning, but be prepared.
Ironically this outage comes only weeks after the MTA spent two months of weekends [October / November] doing upgrades / maintenance work on the #7 subway line. It's also worth mentioning that the #7 subway line was one of the last of the major lines to go back into operation following Hurricane Sandy in 2012. The reason for the delay in resumption of service in 2012 was that they couldn't turn on the power because of flooding in the tunnels.
I wonder if any of these issues / activities are related, and what the MTA is doing to address them?
Ridership on the #7 subway line is expected to continue growing because of the significant amount of real estate development going on in the Long Island City and Flushing neighborhoods of Queens. Lagging infrastructure development could hamper growth. Queens Borough President-elect Melinda Katz stated that this would be one of her top priorities upon assuming the office. It seems this might be a good place to start.
---
Pedestrian Malls In Queens - Newtown Plaza Astoria
Pedestrian Malls In Queens
Meeting On Astoria Pedestrian Mall Tuesday
September 10, 2012 / Astoria / Queens Community Issues / Queens Buzz. On Tuesday evening September 11, there's a Community Board 1 meeting at the Astoria World Manor on 25-22 Astoria Blvd. One of the topics on the agenda is which DOT [Department of Transportation] proposal to approve, regarding changing the traffic configuration in and around the intersection of Newtown Avenue and 30th Avenue in Astoria.
According to the Queens DOT, this intersection is the site of numerous accidents, and is more dangerous than approximately 90% of all intersections in Queens. It's not difficult to understand why, as it is the nexus point for five roads: east & west on 30th Avenue, north & south on 33rd Street and northwest on Newtown Avenue [see map on next page]. The photo to your left was taken on August 25th when Newtown Avenue was temporarily converted into a pedestrian plaza.
Click here to read our report on the Newtown Plaza, in which we include related reports on other pedestrian malls in Queens, NYC and NYS.
---
Jet Blue LIC - Airlines In Queens NY
Jet Blue Operations in Queens
Behind The Scenes At Jet Blue LIC
May 19, 2012 / Long Island City / Queens Business / Queens Buzz. I decided to take a look behind the airline ticket counter to see what goes on behind the scenes of a scrappy competitive airline upstart. That description best describes the Queens hometown airline - Jet Blue - which recently relocated within the borough, moving from Forest Hills [and Darien, CT] to the Met Life Building off Queens Plaza in Long Island City.
Jet Blue officially opened its Long Island City location on April 3rd, 2012. They had been moving folks into the building in waves, after about a year of preparations. The first wave came on March 9th, and the last wave came on April 4th, 2012. There are currently about 1,000 Jet Blue employees working out of the Long Island City facility.
In this report I focused on their operations center which handles many of the behind-the-scenes logistics. This report will give you a close up look at what goes on behind the scenes every day at Jet Blue as it prepares, schedules, executes and monitors an airline that has a fleet of between 150 - 200 planes, about 2,000 pilots, about 3,000 flight attendants, and an LIC operations crew of about 250 that runs 24/7 every day of the year. The Jet Blue Operations Center is shown looking through an aquarium, in the photo above.
Click here to read our report about Jet Blue in Long Island City LIC Queens.
---
Queens DOT Study - Jackson Heights Pedestrian Mall
Queens DOT Study - Traffic Makeover in Jackson Heights
DOT Finds Inexpensive Fixes To Congestion
February 22, 2011 / Jackson Heights Neighborhood / Queens Buzz. The Department of Transportation unveiled a traffic study, complete with proposed solutions, that look to ease some of the traffic congestion in Jackson Heights. The study area roughly includes the areas from Roosevelt Ave to Northern Blvd and from 72nd Street to 84th Street.
The plan includes changing traffic flows, modifying a couple of bus routes, specifically allocating spots and times for freight parking, reallocating parking spaces and adjusting meter rates in high demand / low availability parking locations. All in all it looked like a workable plan which incorporated a significant amount of input from the community, including this past go 'round wherein they presented the plan to the community for final feedback before implementing it.
Click here to read more about the Department of Transportation DOT traffic plan for Jackson Heights.
---
East Side Access Project - Queens
East Side Access Project Moving Along
How Will This Project Affect Queens Real Estate?
Queens Real Estate / October 4, 2010 / Queens Buzz. Progress on the East Side Access Tunnel project has been visible in Queens since early Spring 2010. The MTA has been busy drilling a new tunnel under the East River from LIC / Astoria, using the Sunnyside Railway Yard as its staging grounds. The photo to your left shows the view of the new tunnel being built underneath the East River from an Astoria / LIC perspective. The tunnel connects into Manhattan around 63rd Street.
Meanwhile in the Sunnyside railway yards, many of the buildings that once dotted the landscape have been demolished. Thankfully this doesn't include an old train station which has been around for many years [see photos in rest of story / slide show]. They've also cleared away a number of old warehouse and garage like structures along 43rd Street between Northern Blvd and 39th Avenue.
Click here to get an update on the East Side Access Project impact on Queens real estate.
---
York College
York College - Jamaica Queens
Emerging Powerhouse In Central Queens
March / Jamaica Neighborhood / Queens Buzz. I had occasion to visit York College to learn more about one of the four CUNY [City University Of New York] colleges in Queens.
The four CUNY colleges in Queens are geographically dispersed throughout the borough, including locations in Long Island City [LaGuardia Community College], Flushing [Queens College], Jamaica [York College] and Bayside [Queens Borough Community College].
York College and Queens College are four year Baccalaureate degree awarding colleges, which also offer several Masters degrees; while LaGuardia and Queens Borough Community Colleges are two year Associates degree awarding colleges. CUNY also has a Law School which will be re-located from Flushing to Long Island City [LIC] in the fall of 2011.
Click here to read our full report, including numerous photos, about York College and the York Performing Arts Center.
---
Vaughn College - Aeronautics School In Queens
Vaughn College - Queens NY
A Step Back In Time & A Vision Of The Future
Jackson Heights / March 14, 2010. I spent the better part of a fascinating day visiting Vaughn College, which used to be the Casey School of Aeronautics near LaGuardia Airport. Vaughn College is one of the nation's leading educational institutions dedicated to the arts related to flying. The arts include aviation [flight simulation and classroom training], engineering and technology [airframe, power management and mechatronics] and general management. I suppose these days it might be more appropriate to call it the arts of air transportation.
Click here to read about Vaughn College of Queens NY.
---
---
Queens Mass Transit & Transportation Related Info
Click this link for promotions, discounts and coupons in Queens.
Click this link to go to the Astoria Neighborhood / Long Island City LIC Neighborhood / Sunnyside Woodside Neighborhood News / Jackson Heights Elmhurst Neighborhood / Flushing Corona Neighborhood / Jamaica Neighborhood.
Site Search Tips. 1) For best results, when typing in more than one word, use quotation marks - eg "Astoria Park". 2) Also try either singular or plural words when searching for a specific item such as "gym" or "gyms".
---
Archives - TBD
---
Click this link to search for something in our Queens Business Directory.
---
Click the log in link below to create an ID and post an opinion.
Or send this story to a friend by filling in the appropriate box below.
---