Inside The Creative Process
John Jasperse Open Rehearsal At Topaz Arts In Woodside
May 2, 2011 / Sunnyside & Woodside / Dance & Theater / Queens Buzz. Continued / If needed use the search function to find the story introduction.
Jasperse was sitting on the floor next to the portable player. He informed us that the music he would play was not what would be used for the dance as Hahn Rowe, a composer, is still working on it. Jasperse introduced each segment with minimal discourse, instructing the dancers only as needed. He was applying some of the principles of science, by minimizing any bias that might influence the audience's response to his work. John Jasperse is seated on the floor in the background next to the music player in the photo to your right.
Modern Dance Rehearsal At Topaz Arts In Woodside
I enjoyed watching the dance segments, like a blindfolded participant in a psychology experiment. The first segment I saw seemed to have some of Jasperse signature use of extended arms and swirling figures. The dancers extended their limbs, moving around the dance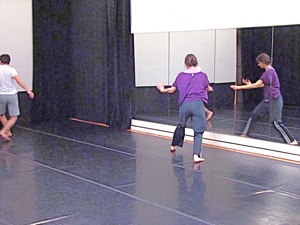 studio in deliberate fashion, interacting in accordance with the choreographed progression of movements, but there was also a randomness inherent in some of the movements.
As I watched this I thought about the human body as an instrument, working in time to the music. The motion and control, are as intrinsic to dance as they are to music; while the sweat, and muscles flexing and tightening, provide a visual interpretation of the sounds we cannot see. The angular lines portraying … what? ... I would find out more about this in the discussion that followed. Two of the dancers from John Jasperse & Company are shown performing during Open Rehearsal at Topaz Arts in Woodside.
Open Rehearsal - A Peek Inside The Choreographer's Mind
In the next piece the dancers moved around the floor in the manner of one who had drank far, far too much. Their bodies seemingly loose, but they were not, as the dancers were not drunk and they moved their bodies and limbs precisely in a discombobulated sequence. Jasperse and several of the dancers are shown just after the Open Rehearsal performance at Topaz Arts.
In the latter part of this segment, one dancer was positioned in the foreground, while two of the dancers were positioned near the back of the studio. In the foreground the dancer moved slowly and deliberately, so I found my eye and attention
shifting almost entirely to the back corner where the two dancers were slowly moving their upper bodies in fairly tight alignment, back and forth … back and forth. And there was a vibration-like interaction made by one of them, in minute movements embedded in the larger movements. Movements within movements.
At this point the performance segment of the open rehearsal was done. Jasperse then set up a chair in the front of the room, like a teacher in front of his class. Two of the dancers spread themselves out onto the studio floor in a relaxed manner. Unfortunately, since I had arrived late and missed some of the performance, only some of the following discussion will relate to what I have described above. John Jasperse is shown seated in the photo to your left at an Open Rehearsal performance / discussion at Topaz Arts in Woodside.
John Jasperse & Company - Open Rehearsal
Jasperse started the discussion by saying that he "preferred not to preface the performance by language", and that he was "interested in the perceptions of the audience."
Jasperse takes a highly intellectual approach to his work even though, ironically enough, his ultimate goal is to present a work that will resonate with his audience on a non-verbal level. He used the word divine to describe something he was hoping to achieve, but then caught himself. The human body is, after all, a divine work and dance, like music, can be highly spiritual and 'moving'. One of the dancers from Jasperse & Company is shown seated in the photo to your right.
John Jasperse & Company - Canyon At Topaz Arts
Jasperse recited one verse and one quote. The verse was about awakening,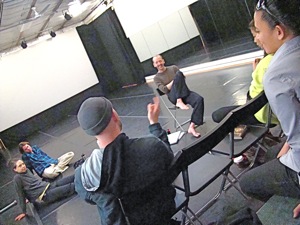 "Waking up begins with saying am and now. That which has awoken then lies for a while staring up at the ceiling and down into itself until it has recognized I, and therefrom deduced I am, I am now." Christopher Isherwood
and the quote was,
"What is your original face?" The Sixth Patriarch Hui Neng
The entire dance is entitled Canyon. Jasperse said that the title is about opening out, not closing in. A canyon is about what's not there, it's negative space, versus a mountain, which is about what is there – something concrete, positive space.
Jasperse said that, "what's interesting about dance is that it deals with linguistically-resistant moments even in the best of times" and that he "sought to let beauty and wonder in". In this work he was seeking to put dance in the 'front plane' by engaging the audience with the dance rather than with the linguistic portrayal of it. And he wondered aloud whether "the audience would appreciate something that couldn't be explained to them? If you can't comprehend it, can it still engage you?" He was referring to one experiencing something that they would have to interpret on a non-verbal, perhaps even, a subconscious level. The photo above was taken while the Open Rehearsal discussion was in progress.
Canyon & Open Space - Spatiality In Dance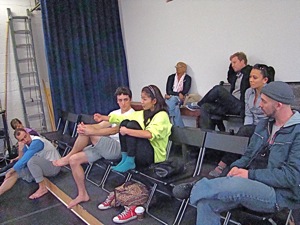 The audience began to participate by commenting and asking questions. One member of the audience said that, "The less I know, the more I see. Not knowing allows me to see something for myself."
One member of the audience remarked that they found themselves zooming in and out - focusing intently on the dancers and then taking in the entire dance floor. Jasperse seemed to like this reaction as he said he was trying to engage people through the dance. Canyon and open spaces.
Canyon & Micro Movements - Theatrical Expression In Dance
Another from the audience commented, saying that he enjoyed the glances, looks, the smiles and smirks of the dancers … like they had an inside joke. It made him wonder what's going on, engaged him and made him curious. It was if 'perceptions' had been scored [I missed this piece of the performance].
John Jasperse & Canyon - Uber Control Vs Randomness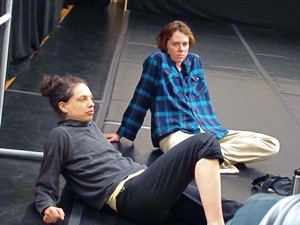 Jasperse also said that he was struggling with authorship of the piece. By this he meant how much control to exert over each dancer's movement versus letting the dancer rely on their own instincts and judgment in the performance of the piece. He said he was trying to strike the balance between randomness and Uber-control.
Someone remarked that one of the dancer's hands seemed to hit one of the other dancers in a mistake during one of the random [less choreographed] segments of the dance. Jasperse remarked that he would have to think about incorporating a system of response to handle such incidents. In the photo to your left, two of the dancers from John Jasperse & Company are shown relaxing on the studio floor at Topaz Arts.
A discussion about synchronized movement came up. One member of the audience remarked that when many branches of a tree move in one direction in response to a strong wind, it catches our eye. One of the dancers echoed that sentiment by saying that moving in complete unison with one of the other dancers "really felt good … like we were attending to each other". Jasperse said he was looking to strike the right balance between synchronization and improvisation.
Canyon & Hahn Rowe - Musical Definition In Dance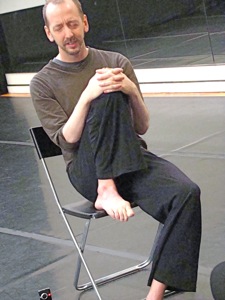 Another remarked that the music is so defining in a dance performance. Jasperse remarked that's because we're used to getting our information through such a tiny portal [our conscious senses].
Jasperse was asked if he would change the music to fit the dance. Jasperse 'danced' around that question as he's currently working on this piece in collaboration with Hahn Rowe who is a multi-faceted musician and composer.
In the photo to your left is John Jasperse, choreographer, modern dancer and founder of John Jasperse & Company. He's pursuing a new process during the creation of his next work entitled Canyon, wherein he's taking the dance as a work-in-process to studios around the NYC metro area for comment, critique and perhaps one could even say a soft collaboration in the development of a modern dance that he hopes will be a blend of circumstance and control.
John Jasperse & Company - Canyon At BAM's Next Wave
Jasperse expects to take his Open Rehearsal to other studios around the NYC metro area as he continues to define the new work. The final dance will be presented at the BAM Next Wave festival on November 16 – 19, 2011.
Click here to view two videos on You Tube of John Jasperse work – the second of which includes Rowe Hahn's music.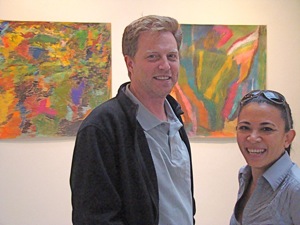 John Jasperse & Company dance performance

John Jasperse & Company & Rowe Hahn Music
Thanks To Topaz Arts & John Jasperse & Company
Many thanks to Paz and Todd of Topaz Arts for the invitation to the open rehearsal [which was posted in the May Queens Events calendar] and to John Jasperse & Company for the dance performances and enlightening discussion afterward. Todd and Paz are shown in the photo to your left.
---
Sunnyside / Woodside Related Info
$element(adman,groupad,Promo Buttons)$
Click this link for promotions, discounts and coupons in Woodside, Sunnyside and Queens.
Click this link to go to the Sunnyside Woodside Neighborhood News / Woodside & Sunnyside Restaurants / Sunnyside & Woodside Shopping Center & Map.
$element(adman,groupad,NHoodSSWS)$
Site Search Tips. 1) For best results, when typing in more than one word, use quotation marks - eg "Astoria Park". 2) Also try either singular or plural words when searching for a specific item such as "gym" or "gyms".
$element(bwcore,insert_search,N)$
Click this link to search for something in our Queens Business Directory.
---
Click the log in link below to create an ID and post an opinion.
Or send this story to a friend by filling in the appropriate box below.
---