LIC Real Estate Breakfast
What Happened at the LIC Partnership Real Estate Breakfast?
LIC Real Estate Owners, Managers & Tenants Discussed the Current State of the Long Island City Real Estate Market
April 25, 2023 / NYC Neighborhoods / NYC Things To Do Events / Gotham Buzz NYC.
NYC Weather. The temperature highs will be / Weather coming tomrorrow.
I never thought I would become one of the 'old timers' covering the LIC Partnership Real Estate Breakfast. But I think that perhaps I am. I hadn't covered one of these breakfasts since before the pandemic, so I found myself looking to regain my balance, vis a vis my Queens real estate sea legs.
But some things are like riding a bike, meaning they come back to you quickly, and covering the LIC Real Estate Breakfast seemed to fit that bill. As I sat there listening to the panel assembled to discuss the current state of affairs, I noticed a number of folks from prior gatherings, and while the issues were largely the same, the current state of them is constantly changing.
And I'll provide the update this weekend.
---
---
Governor Hochul Scraps the LGA to Flushing Meadows Corona Park Air Train
Governor Hochul Scraps the Ill Conceived LGA - Willets Point Air Train
Former Governor Cuomo's Air Train Seemed More About Catering to the Whims of the Billionaire Class, than in Streamlining Public Transit
March 15, 2023 / NYC Neighborhoods / News Analysis & Opinion / Gotham Buzz NYC.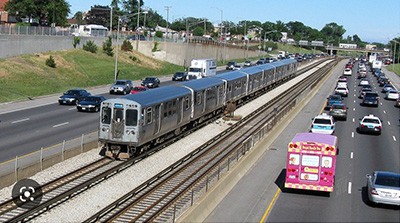 In 2017 I attended a Community Board meeting in Astoria where our urban planners talked about new improvements coming to LaGuardia Airport. Since then a number of those plans have come to fruition. But one of them, what at the time was called the third phase, the Air Train to LGA, has not. Use the link to see the thinking nearly six years ago when the plans had been drafted and the construction was about to begin. I'm happy to say that we flagged and reported to you a number of the issues with the LGA Air Train early on, which we've included in the list below.
The photo at right shows the CTA [Chicago Transit Authority] subway that runs along the Kennedy Expressway from downtown Chicago to O'Hare Airport which vies with Atlanta for the title of the busiest airport in the U.S..
The Former Emperor [Governor Cuomo] had No Clothes [Sound Public Interest Rationale]
On Monday, Governor Hochul announced what was already well known and expected, which was that the Air Train shuttling between LaGuardia Airport and Flushing Meadows Corona Park, would not be built.
There were any number of good reasons why the LGA Air Train should not have been built, such as: 1) the costs of building the train would cost more than five times the original estimated cost of under $500 million to over $2.5 billion, 2) then, implicit in a number of alternatives, there was the idiocy of connecting the LGA Air Train, to the second most trafficked subway line [the #7] in NYC, which was already nearing peak capacity pre-pandemic, 3) the politically and billionaire preferred alternative destination, Willets Point on Flushing Bay, had just been cleaned up after decades of environmental pollution, and would again be threatened again, and to top it all off, 4) the politically and billionaire preferred Willets Point alternative required all of the people traveling to and from LaGuardia on public transit, to travel out to Flushing first, before circling back around to LaGuardia Airport. The billionaires who would have benefitted from this include billionaire real estate developer Stephen Ross and [now minority interest] Mets Club billionaire owners Saul B. Katz and Fred Wilpon. The new Mets baseball team owner, Steve Cohen, is also a billionaire.
CLICK here to read our report on Governor Hochul scraps the LGA to Flushing Meadows Corona Park Air Train.
---
---
$element(bwcore,article_picker,923,Y,N,page_title_home,N)$
Photos & Video of & from the New Kosciuzko Bridge
September 16, 2019 / Things To Do Queens / Queens Neighborhoods / Queens Buzz NYC.
I took a ride across the new Kosciuszko Bridge yesterday evening. It was a pleasurable visual feast.
---
Jessica Ramos Opens Campaign Office
IDC Member Jose Peralta Faces Serious Challenge This Year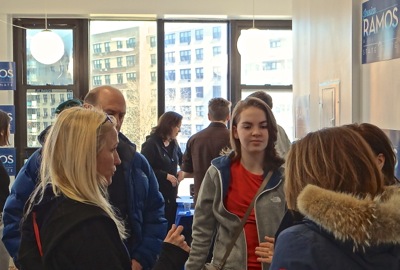 March 19, 2018 / Jackson Heights Neighborhood / Queens Politics / Queens Neighborhoods / Queens Buzz NYC.
It was a cool Sunday morning as I made my way over to the campaign office opening of Jessica Ramos in Jackson Heights. I parked my bike outside their 72nd and Broadway headquarters and began my march up to the fourth floor.
At the fourth floor landing the door opened into a very bright, sunlit room that seemed to reflect the mood of the people in it. Jessica Ramos, a former Ethnic Media & Outreach staff member of the de Blasio Administration, was staking out a position in what appears to be a serious challenge to NY Senator Jose Peralta.
IDC - Republicans Running as Democrats?
I was greeted warmly by the folks inside, who appeared to be a combination of Jessica Ramos's family, friends, neighbors and interested supporters. All of them, appeared to be interested in sending NYS Senator Jose Peralta home from Albany, as they opined how Peralta had betrayed not just them – but all Democrats – by becoming an Independent Democratic Caucus member. In January 2017 NYS Senator Jose Peralta joined the Independent Democratic Caucus [aka IDC] which has aligned itself with the Republicans in Albany, thereby giving the Republicans control of the NYS Senate.
In the photo at right, some of the folks who attended the campaign office opening of Jessica Ramos who is challenging Jose Peralta for the NYS Senate seat representing Jackson Heights, East Elmhurst, Elmhurst and Corona.
More to come later today or this week.
---
$element(adman,groupad,Sectional Ad)$
$element(bwcore,article_picker,964-683-945,Y,N,page_title_home,N)$
Table of Silence Transcends 911
Lincoln Center Dance Commemoration Transcends Hate through Love
September 11, 2017 / Upper West Side Neighborhood / Modern Dance Manhattan / Manhattan Buzz NYC.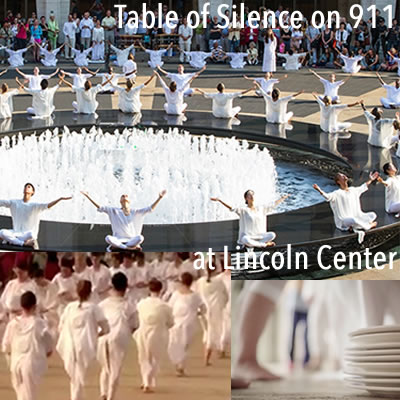 This morning at 8.15 am over one hundred dancers began a spiritual commemoration of the events of 911 with a modern dance performance in the main plaza at Lincoln Center on the Upper West Side. This was the seventh year of the performance, and its meaning seems to grow - rather than diminish - with time. It's about the classic and timeless struggle, between giving into hate, or striving to love.
The dancers were all dressed in white, and they created a resplendent symmetry mimicking nature's own. The performance was accompanied by a bit of minimalist music - originating from a beating drum, the air passing through a conch shell, and the human vocal cords.
The dancers transformed the plaza at Lincoln Center into a table, with the bountiful water fountain in the middle. Plates appeared, signifying the sharing of a feast ... a spiritual feast ... a prayer for all humanity.
We feel a heavenly sharing of being together, in a single place, at a single time. It's a solemn place, a sagely peace, a peace with each other, a peace within, and a peace with all the world ... even as the world continues to swirl around us, as does the NYC traffic ... but we remain centered ... as one.
At exactly 8.46 am the performance stops. All is still in Lincoln Center Plaza as we observe a minute of silence together. It's a silence within, as we are surrounded by the ambient noise of the city during rush hour. Sixteen years ago at 8.46 am the second of two planes struck the World Trade Center wreaking havoc. Taking lives. Creating chaos.
Cleansed of hate and vengeance - we depart to go on with our days. We have defeated the terrorists, by not giving into their desire for an endless cycle of violence and hate.
---
Election 2017 Tuesday 9/12 - Please Vote
September 11, 2017 / Queens Neighborhoods / Queens Politics & Government / Queens Buzz.
The New York City primary election is tomorrow, Tuesday September 12th.
The polling booths will be open from 6 am to 9 pm Tuesday.
To find your poll location click on the graphic at right.
Once on the website, input your address, and then click the small icon to the right of it to get the results of the search. I hope the NYS Board of Elections does better cyber security than they do web design, as the tiny arrow is easily overlooked.
If there is a runoff to this election, it will be held on Tuesday, September 26th and the general election is Tuesday, November 7th, 2017.
---
NYC Crime Continues To Drop, Breaking Records
Mayor de Blasio & NYPD Discuss City Safety & Ongoing Improvements
February 7, 2017 / Crime in Queens Neighborhoods / Queens Government / Queens Buzz.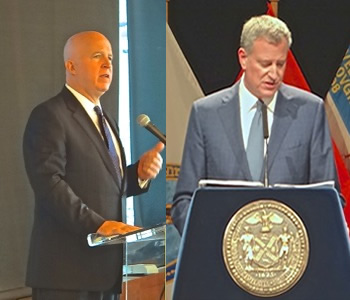 This just came in on the heels of our coverage of the Public Safety discussion below. Mayor de Blasio and NY Police Commissioner O'Neill spoke in the Bronx regarding ongoing efforts and results in improving safety in the city. The following are some of the crime statistics noted in their meeting taken directly out of a press release sent by them.

Chief of Crime Control Strategies Dermot Shea, NYPD: Thank you, Mr. Mayor. Good afternoon, everyone. As you've heard, we have begun a strong start to 2017 in terms of overall crime reduction. Strategies that have been put in place to address repeat offenders, illegal gun possession and gangs are having the desired effect. We're building on the momentum of the last few years.
So, some of the highlights for crime statistics from this January – overall index crime is down 0.2 percent for the month of January. When you carry it over to this morning, we are now down 2.7 percent in overall index crime in New York City.
To note – with the overall index crime, January marks the tenth consecutive month of reduced index crime. That's the momentum we've been talking about. Currently, four out of five boroughs in New York City – all but Queens – are down to start the year.
Homicides – we recorded 20 homicides in January. That's down two from 22. That 20, as the Mayor alluded to, is the lowest January that we have ever recorded going back a minimum into the 1960s.
Shooting incidents – down 1.7 percent in January. Last January we hit the modern mark with 59 shooting incidents. We came in with 58 this January.
Talking about momentum again – nine of the last 13 months we've had a reduction in shooting incidents. Nine of the last 13.
Three months in a row we've had a reduction in shooting incidents in New York City. We have now, when you look at New York City as a whole, we now have 24-hour periods where we do not record a shooting incident in New York City. That kind of thinking was impossible in the not too distant past.
This is the new normal. We want to build on it and we feel that we will build on it but there's still plenty of work to do.
Stabbings and slashings for January – down 7.2 percent.
Robberies – down 7.5 percent. Lowest January robbery number we've seen.
Felony assaults in New York City – down 5.4 percent.
Burglaries tied the lowest mark set last year.
Transit crime – down 1.4 percent.
And housing crime – not to be outdone – down 1.9 percent.
Clearly, a wide breath of crime across New York City – property and violent crime, down.

But there is, I alluded to, there is still work to do – three categories we saw increases in January.
Grand larceny, specifically, credit card related skimming and forging of checks – those two drove grand larcenies. And grand larceny was up for the month of January 4.7 percent.
And lastly, rounding out the crime totals – stolen vehicles which we have seen drop to unprecedented lows saw an increase of ten cars for January. So, that's 480 versus 470 – a two percent increase.
Commissioner O'Neill: Okay, thanks, Dermot. We'll take your questions.

Question: Do you think it's possible, really to keep driving crime down further at this point? And how could you achieve that?
O'Neill's response was yes, with some added context.
---
$element(bwcore,article_picker,1159,Y,N,page_title_home,N)$
Sunnyside Shorts Film Festival Friday
Films Shorts from Queens & Around the World Describe a bit of the World Around Us
October 3, 2016 / Sunnyside Queens / Film Festivals in Queens / Queens Buzz.
On Friday and Saturday the Sunnyside Shorts Film Festival returns after going on hiatus in 2011. The films will be shown in the historic Sunnyside Reformed Church on 48th Street and Skillman Avenue in Sunnyside. We covered the festival in the past and you can find prior stories about it by clicking these links to the Sunnyside Shorts Film Festival in prior years.
History of Sunnyside Shorts Film Festivals in Queens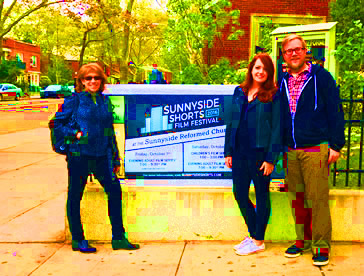 The first Sunnyside Shorts Film Festival was organized in 2001 by a visiting Japanese student at Hunter College. The Founder, Shinichi Murota, after running the first festival then returned Japan.
Theresa Ward & Sherry Gamlin were volunteers for the first festival and after the festival lied dormant for a few years, they decided to revive it in 2007. For five straight years the festival continued along with the help of another Sunnysider Susan Walsh - before going back on hiatus in 2011 when Sherry left Sunnyside to care for her mother. In the photo at right [from left to right] stand Sherry Gamlin along with Ashley and Bryan Brinkman in front of the Sunnyside Reformed Church where the Sunnyside Shorts Film Festival begins Friday.
Sherry's mother died in 2014 and a year later Sherry returned to Sunnyside which has been her home since 1975, and her Queens roots go back even further. Last Spring Sherry attended a concert at Sunnyside Reformed Church and she inadvertently found herself scouting out the church as a venue for the return of the festival. She spoke to Pastor Neil Margetson about the possibility of using the church as the film festival venue. Margetson liked the idea … and hence the Sunnyside Shorts Film Festival was born again.
Organizing Sunnyside Shorts Film Festival Queens 2016
Sherry told me that they had received 1255 film submissions from around the world, literally all six continents [none from Antarctica which is melting fast], citing films from South Africa, Zimbabwe, Latin America, Iran, India, Japan, China, Australia, Europe and North America / NYC / Queens. The photo at right is from the film Bionic Girl from France showing Friday night.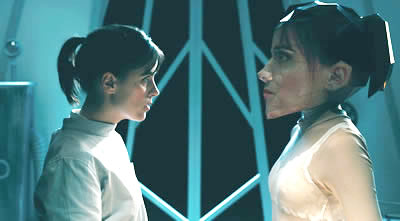 She received most of the submissions in May of 2016 and there were six people who reviewed the films including Bryan and Ashley Brinkman who had helped with the last Sunnyside Shorts Film Festival in 2011. Bryan Brinkman is a cartoonist animator for Jimmy Fallon and his wife Ashley Brinkman is a package designer for advertising company that does food products. Ashley did the poster [see photo below] and website, while Bryan helped review the films.
The four other reviewers were Kevin Keating, who Sherry described as a notorious film buff, Sandra Statner is an avid TV and old movies screener, Dr. Caryn Goldberg is a psychologist who regrets not going into stand-up comedy, and Matt Simnowitz was described as someone who knows everything there is to 'no' about filmmaking.
Screening the Films for Sunnyside Shorts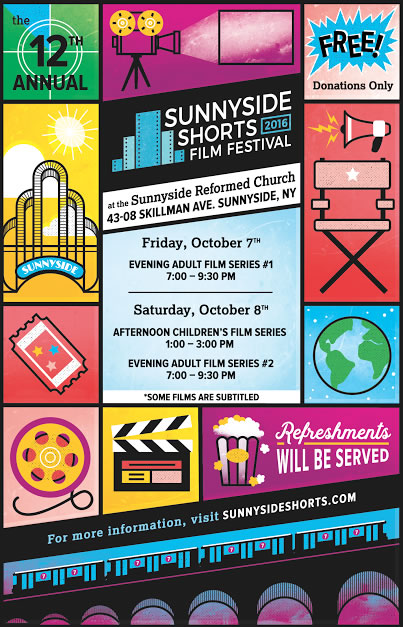 In reviewing the films, those that contained inappropriate content were quickly discarded, as were some that were just so bad. Sherry said the films allowed into the show were screened to be sure there wasn't anything demonic or distasteful. Sherry told me that she had inquired as to whether the Church guidelines would permit the showing of films with some cursing, and Pastor Margetson quipped, "I'm sure God has heard it all."
And while 1255 films sounds like a lot – which it is – they are short films, so 1 to 20 minutes in length means you can review 60 to 6 in the time it takes to watch one two-hour long film. What about themes I asked? "No themes" she said, "the festival is about nothing and it's about everything." There's drama, comedy, animation and documentaries. They are showing 13 films on Friday and 12 films on Saturday evenings beginning at 7 pm and showing 13 films for the kids on Saturday from 1 to 3 pm.
Why are you doing this, I asked. "Because I love all aspects of putting a film festival together" she replied.
Click here for a preview of many of the films that will be shown at the Sunnyside Shorts Film Festival this Friday and Saturday.
---
Panorama Music Fest on Randalls Island
Three Day Musical Festival Strikes a Grammy Chord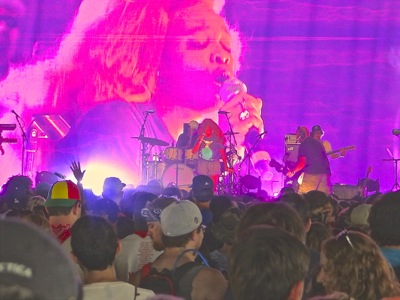 July 25, 2016 / Randall's Island near Queens / Music in Queens / Queens Buzz.
I attended the Panorama Music Festival on Randall's Island this past weekend. The music festival featured dozens of top and second tier bands and musicians with the event starting Friday and ending Sunday night. Some of the music festival headliners included award winning groups like Kendrick, Alabama Shakes and the return of LCD after a ten year hiatus. Panorama also featured a number of other highly regarded, well known groups - many of which are likely to continue gaining recognition.
In the photo at right, vocalist Sza, is performing in the Pavilion at the Panorama Music Festival on Randalls Island on Sunday.
The weather over weekend was a very seasonal hot, with temperatures hitting nearly 100 on Saturday [high 98], before descending into the low 90's on Sunday. But the island breeze coming across the East River on Randall's Island and not-too-high humidity, made strolling around the event campus not only doable, but enjoyable. There was also a public water station where you could refill your water bottle [free] and there was ample shade within the tree filled park.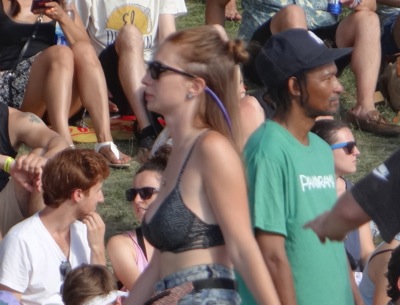 The crowd dressed for Panorama to beat the heat, more than anything else. This translated into a near beach-like scene for people-watching, with many youthful men and women enjoying the glow of their Adonis-like years. In 1992 there was a gender equality lawsuit, which contested women's right to go topless without being arrested - a right men enjoyed in this country since its founding. More than a decade later, in 2015, panhandlers in Times Square began asserting that right by painting their bare breasts with American flags and other designs, while soliciting tips from resident and tourist passers-by, for the pleasure of viewing them. These 'performance artists' were nicknamed the 'Desnudas'.
NYS and NYC Government officials found a way to reign in this practice - as it was creating quite a stir - by confining the solicitations to specified areas within the Times Square Plaza. Fast forward to 2016 and things continue to evolve, with women now wearing swimsuit / lingerie-like tops as fashion statements, some of which were on display at the Panorama Music Festival.
In the photo at right, a woman sports a fashionable swimsuit / lingerie-like top, at the Panorama Music Festival on Randall's Island.
We'll have a bit more later this summer, including video and a discussion of some of the art on exhibit at the Panorama Music Festival on Randall's Island in NYC.
---
Marty's Museum & Camera Repair Shop
Marty's been Helping Folks take Pictures & Videos for Decades
Updated October 4, 2016 - MARTY'S CAMERA APPEARS TO HAVE CLOSED. The telephone number has been temporarily disconnected.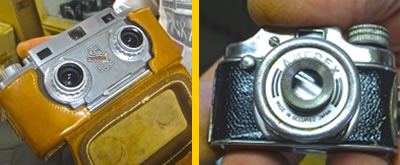 July 19, 2016 / Forest Hills Neighborhood / Queens Shopping / Queens Buzz.
I headed down to Marty's Camera a couple of weeks ago, with a camera that wasn't working well. I bounded up to the second floor shop and was greeted by a saleswoman who queried me about the problem while writing up a ticket. As she took the photographic patient into the operating room, she told me to call back at the end of the day to find out when to return to pick it up.
I did as instructed and returned the following day. When I arrived at the repair shop, Marty emerged from the operating room having successfully completed surgery on the photographic patient. We started talking about the problem [I dropped the camera and it wasn't focusing properly] and the conversation meandered onto the changing technologies in the image capturing business.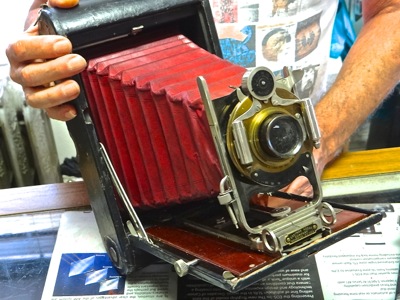 Marty told me that cameras were once mechanical miracles fullof delicate springs and levers, and today are even more miraculous, less delicate and full of a multitude of computer chip components and assemblages. The camera surgeon was tired that day, and said he'd like to give his brain a rest, so the conversation moved onto the history of cameras themselves.
I asked him about some of the more interesting cameras with which he'd comeinto contact. Marty wasn't at a loss when it came to camera history, and soon produced a Japanese made camera that contained the inscription "Made in Occupied Japan". He had another camera from the 1950's that was a 'stereo camera', which would take two photos simultaneously. I asked him if there were many of these made and he guessed that these weren't a big hit and might not have been in the market very long.
Marty had a collection of cameras, the prizes he cherished were the cameras made in New York. Possibly the crème de la crème was a1909 camera made in Rochester, New York that came in a dark black case and opened up with a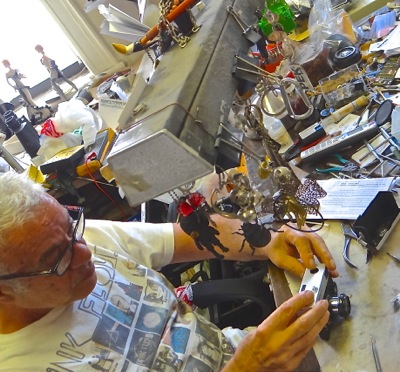 flashy, red-colored, old-fashioned funnel. It was likely state of the art over a century ago. I began to think of Marty's shop as something of a camera museum and Marty as its curator.
The conversation rolled onto the photographers and videographers and film makers Marty had met over the years. A number of photographers had given Marty samples of their work which he put on display in the waiting room of his office. Marty had started out in the late 1960's / early 1970's as a photographer himself, before become a camera doctor in 1973. He spent decades working in camera repair in Manhattan before leaving Photo Tech Manhattan in 1999, when he started out on his own in Forest Hills in the basement of a building across the street. He moved into the offices he now occupies over a decade ago and he continues to serve struggling, emerging and hobbyist photographers and filmmakers.
I knew as I was departing, that Marty had many more stories to tell. And although I don't want my cameras to break, I always look forward to visiting Marty in his camera repair shop which is located on the 2nd floor of 71-25 Austin Street in Forest Hills [just off the #7 subway].
---
Only in Queens
Muslims & Jews Organize Iftar Ramadan Dinner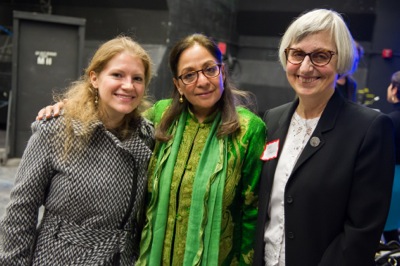 June 7, 2016 / Forest Hills Neighborhood / Religion & Culture in Queens / Queens Buzz.
Only in Queens. On Thursday June 9th, the Turkish Cultural Center and the Central Queens Y will break bread together at an Iftar Ramadan dinner beginning at sundown [7.30 pm] at the Central Queens Y at 67-09 108th Street in Forest Hills.
Ramadan is the ninth month of the Muslim year and the holiest month of the Islamic year. During this time Muslims pay special attention to praying, fasting and reflecting upon their lives. The Islamic Holy Month has similarities to the Christian Lenten season, as well as the Judaic Day of Atonement, Yom Kippur.
Islamic cultural traditions are based upon the lunar calendar, so the Ramadan Holy Month moves slightly around the solar calendar, from year to year. This year Ramadan began on June 5th and will end on July 5th. Attendees of all faiths are welcomed, as are families. The intent is to embrace a harmonious understanding of our shared planetary cultural identities, which the framers of the U.S. Constitution had envisioned centuries ago when they founded this nation.
The Iftar Dinner will be a dairy Middle Eastern meal catered by Meal Mart from Kew Gardens Hills. Meal Mart is Glatt Kosher and is under the supervision of the Vaad Harabonim of Queens. The meal costs $15 per adult and children under 12 are $5 each. Reservations may be made by registering online at www.cqy.org/tickets or you can call 718.268.5011 - ext 151, or email pkurtz@cqy.org.
---
$element(bwcore,article_picker,1145-1127-1135,Y,N,page_title_home,N)$
---
$element(adman,groupad,Sectional Ad)$
---
$element(bwcore,article_picker,964-846,Y,N,page_title_home,N)$
$element(adman,groupad,NhoodAstoria)$
$element(adman,groupad,Catgry Homeimprov)$
---
$element(bwcore,article_picker,1122,Y,N,page_title_home,N)$
$element(adman,groupads,Sectional Ad)$
---
$element(bwcore,article_picker,1114,Y,N,page_title_home,N)$
$element(adman,groupad,NhoodLIC)$
$element(adman,groupad,Catgry Realestate)$
---
$element(bwcore,article_picker,923,Y,N,page_title_home,N)$
$element(adman,groupad,NhoodSSWS)$
$element(adman,groupad,Catgry Foodwine)$
---
$element(bwcore,article_picker,616,Y,N,page_title_home,N)$
$element(adman,groupads,Sectional2 Ad)$
---
Albany Legislative Session 2015
Final Bills: Public School Funding & Rent Stabilization Law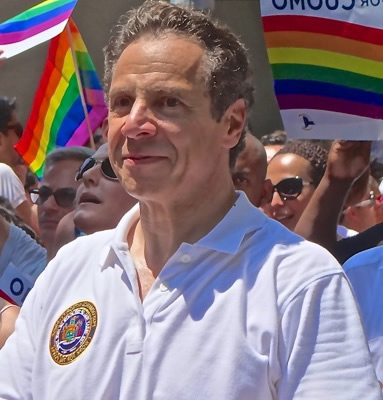 June 15, 2015 / Queens Neighborhoods / Queens Politics / Queens Buzz.
There are two important bills expected to be finalized by the New York State Legislature this week: 1) one having to do with taxation and funding for the public schools and 2) the second having to do with NYC rent stabilization law.
I've been paying some modest measure of attention to both of these bills, and the following is a brief snapshot of a critical talking point in each bill.
Use Public Money To Fund Private Education?
From what I can gather, perhaps the most contentious item in the public education funding bill is the provision for sizeable tax deductions for those who choose to send their children to private, not public schools.
As I understand it, these tax deductions would be included as part of the funding for the public schools budget and therefore will reduce what's left for the NYS / NYC public school systems.
It's worth noting that private school tuition in NYC can cost in the range of about $5,000 to $30,000 per year per student. And that there are about 900 private schools in NYC alone, so depending on how these proposed deductions are ultimately structured, the funds reallocated from the public schools to private individuals would be in the tens to hundreds of millions of dollars and possibly more.
You might want to contact Governor Cuomo's office at 1.518.474.8390 to let him know you support or oppose the measure, since we understand that he's been the major force pushing for this public school funding change. You can also send him an email via the Governor's contact form.
Albany & Expiring Rent Stabilization Laws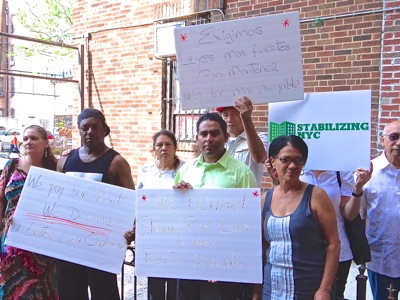 The Rent Stabilization Laws are due to expire tonight, June 15, 2015.
There was talk earlier this year that there would be a push to expand or strengthen the Rent Stabilization Laws given the rapid growth in homelessness in New York City. The NYC homeless population is currently estimated at over 60,000 or nearly 1% of the entire NYC population. About 70% of New York City residents are renters, of which about two million of less than eight and a half million residents, live in rent stabilized apartments.
Over the past decade or so, the Rent Stabilization Laws have been curtailed in the favor of the free market and landlords. The curtailment of rent price control legislation is believed to have spurred additional real estate development investment, as the profits of most new buildings are no longer affected by rent stabilization laws.
Much of the rapid growth in homelessness over the past decade is believed to be the result of tenants losing their rent stabilized apartments, as new owners of buildings have found ways to circumvent the laws. A recent NYU Furman Center Study has shown the loss of over 330,000 unsubsidized affordable apartments since 2002, due in part to the rent stabilization legislative changes referenced above.
NYS legislative insiders told me that tenants rights supporters were hoping to make legislative gains this year, but that the NYS Assemblypeople and NYS Senators opposing the changes, were going to allow the rent stabilization laws to expire as a negotiating tactic.
Vicki Been, Commissioner of NYC Department of Housing Preservation and Development, informed us that the current rent stabilization laws remain in effect through the term of existing leases and leases up for renewal that are already in the hands of the tenants. She also said that tenants should call 311 with any questions or problems.
Cuomo & NYS Officials - Quinnipiac Poll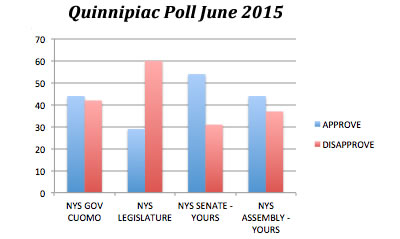 On June 3, 2015 Quinnipiac released a poll showing voters are feeling negatively about the NYS Legislature as a whole, while continuing to favor their local representatives. In the poll Governor Cuomo has only a 2% margin of those favoring him.
Governor Cuomo had a 44% approval rating versus 42% disapproval rating, as voters are not satisfied with his handling of the corruption scandals that have plagued Albany this year. In February 2015 Assembly Speaker Sheldon Silver [Democrat Manhattan] was indicted on federal corruption charges. And in May 2015 NYS Senate Leader Dean Skelos [Republican Long Island] was indicted by a federal Grand Jury.
Less than a year ago, NYS gubernatorial candidate Zephyr Teachout, a law professor at Fordham University surprised polls by garnering nearly 2 votes for every 3 won by the governor in the NYS Democratic primary. Ms. Teachout did not have much in the way of significant private backing or union support, but won nearly 40% of the vote waging an online campaign.
According to the Quinnipiac poll, voters by a margin of 52% - 32% said that with respect to Albany's corruption problem:
"... the Governor is part of the problem, not part of the solution."
As for the NYS Assemblymembers and NYS Senators the Quinnipiac Poll reported the following:
"Voters disapprove 60 - 26 percent of the job the State Legislature is doing, but approve 44 - 37 percent of their own Assembly member and approve 54 - 31 percent of their own state senator."
"At the same time, 45 percent of voters say their state senator should be thrown out in a general house-cleaning, while 40 percent say their senator deserves reelection."
"Voters are divided 41 - 41 percent on whether their Assembly member should be reelected or thrown out."
As you can see, the sentiments collected in the Quinnipiac poll seem a bit contradictory, as the answers received depend on how the questions are stated. Nonetheless, this looks to be an interesting legislative week as things wind down in Albany, and as the 2016 election cycle begins to ramp up.
---
$element(adman,groupad,Catgry Bikes)$
$element(adman,groupad,Catgry Wedding)$
---
$element(bwcore,article_picker,1100,Y,N,page_title_home,N)$
MTA: Subway Fare Increases March 22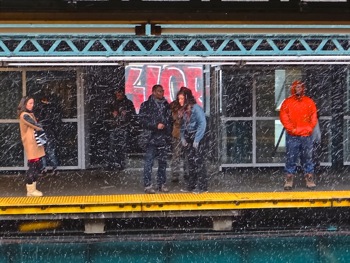 February 13, 2015 / Queens Neighborhoods / Queens Buzz.
The Board approved increasing the base fare for the subway, bus, and MTA Staten Island Railway by 25 cents to $2.75, while also more than doubling the bonus amount added to MetroCard® purchases of at least one round-trip.
The combination of the increased fare and the increased bonus creates an effective fare increase of 4.1%, or 10 cents, for the Bonus MetroCard, which is used for 43% of trips. The 30-Day Unlimited Ride MetroCard, which is used for 29% of trips, will increase 4% to $116.50. The 7-Day Unlimited Ride MetroCard, which is used for 21% of trips, will increase 3.3% to $31. The remaining 7% of trips are made using non-bonus MetroCards, cash on buses or Single Ride Tickets, which are largely purchased near major tourist destinations.
---
Battle For Public School Budget Underway
Constitutional Right To Education & Public School Funding
January 12, 2015 / Jackson Heights / Queens Schools / Queens Buzz News & Analyis. I attended a Town Hall Meeting entitled State Of Our Schools at PS 69 in Jackson Heights on Thursday evening. The town hall included a number of panelists who spoke about some of the top concerns and issues facing NYC and Queens public schools in the current round of budget negotiations currently underway in the NYS state capitol of Albany.
Cathy Nolan, NYS Assembly Chair of the Committee on Education, and Daniel Dromm, Chair of the NYC Council Education Committe, were joined by speakers representing The Alliance for Quality Education, Make The Road NY, Jackson Heights People For Public Schools, Community Education Council 30 and the Parent Association of PS 69.
The intent of the town hall was to inform residents about the issues currently being debated in the NYS State Capitol as the Assembly and Senate work on budget bills to fund public education in the state of New York.
Some of the issues discussed included every citizen's constitutional right to a quality public education, which was interpreted by the Courts to mean providing every citizen with the skills to compete in the 21st century economy and the capacity to function as a contributing member of society.
Other issues included discussion of the current tax cap bill - which would cap property taxes at 2.5% - and thus limit the money available for public education. Currently about 30% of NYC residents are property owners. Over the past decade an increasing percentage of city property has been acquired by large corporations known as Real Estate Investment Trusts. It's worth noting that one of the NYC tabloids, the NY Daily News, is owned by the billionaire founder of an NYC Real Estate Investment Trust.
Property owners say they already pay too much in taxes. One homeowner opined that government and school officials need to manage the funding more efficiently, and develop innovative / technological methods to achieve their educational goals. Many of the older, original charter schools were opened to do just that by exploring different approaches to educating the public.
Another initiative underway is to cap charter schools expansion. As mentioned above, many of the original charter schools were founded to explore different approaches to providing a quality public school education. In recent years some of the newer charter schools, particularly the charter school groups [Ed Note: such as Success Academy Charter Schools], have been seen as limiting the promise of an equal opportunity in public school education.
Charter School groups have been accused of targeting areas where they can attract high performing students away from the publicly run schools and then demand equivalent public funding per child. Charter school groups allegedly claim their test scores are attributable to their educational efforts, not the higher quality of their student enrollment [this alleged claim is at odds with independent studies]. As of this date only a small percentage of the charter schools have been audited as one of them - Success Academy - filed and won a lawsuit that prevented the NYS Comptroller from auditing them based on a NYS Supreme Court Justice Thomas Breslin ruling in June 2013. Its worth noting that Success Academy Charter Schools also reportedly receives funding from Hedge Fund b/millionaires who may also have stakes in Real Estate Investment Trusts.
Public educators note that the schools that service the broader based demographic population have higher per student funding requirements in order to assist students with special needs. They go on to note that standardized testing doesn't account for progress made with a broad based diversified student population that includes students with special needs such as: children with disabilities, children from troubled homes, children with less aptitude or less motivation, and children who need to learn English [English Language Learners ELL] in addition to the general curriculum. Additional resources are required to fund different approaches / programs designed to reach, motivate and develop these children's intrinsic abilities [eg. band students perform higher in math] and enable them to become contributing members to their families, their employers and the community.
A tax break for private education is also being debated at the state level. The tax break for private education was portrayed by one of the speakers as another tax break for those who already have the means and have chosen to send their children to non-public schools. Just as the property tax cap is expected to limit public education funding, so too the private school tax break is expected to limit the total funding available to educate those who attend public schools.
Families who send their children to private schools argue that they are reducing the strain on public school resources. They note that they are not asking for a total reimbursement [meaning total payback of private tuition] but rather a deduction, which would reduce their tax bill by some percentage of their private school tuition payments. It's worth mentioning that according to the 2012 Census update, the NYC Public School system paid over $20,000 per student per year, which is a far higher cost per student than any other public school system in the nation. The Boston public school system was a close second and the Washington DC public school system came in third.
This is just a summary of some of the challenges and issues discussed at the Town Hall related to NYS public school education funding. We'll delve into these in a bit more detail at a later date.
---
Air Beam: What Are You Breathing?
Adventurous Bike Ride With TA Queens ... On The Road To Find Out
November 10, 2014 / Queens Neighborhoods / Biking Queens / Queens Buzz. I just returned from a bike ride that began at the Central Park Boathouse and ended in Jackson Heights at 34th Street and the BQE Expressway. Celia Castellan, who is the organizer for Transportation Alternatives Queens [aka TA Queens] collaborated with me on this story which is about Queens & Manhattan air quality and also about biking. Celia is shown in the photo to your right, atop the Queensboro Bridge around 6 pm Monday night as we bike commuted from Manhattan to Queens.
It was a beautiful night with clear, dry air and temperatures around 60. Our mission was to test the Air Beam, a new device designed to enable people to measure the air quality, and then map the information to a public website, so that the public can begin to see what's going on with the air they breathe. The Air Beam is a blue, slightly-larger-than-a-cell-phone device, that you wear to measure the air [quality].
We began the ride in Central Park. We were on our way after receiving only a couple minutes of instruction. The device is brand-spanking new and must be sync'ed to an Android cell phone. The inventors work for a non-profit and are trying to raise a bit of money to mass produce it.
I'm going to take you on the rest of the ride, including a sampling of the air quality readings along the way, and provide some photos of the Queensboro Bridge bicycle commute a bit later this week. In the meantime, check out the Air Casting website and if you want to help, there are a few more days left on their Kickstarter campaign.
---
Making Vision Zero Happen
Corona Residents Respond To Call To Action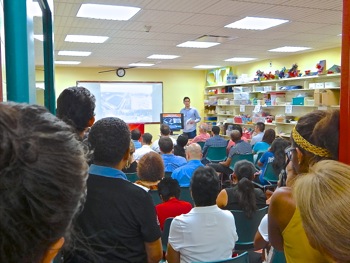 July 27, 2014 / Jackson Heights & Corona Neighborhood / Queens Issues / Queens Buzz. I attended a Vision Zero Workshop at the Corona Library on July 16th. The event was sponsored by Transporation Alterantives in conjunction with a host of other organizations and some local government officials, all of whom I will name at the end of this story when I complete it.
As you can see from the photo, there was no shortage of interest in the effort, as Jackson Heights and Corona are one of the 'Ground Zero' places where pedestrians are being killed or injured by motorists.
The effort had a number of components to it including education, law enforcement and untangling a road, biking and pedestrian system that was put together piecemeal instead of as a holistic approach to human movement ... like dance.
We'll post more about this at a later date including photo slide show.
---
High School Directories Now Available
July 31, 2014 / Queens Neighborhoods / Queens Schools / Queens Buzz. Students applying to a NYC public high school for the 2015-2016 school year can now access the 2014-2015 High School Directory online in nine languages: Arabic, Bengali, Chinese, French, Haitian Creole, Korean, Russian, Spanish, and Urdu.

Click here for complete information and the English directory. Questions regarding the 2014-2015 High School Directory may be directed to the High School Admissions Team at HS_Enrollment@schools.nyc.gov.
---
$element(bwcore,article_picker,1073,Y,N,page_title_home,N)$
July 4th Fireworks Queens & Weekend
4th of July Fireworks Return To East River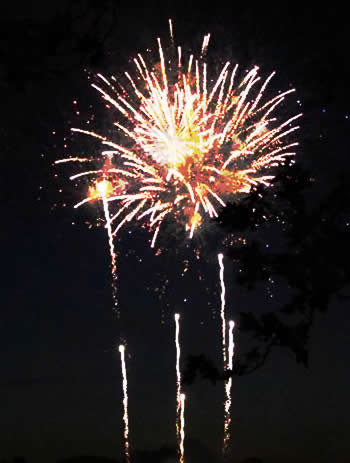 July 4th, 2014 / Things To Do Queens / Queens Buzz.
Weather. Not ideal for fireworks. Friday it will be in the high 70's with about 65% humidity all day. Rain will hit between 3 & 4 pm and thereafter - until about 10 pm - there's a 50% chance of it. So for the fireworks display it's a 50 / 50% chance you may get wet.
For the rest of the weekend, the highs will climb to the mid 80's and it will be sunny and dry Saturday, with humidity climbing back to 50 - 65% Sunday.
Macy's 4th of July fireworks in Manhattan NYC. The Macy's 4th of July fireworks will likely begin around 9.30 pm which is when it gets dark enough to support a good show. But that said, you should probably get to where you're going to watch them no later than 9 pm, because the cloudy skies may allow them to get off to an early start.
Best Locations to view Macy's 4th of July fireworks in Queens NYC. There will be three barges in the East River from where the fireworks will be launched - two just south of the Brooklyn Bridge and one just north of it. The best viewing locations would be in and around the bridge including the South Street Seaport. But spots along the East River should allow for a pretty fair view, including Gantry State Park and Hunters Point South.
We'll post weekend events later today and Saturday.
---
Summer Solstice & Great Weekend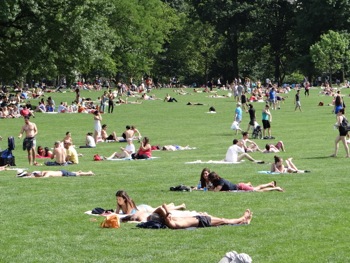 June 23, 2014 / Queens Neighborhoods / Queens Buzz. It was one of the near perfect weekends. The sun was shining, but not too hot and the air was warm and dry during the day and cool at night.
It was also the summer solstice - the longest day of the year - that point in the calendar from which the amount of daylight will begin to shrink. This was not lost on the general population as folks were out and about enjoying the weather.
There were sunbathers along the East River at Astoria Park and Gantry Park. And lots of sun worshippers in between. Make Music NY organized about 1,000 performances throughout the city, including quite a number of them in Queens. I hope you had a nice weekend and wish you the best in the coming week.
---
Fireworks Commemorate 50th Anniversary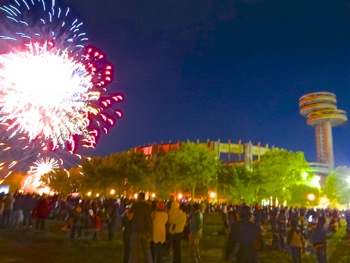 May 19, 2014 / Flushing / Queens History / Queens Buzz. I attended the fireworks display in Flushing Meadows Corona Park on Sunday night. There were thousands there to view them standing in front of the New York State Pavilion [see photo at right].
The fireworks were part of a day long program of events commemorating the 50th anniversary of the 1964 World's Fair. The program included a rare opportunity to walk through the NYS Pavilion and a bandshell had been set up to accommodate the musicians, which included a group playing Beatles tunes and the pre-fireworks celebration ended with the Queens Symphony Orchestra playing the Stars & Stripes.
We'll post a slide show of the fireworks and the crowds, most of which appeared to be from surrounding neighborhoods. Several Manhattanites did make the journey as I met a couple on the subway.
---
Tax Prep Down To The Last Minute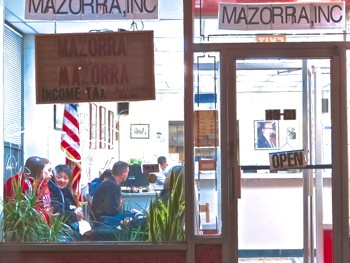 April 15, 2014 / Sunnyside Neighborhood / Queens Buzz. As I made may way home late Tuesday night, on a miserably rainy evening, I couldn't help but notice that a tax preparation office was bustling with activity [see photo].
It was April 15th, the last day for posting one's taxes without having to file for an extension. And there in the offices of a local tax preparer were easily a half dozen people who appeared to be waiting to meet with a tax specialist in order to complete their 2014 taxes.
As in the past I've been in this situation myself, I am not making any judgments about waiting until the last minute. Just happy, I guess, that this year I actually beat the crowd.
The same thing happened with the Affordable Care Act applications [see story below], as over one million people filed their applications in the last week. I guess we're all getting used to doing things in 'real time'.
---
$element(adman,groupads,Sectional Ad)$
---
MTA Rush Hour Power Outage
#7 Subway Line Down For Hours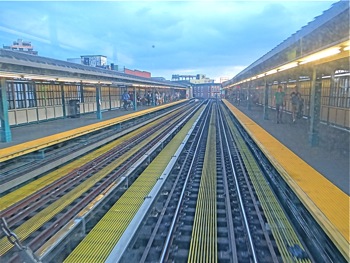 December 10, 2013 / Queens Neighborhoods / Queens Buzz. What's wrong with this picture? There aren't any subways running on these tracks during rush hour on Tuesday evening.
The #7 subway is the busiest single subway in NYC and it's the second busiest subway line, after the 4, 5, 6 line that runs north and south along the east side of Manhattan.
According to an attendant there was a power outage along the entire line beginning around 5 pm Tuesday, which was partially repaired within several hours. The trains were running limited service by about 9 pm Tuesday due to ongoing signal problems at a few stations. The MTA expects to have the #7 subway back into full operations by rush hour Wednesday morning, but be prepared.
Ironically this outage comes only weeks after the MTA spent two months of weekends [October / November] doing upgrades / maintenance work on the #7 subway line. It's also worth mentioning that the #7 subway line was one of the last of the major lines to go back into operation following Hurricane Sandy in 2012. The reason for the delay in resumption of service in 2012 was that they couldn't turn on the power because of flooding in the tunnels.
I wonder if any of these issues / activities are related, and what the MTA is doing to address them?
Ridership on the #7 subway line is expected to continue growing because of the significant amount of real estate development going on in the Long Island City and Flushing neighborhoods of Queens. Lagging infrastructure development could hamper growth. Queens Borough President-elect Melinda Katz stated that this would be one of her top priorities upon assuming the office. It seems this might be a good place to start.
$element(adman,groupad,Catgry Wedding)$
$element(adman,groupad,Catgry Queens)$
---
---
$element(bwcore,article_picker,1033,Y,N,page_title_home,N)$
Queens Neighborhoods News Briefs
---
The following are compendiums of newsbriefs by neighborhood posted over the years.
---
$element(adman,groupads,Sectional Ad)$

$element(bwcore,article_picker,484,Y,N,page_title_home,N)$
---
$element(adman,groupad,NhoodAstoria)$
$element(adman,groupad,NhoodFlush)$
---

$element(bwcore,article_picker,488,Y,N,page_title_home,N)$
---
$element(adman,groupad,NhoodJHTS)$
$element(adman,groupad,Catgry Finance)$
---

$element(bwcore,article_picker,487,Y,N,page_title_home,N)$
---
$element(adman,groupad,NhoodJamaica)$
$element(adman,groupad,Catgry Entertain)$
---

$element(bwcore,article_picker,533,Y,N,page_title_home,N)$
---
$element(adman,groupad,NhoodLIC)$
$element(adman,groupad,Catgry Realestate)$
---

$element(bwcore,article_picker,486,Y,N,page_title_home,N)$
---
$element(adman,groupad,NhoodSSWS)$
$element(adman,groupad,Catgry Wedding)$
---

$element(bwcore,article_picker,630,Y,N,page_title_home,N)$
---
$element(adman,groupads,Sectional2 Ad)$
---

$element(bwcore,article_picker,529-633-530,Y,N,page_title_home,N)$
---
Site Search Tips. 1) For best results, when typing in more than one word, use quotation marks - eg "Astoria Park". 2) Also try either singular or plural words when searching for a specific item such as "gym" or "gyms".
$element(bwcore,insert_search,N)$
Click this link to search for something in our Queens Business Directory containing over 1,000 listings. Click here to view the home page of one of the leading chiropractors in Queens. Click here to view the home page of one of the leading spas in Queens. Click here to view the home page of one of the leading wedding halls in Queens.
Click here to view a story about furniture stores in Queens.
---
Click the log in link below to create an ID and post an opinion. Or send this story to a friend by filling in the appropriate box below.
---
$element(adman,groupads,Sectional2 Ad)$