---
Sunnyside Yard - Special Report Series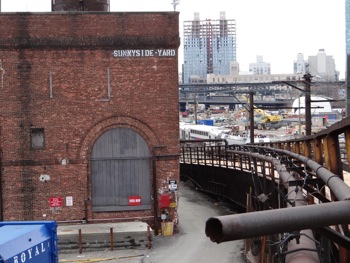 The following is a series of reports we have run and continue to evolve to provide background and context for the residents and voters of Sunnyside, Long Island City, Astoria, Queens, and perhaps NYC, to use to evaluate the respective pros and cons of public policy with regard to the future development of Sunnyside Yard.
The first report is a brief history of Sunnyside Yard, most of which we picked up in a book presentation by historian / author Dave Morrison at the Greater Astoria Historical Society.
The second report provides a summary overview of the development of Queens in the 19th and 20th centuries. Showing how the development of transportation affected real estate development in Queens.
The third report takes a deeper dive into the 20th century development, exploring the same line of thought with regard to the interwoven importance of transportation and real estate development.
The fourth report is expected in late April, which will show the 20th century history of development - the specifics of which will be arriving shortly.
---
$element(bwcore,article_picker,1160-1093-1095-1101,Y,N,page_title_home,N)$
Sunnyside Yard: Part III
A Look into the Feasibility, Functionality, Public Policy Issues & Community Involvement of developing Sunnyside Yard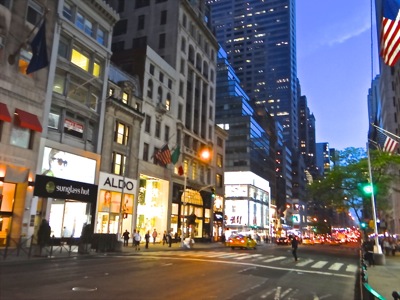 May 18, 2015 / Sunnyside & Long Island City Neighborhoods / Long Island City Real Estate / Queens Buzz.
In the first two segments of our series on the Sunnyside Yards we took a look at the history of transit and real estate development as the two went hand in hand.
In this report we're going to explore the feasibility and functionality of constructing platforms over rail yards and highways in New York City since the turn of the 20th century beyond the turn of the 21st century when this sort of construction has begun anew.
We're then going to explore the public policy issues associated with building such a platform over Sunnyside Yard, giving consideration to infrastructure such as transit, schools and neighborhood businesses, as well as to environmental issues and the current affordable housing crisis. We will end this report with a look at different strategies the community / neighborhood could employ to block, guide or embrace a development over Sunnyside Yards.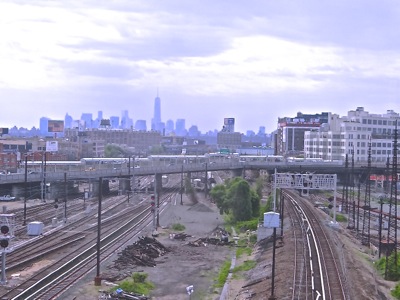 Grand Central Terminal 1871. When Grand Central Terminal was first erected in 1871, the terminal was essentially located at the northern end / outskirts of what was then considered the densely packed and rapidly growing New York City. While the first modern elevator was showcased in the mid 1850's, elevators didn't go into public use until the 1870's after the concept had been refined. In the 1880's elevators were run on electricity, not steam, and buidling high rises in New York City and elsewhere took off. The Dakota on the Upper West Side was one of the first great high rises and it was erected in 1884.
Platform Over Rail Yards Now Park Avenue 1903 - 1913. Building up over rail yards began at the turn of the 20th century when William J. Wilgus coined the phrase "taking wealth from the air". It was he who first proposed monetizing the air rights of New York Central and Hudson River Rail yards, which ran north along what is Park Avenue today. Platforms were built over the rail yards which terminated at Grand Central Terminal at 42nd Street which was no longer on the northern edge of the growing city, but it was also not yet the Midtown we know today.
Location. Location. Location. The first photo above shows 5th Avenue in 2015 within ten blocks of Grand Central Terminal. The second photo shows the center of the Sunnyside Rail Yard, which is located a bit more than two miles away from Grand Central Terminal. To help put things in perspective, it's worth noting that Union Square Park is located exactly two miles away from Grand Central Terminal.
Fasten your seat belt. And click here later this summer for Part III of our series regarding the development of Sunnyside Yard.
---
Part III. Work In Progress
---
Queens Buzz Voluntary Single Copy Sales or Subscriptions
We're not independently wealthy. So if you like what we're doing, you can help us continue to provide you with this coverage and possibly expand it, by voluntarily paying for a single copy or by subscribing to

Queens Buzz. Click button for details on how to make a purchase for as little as $5 which is less than what you'd pay for one issue of a magazine.
---
Sunnyside Neighborhood / LIC Neighborhood Links
$element(adman,groupad,NHoodSSWS)$
Click on these advertisements for promotions, discounts and coupons by retailers and restaurateurs in Woodside, Sunnyside and nearby Queens.
Several years ago the Hunters Point South development was approved by Community Board 2 and subsequently approved by the New York City Council and Mayor. Click the link above to read the earlier report. Click these links to gain a broader perspective of the Long Island City Neighborhood in which these units reside, as well as of the LIC real estate market for apts and condos or the Long Island City real estate market in general.
Click this link to go to the:
Sunnyside & Woodside Neighborhood
Sunnyside Business Directory or Woodside Business Directory
Sunnyside & Woodside Real Estate or Events & Things To Do In Sunnyside & Woodside
Restaurants In Sunnyside & Woodside or Sunnyside & Woodside Shops & Shopping
---
$element(adman,groupad,Catgry Realestate)$
Site Search Tips. 1) For best results, when typing in more than one word, use quotation marks - eg "Astoria Park". 2) Also try either singular or plural words when searching for a specific item such as "gym" or "gyms".
$element(bwcore,insert_search,N)$
Click this link to search for something in our Queens Business Directory. Also check out Taste of Sunnyside.
---
Click the log in link below to create an ID and post an opinion.
Or send this story to a friend by filling in the appropriate box below.
$element(adman,groupads,Sectional2 Ad)$
---