World Maker Faire at the NY Hall of Science
Ye Old World Maker Faire was Everything but … old
September 24, 2018 / Corona & Flushing Neighborhoods in Queens / Queens Things To Do / Queens Buzz NYC.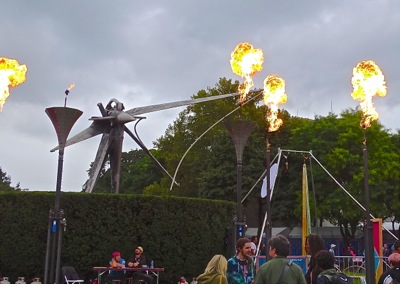 The 7th annual World Maker Faire was held last weekend at the NY Hall of Science in Flushing Meadows Corona Park. I had been meaning to attend the festival since it had first opened years ago, but never quite squared away the time. Thankfully, that was not the case this year.
The World Maker Faire is billed as a fair of, "invention, creativity, and curiosity [that] showcases … more than 600 projects … focused on making for social good, health, technology, electronics, 3D printing & fabrication, food, robotics, art …".
The faire really surprised me on the upside. While I had heard of it for years now, I had the impression that it was a bit of a nerd fest. And while there's certainly some of that embedded in the program, it goes way beyond that. It was like attending an old time county fair, but instead of seeing rides, rodeo contests and animal exhibits, we saw robotics contests, robotics exhibits and feats of mechanical / AI prowess. A bit nerdy, perhaps, but as you will see from the video below – far, far more than that.
One of the first exhibits to catch my attention was a good old-fashioned cock fight – where the roosters were replaced with robots. It seemed kind of an adolescent use of all those majestic brainwaves, but I have to admit that I, along with the rest of a large crowd, found it pretty entertaining.
---
World Maker Faire at the NY Hall of Science
Ye Old World Maker Faire was Everything but … old
September 24, 2018 / Corona & Flushing Neighborhoods in Queens / Queens Things To Do / Queens Buzz NYC. Continued - Scroll down for video.
One of the first exhibits to catch my attention was a good old-fashioned cock fight – where the roosters were replaced with robots. It seemed kind of an adolescent use of all those majestic brainwaves, but I have to admit that I, along with the rest of a large crowd, found it pretty entertaining.
In the background there were these fire spits, shooting flames of waves into the air. Along the corridors of the fairgrounds there were numerous food stalls offering more than a bit of American and Queens cuisines. And there was plenty of space in the backyard of the NY Hall of Science in Flushing Meadows Corona Park, so in spite of the large crowd, it was easy to move around. I should add that this was on the mid / late afternoon of the second day of the event.
I found and watched numerous other robotic feats, including a machine that picked up and passed back a basketball. There were a myriad of others that picked up things, swiveled around with them, moved from one place to another before letting them down. I began to get a few ideas of my own, like creating a robot to fetch me a cold brew from the refrigerator, in the middle of the football game.
I spied a large wooden dance floor at one end of one of the four exhibiting areas, and decided to check it out. Performing on the dance floor to some hip hop music was one of the performers associated with Turf, Inc. which is a six year old dance group from Oakland, California. Turf, Inc. seems to be a full service dance consultancy, offering services ranging from dance instruction, to help with dance auditions using Youtube, to helping book and providing dancers for events.
I walked into another section of the four sections of the fair.
I came upon the Coke and Mentos exhibit, which was one of the leading narratives coming out of the first World Maker Faire exhibits. The press from that event seemed, in the past, to overshadow the true nature of the event, which may have been why I hadn't been in any rush to cover it. Today, while I didn't see the the demonstration, it seemed less important given how many other interesting things there were to see.
The next big exhibit I witnessed was what looked like a car crushing machine. There were two guys operating a robotic piece of machinery that had picked up an automobile and I arrived just in time to watch them drop it to the ground before they took a break.
You gotta love a job that puts you in a position to destroy things and not have to pay for it. You know, like the Trump presidency.
Again there was a whole slew of exhibiting tents. In this set I found quite a range of automation, but not so much robotics. An example of this was what looked today to be a modern musical instrument shop, where the instruments retain some visual representation of the past, but no longer create an analog sound, but rather a computerized digital sound.
There was another exhibit that seemed a combination of virtual reality and reality. Here I found a young girl making her moves on a skate board, that was wired to a computer monitor, enabling her to practice her moves in a learning / game enabled environment. It kind of boggles the mind when one thinks of the possibilities these technologies could enable.
Then, of course, there was the racetrack. Not the kind where father and son used to show off their manhood by racing a gas fueled machine around the track. Nor the tabletop Aurora mini racing cars that began in an earlier era. But rather something in between, and programmed with some artificial intelligence to operate on its own. Again, the sheer magnitude and variety of invention was almost overwhelming. I can only imagine what kids are going to do with this stuff as they come of age.
I then moved into the third section of the faire. And in what will seem like a guy selling a do-it-all device or a special offer on late night TV, there's still more to come [you know, not just a blade, but fork, spoon & beer can opener / or this special offer doesn't just come in paperback, but you get the tape and video thrown in free – and if you buy now it also comes with a free pack of gum].
The next section was a bit less technology, but a great shopping opportunity for those looking for something totally unique. It was kind of a street fair on technological / modernity steroids. Aesthetically this was the most pleasing, the most familiar segment of the fair, and most traditional as well. And while the nerds aren't necessarily big shoppers, those who accompany them might be.
So there was a robotically operated horse being fed. And some mix of building materials crafted into an objet d'arte, a few ceramic tile art pieces, dolls and puppets, vintage LP's, a modern art sculpture of an attendant at an exhibit booth, and plenty of traditional items as well that I suspect had I taken the time to investigate further would have led to numerous surprises.
I headed into the last section of the fair, which was inside. Please note that the order in which I visited things did not correspond to the numbers the World Maker Faire had assigned to them.
Here there were lasers and optics, and a number of physics oriented exhibits, some of which I suspect may be on view at the NY Hall of Science after the fair leaves. Whew. My head was spinning.
I exited the NY Hall of Science and World Maker Faire, walking north to catch the #7 subway line home. I met one of the exhibitors on the platform and we began talking about the event. He had exhibited there before and is part of a team that's working on a training / learning development platform for people interested in learning how to program AI devices. The firm is Teddy Robotics which you can find at teddyrobotics .com.
I told him that the fair reminded me of what the personal computing world looked like about 30 years ago. Lots of people messing around with gizmos and ideas, but at that point few had come of age. We talked about where we thought AI and robotics would have the most use, and both agreed that – at least initially – it would be with businesses, before making its way into the consumer arena. But hey, like the lottery, ya never know.
The next World Maker Faire in NYC will likely be a year from now – and likely same bat time and same bat location.
A Brief History of World Maker Faire in Flushing
The Maker Fair Founder & Chief Executive, Dale Dougherty, describes the fair as a gathering of, "… a wide range of people, young and old, who are developing their talents and discovering new ways to solve interesting, everyday problems by working together on projects. Making is a meaningful form of personal expression that fosters creativity, builds community and encourages the collaborative practice of innovation."
The World Maker Fair originated first as a magazine, Make, in 2005 in the San Francisco Bay area, where its headquarters are today. In 2006 it organized the first Maker Faire, and has now expanded to operating 200 Maker Faires around the world in 44 countries. The World Maker Faire in NYC in Flushing Meadows Corona Park began in 2012 and is today, one of two of the World Maker Faire signature events [the other in San Francisco].
They host 750 exhibitors and reportedly attracts as many as 90,000 attendees over a two-day weekend in Flushing Meadows Corona Park in Queens NYC. The Bay Area Maker Faire, which I believe is their most popular, attracts 1,200 exhibitors and reportedly 1,250,000 attendees.
The NY Hall of Science was built for the 1964 World's Fair and is one of the remaining structures from that event to remain intact. I believe the NY Hall of Science history, related museum content, and convenient access to other parts of the city via the #7 subway line, and to both airports likely contributed to it being selected as the venue for the World Maker Faire in NYC. I believe the World Maker Faire first opened at the NY Hall of Science in 2012.
---
---
Flushing / Corona Related Info
$element(adman,groupad,NhoodFlush)$
Click here to go to the Art Exhibits, Galleries & Museums section of this site.
Click these links for promotions by advertisers in Queens.
Click this link to go to the Flushing Neighborhood.
---
$element(adman,groupad,Catgry Entertain)$
Site Search Tips. 1) For best results, when typing in more than one word, use quotation marks - eg "Astoria Park". 2) Also try either singular or plural words when searching for a specific item such as "gym" or "gyms".
$element(bwcore,insert_search,N)$
Click this link to search for something in our Queens Business Directory.
---
$element(adman,groupads,Sectional Ad)$
---
Click the log in link below to create an ID and post an opinion.
Or send this story to a friend by filling in the appropriate box below.
---