---
Check our front page for Real Estate & Business reports published since the last update on this page, and / or go to Gotham Buzz Real Estate & Business for our reporting during the pandemic.
---
LIC Real Estate Breakfast
LIC Partnership Event Discusses How LIC is Evolving
April 23, 2018 / Long Island City Neighborhood / LIC Real Estate Queens / Queens Buzz NYC.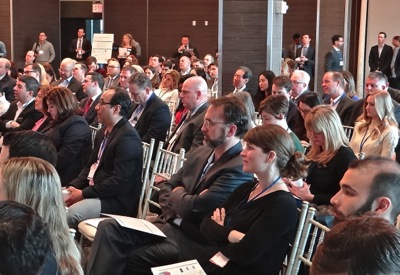 A bit over a week ago, I attended the LIC Partnership Real Estate Breakfast at the Ravel Hotel just south of the Queenboro Bridge at Vernon Blvd.
I've been attending the event since 2010 and it's been interesting to watch Long Island City's twists and turns during its incredibly rapid transformation. In 2010 large developers and big money were streaming in with critical mass, real estate prices were rising incredibly rapidly and large six and seven digit real estate transactions were happening periodically - if not more often - in spite of some of the hangover uncertainty left by the W. Bush financial crisis of the Fall of 2008.
The audience at the breakfast was still comprised of a fair number of familiar local faces as well as an increasingly large number of new interested parties.
The LIC Partnership executive level management changed in 2013 and 2014 and we started receiving fairly comprehensive data about units approved for construction, units under construction and units built. The numbers went from the low single digits THOUSANDS to the high single digit thousands, cresting last year at 9,000 new units that were expected to be built. This year it's 3,000 units.

During this time the audience began to attract vast numbers of outside interested parties, comprised of financiers and real estate developers and brokers, and less of the familiar local faces.
This year there was something of a settling down of the big business interest, and what I'd call the emergence of a new set of familiar local faces [see photo above right]. The familiar local faces of the past included artists and independent businesspeople, while the new locals are those working for some of the new businesses which have come into the Long Island City neighborhood.
I'll have more on the LIC Real Estate Breakfast including photos, later this week.
The photo above shows the LIC Partnership Real Estate Breakfast panelists [from left to right] including Chris Doeblin - Owner of Book Culture, James Orsini - COO Vayner Media, David Scharfstein - Co-Founder Fifth Hammer Brewing Company, Charlie Stewart - Co-President & CFO Altice USA and moderator David Brause - President Brause Realty.
---
$element(adman,groupad,Sectional Ad)$
The Old Kociuszko Bridge Comes Down
First Segment of the New Kociuszko Bridge Opened in April 2017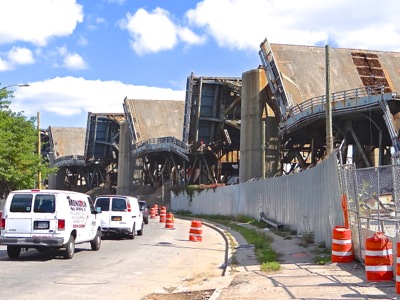 October 4, 2017 / Sunnyside Neighborhood & LIC Neighborhood / Queens Business / Queens Buzz NYC.
On Sunday, October 1, 2017 at 8 am, large segments of the old Kociuszko Bridge were dropped via explosives onto a sand bed which was laid to dampen the vibrational impact of the fall. Demolition crews had been working for months preparing for this event, by removing a lot of pavement and cement from the segments prior to the explosion. The old bridge was estimated to weigh approximately 232 million tons [verify] of cement and steel. The steel will be recycled.
Earlier this year, the main segment of the bridge that traverses Newtown Creek - and connects Brooklyn and Queens - was lowered onto barges in Newtown Creek on July 26th. In April of this year the first phase of the new bridge was officially opened for business, designed to accommodate the 180,000 daily crossings. The cost to NYS taxpayers was reported to be about $554 million.
Currently construction crews are working, pretty quickly, to remove the remains of the old Kociuszko Bridge to make way for the beginning of the second phase of the project, which entails the development of a second parallel stretch of roadway, of nearly equal width of the first, which will complete the NYS infrastructure project replacing the old Kociuszko Bridge. The second phase is expected to be completed in 2020. The second phase of the project was estimated to cost NYS taxpayers $335 million.
The first Kociuszko Bridge was opened in 1939 as the Meeker Avenue Bridge and renamed a year later by Mayor Fiorello LaGuardia to the Kociuszko Bridge. This renaming of the bridge after General Kociuszko, the American Revolutionary War hero, had a purpose, which we will see as we delve into the Brooklyn Queens history of the Kociuszko Bridge.
The story also includes a photo slide show of the old and new Kociusko Bridge over the past year.
---
$element(adman,groupad,Sectional2 Ad)$
Update: LaGuardia Airport Development Project
First Phase Moving Along with Second & Third Phases About to Begin
April 24, 2017 / Astoria Neighborhood / Queens Real Estate / Queens Buzz NYC.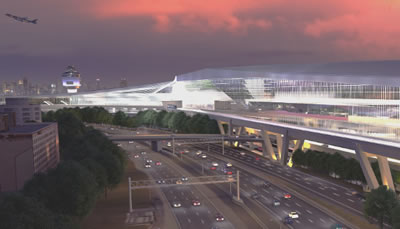 I attended a Community Board One meeting at the Astoria World Manor on Wednesday, April 19th. People representing the LaGuardia Airport development project were scheduled to provide the community with an update regarding several of the multi-billion dollar renovation projects associated with LaGuardia Airport, that are either currently in the works or nearing the end of the planning process.
The presentation was split into three parts: 1) LaGuardia Airport development project construction updates, 2) traffic mitigation efforts and 3) community outreach including job opportunities related to the projects.
Click here to read our report on the LaGuardia Airport development project & expansion, related job opportunities, its possible impact on travel times to the airport and the public hearing details on May 3rd, 2017 in Flushing. We have also included a small bit of history about the airport and the fight over the property and development in Flushing Meadows Corona Park. The graphic at right was created as part of the LaGuardia Airport development project.
---
LIC Real Estate Boom Appears to be Slowing
A Near Doubling of New Units Coming on the Market this Year, so there Appears to be a Pause, as Investors see how Quickly the Market Adjusts to the new Inventory & new Interest Rates
March 28, 2017 / LIC Neighborhood / Queens Real Estate in LIC / Queens Buzz.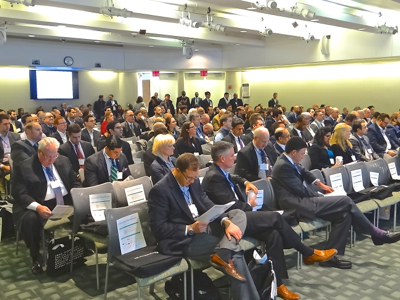 I attended the LIC Partnership Real Estate Breakfast just over a week ago. For the first time in a long while, I could actually find a seat. There had been a snowstorm the day before, so that may have contributed to my luck in finding a seat, but the event also did not appear to sell out as quickly as in prior years either.
This is not to say that LIC development is over ... and likely not by a long shot. But for the moment, the urgency seems to be abating as we all watch to see how things play out; while another 22,000 modern, fairly upscale apartment units come on the market.
According to the LIC Partnership, in the past decade nearly 12,000 new units have been created in LIC. Of those, less than 3,000 were sold to owners. In 2017 nearly 9,000 units are coming on the market.
The principles of economics state that when supply goes up, if demand doesn't go up by an equal amount, then it is likely that prices will go down. So it's likely that a near doubling of new apartment supply in LIC this coming year could dampen rental prices for a while, and possibly sale prices too.
Interest rates are also rising. And again according to the principles of economics, when interest rates rise, generally the prices of high dollar value purchases decline, because interest rate increases add to the cost of the monthly payments associated with large purchases like real estate.
I'll have more to report about the discussion held at the LIC Partnership Real Estate Breakfast - which as always - was very informative.
---
NYPD Commissioner O'Neill on Stop N' Frisk & Cybercrime
City & State Organizes Informative Program About Public Safety in NYC & Cybercrime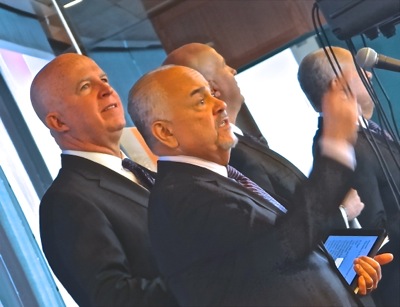 February 6, 2017 / Battery Park NYC / Crime & Safety in Queens NYC / Queens Buzz.
I attended a City & State program dedicated to exploring the many facets of community safety in New York City. The program started with a half hour speech by the new Police Commissioner, James O'Neill. He discussed his background which includes a long line of successive promotions in law enforcement, starting with the transit police in Brooklyn in 1983.
Background: NYPD Commissioner James O'Neill
O'Neill has held many positions, including taking charge as the commanding officer of the Vice, Narcotics and Fugitive Enforcement Divisions - each for a period of time. His most recent position was as Police Chief, during which time he oversaw the management of the neighborhood policing program. The neighborhood policing program was implemented in 2014, during Mayor de Blasio's first term, with the intent to build relations and trust between the police and the communities they serve. The concept is that if the community works with the police to ferret out and penalize the perpetrators, crime will continue to stay at all time lows.
Neighborhood Policing: Intelligent Approach to Safety That Works?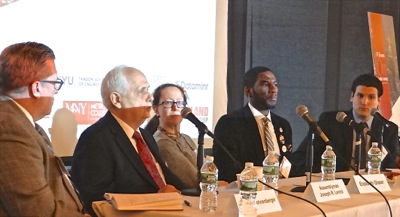 Part of the problem with past police / community relations is that most of those interactions with the police came with a negative connotation to them, for example as when being ticketed, or picked up for bad behavior.
The idea with neighborhood policing is to develop positive interactions by facilitating interactions between individual officers and individual members of the community, so that if and when the time comes, there's enough trust between the officer and community member to work collaboratively to round up and penalize law breakers.
O'Neill's speech was followed by a forum of four experts who have had some involvement in the governance of law enforcement in NYC. The panel included NYC Councilman Jumaane D. Williams of Brooklyn who is the Chairman of the Committee on Housing & Buildings, Elizabeth Glazer who is the Director of the NYC Mayor's Office of Criminal Justice, and NYS Assemblyman Joseph R. Lentol who is the Chairman of the NYS Assembly Committee on [criminal] Codes. The panel was moderated by City & State Features & Opinions Editor, Nick Powell, who has been covering crime in New York for many years.
Stop 'N Frisk - The Facts vs the NY Tabloid Hype?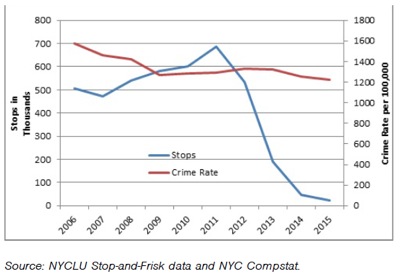 The panel explored numerous aspects of public safety in NYC, including a number of the successes NYC has been having with neighborhood policing, which is why the police / community clashes you see on the news are coming from other parts of the country - not NYC.
Needless to say, the job of the police force is never done, and challenges remain, but generally the forum had an upbeat tone due to the progress being made under Mayor de Blasio and Police Commissioners Bratton & O'Neill. One of the changes that's been helpful in community relations has been the drastic reduction in stop 'n frisk, which in spite of what the NYC tabloids purport, hasn't resulted in a spike in crime [see charts to right].
I did a bit of research, and found a couple of charts published in an April 11, 2016 report by the Brennan Center for Justice. The Brennan Center is a non-partisan, non profit research center at the NYU Law School. The two charts shown here graph the significant reduction in stop 'n frisk, while also showing no attendant spike in crime. In fact it is believed that over the long haul the reduction in unwarranted stop 'n frisk searches will have a positive impact on law enforcement community relations, as vast swaths of the populace that were searched with no result, will no longer feel that their privacy has been unnecessarily violated.
Cybercrime - Anonymous, Stealthy, Cross-Jurisdictional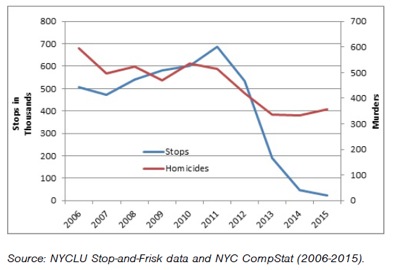 The second segment of the forum discussed some of the challenges facing the FBI with regard to reigning in cybercrime. The panel included Joel Stashenko who is the Albany Bureau Chief of the New York Law Journal, Nasir Memon who is a Professor of Computer Science & Engineering at NYU, Timothy Howard who is the Assistant U.S. Attorney and Cybercrime Coordinator for the NYS Southern District Office, and Prashanth Mekala who is the Supervisory Special Agent of the NY Field Office of the FBI.
The challenges facing law enforcement regarding cyber crime are different than most other criminal activity. For example cyber crime is generally anonymous, more insidious and hence more difficult to detect. And oftentimes the break-ins come through multiple legal jurisdictions which makes gaining access for tracking and prosecuting more challenging.
Budapest Convention of 2001 on Cybercrime Helping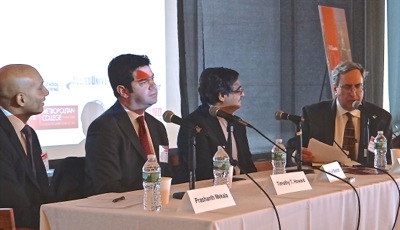 But progress is being made. There was a Budapest Convention on Cybercrime which was passed in 2001 and became effective in 2004. More nations are signing on, as the accords enable law enforcement to move more quickly in multiple jurisdictions in response to cybercrime events.
As in community policing, establishing trust between the victims and law enforcement is critical in enabling governments to catch the criminals. Oftentimes companies victimized by cybercrime are concerned the access they provide to law enforcement may be used against them in other regulatory and civil proceedings. One of the panelists told us that the information they seek is soley for the purposes of catching the criminals, not to share with other regulatory agencies or people. And that the less time between the breach of a system, and obtaining access to analyze it, the greater likelihood that law enforcement can track them down, because in cybercrime the 'digital fingerprints' oftentimes disappear.
Speed of Response Helps Law Enforcement Respond
What's happened recently is that company security has increasingly been delegated to the legal department of a firm, because the company is then protected from disclosures because of attorney client privilege.
But what then happens, because the lawyers seek to mitigate legal risk / blame, is that there's a slow response by the company to enabling law enforcement to do their jobs in track down the criminals. One panelist noted that oftentimes what companies are trying to keep secret [their blame / culpability] comes out in the wash anyhow.
One of the panelists noted that oftentimes the biggest threats come from within an organization. Someone is turned to the dark side, or is careless - resulting in the breach of security. Currently the NSA [National Security Agency], the CIA [Central Intelligence Agency], the DOD [Department of Defense] and the FBI [Federal Bureau of Investigation] are all working to mitigate the risks associated with cybercrime.
They had a third panel about mitigating disaster risk, like from terrorism or cataclysmic events such as hurricanes, but I didn't stay.
Organized by City & State Magazine, Website & Events
Many thanks to City & State, which is an informative magazine publisher and events organizer. Their work seems to be predominantly in the area of government, politics and social issues. You can visit their website at www.cityandstateny.com.
---
Update on the Steinway Mansion in Astoria Queens
Visionary Investor Makes Good on Development but Still no Announcement of his Plans for the Steinway Mansion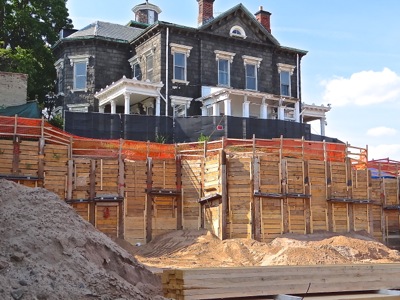 September 12, 2016 / Astoria Neighborhood / Astoria History / News Analysis & Opinion / Queens Buzz.
On May 3rd, 2014 the Halberian Family sold the Steinway Mansion to Steinway Mansion LLC for $2.65 million. In the two and a half years since, the new Steinway Mansion owner parceled the property into a eleven additional smaller lots and built eleven two story commercial buildings on each. We watched as the owner quietly developed the property, likely in line with his plans while making the investment.
Just over a year ago I visited the site and took some photos, which momentarily revealed the resplendent glory of the old mansion, overlooking the East River and distant Rikers Island and Bronx shores. The new owner had cut away most of what remained of the Steinway Mansion yard to make way for the new buildings at a height on a level with 42nd and 41st Streets. The construction site seemed well maintained and the historic mansion structure appeared to be treated respectfully both last year, and as I learned in my most recent trip, also since.
The photo above was taken in August of 2015.
Northern Ditmars Neighborhood Real Estate Development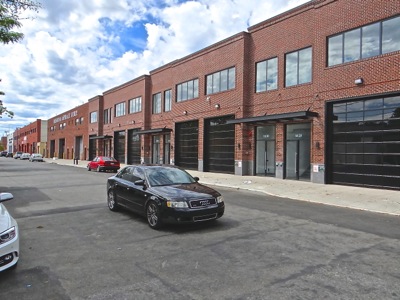 Last weekend I returned to the site to shoot photos and see what was happening. I came in along 42nd Street, and for a moment I wondered if I had gotten my coordinates wrong, as the street had been transformed. The emptiness on the street of the construction site of a year ago had been filled in with a number of spanking new buildings lined along the street with what appeared an exacting precision. The photo to your right shows roughly the same space in September 2016 as was shown in the August 2015 photo above.
A year ago, 42nd Street was an empty, slightly soiled, commercial industrial hub. But on my visit this year the street took on a wholly different appearance with the new buildings / storefronts. There were eight new buildings along 42nd Street, with red brick exteriors complemented by black trim and large floor-to-ceiling paned storefront windows, which I believe could also serve as garage doors. It almost seemed like these new edifices could as easily become art galleries, as manufacturing locales and / or storage facilities.
Click here to read the rest of our report about the Steinway Mansion real estate development in Northern Ditmars, Astoria.
---
$element(adman,groupad,Sectional Ad)$
$element(bwcore,article_picker,1123,Y,N,page_title_home,N)$
Guess Who's Coming To LIC?
Macy's Inks 15 Year Deal For 145k Sq Ft Office Space
Some Corporate Staff Moving From Brooklyn Site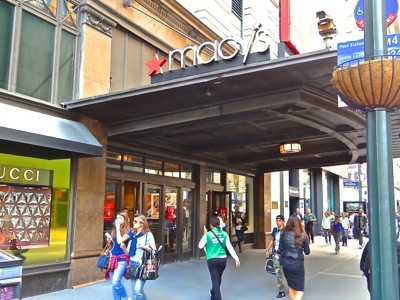 August 12, 2015 / LIC Long Island City Neighborhood / LIC Long Island City Real Estate / Queens Buzz.
Bis Now just reported that Macy's has inked a 15 year deal for 145,000 square feet at the Factory on 47th Avenue between 30th Place and 30th Street in Long Island City. This location is on the eastern side of the Sunnyside Yards, only a block away from LaGuardia Community College on Thomson Street.
According to their report, Macy's will move corporate staff currently working at a long held Brooklyn, location to the site in Long Island City in Queens.
Of course, Macy's is no stranger to Queens. They also operate three stores in Queens - at Rego Park, Flushing Main Street and in Douglaston.
Bis Now reported that the asking rent for the space was $42 per square foot, which they said compared quite favorably to Manhattan prices. Bis Now is hosting a event called the Future of Long Island City on August 18th at the Waters Edge on 44th Drive beginning at 7.30 am and as of this writing there are 8 tickets left. Admission is $89.
The photo above is of Macy's flagship store in Manhattan.
---
Sterling Equities & Related Companies Lose A Court Battle
Plans To Build Shopping Mall On Flushing Meadows Corona Parkland Reversed On Appeal
July 6, 2015 / Flushing Neighborhood / Queens Real Estate / Queens Buzz. This report is based on an Associated Press report dated July 2, 2015 and a Queens Tribune story dated August 28, 2014.
In August of 2014, New York State Supreme Court Judge Manuel Mendez decided in favor of Related Companies / Sterling Equities by throwing out a lawsuit filed by the City Club of New York and NYS Senator Tony Avella. The plaintiffs alleged that the Related Companies, real estate developers of Hunters Point South and the Hudson Yards, and the Sterling Equities which was co-founded by the NY Mets owner, Fred Wilpon, had not gone through the NYS legislature for the approval of the transfer of the parkland as required by law.
The lawsuit, filed in February 2014, alleged that the transfer of 47 acres of Flushing Meadows Corona Park land that currently represents the western part of the Mets parking lot, was done without following the procedure for a proper public review [see photo above right]. The City had proposed transferring the 47 acres to Related Companies / Sterling Equities who had planned to build a 1.4 million square foot shopping mall next to Citifield.
The NY City Council and the Mayor approved the project in October 2013, but the proposal never went to Albany for a vote. According to the Queens Tribune report one of the plaintiffs said that the Judge Manuel Mendez's ruling goes against the Public Trust Doctrine, ignores longstanding case law history, and bestows too much power that was formerly the purview of the Board of Estimate in one person: the NYC Mayor.
On Thursday, July 2nd, 2015, the four-judge Appellate Court overturned Judge Mendez's decision and ruled that the Willets West Mall Project was illegal because the land is a part of Flushing Meadows Corona Park, in spite of its current paved over status as a parking lot [see 2009 photo above]. And because it is a part of the public parkland of the people, it may not be turned over to real estate developers without approval of the NY State Legislature. The judges rejected the ruling in favor of the mall made by Judge Manuel Mendez, wherein the real estate developers argued that the 54 year old, 1961 law authorizing the construction of Shea Stadium, also included a mall.
The photo above shows the Citifield parking lot in 2009, as it was being paved over following the demolition of Shea Stadium and the erection of Citifield.
According to the Associated Press report, a spokesman for the developers said that they would appeal the decision.
---
$element(adman,groupad,Catgry Finance)$
$element(adman,groupad,Catgry Realestate)$
---
$element(bwcore,article_picker,1103-1100,Y,N,page_title_home,N)$
First Female-Owned LIC Realty, Opens New Office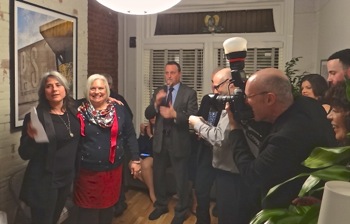 March 5, 2015 / Long Island City / Queens Real Estate / Queens Buzz. On Thursday evening, during yet another March snowfall, the Beaudoin Realty Group held an opening reception to announce its new office in the neighborhood.
I attended the reception and found an eclectic mix of cultural, culinary and commercial characters, who comprise one of the theatrical casts in the production of life-as-theater - and whose roles require them to give daily performances on the real-time stage we call Long Island City.
Shelia Lewandowski, a founding member of the LIC Business Women and co-Founder of the Chocolate Factory Theatre, told me that the Beaudoin Realty Group was the first female-owned realty to open an office in Long Island City. Sheila [far left in the photo at right] is shown standing with Michele Beaudoin [second from left], owner of the Beaudoin Realty Group, in the new offices at 21-52 44th Drive in LIC - only a block west of the Citibank Tower.
I had an opportunity to chat with Meir Newman and Tony Vaccaro. Tony is a renowned WWII photographer, who became a fashion and lifestyle magazine photographer following the war, while Meir is one of the owners of Sinks & Stones, the aesthetic kitchen and bathroom tile and fixtures store in LIC. Meir told me that he and Tony had recently traveled to France to visit a location where a sculpture / monument is slated for installation. The installation will include one or more of the images captured by Tony's photographic lens during WWII.
Daniel Dougherty is one of the co-founders of the Crescent Grill, which is one of the culinary destinations of Dutch Kills neighborhood - only a couple blocks north of Queens Plaza. I bumped into him at the opening and inquired whether he would be marching in the Tartan Day Parade in Manhattan this year. Last year Daniel was one of the few marchers selected to don a Scottish kilt for the parade. This year the Tartan Day Parade is being held on April 11th in Manhattan.
I also met an interior architect, Michael DeLoach, who was a classmate of Michele Beaudoin's at the Pratt Institute of Brooklyn years ago. Michael also runs DeLoach Furniture in Manhattan. There were others in attendance with whom I spoke, including the owners of a small business that installs garage doors and does related work. And of course there wasn't enough time to meet everyone, as the hours disappeared quickly, but some of the conversations included discussing Cuban jazz, winter clothes shopping in Scandinavia and ... of course ... the real estate market in LIC. The food was prepared by the Crescent Grill, Il Falco, the LIC Market and Manducatis Rustica - all of which are popular restaurants in LIC.
Michele Beaudoin told me that over the past five years she has handled a number of real estate transactions in the LIC neighborhood. She said that several years ago Beaudoin Realty Group opened an office in LIC, and that their move to this new location was to enable the Jackson Heights / LIC real estate agency to create a more visible presence with which to engage the LIC neighborhood and the LIC market for real estate.
Click here to view the slide show of the opening reception of the Beaudoin Realty Group in LIC.
---
$element(bwcore,insert_search,N)$
Queens Unemployment Continues To Best Metro Average
Drop In Unemployment Rate Continues Improving Trend
J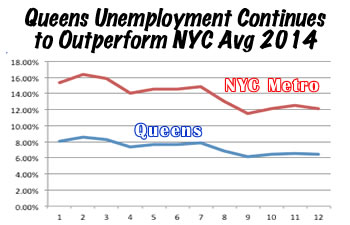 anuary 28, 2015 / Flushing Neighborhood / Queens Business / Queens Buzz. In January of 2013 Queens unemployment rate was 8.9% and by the end of the year it had fallen to 6.7%. In January of 2014 Queens unemployment rate was 6.7% and by December of 2014 it had fallen to 5.7%.
Queens overall employment picture was better than the overall average for the NYC metropolitan area. In January of 2013 the NYC unemployment rate was 9.7% and by the end of the year it had fallen to 7.5%. In January of 2014 the NYC unemployment rate was 8.1% and by December of 2014 it had fallen to 6.4%.
Queens has been emerging as a business and residential destination given its proximity to Manhattan and its robust public transportation network.
---
---
$element(adman,groupads,Sectional Ad)$
---
$element(bwcore,article_picker,1079-1077-1062,Y,N,page_title_home,N)$
$element(adman,groupad,Catgry Medical)$
$element(adman,groupad,Catgry Queens)$
---
Astoria Cove Real Estate Development
East River Waterfront Transformation Moves North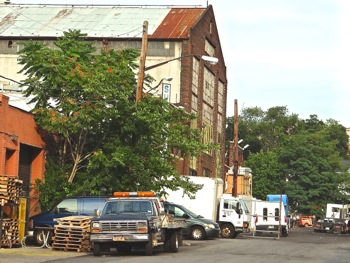 Updated December 3, 2014. The Astoria Cove development passed the NY City Council.
August 18, 2014 / Queens & Astoria Real Estate / Astoria Neighborhood / Queens Buzz. Unbeknownst to at least a few of the folks who live in the far northwest corner of Astoria and Queens, big plans for changes have been taking shape over the past couple of years.
The Hallets Point development passed Community Board One in May of 2013 and the Astoria Cove development is making its way through the governmental gauntlet of real estate development approvals.
The plan calls for a large new complex along the East River which will occupy the location where the building in the photo now stands, along with several other blocks of territory which will become its footprint. The building shown above is about a block east of Build It Green.
Community Board One and the Queens Borough President had issues with the development, primarily calling for a buildout of public infrastructure to support the development as well as for the inclusion of a higher number of affordable housing units. The development will be built completely on privately purchased land, which is in contrast to the Hallets Point development which was done using NYCHA [NYC Housing Authority] property.
We'll have more about this at a later date. By Michael Wood.
---
Steinway Mansion SOLD
Steinway Mansion LLC Purchases Mansion For $2.65 Million
May 5, 2014 / Astoria Real Estate / Steinway Mansion / Queens Buzz. On Friday May 3rd, 2014, the Steinway Mansion was sold for $2.65 million. The mansion went on the market in August of 2010 and was handled by a number of brokers - including Southebys International Realty, Halvatzis Realty Astoria and Prudential Douglas Elliman - before being turned over to Amorelli Realty of Astoria, which closed the deal.
At present, we understand that the land parcel remains intact, which last we heard was between one and two acres. This acreage is down from the 700 acres that Benjamin Pike, the original owner, purchased in the mid 1800's [circa 1858]; and the 70 acres owned in tandem with the mansion by the Steinways [circa 1870]. The most recent owners, the Halberians, held about a two acre lot in tandem with the mansion, which includes the grounds with which those who have visited the mansion in modern times are familiar.
The Steinway Mansion is currently zoned as residential and we were told that - as of this date - that nothing was underway to change that. Rumors have been circulating for months that the mansion would be turned into a restaurant, but we could not find anyone close to the owners who could confirm that.
Bob Singleton of the Greater Astoria Historical Society and Friends of the Steinway Mansion said that those two organizations continue to have an interest in helping preserve the Steinway Mansion an historic jewel for Astoria, Queens and NYC.
As we understand it, the Steinway Mansion is landmarked at federal, state and city levels, which means the outside of the structure may not be alterred nor may it be torn down. We were informed that Steinway Mansion LLC is a locally owned company, but the names of the owners have not yet been made public.
The realtors who closed the deal include Lauren Cornea, Christina Halvatzis and Paul Halvatzis - all of Amorelli Realty.
---
$element(bwcore,article_picker,1052-1047,Y,N,page_title_home,N)$
$element(adman,groupad,Catgry Green)$
$element(adman,groupad,Catgry Homeimprov)$
---
---
$element(bwcore,article_picker,1058,Y,N,page_title_home,N)$
$element(bwcore,insert_search,N)$
---
$element(bwcore,insert_search,N)$
$element(adman,groupad,NhoodLIC)$
$element(adman,groupad,NhoodAstoria)$
---
Queens Buzz - Business Section Directory
Click or scroll down for:
---
How The Other Half Lives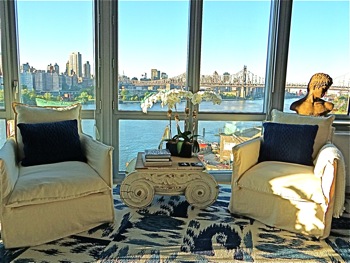 September 23, 2013 / Long Island City Neighborhood / Queens Real Estate / Queens Buzz. I attended a reception hosted by TF Cornerstone in late September to celebrate the official opening of their fifth property. The building had been completed earlier this year and the first tenants had moved in sometime in May. I understand they've rented about 70% of the units, so they've been moving briskly.
I visited a couple of the units for rent, including a studio that started at about $2,300 per month and a two bedroom corner that likely rented for something like $5,000 per month [give or take several hundred]. To those of us who live in Queens, these are expensive units, but to those who live in Manhattan - given the views and amenities - these are good value. Like the headline says : )
We'll have more in late September / early October, including a photo slide show, of some of the new properties currently lining the LIC waterfront.
---
NYC Mayoral Candidates Forum
Bloomberg Presides Over Record Homeless In NYC Shelters While NYC Developers Building Luxury Apartments
April 15, 2013 / Queens Government / Queens Buzz. I attended a Mayoral Forum last week at NYU in Manhattan where the six Mayoral candidates answered questions posed by Brian Lehrer of WNYC. The event was hosted by the Furman Center for Real Estate and Urban Policy and the topic for discussion was real estate development, housing and urban policy.
One of the things I learned was that NYC has record numbers living in its homeless shelters and that over 20,000 school age children are now living in homeless shelters. This topic came up time and again and all of the candidates said that the current administration was clearly not doing enough to address the problem.
The candidates also talked about all of the new development projects going on in NYC. Many of the candidates said the Administration was not negotiating hard enough to obtain more concessions / better deals from NYC developers who have profited greatly by virtue of help and incentives given by the city.
We'll have more on this debate at a later date.
---
$element(bwcore,article_picker,990,Y,N,page_title_home,N)$
---
---
$element(adman,groupads,Sectional Ad)$
---
Real Estate & Development In Queens
---
$element(bwcore,article_picker,1021-1016,Y,N,page_title_home,N)$
LIC Real Estate Market Update
LICP Real Estate Forum Projects Confident Tone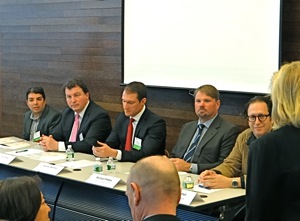 May 14, 2013 / LIC Neighborhood / LIC Real Estate / Queens Buzz. The LIC Partnership hosts an annual real estate forum that has sold out for the past several years. Each year they invite a cross section of speakers to opine on different facets of buying, selling and renting real estate in Long Island City.
I've attended the forum the past four years and find the forum to be an informative update of what's doing in the LIC real estate market. This year the speakers talked about the LIC market as one that has not only arrived, but of a real estate market that will stay.
You'll be able to click here later this week for a full report of the LIC Partnership Real Estate Forum. In the photo above are the guest speakers seated at the table with LICP Chairman, Gary Kesner and LIC President, Gayle Baron with their backs to the camera.
---
CB Votes Split On USTA Expansion Plan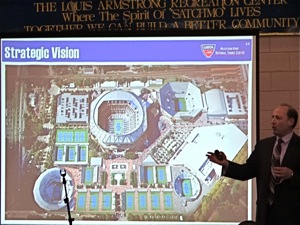 March 14, 2013 / Flushing Corona / Issues Facing Queens / Queens Buzz. The USTA has asked the city of New York to give it .68 of an acre of Flushing Meadows Corona Park so that it can proceed with an expansion plan. The expansion plan is estimated to increase the sports complex capacity for the U.S. Open by about a third, while increasing the USTA footprint in the park by .68 of an acre. The USTA informed the audience attending the Community Board 3 meeting that this will result in more jobs in Queens. They also talked about the positive estimated annual $784 million economic impact that the USTA has had on NYC - according to a study done by a private consulting firm named AKRF, Inc.
The detractors informed the audience that this is the first step in a much larger effort toward a massive privatization of Flushing Meadows Corona Park by several large, well-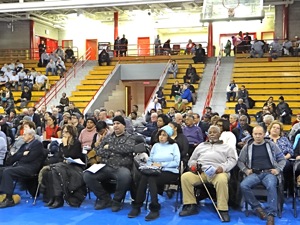 funded corporate interests. The opponents talked about three other proposals which were not a part of the USTA plan. These other proposals to develop private interests on public parkland include the development of a shopping mall by a private investment group in tandem with the owners of CitiField; 2) a condominium / hotel complex done by another group of private investors; and 3) a 13 acre soccer stadium by Major League Soccer, which is also a privately held corporation.
Community Board Tally & Boro Prez Candidates Positions
In the end Community Board 3 voted against the expansion plan, citing among other things, promises not kept when the USTA asked to expand its footpint in 1993. All six Community Boards have now voted on the USTA Expansion proposal, with three voting for it and three voting against it. We'll post a far more complete report on this Community Board Meeting at a later date.
While I was attending the Community Board 3 Meeting in Corona, all six Queens Borough Presidential candidates were attending a forum about the issues facing Queens at the Greater Astoria Historical Society in Astoria. The issue of turning over public parkland to private interests came up during the forum. To date only City Councilmember Tony Avella has come out against giving up public parkland to private interests. NY Senator Jose Peralta is the only other candidate to take a stance on the issue, but only on one of the proposed developments, namely the erection of the MLS Soccer Stadium on 13 acres of FMC Parkland [which he conditionally supports if MLS fulfills all of their promises]. All four other candidates have taken a wait-and-see stance on the issue.
Click here to read our past reports related to the proposed development plans for Flushing Meadows Corona Park. The first report provides an early history of Flushing Meadows Corona Park I and the second report provided an intermediate history of Flushing Meadows Corona Park II which included a number of relevant historic lessons related to sports complex developments in FMCP as well as NYC.
---
City Withdraws Plans To Use Eminent Domain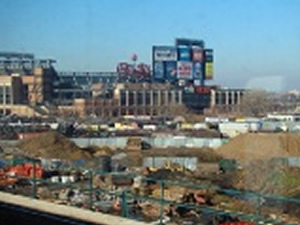 May 11, 2012 / Flushing / Queens Buzz. The Bloomberg Administration withdrew its threat to use eminent domain to condem the properties of the remaining Willets Point property-owners who did not want to sell their land. This statement was issued just prior to the beginning of court proceedings by the remaining holdouts, contesting the city's use of eminent domain.
The city had planned to remove the final holdouts and clear the way for a large new development that would include residential, commercial and office space, and parking. The city now owns 90% of the land in Willets Point, having bought out most of the prior owners.
Click here for a prior report about the Willets Point development in Flushing.
---
$element(bwcore,article_picker,884,Y,N,page_title_home,N)$
---
$element(adman,groupad,Catgry Queens)$
$element(adman,groupad,NhoodAstoria)$
---
Government & Employment In Queens
---
$element(bwcore,article_picker,1023-966,Y,N,page_title_home,N)$
---
$element(adman,groupad,Catgry Homeimprov)$
$element(adman,groupad,Catgry Realestate)$
---
Home Improvement & Construction In Queens
---
Queens Chamber Building Awards 2013
Chamber of Commerce Recognizes Queens Builders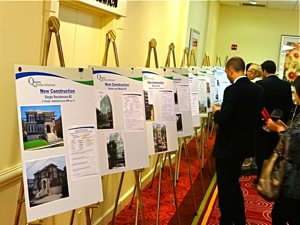 January 23, 2013 / Jackson Heights / Queens Business / Queens Buzz. On Thursday January 17th, the Queens Chamber of Commerce presented awards in twenty separate categories honoring builders in the borough of Queens. The Queens Chamber Building Awards Reception began in 2007.
The awards were broken into three major categories: 1) Rehabs, 2) Interiors and 3) New Construction. And, except for Interiors, each of these categories included a number of subcategories. In the photo to your right you can see QC Building Awards attendees looking over some of the awards given at the event.
The Queens Chamber Building Awards Reception was held at the Marriott LaGuardia in East Elmhurst, just north of Jackson Heights.
---
$element(bwcore,article_picker,973-743-979-745,Y,N,page_title_home,N)$
---
$element(adman,groupad,Catgry Finance)$
$element(adman,groupad,Catgry Wedding)$
---
Finance - Banks & Loans In Queens
---
Chhaya Hits A Home Run
4th Annual Home Buyer Fair in Jackson Heights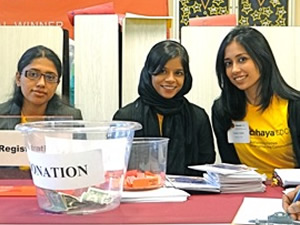 January 28, 2013 / Jackson Heights / Queens Business / Queens Buzz. The more I get to know about Queens, and the more familiar I become with the many immigrant communities to which Queens is called home, the more impressed I become with the intelligence of the American system and the immigrants who fuel the American dream.
One of the American dreams is to own your own home. To that effect Chhaya [pronounced chi - ya], a non-profit organization in Jackson Heights, helped facilitate that effort at its fourth annual Home Buyer Fair on Saturday. Attendance of the Home Buyer Fair was at an all time high of several hundred, up from about 30 attendees at the first one, just four years ago.
The Home Buyer Fair featured a number of brand name lenders in the morning, and a whole host of non-profit / community minded organizations in the afternoon. The fair was open to everyone [we posted it in our Queens Events calendar in the business section], and provided attendees with a whole host of avenues for purchasing a home. Click here later today to read the rest of our report about the Chhaya Home Buyer Fair.
---
---
$element(adman,groupad,Catgry Rest)$
$element(adman,groupad,Catgry Foodwine)$
---
Manufacturers & Wholesalers In Queens
---
$element(bwcore,article_picker,1013-518-767,Y,N,page_title_home,N)$
---
$element(adman,groupad,Catgry Bikes)$
$element(adman,groupad,Catgry Furnitur)$
---
Transportation In Queens
---
MTA Rush Hour Power Outage
#7 Subway Line Down For Hours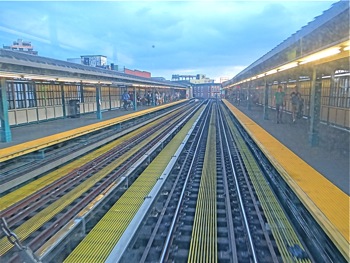 December 10, 2013 / Queens Neighborhoods / Queens Buzz. What's wrong with this picture? There aren't any subways running on these tracks during rush hour on Tuesday evening.
The #7 subway is the busiest single subway in NYC and it's the second busiest subway line, after the 4, 5, 6 line that runs north and south along the east side of Manhattan.
According to an attendant there was a power outage along the entire line beginning around 5 pm Tuesday, which was partially repaired within several hours. The trains were running limited service by about 9 pm Tuesday due to ongoing signal problems at a few stations. As of Wednesday at 10 am the MTA continues to report signal problems on the #7 line, so for the time being expect delays.
Ironically this outage comes only weeks after the MTA spent two months of weekends [October / November] doing upgrades / maintenance work on the #7 subway line. It's also worth mentioning that the #7 subway line was one of the last of the major lines to go back into operation following Hurricane Sandy in 2012. The reason for the delay in resumption of service in 2012 was that they couldn't turn on the power because of flooding in the tunnels.
I wonder if any of these issues / activities are related, and what the MTA is doing to address them?
Ridership on the #7 subway line is expected to continue growing because of the significant amount of real estate development going on in the Long Island City and Flushing neighborhoods of Queens. Lagging infrastructure development could hamper growth. Queens Borough President-elect Melinda Katz stated that this would be one of her top priorities upon assuming the office. It seems this might be a good place to start.
---
$element(bwcore,article_picker,904,Y,N,page_title_home,N)$
---
---
---
Queens Related Info
$element(adman,groupad,Promo Buttons)$
Click this link for promotions, discounts and coupons in Queens.
Click this link to go to the Astoria Neighborhood / Long Island City LIC Neighborhood / Sunnyside Woodside Neighborhood News / Jackson Heights Elmhurst Neighborhood / Flushing Corona Neighborhood / Jamaica Neighborhood.
$element(adman,groupad,Queens)$
Site Search Tips. 1) For best results, when typing in more than one word, use quotation marks - eg "Astoria Park". 2) Also try either singular or plural words when searching for a specific item such as "gym" or "gyms".
---
Archives - TBD
---
$element(bwcore,insert_search,N)$
Click this link to search for something in our Queens Business Directory.
---
$element(adman,groupads,Sectional2 Ad)$
Click the log in link below to create an ID and post an opinion.
Or send this story to a friend by filling in the appropriate box below.
---