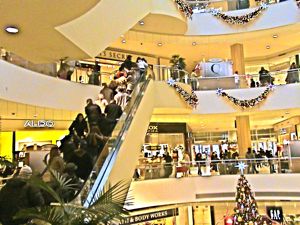 Saturday Shops Show Uptick Vs Friday
Inventories Tight And Prices Slipping
Soft 2008 Expected
Queens NY / November 29th 2008. We did another survey around the borough on the Saturday following Thanksgiving to see how the holiday shopping season was shaping up. Saturday looked a bit healthier than Friday, with larger crowds and we spotted far more packages and holiday bags. Click this link to read / view the story we published on Black Friday shopping in Queens NY.
---
Shopping Steady As Prices Are Cut
Queens NY / November 30, 2008. According to national reports shopping held steady during the critical post Thanksgiving kick off to the holiday shopping season. This is probably good news for everyone as it means that the financial chaos in the markets these past few months, hasn't completely rattled the consumer who makes up two thirds of the economic activity in the nation.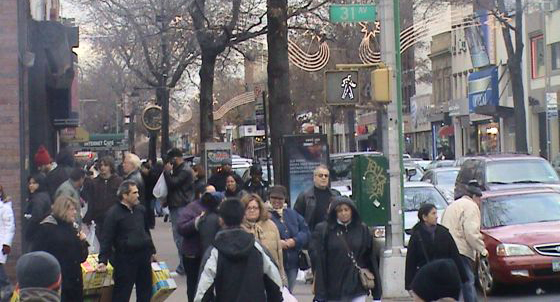 Online Sales / Internet Use Up
Online sales are expected to continue to grow this season, albeit at a much slower pace. Historically online sales have grown in the mid to high double digits, while this season they are expected to grow in the low to mid teens, while overall retail sales are expected to be flat or even down. The internet continues to play an increasingly important role in consumers' decision making process. While one in five purchases are made online, somewhere between 25% - 30% of shoppers do some research on the internet prior to making their purchases.
Shopping In Long Island City, Astoria & Elmhurst Queens NYC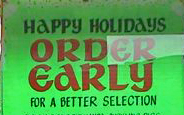 We continued our survey around the borough on Saturday and found that traffic remained steady, while more people appeared to be carrying packages indicating that they weren't just browsing. We also saw more signs announcing price discounts which appeared to range between 15% and 60%, depending on the nature of the merchant and merchandise. We began by surveying Vernon Blvd in Long Island City which has a smaller shopping district than many of its neighbors.
That changed markedly as we came up along Broadway and Steinway Streets, which is one of the boroughs most trafficked retail shopping districts in the entire borough. There we saw the usual hustle and bustle and more consumers carrying shopping bags. Some retailers advised consumers to shop early while the inventories are still holding, as many retailers are planning to manage inventories more tightly, given the expectations for a softer selling season.
Our last stop on Saturday was the Queens Center Mall in Elmhurst. This mall is one of the most successful in the entire nation. There was plenty of activity, which like Steinway is well traveled, and we saw more shopping bags than on Friday.