Grand - Wine & Liquor Stores In Astoria, Queens & NYC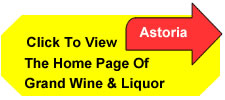 Grand Wine & Liquor store is located at 30-05 31st Street in Astoria Queens [see map below] and their store telephone number is 718.728.2520. Grand Wine & Liquors is a full service wine and liquor store located in the Astoria neighborhood of Queens.
You may view other sections of the Grand Wine & Liquor store web presence on QueensBuzz.com, by clicking into the following links:
Click this link to view the Grand Wine & Liquor photo album on this site. There you can browse through some of the offerrings at one of the best wine stores in Astoria & LIC or ..


Click this link to go to the Grand Wine & Liquor home page, where you can obtain more information about one of the finest stores that sells wines & liquor stores in Astoria.
TO MANIPULATE MAP. 1) To move the map around, click on it, hold the cursor down, and move the map using the hand. 2) To zoom in or out on the map, click the boxes with the plus or minus signs in them. They are located in the upper left corner of the map. 3) To obtain the details associated with a marker, hover over it and click if necessary. 4) To see a satellite view, click on the box labeled 'satellite' in upper right corner.
For Grand Wine & Liquor Map / Restaurants & Dining / Shopping / Neighborhood Info / Transit Info Or For Printer Friendly Link - Scroll down.
$element(gmaps,gmaps_element,208)$
RELATED ASTORIA INFO. Click this link to go to the Astoria Neighborhood News / Astoria Restaurants Section / Astoria Shopping Center & Map / Astoria Business Directory.
DIRECTIONS / TRANSIT INFO INTO ASTORIA
1) From NYC and Brooklyn. From Brooklyn, take the G subway to Long Island City / Court Square where you transfer to the #7 line and go one stop to Queensboro Plaza. Then transfer onto either the N or W going to Astoria / Ditmars Blvd. From NYC take the N or W subway lines, where it takes only ten minutes from Lexington / 59th. Click this link to directly to MTA subway maps or the MTA bus maps [FYI - slow loading pdf].
2) From Queens. From Sunnyside take the #104 bus from 48th Street and Queens Blvd to travel along Broadway in Astoria. From Woodside take the #18 bus from 61st Street and Woodside Ave to go along 30th Avenue in Astoria. From Flushing - Take #7 subway to 74th St / Broadway and transfer to the V or R and get off at Steinway St. From Jamaica take the E or F going into NYC and transfer at Jackson Hts / Roosevelt Ave to the V or R and get off at Steinway St.
3) From LI: Take the LIRR to either the Jamaica or preferably the Woodside Station. From the Jamaica Station take the E to 74th St / Broadway and transfer to the V or R going into NYC. Exit at the Steinway St exit. From Woodside, take the #7 train to Queensboro Plaza and transfer to the N or W going to Astoria / Ditmars Blvd.
4) By CAR. From the BQE take Exit 40 [30th Avenue] or Exit 41 [Astoria Blvd], just prior / after the RFK Bridge [they renamed the Triborough Bridge].
---
Site Search Tips. To find restaurants, shopping or other things to do in any of the neighborhoods, use the search function: 1) For best results, when typing in more than one word, use quotation marks - eg "Astoria Park". 2) Also try either singular or plural words when searching for a specific item such as "gym" or "gyms".
$element(bwcore,insert_search,N)$
Click this link to search for something in our Queens Business Directory containing over 1,000 listings.
Send this story to a friend by filling in the appropriate box below.
---