East Side Access Project Moving Along
How Will This Project Affect Queens Real Estate?
Queens Real Estate / October 4, 2010 / Queens Buzz. Progress on the East Side Access Tunnel project has been visible in Queens since early Spring 2010. The MTA has been busy drilling a new tunnel under the East River from LIC / Astoria, using the Sunnyside Railway Yard as its staging grounds. The photo to your left shows the view of the new tunnel being built underneath the East River from an Astoria / LIC perspective. The tunnel connects into Manhattan around 63rd Street.
Meanwhile in the Sunnyside railway yards, many of the buildings that once dotted the landscape have been demolished. Thankfully this doesn't include an old train station which has been around for many years [see photos in rest of story / slide show]. They've also cleared away a number of old warehouse and garage like structures along 43rd Street between Northern Blvd and 39th Avenue.
Click here to get an update on the East Side Access Project impact on Queens real estate.
---
MTA East Side Access Project
Any Impact On Queens Real Estate?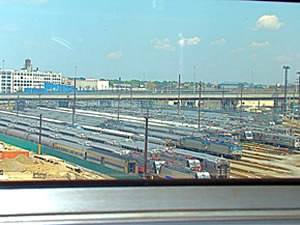 Continued / Queens Real Estate / October 4, 2010 / Queens Buzz. The East Side Access Project work is intended to be completed in 2016 and will enable LIRR commuters to terminate at Grand Central Station as well as Penn Station, albeit via different trains. Currently commuters from within Queens and Long Island can only terminate at Penn Station. The project is expected to reduce rush hour pressure on Penn Station, as well as ease some of the rush hour pressure on the east-west subway lines in Manhattan.
The project is forecast to cost $7.3 billion. Much of which is attributable to tunneling under the East River and through 3.5 miles of subterranean Manhattan. A new lower level will be added to Grand Central Station as part of the project. There is also some work being done to the 'Harold Interlocking' in Queens. The Harold Interlocking is the switching area in the Sunnyside Railyards that is used by the rail services to move train cars to alternative tracks [see photo above left].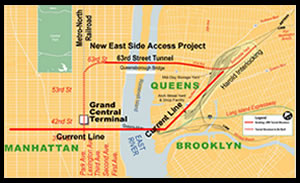 While much of the work is visible here in Queens, the transit impact of the changes are Manhattan-centric. The new route, shown on the map to your right shows how the new route goes across the East River and down to Grand Central Station. You can also see the old route, which travels diagonally south along the Harold Interlocking, and cuts across the East River near the Mid Town Tunnel. The old route will remain in service.
Sunnyside Woodside LIRR Station - Negligible Improvements
We had heard rumors about a new station being built in Sunnyside as well as discussion about remodeling / upgrading the Woodside station. An MTA spokesperson said that at this time no such plans are in place as part of this project. The new commuter lines are expected to handle about 160,000 passengers per day, when they are completed in 2016.
Number 7 Subway Line Extension - No Queens Impact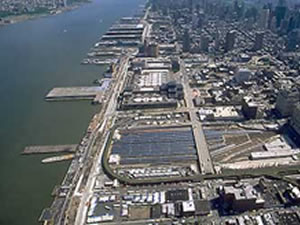 Separately there is another MTA project underway involving the number 7 subway line, called the Number 7 Subway line extension. This project will add at least one and maybe two more stops to the #7 subway line. The #7 subway begins at Flushing Main Street, runs through western Queens and currently terminates at Times Square. The #7 subway line extension project would have the subway continue onto the Jacob Javits Center with possibly a stop added in between.
The project is scheduled for completion by the end of 2013. Estimates for the project that we've seen are upwards of $2 billion. While the number seven subway line is almost entirely Queens-based, according to the project goals, this effort is designed to "transform the Hudson Yards into a vibrant 24 hour neighborhood".
Any Impact On Queens Real Estate?
Based on the information we collected it appears to impact on Queens real estate is negligible. The MTA and LIRR are using land they already own or have leased, so they won't likely impact property prices from the perspective of supply or demand.
And it appears that all of these public transit changes seem focused on bringing additional traffic to Manhattan and helping the MTA manage that traffic in Manhattan. As noted above, there aren't any train station changes or additions planned for Queens, nor are there any plans for upgrades or additions to any Queens-only transportation services. Hence, we currently don't expect any impact on Queens real estate as a result of these MTA transit service investments / changes. The photo above and to your right is of an old building in the Sunnyside Railyards in early 2010.
LIRR In Queens – Overview
This section of our report is to provide you with a brief overview of the LIRR in Queens as depicted on the map to your right. According to the MTA there are currently two major LIRR transit hubs in Queens: the Flushing train station and the Jamaica train station. I would hasten to add that the Woodside station plays a unique role in the LIRR configuration as every LIRR train to / from NYC runs through it.
The thin grey line shows how the Jamaica branch runs north up through the Woodside station before traveling to Penn Station in Manhattan. And there are several trains that terminate in LIC, but these are infrequent. Lastly, there's a line that travels south from the Jamaica station through Brooklyn, terminating at the Atlantic Terminal.
LIRR On Long Island Coming Into Queens - Overview
There are three major LIRR lines running through Long Island into which branches of the LIRR feed. The three main lines are denoted on the map below as A, B and C and correspond to the descriptions of them below.
A. Northern Spur – Port Washington Branch
The Port Washington line of the LIRR runs along its northern track, serving communities not far east of Queens and nestled along northwestern Long Island. The trains come through Flushing and Woodside and currently terminate at Penn Station.
B. The Main Lines – Oyster Bay, Ronkonkoma & Port Jefferson
The main lines of the LIRR run through the middle of Long Island and reach many communities along its northern shores that are east of Port Washington. These trains come through the Jamaica Station where passengers switch to catch trains running through Woodside and into Penn Station.
C. The Southern Lines – Montauk, Babylon, West Hempstead, Long Beach & Far Rockaway
The southern lines of the LIRR run along the southern shores of Long Island. The line comes in from Montauk through Babylon and connect traffic from many different branches, including West Hempstead, Long Beach and Far Rockaway.
Click this link for LIRR Schedules & Fares for Queens & Long Island.
---
Queens Real Estate - Related Stories
Click here to view a story about Queens Real Estate in general with links to stories about Jackson Heights real estate, Sunnyside real estate & Woodside real estate, and Astoria real estate. And click here to go to the Queens Real Estate section of our site. Click here to view Queens Real Estate Classifieds.
---
Queens Realtors, Queens Insurance & Banking - Links
Click here to go to the home page of Halvatzis Realty - real estate in Astoria, MPC Properties - Realtors in Jackson Heights and Welcome Home Real Estate in Sunnyside.
Click here to go to the home page of Allstate for Home & Auto Insurance In Queens or Ponce DeLeon Federal Savings Bank for mortgages in Queens.
---
Queens Real Estate - Related Links
Mortgage Lenders in Queens. Click here to go to the home page of Ponce Bank - mortgage lending in Queens.
Home Insurance agencies in Queens. Click here to go to the home page of Allstate Home Insurance In Queens.
---
$element(adman,groupads,Sectional Ad)$
---
Small Businesses In Queens - Neighborhood Info
$element(adman,groupad,Catgry Realestate)$
Click this link for promotions and discounts by merchants in Queens.
Click this link to go to the Long Island City LIC Neighborhood / Astoria Neighborhood / Flushing Neighborhood / Jamaica Neighborhood / Jackson Heights Neighborhood / Sunnyside & Woodside Neighborhood
$element(adman,groupad,Catgry Finance)$
Site Search Tips. 1) For best results, when typing in more than one word, use quotation marks - eg "Astoria Park". 2) Also try either singular or plural words when searching for a specific item such as "gym" or "gyms".
$element(bwcore,insert_search,N)$
Click this link to search for something in our Queens Business Directory.
---
$element(adman,groupads,Sectional2 Ad)$
---
Click the log in link below to create an ID and post an opinion.
Or send this story to a friend by filling in the appropriate box below.