Queens Fireworks July 4 2010
4th Of July Fireworks 2010 - Queens
Macy's 4th Of July Fireworks 2010 On Hudson River
No 4th Of July Fireworks At Jones Beach In 2010
Astoria Park 4th Of July Fireworks - Wednesday, June 30th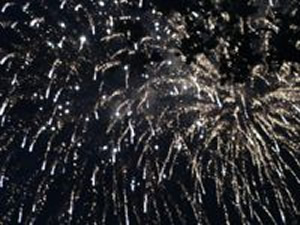 June 26, 2010 / LIC & Astoria / Queens Buzz. Last year they moved the Macy's 4th of July fireworks to the Hudson River on Manhattan's west side claiming they'd moved it there to commemorate the 400th anniversary of Henry Hudson's discovery of the river.
No 4th Of July Fireworks In Queens - On July 4th, 2010
The Macy's 4th of July fireworks [2010] will be lit upon the Hudson River again this year. Nobody we spoke to could explain why the fireworks display was not returned to the East River, so we can only conjecture, given last year's statement, that this year they are commemorating the 401st year of Henry's discovery of the Hudson River. The net result is that there won't be any 4th of July fireworks 2010 along the East River on July 4th, but there will be fireworks along the East River on Wednesday, June 30th viewable from Astoria Park [see / click into story below].
No 4th Of July Fireworks 2010 On Jones Beach Long Island
This year, to upset the mix even further, there won't be any 4th of July fireworks at Jones Beach out on Long Island. My understanding is that this was a New York State budget cut.
July 4th Fireworks 2010 In Queens - Astoria Park Is The Place To Be
Of course no Macy's 4th Of July fireworks on the East River and no 4th of July fireworks at Jones Beach are both very disappointing, but fortunately Queens residents do have a third option: the July 4th fireworks 2010 in Astoria Park on June 30th. Click here to read our report on the 4th of July fireworks 2010 in Queens & Astoria Park.
---
Astoria Park Fireworks Display June 30th 2010
The Central Astoria Development Coalition sponsors an annual fireworks display in Astoria Park, generally around the end of June [last year it was on Monday the 29th]. Joe Battaglia and the NY Big Band starts warming up the crowd around 7.30 pm by playing big band music from the thirties and forties on a stage overlooking the East River in front of the great lawn of Astoria Park [between the pool and Hellgate Bridge]. While many Queens residents attend this event [it seems to have become increasingly popular over the past ten years], last year there was still ample room to throw a blanket, enjoy a snack or late picnic dinner and enjoy the show.
Astoria Park Fireworks 2010 - Times & Weather
The weather on Wednesday is expected to be sunny and clear with highs in the high 70's and the lows in the low 60's with humidity below 50%. So this could be a near perfect night for the Astoria Queens fireworks display of 2010. The fireworks usually begin around dusk, which last year was between 9 and 9.30 pm, but I'd get there earlier to find a spot and settle in. Sunset is around 8.30 pm.
---
No Queens Fireworks On July 4th 2010 / Other Things To Do
So on July 4th, if the Astoria Parks Fireworks didn't fit into your schedule or satisfy your yearning to celebrate Independence Day, you have a couple of other entertainment options.
#1. New York City July 4th Fireworks From Queens
You could pack off to the west side of Manhattan amidst what's likely to be a huge crowd to watch the fireworks from the west side of Manhattan. We understand the fireworks will begin between 8.30 and 9.30 pm. While sunset is at 8.30 pm, it's still light out, so our experience has been that they generally start closer to 9.30 pm. You're well advised to go early to get a standing room only spot.
Public Transit From Queens To NYC For July 4th Fireworks Display
There's no sense driving into the city, so you'd have to take the #7, E, F, G, R or V lines into some stop along the west side, including Times Square which is bound to be a zoo. And the subway lines are bound to be packed. So knock yourself out and travel to the land of the $10 Coke and the $20 Hamburger.
#2. No Jones Beach 4th of July Fireworks On Long Island In 2010
The 4th of July fireworks at Jones Beach on Long Island has been cancelled. That doesn't mean you couldn't spend an enjoyable evening out at Jones Beach swimming, playing volleyball, picnicking and the like. But there won't be any public fireworks display to watch. The upside is that there likely won't be as big a crowd, but that depends on how quickly word gets out.
Public Transit From Queens To Jones Beach
The LIRR leaves from the Jamaica Station every half hour beginning at 5.05 pm and arrives in Freeport 21 minutes later at 5.26 pm [5.35 / 6.05 etc]. From there you take the N88 Long Island Bus. The off peak one way train fares are $5.25 at the ticket office and less via the web and more buying onboard. I believe a round trip package is available for $13.50 per person, so ask for it. Jones Beach is a nice quick getaway from the city and based on hearsay from last year, not as crowded.
#3. Things To Do On July 4th 2010 In Queens
Check our Queens Events section for a listing of things to do on the 4th of July later this week. There are art shows, including the beginning of the PS1 Warm Up Party on July 3rd, as well as all kinds of other local happenings which will be posted in our Queens Events section on Thursday.
Happy July 4th Queens – Happy Independence Day
Please drink responsibly and drive safely for your own well being as well as the well being of everyone else.
---
July 4th Fireworks In Queens & LIC
Related 4th Of July Stories LIC & Astoria - Prior Years
Click here to read our report on the 4th Of July fireworks along the East River in LIC / Long Island City in 2008.
Click here to read our report of the July 4th fireworks in Astoria Park in 2009 including a fireworks slide show.
---
Site Search. 1) For best results, when typing in more than one word, use quotation marks - eg "Astoria Park". 2) Also try either singular or plural words when searching for a specific item such as "gym" or "gyms".
$element(bwcore,insert_search,N)$
Click this link to search for something in our Queens Business Directory containing over 1,000 listings.
Send this story to a friend by filling in the appropriate box below.