Tour De Queens
Step Aside France, Here Comes Tour De Queens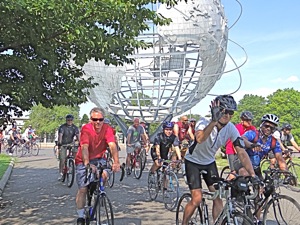 July 8, 2012 / Flushing Bayside & Whitestone / Queens Sports / Queens Buzz. The 5th annual Tour De Queens began on time with between 1500 and 2000 bicyclists enrolled for the 17 mile journey through northeastern Queens.
I took my bicycle on the subway to the Willets Point stop on the #7 Flushing Main Street line. I rolled my bike into one of the end cars, only to meet several other cyclists enroute to the event. At Willets Point we met up with quite a few other cyclists who had been on the train and we all headed to the Unisphere in Flushing Meadows Corona Park.
Underneath the Unisphere, Transportation Alternatives [TA], the event organizer, had things well under control. They had registration tables for the pre-registered and those who hadn't. There were porta potties and a water area so people could refill their water bottles before beginning the adventure.
Click here to read the rest of our report, including photo slide show of Tour De Queens.
---
Tour De Queens
Step Aside France, Here Comes Tour De Queens
July 8, 2012 / Flushing Bayside & Whitestone / Queens Sports / Queens Buzz. Continued. Transportation Alternatives had tables set up where you could enroll to become a member and get a T-shirt. There were also a couple of sponsors including Green Energy and REI.
I photographed the TA volunteer table including Steven Scofield and Jessame Hannus, both avid cyclists with whom I've become familiar over the years through TA biking events such as this. You can see them in the photo slide show below.
TA Puts Safety First - 100 Volunteer Marshalls & 50 Police
Another volunteer, Alanna Feinsod, was organizing about 100 traffic marshals. These were volunteers who would ride alongside the Tour De Queens cyclists, and ensure they passed through intersections safely, along with the help of about of 50 of NYPD's finest.
Safety comes first when cycling and TA and the Tour De Queens have a perfect record in that regard. The 50 patrol officers join the cyclists on bike, via scooters and in SUVs which lead and follow the parade of cyclists.
Tour De Queens Parade Route 2012
The 17 mile route starts and ends in Flushing Meadows Corona Park. As the streets are not cordoned off per se, the escort precedes, infiltrates and follows behind the Tour De Queens. In this manner there's minimal disruption of traffic, while ensuring the safety of some 2,000 participants.
The parade route this year was destined for College Point, with the halfway point rest stop at Little Bay Park. They would travel through Whitestone, Bayside and Flushing before returning to the park. As you can see from the photo slide show, participants are of all ages, young and old and everyone in between alike. There didn't seem to be any skews one way or the other in terms of genders or ethnicities and it seemed like everyone was ready to have a good time.
Tour De Queens 2012 Photos & Slide Show
Enjoy the slide show which captures many of the riders in the Tour De Queens bike ride 2012. Click here to go directly into the album containing photos of the Tour De Queens 2012.
$element(ophoto,photo_slideshow,199,660,,5.00,fade)$
---
Flushing / Corona Related Info
$element(adman,groupad,NhoodFlush)$
Click here to go to the Queens NY History section of this site.
Click these links for promotions by advertisers in Queens.
Click this link to go to the Flushing Neighborhood.
---
$element(adman,groupad,Catgry Bikes)$
Site Search Tips. 1) For best results, when typing in more than one word, use quotation marks - eg "Astoria Park". 2) Also try either singular or plural words when searching for a specific item such as "gym" or "gyms".
$element(bwcore,insert_search,N)$
Click this link to search for something in our Queens Business Directory.
---
$element(adman,groupads,Sectional2 Ad)$
---
Click the log in link below to create an ID and post an opinion.
Or send this story to a friend by filling in the appropriate box below.
---