Fashion Week In Queens
Miss Queens, Giorgio's Hair Salon & Carina Boutique Showcase Queens Style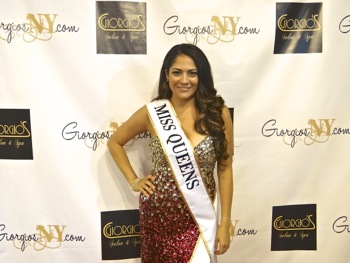 September 15, 2014 / Whitestone Neighborhood / Queens Fashion / Queens Buzz. In early September, as New York Fashion Week was walking down the runway, I spent a fun evening at Giorgio's hair salon in Whitestone. The Whitestone neighborhood is easily accessible by car via the Whitestone and Cross Island expressways and by public transit via buses.
Jessenia Vargas, Miss Queens, headlined the Whitestone Queens fashion show. Jessenia is a Queens native who is scheduled be featured on a Women's Entertainment [WE] TV show called America's It Girl. The show is a 12 episode series that features enterprising young women competing to become the first America's It Girl.
Click to view a photo slide show of the Whitestone Fashion Show and to learn more about Miss Queens Jessenia Vargas, WE TV's show America's It Girl, and the fashion show at Giorgio's hair salon featuring Carina Boutique dresses & Trattoria Neo's Italian food in Whitestone Queens.
---
Fashion Week In Queens
Miss Queens, Giorgio's Hair Salon & Carina Boutique Showcase Queens Style
September 15, 2014 / Whitestone Neighborhood Of Queens / Queens Fashion / Queens Buzz. Continued.
I arrived at Giorgio's hair salon in Whitestone around 7 pm, just as things were beginning to happen. The long, large hair salon was filled to capacity as interest in New York Fashion Week was floating through the borough air.
I met Stella, Nicole and Peter Gastriota - the family that had organized the fashion show and that runs Giorgio's hair salon in Whitestone. They each played different roles this evening, with Nicole as emcee, Peter managing multiple logistics, and Stella overseeing the entire affair. You can see Giorgio's hair salon the night of the fashion show in the photo to your right, and the Gastriotas in one of the photos a bit further down in the story.
Miss Queens, Jessenia Vargas, Participates In Fashion Show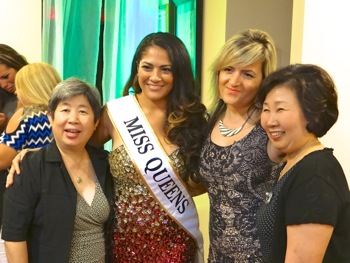 Jessenia Vargas, Miss Queens, was also there. Jessenia auditioned for the Miss Queens title which was bestowed upon her by the Manhattan Pageant. Manhattan Pageant runs MissManhattan.com and is owned by It Girl Media Partners, LLC. It Girl Media Partners is a privately run company that helps women compete for the WE TV America's It Girl title. A former Miss New York [2005] and a fashion model run the company. Miss Queens, Jessenia Vargas, is shown in the photo at right amidst a few of the fashion show attendees.
Miss Queens & Other NYC Beauty Titles & Pageants
I delved into the world of New York City beauty pageants after returning from the show. Some beauty pageants are affiliated with the Miss America Organization and some are not. Those that are official Miss America Organization affiliated preliminary beauty competitions enable one to compete for the state title [Miss New York]. The winner of the state title gets to represent the state in the national Miss America competition.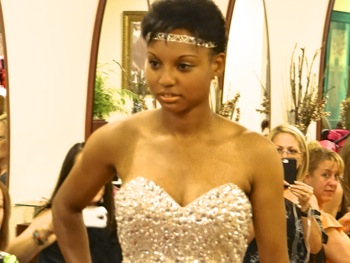 As near as I could tell [unconfirmed], the only borough currently holding a Miss America Organization affiliated beauty pageant is Brooklyn - although there is also a Miss NY Local which encompasses the city and that also claims Miss America Organization affiliation.
There are non-affiliated competitions for Miss Bronx and Miss New York City, and probably others beyond what's mentioned here. The Miss Queens title does not currently have a relationship to the Miss America Organization, but it's possible with the publicity generated by Miss Queens, Jessenia Vargas; and the borough's rising public profile, that that may one day change.
As mentioned above, Jessenia is a Queens native, who won the Miss Queens audition. Jessenia studied the performing arts at Kingsborough College in Brooklyn and the American Musical and Dramatic Academy in Manhattan. She's a 26 year-old vocalist, actress and model who has a long list of performances in which she has participated. Jessenia also has a day job in insurance / financial services.
Whitestone DJ RaveolutionRecoveryFormula & Trattoria Neo Italian Restaurant Whitestone
A DJ, Austin Hunter of RaveolutionRecoveryFormula.com, did a nice job of spinning tunes in the background. As with all good DJ's, he seemed to know when to kick it up and when to bring it down.
There was a large table filled with food and sparkling wine along one of the walls. One of Whitestone's Italian restaurants, Trattoria Neo, provided the food for the event. The buffet menu included salad, roasted vegetables, a pasta dish and an eggplant spread on Italian bread. Trattoria Neo is one of the leading Italian Whitestone restaurants and located just across the Cross Island Expressway from Giorgio's.
The Whitestone Fashion Show Audience & Models
The audience was comprised primarily of women, but there were well over a dozen men in the room, as well as a few children. The show began with some of the youngest models seen on the runway in a long while. The young girls' poise and elegance was overshadowed by their youthful beauty and energy; and they held the audience's rapt attention to great effect and great applause.
Next up were the stylishly modern women of Whitestone. They comported themselves in the same fashion as the NYC runway models I had seen strut their stuff on the Manhattan runways that week, and they were every bit as beautiful. Their hair and make up were professionally done by the stylists and make up artists of Giorgio's hair salon, which added to the glamour and glory of the evening.
Carina Boutique Formal Gowns & Dresses Whitestone
As previously mentioned, the beautiful dresses and gowns the Whitestone women modeled were provided by Carina Boutique of Whitestone. Many of the dresses and gowns worn this evening were created by Tony Bowls, a famous fashion designer known for prom dresses, homecoming dresses, wedding dresses & bridal gowns, and beauty pageant dresses. Some of Tony Bowls gowns are currently featured on the Miss New York website. Miss NY is affiliated with the Miss America Organization.
There was an intermission, as we saw in the neighborhood of about 40 outfits during the course of the evening. In the beginning many of the models moved up and down the runway at a steady pace. The pace slowed as the evening wore on, and they began to bask in the spotlight to allow the audience to enjoy the full effect of their stylish presence, poise and couture.
Giorgio's Hair Salon Whitestone Fashion Show
The ethnic mix of the Whitestone Queens models was a dimension that few communities in the world can match. The Fashion Show at Giorgio's provided a breadth and depth of body types, hair color and ethnicities that made watching the show pure enjoyment. And as near as I can tell, it seems the men enjoyed the show every bit as much as the women.
At the intermission there were a number of raffle prizes given and folks had an opportunity to graze, refill their glasses and mingle. The conversations around me were generally fashion-related, along with a smattering of tidbits about the community.
After the show I lingered a bit before heading home with a camera full of a Whitestone Queens segment of New York Fashion Week.
Special Thanks To Giorgio's & Miss Queens On WE TV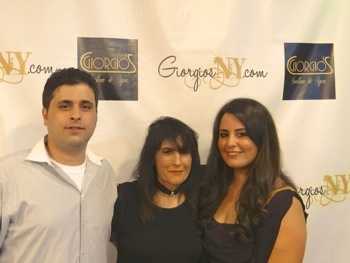 Giorgio's hair salon has been a Whitestone institution since the 1970's. It was started by Stella Gastriota and her husband. They began with hair styling and hair coloring and expanded their offerings to include a full line of hair and spa services. In 2009 they moved from one space in the Whitestone Shopping Center to another, which is their current location. As previoiusly mentioned, the Whitestone Shopping Center is located along the Cross Island Expressway.
Carina Boutique which provided the formal dresses and gowns for the show is located at 11-24 154th Street in Whitestone. Trattoria Neo, which provided the Italian food for the show is located at 15-01 149th Street in Whitestone. All local businesses involved in the fashion show are located off the Utopia Parkway exit along the Cross Island Expressway and via a 15 minute bus ride on the #15 bus from the Main Street Flushing stop of the #7 subway line.
Click here for the business listing of Giorgio's – one of the leading hair salons in Whitestone & Queens, and here for the business listing of Carina Boutique for women's dresses & bridal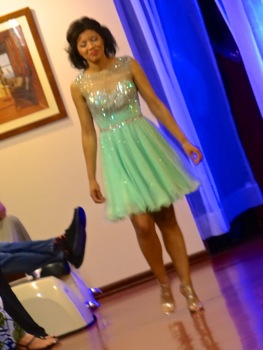 gowns in Whitestone Queens, and here for Trattoria Neo a leading Italian restaurant in Whitestone Queens.
WE TV is a cable / satellite television channel owned by AMC Networks that is accessible by about two thirds of the nation's households with television. WE TV features primarily women-oriented reality TV programming as well as a host of syndicated series.
The WE TV show, America's It Girl, is expected to run for 12 weeks on cable and satellite TV. The show was supposed to begin September 28th at 9.30 pm, but is being rescheduled. We hope to post an update when they confirm the broadcast dates.
Formal Dresses & Gowns Shown In Whitestone Fashion Show
The following is a sequential list of the models and the dresses they wore which are shown in the slide show below [not necessarily in order].
Michelle wore a Tony Bowls short Red TS11184 / an Affair Lady Nude Slit 7189A.
Alexis wore a Tony Bowls Paris Green 114709 / Tony Bowls black silver Sequins.

Emily wore a Terani Red E1759 / Mishel J004 Apricot Beading .
Sharon wore a Jovani Black & Ivory / Terani Silver E3762.
Maribel wore a Bella Formal BM1290 / JLM Black 3234 noir .
Porcha wore a Jovani Silver/nude 4247A / a Jovani light pink 88617A.
Vanessa wore a Mishel ys741a4 short purple gold / xcite Fushia.
Ariana wore a Jovani short 6573a / Jovani short 88181.
Katie wore a Tony bowls yellow TBE11416 / Jovani short "saras" BLUSH 6919.
Stephanie wore a Faviana white 6925 / Tony Bowls TS11477short mint green/aqua.
Ameera wore a Tony bowls TBE11404 red open back / an Affair Lady White short 935.
Jessica wore a Jovani 78174A short black / Bella Formals BM1679.
Alyssa wore a Sally Red short one shoulder / an Impression navy 1629.
Jessenia wore a Mishel (gold/black/red) MY1485 / a Jovani 1531a.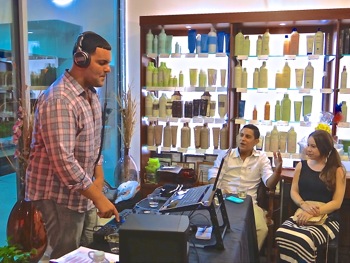 Isabella wore a Joan Calabrese 214377 along / a Joan Calabrese 17505.
Melina wore a JM705 along / a JM703.
Genesis wore a Macis T612 / a Ladybug 1125.
Gianna wore a Joan Calabrese 11433 / a Joan Calabrese 112339.
Emma wore a Macis 1891 / a Macis 1890.
L.A. wore a Wanda Beau Champs 7003 / Elana Collection.
Savannah wore a Jovani 89656A / a Sally 8736 .
Daniella wore a Sweetie Pie 383T.
NY Fashion Week In Queens Photos & Slide Show
Click here to view photos of Giorgio's hair salon in Whitestone, Carina Boutique dresses in Whitestone & Trattoria Neo Italian restaurant in Whitestone.
$element(ophoto,photo_slideshow,271,660,,5.00,fade)$
---
Flushing / Whitestone
$element(adman,groupad,Catgry Queens)$
Click here to go to the Art Exhibits, Galleries & Museums section of this site.
Click these links for promotions by advertisers in Queens.
Click this link to go to the Flushing Neighborhood.
---
$element(adman,groupad,Catgry Wedding)$
Site Search Tips. 1) For best results, when typing in more than one word, use quotation marks - eg "Astoria Park". 2) Also try either singular or plural words when searching for a specific item such as "gym" or "gyms".
$element(bwcore,insert_search,N)$
Click this link to search for something in our Queens Business Directory.
---
$element(adman,groupads,Sectional Ad)$
---
Click the log in link below to create an ID and post an opinion.
Or send this story to a friend by filling in the appropriate box below.
---