Photos - NYC Marathon Queens 2011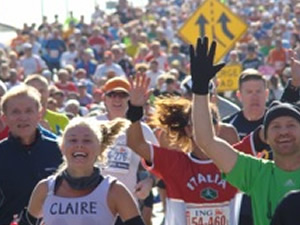 November 7, 2011 / Long Island City / Queens Buzz. It was a beautiful day for a marathon. The temperatures were in the low 60's and it was sunny and dry. About 47,438 runners came through Long Island City and we photographed quite a few of them, along with the crowd that gathered outside to greet them.
We shot quite a few photos, over 100 of which you can browse through in the slide show included in with this brief report.
Click here to view our report and see the slide show containing photos of the NYC Marathon in Queens 2011. And have a nice day.
---
Photos of NYC Marathon in Queens 2011
Photos of Marathoners & Audience in Long Island City
November 6, 2011 / Long Island City / Queens Buzz. We attended the 2011 NYC Marathon as it came through Long Island City Queens on the first Sunday of November. It was a beautiful day as the Marathoners came over the Pulaski bridge from Brooklyn, turned west to get to Vernon Blvd before resuming their northward trek up toward the Queensborough Bridge.
They turned east on 44th Drive and then north again on Crescent and then on up the Queensborough Bridge as they made their way across the East River to Manhattan. We shot photos along the way and posted over one hundred on them in this slide show. Enjoy.
---
LIC Neighborhood - Long Island City Links
Click on these advertisements for promotions, discounts and coupons by retailers and restaurateurs in Long Island City LIC and nearby Queens.
Click this link to go to the:
Long Island City Neighborhood or LIC Business Directory
Long Island City Real Estate or Events & Things To Do In LIC
Restaurants In Long Island City or LIC Shops & Shopping
---
Site Search Tips. 1) For best results, when typing in more than one word, use quotation marks - eg "Astoria Park". 2) Also try either singular or plural words when searching for a specific item such as "gym" or "gyms".
Click this link to search for something in our Queens Business Directory.
---
Click the log in link below to create an ID and post an opinion.
Or send this story to a friend by filling in the appropriate box below.
---