Queens Botanical Gardens Teaches Responsible Use of Aphrodisiacs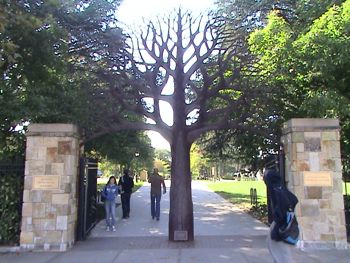 Flushing Queens NY / Fall 2008. On Saturday afternoon, all one had to do, was to take the #7 subway to the Q40 bus from almost anywhere in northern / western Queens to get to the Queens Botanical Gardens in Flushing where there was a class on aphrodisiacs. Our reporter learned a few things which will enhance one's seductive culinary talents.
Queens Botanical Garden - Class On Aphrodisiacs
The Queens Botanical Garden hosted a class on the use of aphrodisiacs. This includes growing and using them in cooking to spice up one's love life. The class was attended by a largely female audience, most of whom were somewhere between the 30's and 60's in age.
So what was there to learn? Our 'professor' was Cynthia Reed who is a certified horticulturalist. She is a consultant of garden design and maintenance, as well as an educator and lecturer. She has taught classes and provided lectures for the Queens Botanical Gardens previously.
Four Kinds Of Aphrodisiacs At The Queens Botanical Garden
There are essentially four kinds of aphrodisiacs: 1) narcotic, 2) those with damaging side effects, 3) medical herbs, and 4) orgasmic herbs. The narcotics are largely illegal in most parts of the world, so she didn't spend much time on them. The aphrodisiacs with damaging side effects, such as Spanish fly, can significantly impact one's health so she didn't spend much time on them either. Ms. Reed spent the bulk of her class discussing the latter two categories, as they are both legal and health neutral to health positive.
A lot of the discussion has to do with stimulating one's desire through smells and sights, in addition to providing nutritional enhancements which may increase one's libido. Stimulants like coffee, chocolate and alcohol [also a depressive] can provide added energy to enhance one's drive, but these will also deplete one's energy immediately following the energy surge [aka the guy falls asleep].
Cooking herbs like basil can provide a euphoric feeling through the sense of smell. Lavender is also a fragrance that stimulates men. During Renaissance times women of the evening used to use lavender to attract and relax their clients. Jasmine, on the other hand, helps put a woman in the mood.
Queens Botanical Garden Class On Aphrodisiacs - Nutrition & Signs Of Reproductive Health
Nutritionally onions and garlic are great sexual encounter preparatory foods as they get the circulatory system moving. In ancient times both the Romans and later the Germans would use these two ingredients in their pre-mating meals. Honey is known to increase the vitamin B levels and licorice with donuts is found to increase blood flow to the groin area.
Another fine aphrodisiac for women is the papaya, as this increases the estrogen levels and has also been helpful in alleviating the cramps and enhancing milk production for lactating mothers. Dates, figs and prunes rolled into a nut roll with coconut and chocolate are also great enhancers, although having more than one or two may send one to the bathroom as the fruit is also a laxative.
Some aphrodisiacs provide a visual clue to the female anatomy, such as a fig or a peach. The visual is a particularly powerful cue for men, who are visually respondent. Women on the other hand are less visually responsive and are found to be more sensitive to sound and scent. Many aphrodisiacs have more potent application to each of the sexes, since each sex responds to different cues. But to learn more you'll have to go to Ms. Reed's next lecture or contact her yourself via email at kellreed@earthlink.net.
Queens Botanical Garden In Flushing Queens NY - Related Links
Click here for a map showing the location of the Queens Botanical Garden in Flushing NY. Click this link to obtain the contact info and website url for the Queens Botanical Garden in Flushing Queens NY. Click here to read / view another story about the Queens Botanical Garden in Flushing NY.
Click this link to go to the Flushing & Corona Neighborhood News / Flushing & Corona Neighborhood Guide and Map / Flushing & Corona Restaurants Guide & Map / Flushing & Corona Shops Guide & Map / Queens & Flushing & Corona Events / Flushing Business Directory / Flushing & Corona Shop Announcements.
RETURN LINK TO Queens Buzz Front Page.