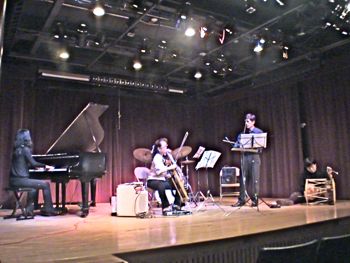 Jazz At JCAL
Jamaica. JCAL, the Jamaica Center For Arts and Learning, hosted the Asian Jazz Ensemble on Saturday night at the JCAL in-house auditorium. The auditorium is small, seating only about 50 or so people, so the setting was very intimate with respect to getting a close up view of the artists while enjoying their original compositions. I was struck by the beauty and magnificence of what I heard. This group put on a first rate concert performance, of music which combined many classical techniques with ethnically inspired folk music, all set to a modern jazzy score. The group is featured in the photo on stage in the JCAL auditorium. Scroll down to read and view the rest of the story about the JAYU Jazz Ensemble at the Jamaica Center For Arts & Learning in the Jamaica neighborhood of Queens.
---
JAYU Charms JCAL - In Jamaica
JCAL in Flushing. So on a rainy, windy Saturday night I ventured down to the end of the E line in Jamaica Queens. I walked a couple of blocks to the JCAL building to see a concert JCAL was hosting featuring Asian Jazz. Interesting concept, I thought, because in my past experience as the Chairperson of a young patrons group for The Chamber Music Society of Lincoln Center in Manhattan, it was striking to note that there were so many accomplished Asian classical musicians, and so few Asians in the audience.
The name of the group giving the performance is JAYU Ensemble. The group [see group photo above] is lead by Heun Choi who is an accomplished cello player. She seems to take a very collaborative, consensus-building approach to managing this very talented and diverse group of musicians. The group also includes Mark Chung on violin, Francesca Jiyoun Han on piano, and Joe Hertenstein on the drums. There was a guest musician on the Korean drums, which I believe they informed us was actually four percussion instruments in one [see photo of the drummer sitting]. The joyous sonorous beauty vibrating out of the group's musical instruments is truly, truly … too difficult to put exactly into words.
So I had missed the first part of the concert and stayed for all of the second half. In this half they played Bat-no-Rae, Mopti, Hoping For Hope and Minuano, which is a Pat Metheny piece arranged by trombonist – composer Jeff Fairbanks. Jeff also composed and directed the Hoping For Hope piece. Jeff is not a part of the JAYU Ensemble but is a frequent collaborator with the group, possibly due in part to his close relationship to Heun, to whom he is married. All in all, they make beautiful music, which I will attempt to describe below. Unfortunately what they played for us is not yet on their websites, which are also listed below.
So the first piece after the intermission blended traditional Korean music with a modern jazz tempo, played by classical concert level musicians. The piece was composed by the pianist who provided jazzy solos for herself, as well as for the violinist and the cellist, all complemented by the symbols and drums. This caught my attention and persuaded me to stay far, far longer than I had planned [to the end].
The second piece was composed by Jeff Fairbanks. His composition was so sophisticated and artful, that it reminded me a bit of Bartok doing one of his modern dissonant pieces [as opposed to some of the traditional Hungarian music he has done which has a very different beat]. While not dissonant, per se, it was truly a concert piece that one listens to, more than moves to, which was the case with the other pieces. He conducted the music as if it were a five piece symphony, and to my great surprise, to a startling great effect.
As I sat there, I looked back at the audience of about only 20 or so people, and thought that this would have made a fantastic evening out with someone who loved great music … and it was for free! I now feel it my solemn duty to inform the good people of Queens about this high quality JCAL program, as well as the JAYU Ensemble and Jeff Fairbanks.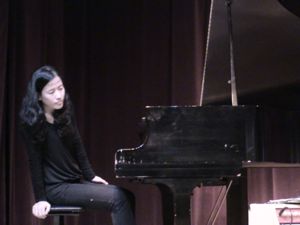 So, I took a great liking to the last piece, which Fairbanks had also scored. I didn't know this at the time, but it was originally done by Pat Metheny who is the author of one of my favorite albums: Travels. JAYU and Fairbanks did a great, great job on it. I didn't immediately recognize that they were playing Metheny at the time, but while listening to it I was writing that the piano playing had a George Winston quality to it, while the symbols, violin and cello all built into a crescendo, just like a Pat Metheny score. And it was all done so very, very, very well. You'll have to pardon my enthusiasm, but their talent and tempo were all so very [expletives deleted] stimulating, and enjoyable and relaxing – all at once.
Anyhow, look for JCAL and the JAYU Ensemble in upcoming event calendars and check this music out for yourself. Click here for a map to the JCAL location. Click here for a link to Jamaica Center of Arts and Learning in the Jamaica section of Queens. And click here for the websites of JAYU and Jeff Fairbanks, respectively, although unfortunately you won't find any of what has been reviewed in this article.