Update on the Steinway Mansion in Astoria Queens
Visionary Investor Makes Good on Development but Still no Announcement of his Plans for the Steinway Mansion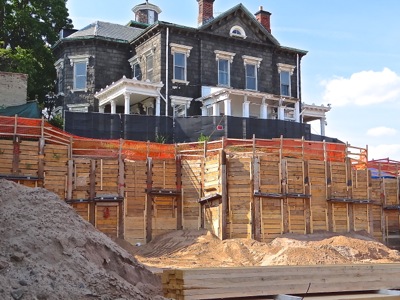 September 12, 2016 / Astoria Neighborhood / Astoria History / News Analysis & Opinion / Queens Buzz.
On May 3rd, 2014 the Halberian Family sold the Steinway Mansion to Steinway Mansion LLC for $2.65 million. In the two and a half years since, the new Steinway Mansion owner parceled the property into a eleven additional smaller lots and built eleven two story commercial buildings on each. We watched as the owner quietly developed the property, likely in line with his plans while making the investment.
Just over a year ago I visited the site and took some photos, which momentarily revealed the resplendent glory of the old mansion, overlooking the East River and distant Rikers Island and Bronx shores. The new owner had cut away most of what remained of the Steinway Mansion yard to make way for the new buildings at a height on a level with 42nd and 41st Streets. The construction site seemed well maintained and the historic mansion structure appeared to be treated respectfully both last year, and as I learned in my most recent trip, also since.
The photo above was taken in August of 2015.
Northern Ditmars Neighborhood Real Estate Development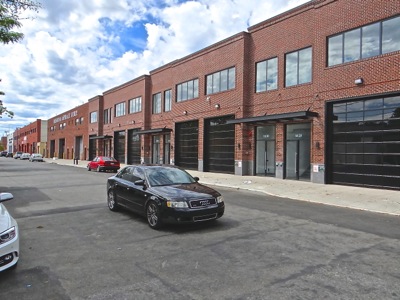 Last weekend I returned to the site to shoot photos and see what was happening. I came in along 42nd Street, and for a moment I wondered if I had gotten my coordinates wrong, as the street had been transformed. The emptiness on the street of the construction site of a year ago had been filled in with a number of spanking new buildings lined along the street with what appeared an exacting precision. The photo to your right shows roughly the same space in September 2016 as was shown in the August 2015 photo above.
A year ago, 42nd Street was an empty, slightly soiled, commercial industrial hub. But on my visit this year the street took on a wholly different appearance with the new buildings / storefronts. There were eight new buildings along 42nd Street, with red brick exteriors complemented by black trim and large floor-to-ceiling paned storefront windows, which I believe could also serve as garage doors. It almost seemed like these new edifices could as easily become art galleries, as manufacturing locales and / or storage facilities.
Click here to read the rest of our report about the Steinway Mansion real estate development in Northern Ditmars, Astoria.
---
Update on the Steinway Mansion in Astoria Queens
Visionary Investor Makes Good on Development but Still no Announcement of his Plans for the Steinway Mansion
September 12, 2016 / Astoria Neighborhood / Astoria History / News Analysis & Opinion / Queens Buzz. Continued.
Pinnacle Realty - Commercial Real Estate Sales in Astoria Queens
I spoke to the George Margaronis of Pinnacle Realty who was handling the sale of the commercial sites. He told me that the upstairs units provided windowed office space and the downstairs rooms could be used for various types of commercial activity including architecture, contractors, IT, engineering, storage or new media / creative arts.
When I inquired about the demand for the units, George Margaronis informed me that five of the units were already in contract with three of them sold to owners who intended to occupy the spaces themselves and two were sold as investment properties, which would be rented out. George told me that Pinnacle was already in negotiations, and possibly near signing specific buyers, for the remaining three. He referenced the attractiveness of the Ditmars area and the proximity to LaGuardia Airport as important locale selling points, including LGA's proposed $5 billion modernization program.
Prices & Square Footage of Commercial Real Estate near LaGuardia Airport
I asked how big the units were [3600 to 5400 square feet] and what kind of prices they were getting [he mentioned figures that rounded up to $2 million and above]. He explained to me that the units had some differences, including things like elevators and what not.
I made my way west around to 41st Street where I saw the other three units still under construction, that bordered the northern perimeter of the Steinway Mansion. George Margaronis said that these units would be completed within the next few months. He told me that two of these units had been sold and that he expected buyers to begin occupying many of the units around the year end time frame. What struck me as somewhat respectful of the historic beauty / legacy of the Steinway Mansion, was that the buildings erected on the re-plotted deeds are only two stories high, which likely leaves the view from the windows of the Steinway Mansion as sweeping as they probably were long ago.
The Steinway Mansion - Landmarked Structure with Huge Tourist Revenue Potential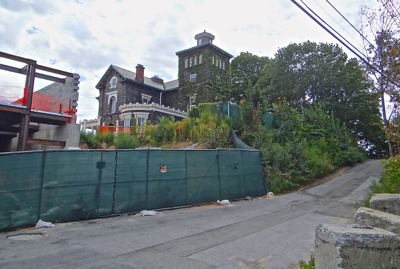 I then made my way up the steep hill to the deserted Steinway Mansion. There the mansion stood in its infinite glory. Tall, historic and oh, so solid-looking - because it's landmarked exterior is made of granite. The Steinway Mansion was built over 150 years ago by a seller of scientific instruments, Benjamin Pike. The mansion was occupied for decades not long after Pike's death, by Astoria's leading citizen, William Steinway.
William Steinway was the most famous family member of the Steinway & Sons Piano Company back in its early heydays in the latter half of the 19th century. It's worth mentioning that Steinway & Sons Piano still operates a piano-making plant only blocks away from the Steinway Mansion, where they continue to make beautiful, unique, wooden pianos using many of the same processes and techniques used back in William Steinway's day. And much of the making of a Steinway & Sons Piano is still done by hand.
Plans for Steinway Mansion Future Still Unknown
After my visit, I contacted Sal Lucchese, owner of the company that bought the Steinway Mansion, to ask him what he intended to do with it. He told me that he was busy finishing the work he had begun developing the site since buying the mansion, and that he did not have anything to announce at this time regarding plans for the mansion itself. I asked if anybody was living in it at present, to which he replied no.
Sal Lucchese's success in developing the Steinway Mansion shows he is a man of vision. Unfortunately the same may not be said of the local government officials who let the option to purchase the Steinway Mansion go unanswered for years. Had the Michael Bloomberg and Helen Marshall Administrations purchased the Steinway Mansion, they could have financed much of the purchase price and the maintenance required to transform it into a world class museum, by doing something along the lines of what Sal Lucchese did. But alas, Sal did and they did not.
I Would Still Like to See the Government Purchase the Mansion & Turn it into an Historic Museum & Tourist Destination
We don't yet know Sal Lucchese's plans for the Steinway Mansion, but as you know by the series of stories we have run on it to date, we remain interested - and still faintly hopeful - that someone with the means, vision and influence will transform this landmarked building [to date only the façade & structure have landmark protection] into the local and national historic museum it appears destined to become. I believe it has the potential to evolve into a money-making, tourist destination in New York City, in a fashion similar what Elvis Presley's Graceland is to Memphis, Tennessee. And with the current modernization / expansion planned at LaGuardia Airport, which is literally a stone's throw away [less than a mile], the possibility is even higher.
According the Bob Singleton of the Greater Astoria Historical Society, William Steinway helped put New York City on the map as one of the world's great cultural centers, by paying the great pianists of the time to come to the city to perform on Steinway & Sons pianos. Hence Steinway Hall was erected and became the forerunner to Carnegie Hall which was the forerunner to Lincoln Center. Today New York City is a tourist destination to over 50 million visitors annually, due in large part because it has become a leading, world class cultural destination.
If that isn't an NYC legacy worth preserving, then what is?
---
$element(adman,groupad,Catgry Realestate)$
Astoria / LIC Neighborhood Links
Click on these advertisements for promotions, discounts and coupons by retailers and restaurateurs in Astoria and nearby LIC.
Click this link to go to the:
Astoria Neighborhood or Astoria Business Directory
Astoria Real Estate or Things To Do In Astoria Events
Restaurants In Astoria or Astoria Shops & Shopping
---
$element(adman,groupad,NhoodAstoria)$
Site Search Tips. 1) For best results, when typing in more than one word, use quotation marks - eg "Astoria Park". 2) Also try either singular or plural words when searching for a specific item such as "gym" or "gyms".
$element(bwcore,insert_search,N)$
Click this link to search for something in our Queens Business Directory.
---
$element(adman,groupad,Sectional2 Ad)$
Click the log in link below to create an ID and post an opinion.
Or send this story to a friend by filling in the appropriate box below.
---