Queens Green Drinks Events In Sunnyside NY
Queens Green Drinks Springs Into 2010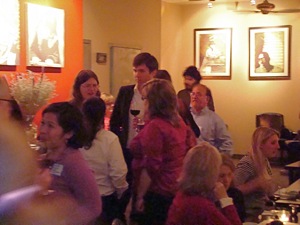 Continued / April 26, 2010 / Sunnyside. I had the opportunity to speak with a few of the 'regulars', including Len Maniace of Jackson Heights who has been instrumental in pushing for a greener Jackson Heights [use search to find Len in numerous articles including Mulchfest, Friends of Travers Park and Green Agenda]. He informed me that there's growing interest in the green agenda for Jackson Heights and we should look forward to more in the coming months.
I bumped into Steve Scofield, a biking enthusiast and now a member of Transportation Alternatives which sponors many of the bike events in NYC. He's working to bring more bike paths and safety to the borough as well as NYC. And I ran into Jon Klar, who I'd met at Recyclefest and other environmental events in 2009, who works with for the city to reduce the city's carbon footprint by educating the public about environmental friendly ways to do things, as well as by supporting environmental friendly efforts.
The following is a slide show of this Queens Green Drinks events [first nine slides], as well as prior Queens Green Drinks events.
$element(ophoto,slideshow,21,550,,5.00,fade)$
There were many other people there from all walks of life, including an investment specialist, the Sunnyside councilman Jim Van Bramer, a videographer, members of the co-sponsoring organization ... and more.
Queens Green Drinks is a worldwide social networking program with essentially one purpose: to bring together like minded people who care about the planet. The idea is: Attract all of these people in the same place and at the same time and you increase the probability that a socio, economic and political combustion will occur which will ultimately lead to environmentally-friendly action. Or as Mahatma Ghandi once said, "Live the change you want to see." Namaste.
---
Queens Green Drinks Returns To Sunnyside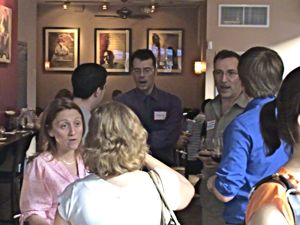 Sunnyside NY / June 25, 2009. The Queens Green Drinks monthly outing was held in Sunnyside from 6 - 9 pm on Thursday, June 25th. This Queens Green Drinks event was done in collaboration with Transportation Alternatives, which is also a sponsor of the second annual Tour de Queens which is scheduled for early July [use the site search function for full reports]. The photo to your left is of the actual Queens Green Drinks event at the Claret Wine Bar where the event was held. You may also use the search function in the upper left corner of this page to find reports of previous Queens Green Drinks events. In our search mode, once you get a listing, scroll down to the Articles section [green bars denote sections of our site] to review previous posted stories.
---
Green Drinks Event At PJ Horgan's In Sunnyside
Sunnyside NY / November 6, 2008. Queens Green Drinks is hosting its monthly gathering event at PJ Horgans in Sunnyside tonite. The event is being hosted by the New York League Of Conservation Voters and the Sierra Club NYC. The fun starts at 6 pm and goes til 9 pm, although I'm sure PJ won't mind if you hang around after.
Queens Green Drinks is a chapter of Green Drinks, an international social network whose main goal is to promote eco-friendly solutions to the development of the planet. The group brings together environmentally interested people [you don't have to have an affiliation and it's free] with the idea that just meeting and interacting with like minded people will promote more awareness, and over time more use, of non-hazardous, non-polluting use of the planet resources.
Use the box at the bottom of this page to email a link of this article to a friend.
Queens Green Drinks Sunnyside NY - Related Links
Click here for a map of the location of PJ Horgans which is located at 42-17 Queens Blvd in Sunnyside, which is just off the #7 subway at the 40th Street stop. Click this link to view a report with photos of the Queens Green Drinks event at Build It Green in Astoria on Saturday, October 25th, 2008. Click here to obtain contact info and a website url and link to Queens Green Drinks. Click this link to go to the Sunnyside & Woodside Neighborhood Guide and Map / Sunnyside & Woodside Restaurants Guide & Map / Sunnyside Business Directory / Woodside Business Directory / Sunnyside & Woodside Shopping Center & Map.
$element(bwcore,insert_search,N)$