Restaurants In Astoria - Aegean Cove
A Tasteful Blend Of Old & New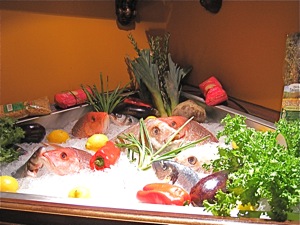 Astoria Neighborhood / Astoria Restaurants / Queens Restaurants / Queens Buzz.
This restaurant has CLOSED. I visited the Aegean Cove at the north end of Steinway Street in Astoria one Friday evening, to sample their Greek cuisine.
Chef Christos Christou, who grew up on Cyprus, manages the restaurant's cuisine with a staff that has been with him for about a decade. Christos technique is to begin with traditional dishes and old world flavors, and then build upon them by drawing out a particular flavor or by adding something new. Thus the Aegean Cove serves Greek dishes created to delight both those who long for tradition, as well as those who long for something new.
Click this link to see the rest of the story about the Aegean Cove - Greek Restaurants in Astoria Queens.
---
Aegean Cove Greek Restaurant
Authentic Greek Restaurants In Astoria
Astoria Neighborhood / Astoria Restaurants / Queens Restaurants / Queens Buzz. As I stopped by the Aegean Cove on my way back from the Steinway Piano Factory tour last Tuesday, I was struck by the character of the restaurant's authenticity, some of which came from the man who met me at the door. He introduced himself as Gus, but I later learned that his Greek name is Kostas. While Gus had spent most of his life growing up right here in Astoria, he was originally from Napflion, Greece.


Aegean Cove - Northern Astoria Greek Restaurants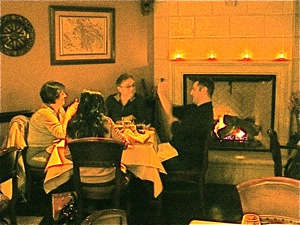 The bottom line on this authentic Greek restaurant follows. It's a large comfortable restaurant with ambient features for all seasons, like a fireplace in the winter and a sun deck in the summer.
The food has traditional Greek origins, which Chef Christos Christou plays upon in the process of creating something deliciously new and even more interesting. The best way to approach this restaurant is to sample its many wonders by grazing upon its wide selection of savory appetizers.


Aegean Cove Restaurant Owners
I had visited Napflion some time ago, and the memories of that trip arose while talking to Gus as he walked me through the expansive restaurant. We talked about the reddish brown Byzantine fort that was perched upon a hill overlooking the clear blue Aegean Sea. I could recall the fresh cool sea breeze and crisp dark blue skies. Gus and his partners had named the restaurant after the blue sea for which they still longed.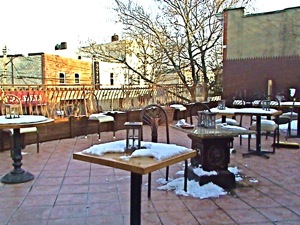 I later met Gus' partner George who is from Thessalonika. Thessalonika located far further, but still along the Aegean Sea. I recalled having car trouble in Thessalonika, and so spent some time there, sipping beer outside a cafe along the Aegean Sea. George was also born in Greece, and like Gus had spent most of his life living in Astoria.
The two partners had met back in the seventies playing soccer. This location had once served as the local hang out for the players during that time, so they were familiar with and fond of the place before it came up for sale. So after refurbishing it, in May of 2008 they opened the doors to the Aegean Cove.
George and Gus each bring different skills to the business: George owns another restaurant called Aegean Breeze in the Berkshires and Gus was a partner in Titan Foods which is a well known Greek food distributor in NYC as well as throughout the U.S. And to round out the team they brought in Christos Christou who is not only the Chef, but also one of its owners.
Aegean Cove Chef – Christos Christou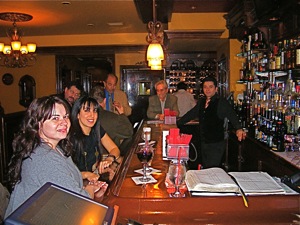 Christos' culinary resume begins with his graduation from the French Culinary Institute in Manhattan. Since then he has since worked in many Greek restaurants in Manhattan including Molivos, Milos, Trata, Avra and Ammos. In fact this is the first time he's worked in Queens as a chef, even though he grew up here.


Salad & Appetizers At Astoria Restaurants In Queens


Christos made note that there are 24 appetizers listed on the menu. He told me that many customers actually never order a main entrée but rather graze on the appetizers to sample the different offerings, all creations of which he oversees. Christos changes the menu about every three to four months, typically relying on his regular customers to test taste his new offerings.
So I decided to try a small sampling of some of Christos' creations, but I first cleaned my palate with a simple greek salad of fresh feta cheese, olives, tomatoes, cucumbers and onions, dressed in olive oil and red wine vinegar. Pita bread and a hummus-like dip were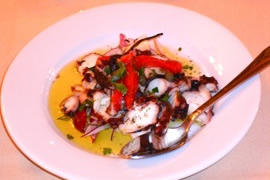 included on the side. Christos' dip doesn't contain tahini.


Octopus At A Greek Restaurant
The first dish was the grilled Octopus, which was served with a bed of capers, red peppers, Bermuda onions sprinkled in a red wine vinaigrette dressing. The octopus had a nice charcoal grilled taste on the outside and a moist tender texture on the inside. It was a simple and savory beginning.



Seafood Croquettes - Aegean Cove Astoria


The next dish was the Seafood Croquettes. These were a moist blend of tender cod and shrimp with a hint of balsamic flavoring. The light breaded batter sweetened and complemented the flavorful seafood medley. The croquettes were garnished with beets and a creamy dip was included on the side.


Greek Meatballs In Astoria Queens


Christos' meatballs, were a delicious surprise. They were light and flaky concoctions of ground beef and rice. They contained parsley, scallions, leeks, onion and garlic and had a light cinnamon flavor which came as a surprise. Because of the mix of ingredients, these meatballs were not heavy aqnd dense, but rather of a far lighter consistency that fell apart and almost melted in my mouth.



Greek Desserts – Baclava, Walnut Cake And Yogurt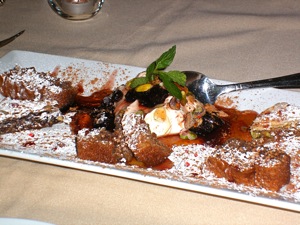 The desserts, like the meal, came with many choices. The regular baclava was of a nice flaky consistency with the light honey and nut flavoring. The walnut cake was made with honey as the sweetener and the absence of butter gave it a lighter fluffy texture. The chocolate baclava is something Christos' had learned to create earlier in his career. In this case the light chocolate was hidden between the light thin layers of flaky dough, providing an nice accent to this middle eastern dessert.



Greek Table Wine - Astoria Queens
The wine was a heavy syrupy white wine. It had a fruity taste with hints of peach and apricot, all of which nicely complemented the meal. The Aegean Cove has a full bar including many Greek favorites like ouzo and grappa.


Astoria Restaurant Ambiance And Clientele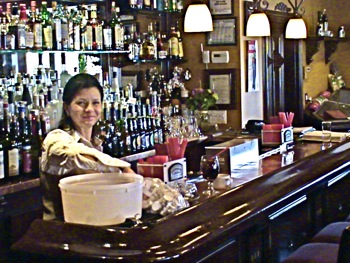 The Aegean Cove is a large open restaurant capable of comfortably seating about 60 downstairs on the main floor. In the large dining room there is a warm cozy fireplace burning during the winter, and during the summer there is a large comfortable outdoor deck open upstairs. The upstairs level also has a large private party room capable of seating sixty, which I was told is booked nearly every weekend.


Typically they have traditional Greek music playing in the background. It's not uncommon to find yourself listening to many conversations in both Greek and English in the background. Their customers range in age from the 20's in the 60's and include families, couples and singles.


Aegean Cove Menu, Prices and Hours
As mentioned above the approach in the menu is toward urban grazing, similar in scope to a tapas bar or restaurant. Christos referred to this as 'Mezzedes', which is Greek for small plates. Typically the appetizers run from about $8 to $14 and the main entrees run from $14 to $36.
The restaurant is open seven days a week. From Monday through Thursday from 12 noon to 10 pm, Friday from 12 noon to 11 pm, Saturday from 3 pm to 11 pm and Sunday from 3 pm to 10 pm. They accept all major credit cards.
Aegean Cove Greek Restaurant Astoria
Click this link to view a map of the Aegean Cove Restaurant in Astoria or this link to view the business listing for Aegean Cove including telephone number, store hours and website link.
---
Astoria Neighborhood Links
$element(adman,groupad,NHoodAstoria)$
Click on these advertisements for promotions, discounts and coupons by retailers and restaurateurs in Astoria and nearby Queens.
Click this link to go to the:
Astoria Neighborhood or Astoria Business Directory
Astoria Real Estate or Events & Things To Do In Astoria
Restaurants In Astoria or Astoria Shops & Shopping
---
$element(adman,groupad,Catgry Rest)$
Site Search Tips. 1) For best results, when typing in more than one word, use quotation marks - eg "Astoria Park". 2) Also try either singular or plural words when searching for a specific item such as "gym" or "gyms".
$element(bwcore,insert_search,N)$
Click this link to search for something in our Queens Business Directory.
---
Click the log in link below to create an ID and post an opinion.
Or send this story to a friend by filling in the appropriate box below.
$element(adman,groupad,Sectional2 Ad)$
---