Chaos, Culture & Community
Events At Topaz Arts - Woodside Queens
Woodside / August 16, 2009. Topaz Arts in Woodside hosted two eclectic cultural events today, which for me, conjured up fond memories of visiting similar events in soho in the late eighties. On the outside Topaz Arts looks like a light manufacturing industrial building, but on the inside it's a hidden cultural mecca. In the photo to your right is the first reader, Margarita Soto with her touching tale of gratitude.
Topaz Arts Queens - An Idea Comes To Life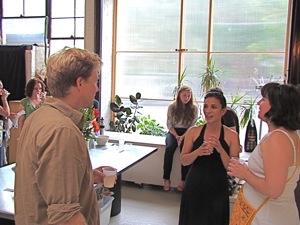 Paz and Todd are the founders of this evolving institution which began at the beginning of the decade, when the two moved into the borough from Manhattan. Over the past decade they've developed Topaz Arts as one of Queens cultural centers to include dance [Paz's first love], as well as theater and music, and hosting art exhibits and installations. Having spoken to both of them on several occasions, they impress me as having the sort of intellectualism associated with high art, which is beautifully complemented with the grace of a neighborly friendliness. At receptions following the events, Todd and Paz frequently add a personal touch, such as serving basil taken from their own garden. Other fun food includes empanadas, bread from the local bakery, all served with white and red wine. I sometimes leave Topaz Arts with the kind of warm feeling I get after returning from visiting old friends. In the photo to your left is Todd [left] talking to Paz [center] with visitor.
Events In Woodside - At Topaz Arts
Today's events included a bit of theater, in the form of readings by participants in a ten week writing workshop, called 'Our Side', which was taught by Nancy Agabian who was also the reading program facilitator. Queens Council of the Arts helped fund this program in tandem with a couple of other institutions.
Nancy Agabian - Readings From Writing Workshop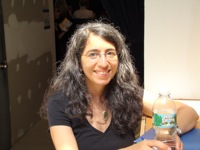 The common theme running through the readings, was of the chaos brought to immigrant childrens' lives, during or after moving into this country from a foreign land. There were some 13 readers who recounted tales of their own experiences, as very young children, being uprooted from their homes, by their parents, who brought them along on a journey to seek a better life in America. For many of the children, who stood before me reading their tales as adults today, there was a sort of separation angst, that had stayed with them to this day. Nancy Agabian is featured in the photo to your left.
The first tale, was touching, almost tearful in a happy sort of way. A woman recounted the story of a family friend, who at great risk to his own legal status, took her family across the Canadian border into North Dakota. There her family eventually took root in the United States before being given 'alien amnesty' in the mid eighties and eventually being granted full citizenship. Later her family moved to New Jersey where she grew up [she now resides in Queens]. Hers was a tale of thanks to that old family friend.
Queens Immigrants - Impact Of Immigration On Queens Residents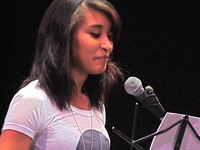 Another reading was written by a young NYU student, who feels a part of herself missing, as she seeks to somehow resolve her dual identity as an American of Domenican parentage. She yearns to share the passion for her ancestral homeland, the Domenican Republic, like her father and some friends do, but feel it she does not … not yet ... and perhaps not ever, as she is not her father.
An Indian women read a part of her story, also staged in Canada, while another from Argentina, talked about how her parents came here, but never intended to stay. They arrived in the early sixties when she was just a youngster and only bought a 'real apartment' just before she left home. She recalls, throughout her childhood, being torn by her desire to be American, while her parents were in denial with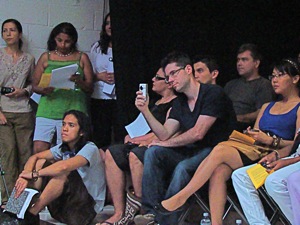 respect to accepting the very land in which they'd come to live. Hence they wouldn't accept that she, their daughter, would inevitably be affected by, and become a product of, the surroundings in which she was raised.
The impact of immigration on children of immigrants has been a theme of sorts for Nancy Agabian, author and professor, who organized the program. Nancy has written a book entitled 'Me as her again: True Stories Of An Armenian Daughter'. Nancy's reading was about her neighbors in Woodside – perhaps it was about you, but you'll never know.
Photography Exhibit - Topaz Arts Woodside
Later that same afternoon, Topaz held a reception for the opening of Greg Stowell's 'The Divide' a photographic exhibit of his work in New York City and in the country of Peru.
I asked Greg about the theme for this exhibit. He explained to me that the theme of 'The Divide' is woven into the exhibit in several dimensions. On one side of the gallery there were photographs taken in Peru, while on the other side of the gallery there were photos taken in New York City. The Divide in this case, he explained, is north and south – North American and South American. Another 'Divide' came through the photographic coloring. All of the photographs were taken on black and white film. So there's a sort of divide between black and white, which represents the image. In the photo above, a plaza in Peru.
The Divide Photography Exhibit - Queens NY
Then, like a photographer using the zoom lens of his camera, Greg zoomed in for a close up of one of the photographs hanging on the wall. We were standing in front of a photograph taken from the Queensboro Bridge, at twilight, looking west to the east shore of Manhattan. Here the 'Divide' was the East River, separating Manhattan from Queens. And the height of the bridge, separating us from the Circle Line boat below. Shown in the photo to your left.
He was distracted by other gallery viewers, so I meandered around the gallery, perusing his work and contemplating the theme Greg and Topaz Arts had laid out before us. In a bin in the back of the gallery were related photos, for which there wasn't room on the wall. I browsed through them ... pondering its meaning.
Culture, The Arts, Diversity In Queens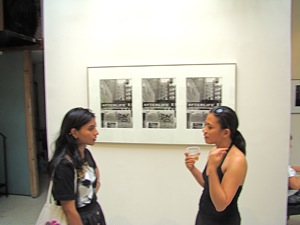 The Divide. The interwoven complexities of life, transposed one upon another, like modern Italian skyscrapers beside the 2000 year old Roman Coliseum. Like the modern battery powered auto running atop a 500 year old Incan road in Peru. Like the modern well-educated American Armenian woman giving a reading at Topaz Arts while trying to reconcile herself with her thousands of years old Armenian ancestry. I felt I was getting somewhere. In the photo to your right Paz and visitor in front of 'The After Life' - series of three photographs in NYC.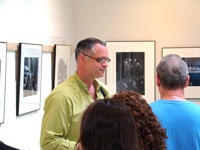 Separate like the black / white and north / south theme in 'The Divide'. Divided or perhaps even confused, like dealing with the chaotic feelings as a grown child of American immigrants. But also connected. Connected as the black and white are both in the same photograph and together make up the entire image. Black and white pixels, separate but all a part of the same photo. Connected as the children of the immigrants are connected to both the American culture and the Peruvian, Argentinian, Indian, Domenican and Armenian cultures. In the photo to your left is Greg Stowell photographer.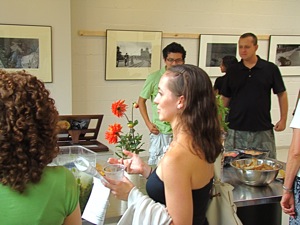 Hmm. A sort of yin yang as it were. All of the complexities of life piled one atop the other. Divided ... and yet also connected as part of the same grand tapestry we call life.
The universe is expanding. Expand yours. Get out and see some of this stuff. In the photo to your right gallery visitors munching on empanadas and drinking wine while discussing the day's events.
The Greg Stowell photography exhibit runs through September 12, 2009 at Topaz Arts in Woodside and Nancy Agabian may be found at nancyagabian.com. Click here to view a map of Topaz Arts in Woodside and their contact info may be found in our business directory.
Topaz Arts & Woodside Related Links
You may use the box below to email this story to a friend. Click this link to go to the home page of a store that provides Professional Picture Framing Services In Queens.
Click this link to go to the Sunnyside & Woodside Neighborhood Guide and Map / Sunnyside & Woodside Restaurants Guide & Map / Sunnyside & Woodside Shopping Center.
$element(bwcore,insert_search,N)$