NYC Marathon Queens and LIC
NYC Marathon Start Time / Arrival Long Island City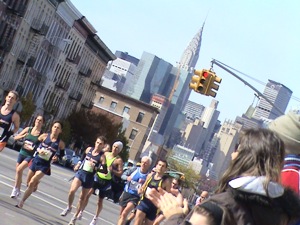 Long Island City / NYC Marathon in Queens / October 31, 2009. Tomorrow morning, starting at 8.20 am in the far reaches of New York City, on far off Staten Island, the NYC Marathon will begin. Over 42,000 runners will start the race. The first runners begin arriving in LIC between 9 am and 10 am.
NYC Marathon 2009 Weather
The weather for the event is nearly perfect, with overcast skies, but no rain, and temperatures expected to range between 40 and 60 degrees, becoming warmer as the day goes on.
NYC Marathon History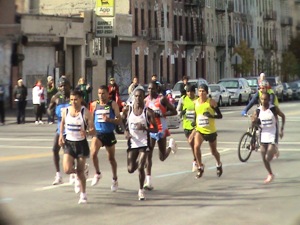 Along with Boston and Chicago, it is the pre-eminent long distance race in this country and one of the largest marathons in the world. The NYC Marathon began in 1970 and is sponsored by the New York Road Runners Club and ING. The race has continued, uninterrupted for 39 years. In 2006 over 37,000 people finished the race.
Marathon History / Origins
The marathon is named after a famed [and possibly fabled] Greek runner who ran the 42 kilometer distance from a small town of Marathon to Athens to announce that the Persians had been defeated. This event is said to have occurred around 2,500 years ago. After running the distance uninterrupted, he made the announcement, and then collapsed and died.
NYC Marathon Starting Times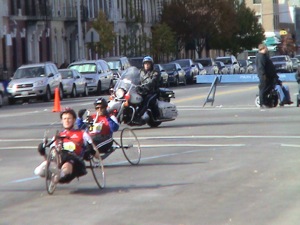 Fast forward to NYC, on November 1, 2009, at 8.20 am in Staten Island the wheelchair division will begin the race. They will be followed by the handcycles twenty minutes later at 8.40 am, and the professional women 20 minutes later a bit after 9 am. At 9.40 am the first of three waves of about 14,000 runners begins, followed by the second wave of about 14,000 runners at 10 am, and the third and final wave of runners at 10.20 am.
NYC Marathon 2009 – Queens Route
The race will first arrive in Queens via the Pulaski Bridge connecting Williamsburg Brooklyn to Long Island City Queens. The runners will come up 11th Street, turn left onto 48th Avenue and then turn right onto Vernon Blvd. From there they head north and take a left onto 44th Drive and run past the Citibank Building where they turn left along Crescent Street and then turn left again onto Queens Blvd heading onto the famed centenarian our own Queens Boro Bridge. At which point they cross into Manhattan.
NYC Marathon In Queens – TV Coverage
We understand that television coverage of the race begins at 9 am and ends at 2 pm. The race will end in Central Park at the Tavern on the Green.
Take a moment to think about the training, the strain and pain, the endurance and the power of the people who participate in this peaceful community gathering, which will be seen in person by an estimated two million people. If we can achieve things like this, then there is certainly no limit to what we can do when we set our minds to things.
NYC Marathon 2009 Photos - QueensBuzz.com
Stop back here after the race to view some photos of the runners making their way through Queens.
---
NYC Marathon In Long Island City / LIC / Queens
Click the following links to view prior reports about the NYC Marathon. These reports include photos as well as some of the history of the NYC Marathon. Click here for the NYC Marathon in Queens 2010, NYC Marathon in LIC in 2009, NYC Marathon in Queens photos in 2009, NYC Marathon in Long Island City in 2008 with photos.
LIC Neighborhood - Long Island City Links
$element(adman,groupad,NHoodLIC)$
Click on these advertisements for promotions, discounts and coupons by retailers and restaurateurs in Long Island City LIC and nearby Queens.
Click this link to go to the:
Long Island City Neighborhood or LIC Business Directory
Long Island City Real Estate or Events & Things To Do In LIC
Restaurants In Long Island City or LIC Shops & Shopping
---
$element(adman,groupad,Catgry Rest)$
Site Search Tips. 1) For best results, when typing in more than one word, use quotation marks - eg "Astoria Park". 2) Also try either singular or plural words when searching for a specific item such as "gym" or "gyms".
$element(bwcore,insert_search,N)$
Click this link to search for something in our Queens Business Directory.
---
$element(adman,groupad,Sectional2 Ad)$
Click the log in link below to create an ID and post an opinion.
Or send this story to a friend by filling in the appropriate box below.
---