Restaurants In Long Island City
Orphan's Thanksgiving - Like Going Home w/o The Hassle
The Creek & the Cave was a CoVid casualty, effective November 2020.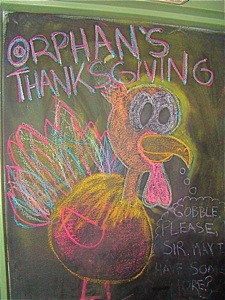 Long Island City Neighborhood / LIC Restaurants / Restaurants In Queens / Queens Buzz. I spent the better part of Thanksgiving with the 'orphans' of The Creek And The Cave in LIC. Over the past decade, with some exceptions, they've been hosting a free Thanksgiving Dinner for their friends and it's been open to the public, although generally the crew seemed to be comprised of The Creek & The Cave comedians and regulars and a few tag-alongs like me. The Orphan's Thanksgiving is hosted at the Creek and the food preparations began the evening before, just like they do at home, .
This is a story about a Thanksgiving Dinner at The Creek & The Cave, as I became an honorary orphan on this occasion. Click here to view the full story on an Orphan's Thanksgiving at The Creek & The Cave in LIC Long Island City.
---
Orphans Thanksgiving in Queens
The Creek & The Cave In Long Island City
Long Island City Neighborhood / LIC Restaurants / Restaurants In Queens / Queens Buzz. Continued.
I went to celebrate Thanksgiving with the folks at The Creek And The Cave [hereafter referred to as the Creek] in Long Island City [aka LIC]. It was a warm evening as I made my way to the well known Queens house of comedy along Jackson Avenue.
Inside I was greeted by the core group of 'orphans', who hail from all parts of the U.S. and whom have congregated around the comedy / social scene at the Creek in LIC. Some worked there, some were old college friends [and even an old high school friend]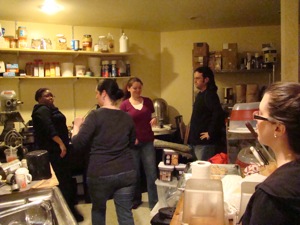 of the folks who worked there, some were comedians who host shows there, and a few were a bit more tangentially related, like me working on a story for Queens Buzz.
I arrived while they were still prepping the food. Rebecca, the owner and manager of the Creek, was managing the process with the help of Sean on the turkey. Shanara was managing transportation of the food downstairs along with Megan; and Justin, who was 'supervising with a beer in his hand' the night before, was found carrying a few plates downstairs as well.
Orphan Thanksgiving Dinner In LIC
I asked a few of the orphans why they stayed in town for Thanksgiving. One of the orphans, Megan the musician, mentioned the terrible traffic / commute home. Another noted the cost of traveling home for both Thanksgiving and Christmas, especially in these challenging economic times. Most seemed to like the idea of staying in town and sharing the holiday with some of the friends they'd made over the years through their association with Rebecca and the Creek.
Comedy Clubs In LIC & Long Island City
Since there were a number of comedians here, I began asking them what they hoped to do with a comedic career [how's that for a 'dad' question?]. Did they want to be the next 'Seinfeld'? Did they want to do a traveling stand up gig? One of them, let's call him Mike, seemed to like the stage and the interactions with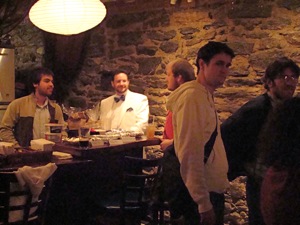 the audience. He liked the challenge of improv which is creating the comedy as you go. But a couple of the others with whom I spoke appeared to be more interested in writing comedy – coming up with new laughable ideas for a show or script. It also seemed that acting was also an option. Since the Creek sponsors different comedy acts nearly every night, from stand up to improv to skits, it's evolved into a sort of Queens comedy central for new and rising comedians. And Rebecca seems to nurture and encourage the talent.
The Creek & The Cave - Long Island City
As the food began to arrive at the table, where the dining was planned buffet style, one could also imagine that the depth, breadth and [as I was about to learn] quality of the food might also have added to the orphan crew's desire to stay at the Creek 'orphanage' over the holiday.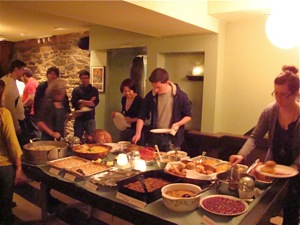 There were about twenty-five people and they could choose from three turkeys, one of which was fried [and it was my favorite], a large pan of mashed potatoes and green bean casserole with cheddar cheese which was the first dish to vanish. There were deliciously green collard greens cooked al dente. The root vegetable dish was flavored lightly with cayenne pepper and honey; and included parsnips, rutabaga, white sweet potatoes and yams and was very, very yummy. There were at least three types of stuffing including oyster, mushroom and plain. All three were simultaneously moist and dry in all the right places and delicious. And of course, since the Creek is in fact both a bar and a restaurant, there were many choices of beverages with which to complement one's meal.
Comedy Clubs In Queens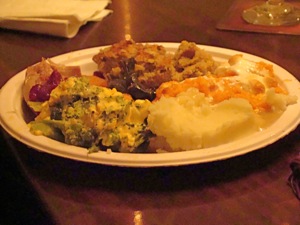 The conversation was light, interesting and given there were quite a number of comedians in the group, kind of funny. Kellsye – please pardon my spelling – oh, that's her real name, please pardon her parents' spelling. Kellsye brought her parents. At first I thought she was just showing them off in front of all of us other orphans. You know, she had parents, and we didn't. But she later explained that she was 'sharing them with us'. And her dad even volunteered, and did a good job, of slicing the turkeys.
Sean, one of the head chefs, had a comedic gig later in the evening down in the village in nyc. As he began eating, he mused that life would be so much better if he could just camel capability so that he could totally fill himself up right now, and then not have to eat again until Christmas.
And of course no party is complete without the uncle Mike who wears a tux and drinks scotch on the rocks. Mike had just come from refereeing a roller derby match, and brought chocolate chip cookies as his contribution to the spread. Now ladies, this guy's a catch: he dresses up for holiday occasions, bakes cookies and will spend time with the kids. He informed us that he in fact he is an uncle and has about a dozen nieces and nephews. Mike is an improv comic and he was pretty entertaining throughout the night.
Mike explained to me that he thought it was important to dress appropriately for holiday occasions. Included in this conversation was Brent, who was sporting a Spiderman T-shirt. After Mike explained why he wore the tux, we both looked at Brent. Brent replied, "Hey this isn't just any T. It's a new Spiderman T."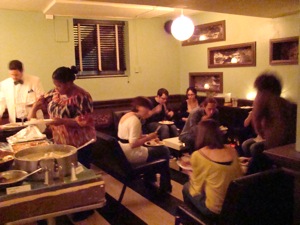 Samantha, another comedian, started telling me about how she'd baked a pie for the occasion. As we delved further into the whole pie conversation, it turns out that she also made a pie yesterday. "I like to bake pies when the weather turns cold" she explained. "Did you roll the crust?" I asked. "No." She responded, as I pursued the line of questioning. "Well, how about the pumpkin filling. Did you make the pumpkin filling?" "Well, no" she replied a bit sheepishly. "You don't really expect me to dig the filling out from a real pumpkin, do you?" I looked at her a bit blankly because I kind of did. She continued, "But I did cut the apples and I added the spices and I brought it over here while it was still warm." As it turns out, her pie was the first to go.
Comedy & Community - The Creek & The Cave LIC
Shanara, one of Rebecca's longest standing friends, who also worked preparing the feast yesterday evening, remarked about how tired she was after we had eaten dinner. As we were talking it dawned on her, "Oh no, we still have clean up." She hustled upstairs to survey the damage. Since we'd used paper plates it didn't look too bad.
Near the end of my stay, Kellsye's parents did a bit of dancing and kissing. On the one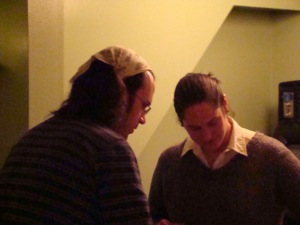 hand I thought, 'pda violation [public display of affection]' and on the other I thought 'hey they're not my parents' and then 'it's nice that they're still affectionate and so comfortable here'. Only a couple of hours ago, many of us had never met.
Anyhow, I enjoyed an 'Orphans' Thanksgiving'. I asked Rebecca why she put this on for everyone because it's definitely a lot of work. "To foster a sense of community" she replied.
As I mulled over her response on my way home, I thought, "Isn't it interesting, that fostering a sense of community is why the pilgrims first started this tradition about 400 years ago?" I hope you had a good one. November 2009.
---
The Creek & The Cave Restaurant & Comedy Club Links
Click here to view a photo album of an Orphan's Thanksgiving at the Creek & The Cave in LIC. Click here to view a map of The Creek & The Cave in LIC. Click here to view the telephone number, address and url of The Creek & The Cave in Long Island City.
---
LIC Neighborhood - Long Island City Links
$element(adman,groupad,NHoodLIC)$
Click on these advertisements for promotions, discounts and coupons by retailers and restaurateurs in Long Island City LIC and nearby Queens.
Click this link to go to the:
Long Island City Neighborhood or LIC Business Directory
Long Island City Real Estate or Events & Things To Do In LIC
Restaurants In Long Island City or LIC Shops & Shopping
---
$element(adman,groupad,Catgry Rest)$
Site Search Tips. 1) For best results, when typing in more than one word, use quotation marks - eg "Astoria Park". 2) Also try either singular or plural words when searching for a specific item such as "gym" or "gyms".
$element(bwcore,insert_search,N)$
Click this link to search for something in our Queens Business Directory.
---
Click the log in link below to create an ID and post an opinion.
Or send this story to a friend by filling in the appropriate box below.
$element(adman,groupad,Sectional2 Ad)$
---