News Briefs about LIC sometimes done by / or with the help of the audience community
---
Click any of these links to scroll down to view the Long Island City / LIC News briefs from prior years.
---
---
Long Island City News Briefs 2016 - LIC
---
Floating Peace Lanterns
Harbor LAB Organizes Floating Peace Lantern Event on East River to Celebrate UN International Day of Peace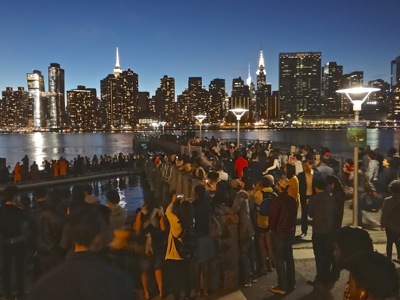 September 25, 2016 / LIC Neighborhood / Queens Social Events / Queens Buzz.
Last Sunday evening I made my way down to the East River waterfront in Gantry Park to observe a celebration of the UN International Day of Peace.
Harbor LAB [Learning / Adventure / Boating], an environmental educations non-profit whose activities center around East River & Newtown Creek kyaking and canoeing, had organized the event.
The celebration started in the afternoon along the East River waterfront at Gantry Park and lasted well into the evening. Activities began at 2.30 pm with public paddling of kyaks and canoes, while simultaneously there were meditations, yoga exercises and the preparing of the peace lanterns.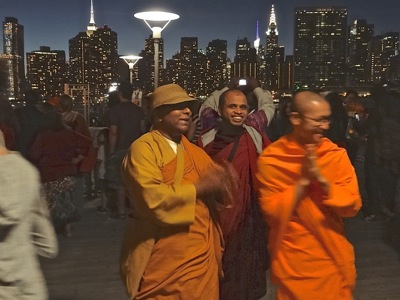 By sundown several speakers for interfaith and peace addressed the crowd before beginning the floating peace lanterns ceremony. The keynote speaker was Ambassador Anwarul K. Chowdhury High Representative for the United Nations, Retired UN Under-Secretary General.
The peace lantern event began with a drum beating by about a half dozen Buddhist monks dressed in traditional bright orange garb. Several hundreds lined up along the shoreline to observe the solemn ceremony and enjoy sunset along the East River.
The first such event was organized by Harbor Lab Founder Erik Bard in 2002. This year Harbor LAB organized the event in conjunction with the Buddhist Council of New York, and the Interfaith Center of New York, Global Movement for the Culture of Peace, and New York Office of Parks, Recreation and Historic Preservation.
---
Grand Central Atelier: Artists in our Midst
Classical Drawing, Painting & Sculpture Studios Participate in LICAO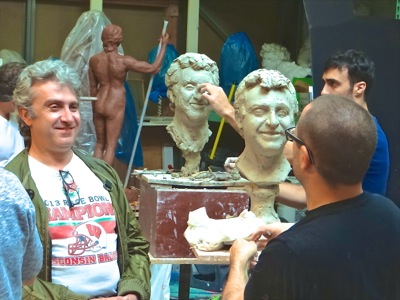 May 23, 2016 / LIC Neighborhood / Arts in Queens / Queens Buzz.
The 6th Annual LIC Arts Open [LICAO] ended yesterday evening. While the weather on Saturday was mixed, Sunday seemed to make up for it. The mission of the LICAO program is to provide a venue for local artists to showcase their studios and works.
A local writer and playwright, Joy Tomasko, has been involved with the Grand Central Atelier for a number of years. I first met her while attending a performance of a theatrical production of hers at the LaGuardia Performing Arts Center, where she was the Playwright in Residence at the time.
I found the play, entitled Surrender, to be deeply philosophical. It was an audience interactive production, which took us on a multi-dimensional journey - so when Joy announced she was doing an interactive art exhibit at Grand Central Atelier during the LIC Arts Open Weekend - I decided to check it out.
In the photo at right are sculptors at Grand Central Atelier creating a bust of an unknown man, who thousands of years from now, will become famous by virtue of the plentitude of busts depicting his personage.
We'll have more on this event later this summer.
---
---
Long Island City News Briefs 2015 - LIC
---
Century Bike Ride Runs & Rests In Queens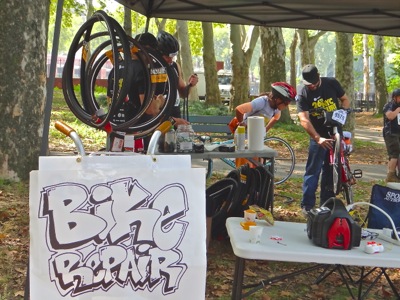 September 14, 2015 / Astoria Neighborhood / Biking Queens / Queens Buzz. The Sunday forecast included a high probability of scattered thunderstorms, but fortunately for the Century bike riders the weather appeared to favor them.
The Century Bike Ride is organized by Transportation Alternatives, an environmentally-friendly group that promotes non-carbon and low carbon 'transportation alternatives' to NYC residents. This is the bike ride they sponsor and the receipts go toward their efforts to ensure the various levels of government do what they can to help promote a safe and regenerative urban transportation environment.
The Century Bike Ride offers four biking alternatives that individuals and / or groups can pursue on their own during the most-of-the-day event. The first start time was at 5.30 am in Central Park [Manhattan] and at 6 am for a Prospect Park [Brooklyn] start and the last rest stops at the two parks closed at 6 pm.
The four bike routes included a 35 mile, 55 mile, 75 mile and 100 mile [hence the name century] loop.The 35 mile loop is called the East River Ride, which runs along the East River primarily in Brooklyn and Queens. The ride started at 7.30 am and was expected to last between 3.5 and 7.5 hours. The 55 mile loop is called the Waterfront Ride which includes the East River loop, but also the Verrazzanno Bridge, Coney Island and part of the Brooklyn Greenway. This ride started at 7 am / 7.30 am and was expected to take about 3.5 to 8.5 hours. The 75 mile loop is called the Rockaways Ride and it excludes the north / south run along the East River in Brooklyn / Queens in exchange for a haul out to the Fort Tilden Beach in the Rockaways then north through a number of Queens Greenways [parks] before turning westward back toward Manhattan. The Century Bike Ride, the 100 miler, starts at 6 am / 6.30 am and is expected to take between six and twelve hours.
The Century Bike Ride started in 1989 and is celebrating its 26th year.
---
---
Long Island City News Briefs 2014 - LIC
---
New Supermarket - Queens Plaza 2014
August 29, 2013 / Long Island City LIC / Food & Wine / Queens Buzz. In June of this year, Foodcellar & Co inked a deal with Rockrose Corporation on a lease for 14,500 square feet on the ground and subterranean levels near Queens Plaza. The deal appears to be a win for both parties as the Queens Plaza neighborhood is in need of an modern supermarket which will facilitate Rockrose's business and residential real estate sales and rentals into the area. And it is also a win for Foodcellar & Co because Queens Plaza is an emerging business and residential center because of its location with regard to public and private transportation.
The new supermarket will be the second Foodcellar & Co store in Long Island City. The first Foodcellar & Co store was opened in August of 2008 on 47th Road just off Center Blvd. The store recently celebrated its fifth anniversary with an in-store all evening event where they had set up food and beverage booths so customers could sample unique food products around the store.
The new store will be configured a bit differently than the current Foodcellar to suit the tastes of a different area. I spoke to the management team who told me that they expected to be servicing both a business office clientele during the day and a rapidly growing residential population at all times.
In the photo to your right are the three partners of Foodcellar & Company: Metin Mangut, Burack Can and Erhan Baceci at the celebration of the Foodcellar & Company fifth anniversary in late August 2013.
---
---
Long Island City News Briefs 2013 - LIC
---
Personal Journey Thru LIC Arts Open
... I took several brief journeys into the LIC arts world, encountering painters, sculptors, photographers, clothing designers, jewelry makers and a Queens cultural curator ...
May 20, 2013 / Long Island City Neighborhood / Art in Queens / Queens Buzz. I had the opportunity to visit the Z Hotel during the LIC Arts Open on an overcast Saturday afternoon. In the subterranean lounge there were a number of exhibitors showing their works, ranging from photos, to paintings, to fashionable clothing and jewelry.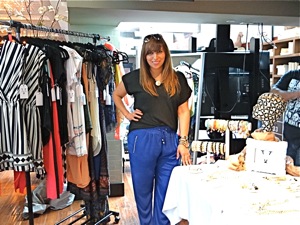 In the black and white photo above are three Queens LIC Arts Open participants [shown l to r]: photographer Greg Stowell; Ann Margaret O'Connor - Curator of Zoescope [where community and culture meet]; and Cynthia Radalj of showroombyc.com and former owner of Candy Plum of Astoria.
Ann had collaborated with Adriana Vanina [in photo to left] and Cynthia to put together the subterranean exhibits. Adriana is the Fashion Stylist at VioletDoll.com and former owner of the Ethereal Boutique of Vernon Blvd in LIC.
The mood was calm and cool as folks mingled through the exhibits, sharing stories while finding little gems found nowhere else in the world. These exhibits were part of the LIC Arts Open, of which we'll have more about late this week.
---
Legislative Agendas For Western Queens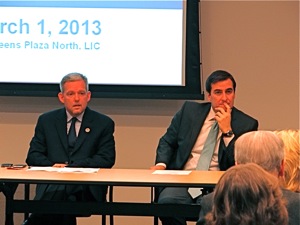 March 9, 2013 / Long Island City / Queens Business / Queens Buzz. I attended a Legislative breakfast hosted by the Long Island City Partnership on Friday. NYS Senator Michael Gianaris and NYC Councilmember Jimmy Van Bramer were on hand to talk about what is going on legislatively in Albany and downtown at city hall.
EDUCATION & QUEENS SCHOOLS. Education and school closings were discussed with both government officials opposing the approach being taken by the Mayor to close Queens high schools. It was noted that Senator Gianaris graduated from LIC H.S. and then went onto graduate from Harvard, that Assemblywoman Nolan graduated from Ridgewood H.S. and went onto graduate from NYU and that NYC Councilmember Van Bramer graduated from Bryant H.S. and went onto graduate from St. John's College. All three of these high schools were on the chopping block in Spring of 2012 [click here for our Spring 2012 report on Queens high school closings].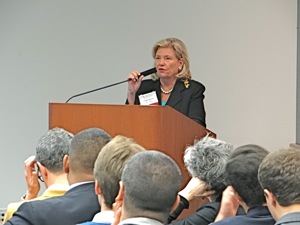 School construction was also discussed. Currently the facilities at many Queens schools are at, near or even over capacity. Hence school construction is something these government officials believe is important going forward, given the growth of the borough.
HIGH TECH JOBS / TAX BREAKS. They talked about the pending development of a high tech college campus on Roosevelt Island in the coming decade. They saw this as a potential source of good jobs in the area, given Queens proximity to the campus and talked about the possibility of using tax breaks to incent start ups to stay in NYC. They cited the TV Film Industry Tax breaks given several years ago as being good for the TV film industry in Queens.
POWER INDUSTRY IN QUEENS. They also talked about the power industry in Queens. Queens is the source of 60% of all of NYC's power generation. The old Poletti Power Plant is in the process of being de-constructed, and the newer power plants have been able to continue to provide power without disruption.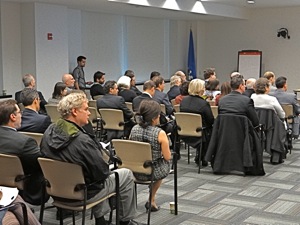 PARKING IN LIC. Lastly, but not least, Michele Beaudoin of BRG Realty in LIC inquired about future plans for managing the parking situation in LIC. Unbeknownst to most folks, LIC remain the only neighborhood that does not have alternative side parking regulations, which are used to eliminate 'car storage' on city streets, while simultaneously enabling street cleaning. LIC is also the only neighborhood in NYC that does not receive street cleaning services.
We were told that the Department of Transporation is not interested in building any new city parking lots. And that the LIC community is deeply divided on this issue, but that something must be done, as the parking congestion in LIC continues to grow.
Click here to read other brief reports containing LIC News.
---
Virtual TV Simulcasts Theater From LIC
Original Work, TITS, Shown Worldwide
February 25, 2013 / Long Island City / LIC News / Theater in Queens / Queens Buzz. Virtual TV will be in LIC through next weekend, simulcasting a number of live comedy and theatrical events put together by NYC area talent. We attended one of the events this weekend, a one woman show entitled TITS, about ... well tits.
The show was conceived by Turkish born playwright and actress Ege Maltepe, who I met through the Lab program at LaGuardia College. She chose a subject that generally fascinates men, but also the owners of them as well.
There are two more shows of her performance coming this Thursday and Saturday. And we will post a report, complete with photos over the next couple of weeks.
---
Dancing In The Ether
Dance Entropy Explores The Psyche of Time & Space
February 21, 2013 / Dance in Queens / LIC Neighborhood / Queens Buzz. I received a rare treat on Wednesday morning when I went to preview the dance performances planned for this weekend at Green Space in LIC. The weekend celebration includes five dance pieces, three of which are being premiered and two of which have been performed and perfected.
I was one of only a handful of people in the audience, as the dancers did one last rehearsal before their opening performance Thursday evening February 21, 2013. Click here for a short description of each performance and a slide show of Skimming the Surface at Green Space in LIC, as well as a bit longer exploration into one of the new pieces. The report also includes a couple of interviews with the dancers. The photo above shows the dress rehearsal performance and the photo at the top of this page is a shot of the performance of Skimming the Surface.
Click here for Dance Entropy tickets and later you can click here for the rest of the story with slide show.
---
$element(adman,groupad,Sectional Ad)$
---
Long Island City News Briefs 2012 - LIC
---
Nutritious Holidays & New Year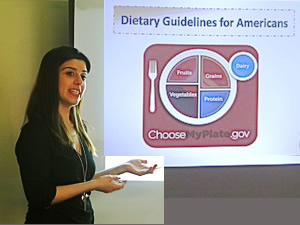 December 14, 2012 / Long Island City LIC / Food in Queens / Queens Buzz. I attended a lecture on nutrition sponsored by Mt Sinai Hospital of Astoria at the LIC YMCA on Friday. The presentation was given by Effie Nerantzis, Registered Dietician, who is shown in the photo to your left.
She provided a lot of information that one can use to begin to make smart, healthy choices in their diet, while continuing to lead an on-the-go modern lifestyle. Some of the lecture including how to read nutrition labels on the backs of packages, how to interpret the claims on the front of food packages, she touched on how organic foods factor into the mix, and how to shop and prepare foods in short order.
We'll have more on this seminar later in the quarter.
---
Hanukkah Celebration in LIC
Menorah Lighting Symbolizes Continued Good Acts
December 10, 2012 / Long Island City LIC / Queens Buzz. On Sunday I attended the Chabad LIC Menorah Lighting in Gantry Park. The event was preceded by donut making and latkes; and a trumpeter, Anna Garcia, played a few pieces which were celebrated by the gathering.
Rabbi Zev Wineberg had organized the event, which he told me had started as a celebration of an historic victory thousands of years ago. Every Friday Orthodox Jews light candles in the privacy of their homes, but on Hanukkah, they light them in a public space.
The first night proclaims the miracle of the historic event, when after the victory, an small amount of oil lasted eight days. It also symbolizes one act of doing good, when the light [good] sends the darkness [bad] away. The second night symbolizes a second act of goodness, when light returns and sends darkness away, because the darkness always returns. The multiple acts of goodness, no matter how small, help banish evil.
And so the lighting of the Menorah will continue through next Saturday evening. The next public lighting by Chabad LIC will take place tonight along Vernon Blvd. Happy Hanukkah.
---
Twas The Night Before Christmas ...
The Holiday Season Is In Full Swing - Holiday Lighting Events Abound In Queens
December 3, 2012 / Long Island City LIC / Culture in Queens / Queens Buzz. On Monday I attended the first annual holiday street lighting on Vernon Blvd in LIC. The kids from PS 78 entertained us with Christmas carols, Pastor Jake Zaske did a non-denominational blessing, and Rabbi Zev seconded the blessing, while revealing both a sense of humility and humor.
Local dignitaries made some remarks including City Councilmember Jimmy Van Bramer, LIC Partnership Executive Director Gayle Baron and Sheila Lewandowski, Executive Director of the Chocolate Factory. Jet Blue was given credit for helping fund the extension of the Vernon Blvd holiday lights further north along the boulevard. While holiday street lights along Vernon Blvd have been around for years, they only extended several blocks north of the subway line. Now they extend north up to 44th Drive, due in large part to many of the folks mentioned above.
The photo above was taken of the Christmas tree in the courtyard of the LIC Bar, in front of which the street lighting event occurred. The LIC Bar recently re-opened post Hurricane Sandy flooding. While attending the street lighting event, I spoke to Mayer Newman, owner of Sinks and Stones, [a boutique stone & tile shop across the street], about the LIC flooding. He told me that the flooding covered this section of Vernon Blvd with about two feet of water and was the worst he'd seen in his lifetime which spans several decades.
Terry Adams informed us that on Wednesday, December 3rd, the Hunters Point Community Coalition will be hosting its annual Christmas / Holiday tree lighting at Vernon Blvd and 50th Avenue. Be there, or be square. The choice is yours.
We'll post more info and photos on all of these exciting Christmas tree lighting events later in the week.
---
In Spite Of Rain .. The Shows Went On
September 10, 2012 / LIC News Briefs / Queens Buzz. Weather. This week it will be sunny with highs in the mid 70's to low 80's; and the lows in the 60's.
On Saturday rain came down heavily mid morning and returned early evening around 6 pm. The Astoria Music Now concert was moved to a location in Kew Gardens, while the Sculpture Center Block Party had scheduled their event perfectly, weatherwise. The weather didn't appear to deter partygoers attending the final PS1 Warm Up Party, although we departed shortly before the rain arrived. And we stumbled upon a 5 Pointz block party going on nearby.
Throughout the day on Sunday the Century Bike Riders came streaming through the Astoria Park rest stop on their way to tour Queens and the NYC boroughs. Meanwhile Socrates Sculpture Park opened their fall / winter EAFE exhibits in the afternoon. And Flushing Town Hall celebrated its 150th anniversary, by opening a new exhibit which includes the first full presentation of items contained in a time capsule buried alongside the building cornerstone in 1862.
See our Special Report [below] on the Newtown Avenue pedestrian plaza in Astoria.
---
M55 Art Gallery in LIC - Relationships Undressed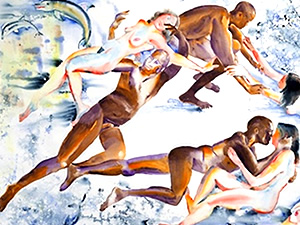 August 8, 2012 / Long Island City / Art Galleries in LIC Queens / Queens Buzz. To beat the heat on the second full week of August, I'm planning on attending Relationships Undressed at the M55 Art Gallery on 44-02 23rd Street in LIC.
The exhibit is a one woman show by Emily Stedman who explores male / female relationships in watercolor, moving beyond the depiction of coy females in post Renaissance art, to modern era sexual equality. In her art, Emily depicts men and women interacting in a sensous manner. Take a cold shower before arriving.
The opening reception is Wednesday, August 15th from 5 - 8 pm and includes a wine tasting - but you must rsvp in advance using the information provided on the M55 Art Gallery website.
---
Art Exhibit At M55 Gallery in LIC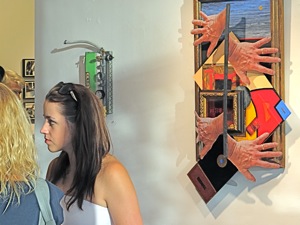 July 24, 2012 / Long Island City / Art Galleries in Queens / Queens Buzz. On Friday I made my way down to Long Island City to attend the M55 Gallery opening of a new exhibit featuring dozens of Long Island City artists. The exhibit is entitled In The Place We Live and naturally the LIC neighborhood played a significant role in some pieces of the exhibit, while in others abstraction and perspective freed the artwork from any specific geographical location.
I arrived about an hour and a half into the opening reception and found people milling around, viewing the art work while engaged in casual conversations. The exhibit runs through August 11th. M55 Art Gallery is located at 44-02 23rd Street in LIC.
---
What Are You Doing For Lunch Wednesday?
Swedish Craze, Lunch Beat, Comes To NYC via LIC
June 5, 2012 / Long Island City LIC / Queens Culture / Queens Buzz. A new craze has been sweeping Europe these past few months called Lunch Beat. It was started by a couple of people who thought it would be cool to release stress at lunchtime by dancing. So they invited some friends ... and the rest is history ... kind of.
The first lunch beat lunch is being hosted in the U.S. in NYC in LIC on Wednesday, June 6th at Uncanny Valley at 26-9 Jackson Avenue from 12 noon to 1 pm [click link above for map].
Dj Shakey will be providing the tunes, there will be a multi-media installation by the Patriots, lunch will be provided by Cinammon Snail which will be a Korean BBQ sandwich and the cost is $12 plus processing fee which you can buy online at LunchBeat on EventBrite. Here's a link to a story about Lunchbeat in Europe.
Lunch Beat set up about ten rules which 'must' be followed. About seven of them are that you must dance. One of them is that you're not allowed to talk about work, and another that the lunch beat event can only last one hour. It's an alcohol-free event.
---
Taste of LIC Tuesday, June 5th
7th Taste of LIC in Gantry Park Starting at 6 pm
June 4, 2012 / Long Island City LIC / Long Island City LIC Restaurants / Queens Buzz. The 7th Annual Taste of LIC comes to Gantry Park Tuesday beginning at 6 pm. The fashionable food feast includes mouth-watering morsels from many of the surrounding LIC restaurants.
The photo to your right shows an attendee of the Taste of LIC enjoying one of the savory treats presented by local LIC restaurateurs.
According to the weather forecasters there's a 20% chance of rain until about 4 pm at which time the chance of T-storms climbs to 30% chance of scattered rain. Winds will be blowing at about 10 miles per hour, and the temperatures will be in the mid 60's so a bit on the cool side compared to what we've experienced lately.
Proceeds from the event go to the Chocolate Factory which is an avante garde theater company in LIC. Advance tickets are no longer available, but we've been assured that you will be able to buy tickets [$60 & up] at the event. Click here to read our report on the Taste of LIC in 2011.
---
Jet Blue Hits The LIC Ground Running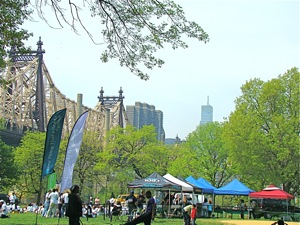 April 23, 2012 / LIC News Briefs / Queens Buzz. I visited the Queeens Bridge neighborhood on the Saturday of Earth Day Weekend to participate in some of the green events sponsored by Jet Blue in collaboration with NYRP [New York Restoration Project]. I first came upon some of the one hundred plus Jet Blue employees participating in the event in and around the QueensBridge complex in Long Island City.
They were busy planting some of the one hundred trees scheduled for planting that day, as well as raking, picking up debris and working some of the tree and planting beds in the neighborhood and park.
Click here to read our report, including photos, about Jet Blue in LIC.
---
---
$element(adman,groupad,NhoodLIC)$
$element(adman,groupad,NhoodAstoria)$
---
Long Island City News Briefs 2011 - LIC
---
Remembering Queens Past
Forgotten-NY & GAHS Historic Tours Attract Growing Audience
Summer 2011 / Long Island City Neighborhood / Queens Buzz. I joined a tour given by Kevin Walsh, Founder of Forgotten-NY, and Richard Melnick, Vice President of the Greater Astoria Historical Society [GAHS]. It was a Saturday morning in the middle of August with the temperatures in the mid 80's and with some humidity. To my surprise and delight there were between 40 and 50 people gathered to take the historic tour of Long Island City.
The walking tour covered about two miles and was scheduled to last about three hours, but went on for four. During the tour we saw about twenty sites and the tour cost $25 for non-members. The tour guides did a great job of taking us back centuries ago, from when Long Island City became Dutch farm land, to its commercial heydays [1850's to 1940's], to today.
Click here later this week to read more about Remembering The Past With Forgotten-NY and the GAHS.
---
Residential & Commercial Real Estate In LIC
Enthusiasm Apparent This Year, That Was Lacking In 2010
Summer 2011 / Long Island City / LIC Real Estate / Queens Buzz. I attended the LIC Partnership [formerly LICBDC] Real Estate Breakfast last week. It was a full house and the panelists included Joanna Geraghty of Jet Blue Airways, a new tenant in the Met Life Building at Queens Plaza; Frank Monterisi of the Related Companies which is managing the Hunters Point South Project; and Jason Sheftell, Daily News real estate writer.
The general gist of the conference was to discuss the current state of residential and commercial real estate in Long Island City. Joanna discussed her perspective as Jet Blue is an incoming commercial tenant that is bringing approximately 800 new jobs into the LIC neighborhood, while Frank Monterisi talked about the new construction that has recently begun on the first two towers of the Hunters Point South Project, which is designed to lure new residents into brand new apartments that will soon overlook the East River. Jason Sheftell played the roving reporter, and commented on both.
---
PS1 Warm Up Parties & Pleasures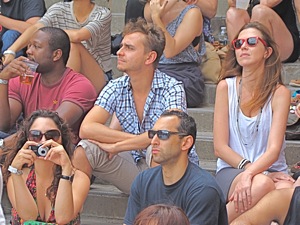 Summer 2011 / Long Island City LIC / Queens Buzz. PS1 began its warm up parties the first weekend of July. The PS1 Warm Up parties are held in the court yard of the art museum, where eash summer they present a new installation which creates a new environment in which the parties are held. The parties include music performed by musicians from around the city, nation and globe.
This year the installation was done by Interboro Partners and is entitled Holding Pattern. Throughout the summer the stage will be accentuated by different groups. Later this week you can click here to view the rest of our report including photos on the PS1 Warm Up parties in Long Island City LIC Queens.
---
---
$element(adman,groupad,Catgry Realestate)$
$element(adman,groupad,Catgry Furnitur)$
---
Long Island City News Briefs 2010 - LIC
---
Long Island City Artists Show
Spring 2010 / LIC News Briefs / Queens Buzz. This weekend there was an Open Studio Weekend put on by the Long Island City Artists organization. Painters, sculptors, photographers, and installation artists working in the LIC area agreed to open their studios to the public, for a once a year peek into the spaces were the creative process occurs in the art infused neighborhood of LIC in Queens.
We visited a ceramic studio as well as the old clocktower building near Queens Plaza on this weekend and a soon-to-be published report, including photos of the works will soon follow.
---
---
$element(adman,groupad,Catgry Medical)$
$element(adman,groupad,Catgry Foodwine)$
---
Long Island City News Briefs 2009 - LIC
---
Halloween In Queens 2009
Fall 2009 / LIC News Briefs / Queens Buzz. On Halloween Saturday night we toured a few neighborhoods of the borough to check out what people were wearing for costumes on Halloween. There were pirates, sailors, devils and pussycats. Sheik women, cleaning women, ogres and some hard-to-define originals. To see a few photos, click this link to photos of Halloween in Queens 2009.
The night was busy, as we noticed kids and their moms out trick or treating before dusk. They were soon followed by the adults who seemed to have embraced the holiday a bit more enthusiastically than I've seen in a while. I suppose Halloween falling on a Saturday night had something to do with it, followed by a long - extra hour - Sunday morning. The night was interrupted with rain, which almost always seems to happen, but it abated after a good warm half hour shower. Boo.
---
PS1sst .. Le Fooding?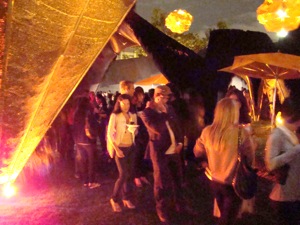 Fall 2009 / LIC News Briefs / Queens Buzz. This past weekend PS1 was host to a food event sponsored by Le Fooding, a french culinary guide which is working to make its way into the New York city market. Over the course of two evenings Le Fooding collaborated with three American and three French chefs to feed the roughly two thousand people who attended the event.
The event was held in the PS1 Courtyard which Le Fooding had covered with grass. The grass gave the PS1 Courtyard a nice warm plush feel. Le Fooding had also installed slide projectors which beamed graphics they created for the guide on the large courtyard walls. And, of course, in keeping with PS1 Warm Up Party traditions, they had a live DJ. RSVPs were required to attend and the proceeds went to PS1 and Action Against Hunger, a non-profit group.
---
Leee Childers Is The New Comeback Kid
Fall 2009 / LIC News Briefs / Queens Buzz. Leee Black Childers was once the photographer for David Bowie. Just two years ago he was living out on the street. In the seventies and eighties he managed top bands like the Ramones, Iggy Pop and Sid Vicious. He's a man who's lived life on the edge.
He's making a comeback with the help of his friends. From 6 to 9 pm this Saturday there will be a wine and cheese reception at Subdivision Art in Long Island City where some of his photos will be on exhibit and also for sale. The core of the group will be a seventies rock CBGB's crowd. All are welcome and it's free. Click here to view a map of Subdivision Art in Long Island City.
---
Richard Julian At LIC Bar
Summer 2009 / LIC News Briefs / Queens Buzz. This was definitely a music night not to miss. Richard Julian played at the LIC Bar at 9 pm. The night included free food and two other songwriters, all beginning at 7.30 pm.
Julian is a nationally known vocalist / guitarist who is one of the band members of the 'Little Willies' - a band which includes Nora Jones, who according to one pundit is the top selling country / jazz musician of the 2000's [also daughter of Ravi Shankar famous sitarist of the sixties].
Julian recently recently released an album of his own entitled 'Sunday Morning In Saturday's Shoes'. He's well known for his vocals and guitar. The weather was warm and dry, so it was a comfortable evening in the beer garden where there was plenty of room. Doesn't this sound like a nice way to start a week? Click here for a map showing the location to the LIC Bar in Long Island City.
---
PS1 Warm Up Party - Summer 2009
The Beauty & The Beat
Summer 2009 / LIC News Briefs / Queens Buzz. This weekend PS1 unleashes the beauty and the beat at it's first warm up part of the season. Given there isn't any fireworks along the East River this year [click here for No Fireworks In Queens July 4 2009 story], we think this will be one big happening event. Click here to view a story of a report on a PS1 Warm Up Party from 2008.
PS1 Warm Up parties continue through the summer months, every Saturday starting around 4 pm and going until sunset in the museum court yard. The events include rock 'n roll and eclectic bands and access to art and sunshine and an opportunity to meet hipsters from all over Queens, NYC and frequently, the world. Drinks are also served.
Check out the PS1 Warm Up schedule of bands, art and entertainment which we post in our monthly events calendar during the summer.
---
Queens Is Green Fashion Show - LIC
LIC Fashion Show At Green Space Was Great Green Fun
Spring 2009 / LIC News Briefs / Queens Buzz. The Queens Is Green Fashion Show held last weekend at Green Space in Long Island City was a lot of fun. The show played to a full house, with a large standing room crowd. The eco-super models did a superb job of modelling the fashions of a number of local green designers. In keeping with their audience preferences, nearly all of the clothing was casually oriented, accessories included. A minority of designs were of clothing for children and men. In the photo above you can see the local paparazzi preparing for the fashion shoot. Click here to see the Queens Is Green Fashion Show in the Triple R Events Photo Album to see a few photos of the show. We'll post more later this week.
---
The Sculpture Center LIC
A Journey Into The Artistic Mind
Winter 2009 / LIC News Briefs / Queens Buzz. I attended the Sculpture Center walk-through one Saturday evening. Several of the artists and the curator walked between twenty or thirty of us through the various works on exhibit in the gallery. The artists in attendance spoke about their work and what they were trying to convey. This week we'll post a full story aobut this event, including photos. It was an intellectually engaging outing where the artists talked about what issues they were dealing with and how they conveyed them. The work above will be discussed in the full story.
---
LIC Neighborhood - Long Island City Links
$element(adman,groupad,Catgry Bikes)$
Click on these advertisements for promotions, discounts and coupons by retailers and restaurateurs in Long Island City LIC and nearby Queens.
Click this link to go to the:
Long Island City Neighborhood or LIC Business Directory
Long Island City Real Estate or Events & Things To Do In LIC
Restaurants In Long Island City or LIC Shops & Shopping
---
$element(adman,groupad,Catgry Wedding)$
Site Search Tips. 1) For best results, when typing in more than one word, use quotation marks - eg "Astoria Park". 2) Also try either singular or plural words when searching for a specific item such as "gym" or "gyms".
$element(bwcore,insert_search,N)$
Click this link to search for something in our Queens Business Directory.
---
$element(adman,groupad,Sectional2 Ad)$
---
Click the log in link below to create an ID and post an opinion.
Or send this story to a friend by filling in the appropriate box below.
---