Restaurants In Long Island City
Tournesol French Bistro in LIC - Background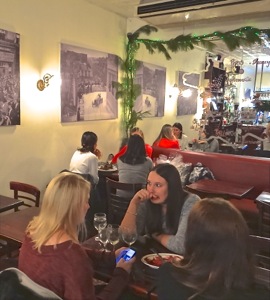 Long Island City Neighborhood / LIC Restaurants / French Restaurants Queens / Queens Buzz. This is a review of Tournesol Restaurant which is located in the Long Island City neighborhood of Queens NY. Tournesol is an authentic French bistro style restaurant which serves french food and wine.
Click here to read our report and view photos of Tournesol French Bistro in LIC Long Island City.
---
Restaurants In Long Island City
Tournesol French Bistro in LIC - Background
Long Island City Neighborhood / LIC Restaurants / Restaurants in Queens / Queens Buzz. Continued.
Tournesol is a restaurant fashioned after the bistros in Paris. The lively atmosphere and crowded greeting area may well put off some, but to those who don't mind waiting for something special, Tournesol won't disappoint. Tournesol is a one room restaurant which probably seats no more than 30 and makes good use of mirrors on the wall to provide the appearance of a larger space. When the weather is good, they open the front doors out onto the street which adds a couple of tables and a more open feeling. One could easily argue that the street tables have a view of the Manhattan skyline. The restaurant is run by a French woman who serves as the maitre d and adds a very french flavor to the ambiance as well as the meal.
We arrived about 9 on a Saturday night. Given the restaurant's size and reputation, they were a bit backed up. They asked us to wait a bit, as our table had not yet become available. So we stood in the packed waiting area of the restaurant for about fifteen minutes before we were seated.
French Appetizers - Frogs' Legs, Duck Liver W/ Chutney & Snails In Long Island City
The restaurant provides a simple yet broad range of appetizers and entrees. Appetizers range from Goat Cheese and Beets to Frogs Legs With Basmati Rice to Duck Liver With Chutney to Snails. While there isn't a large number of items, the choice is broad. We decided upon the Goat Cheese and Beets and the Duck Liver With Chutney. We ordered a bottle of wine, the name of which I apologetically lost. It was a French Bordeaux, full bodied, not expensive [about $35 or so] and a definite pleaser.
The Pan Breaded Goat Cheese With Beets was excellent. The beets were large, flavorful and of a texture that provided some resistance, but not too much. The Terrine of Duck Liver With Fig Chutney took us deeper into the realm of total decadence. The thick spongy texture of the foie gras coupled with the taste of all of the flavors in the chutney pleased all of my taste buds, which I embellished with wine and then prepared for the main entree by cleansing with bread. This was a treat.
Tournesol In LIC - French Bistro Ambiance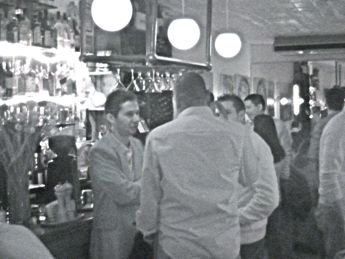 The place was lively and we were packed in next to others. This has the effect of facilitating conversational 'spillover' from the other tables which is either a good thing or a bad thing, depending on your mood or your company. We were seated between a lover's couple trying desperately to keep to themselves [this appeared to be an inflection point in their relationship] and a fifty-something international couple interested in socializing with others. It made for an entertaining night in which none of us had to work to keep the conversation interesting.
French Cuisine In Queens At Tournesol LIC
Skate With White Bean, Hanger Steak & Beef Bordelaise
The menu for the main courses provided just as much variety as it did for the appetizers. There was a vegetarian plate which I actually had once, but was sorry I did, given the other choices. There was Skate With White Bean salad which I had also previously oredered, although with much, much happier results than with the vegan dish. And then salmon, hanger steak and beef bordelaise.
Tonite I decided I would treat myself to the Beef Bordelaise, and I wasn't sure how much I felt like sharing. My friend ordered the Chicken With Garlic which was comfort food and very safe. Neither of us was disappointed, but to my way of thinking, there's only so much you can do with chicken, which is why I wasn't so anxious to share entrees - my dining friend had not chosen wisely.
The Beef Bordelaise, is in my humble opinion, their best dish. The beef is cooked lightly. I ordered it pink, since ordering something rare or medium or well is very subjective, while pink / pink is not. It means not red and not brown, but right smack dab in the middle. The cut was lean and tender. The Bordelaise sauce is this brown sauce which some French call 'the mother of all sauces'. It contained shallots, bordeaux wine and veal and beef broths. Each bite of the dish slid down my throat into oblivion.
And so for dessert. Well, we passed on it. At the end of the meal we were treated to a pear based liqueur, the name of which escapes me. Once I had put away my camera, I metaphysically left the borough for a bistro in the heart of Paris, only to come home to the borough of Queens the next morning.
Tournesol - French Restaurants In LIC - Links
Click this link to view a map of Tournesol Restaurant in LIC Long Island City. Click this link to obtain the contact info and website url for the Tournesol French Restaurant in Long Island City Queens.
---
LIC Neighborhood - Long Island City Links
$element(adman,groupad,NHoodLIC)$
Click on these advertisements for promotions, discounts and coupons by retailers and restaurateurs in Long Island City LIC and nearby Queens.
Click this link to go to the:
Long Island City Neighborhood or LIC Business Directory
Long Island City Real Estate or Events & Things To Do In LIC
Restaurants In Long Island City or LIC Shops & Shopping
---
$element(adman,groupad,Catgry Rest)$
Site Search Tips. 1) For best results, when typing in more than one word, use quotation marks - eg "Astoria Park". 2) Also try either singular or plural words when searching for a specific item such as "gym" or "gyms".
$element(bwcore,insert_search,N)$
Click this link to search for something in our Queens Business Directory.
---
Click the log in link below to create an ID and post an opinion.
Or send this story to a friend by filling in the appropriate box below.
$element(adman,groupad,Sectional2 Ad)$
---