Famous Photographers Convene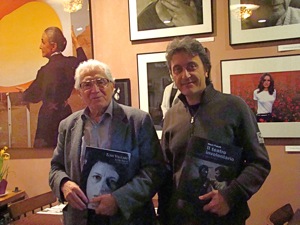 April 14, 2010 / Long Island City LIC / Queens Buzz. Yesterday at Manducatis Rustica on Vernon Blvd, I had occasion to bump into two well known photographers. Tony Vaccaro [left], who photographed for the Sunday edition of the Stars & Stripes, and Life and Look magazines and is well known for WWII photos and photographic sketches of famous people. Standing next to him is Mauro Presutti [right], who is an Italian photographer who currently photographs a variety of Italian subjects on black and white film. I found them sitting at 'Tony's Table' chatting with each other while a number of friends and acquaintances casually came and left. Both men have fairly recent published works which they are holding in the photograph on your left. Tony's book is entitled 'La Mia Italia' which translated means 'My Italy' and Mario's in entitled 'Il Teatro Involuntario' which loosely translated is 'Involuntary Theater'.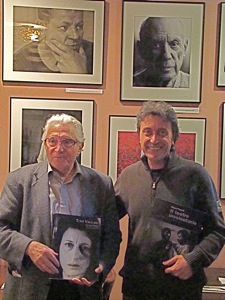 Tony Vaccaro is a near daily guest of Manducatis Rustica. Gianna Manducatis, owner, has christened a table at the back of the restaurant as 'Tony's Table' where Tony unofficially reigns over a very relaxed court of Manducatis Rustica and LIC regulars. Tony photographed the content for a number of books, ranging from his WWII photos, starting with General George S. Patton, to portraits he's done of innumerable famous people throughout the years, such as Italian actress Sofia Loren. Tony is well into his eighties, so he has accumulated a lot of photos [about 20,000 of them] and innumerable circle of acquaintances and friends. Tony's work is hanging in Manducatis Rustica which provides an informal gallery for some of his photographs. I was informed he changes the photographs annually.
I know a bit less about Mauro. We met at one of his first photography exhibits in the U.S. which was held at the Buzzeo Building in Astoria in the fall of 2008. While his English is far better than my Italian, I'm thankful that there's always been someone who speaks both languages to help us out. The book in the photo is one of his photographs, which shows a procession in Italy where the parents carry their children through the streets in an annual town event. Mauro will return to Italy in about another week.
---
LIC News Briefs / Long Island CityQueens - Related Links
Click this link to go to the LIC - Long Island City Section / LIC - Long Island City Restaurants / LIC - Long Island City Shopping Center & Map.
Site Search Tips. 1) For best results, when typing in more than one word, use quotation marks - eg "Astoria Park". 2) Also try either singular or plural words when searching for a specific item such as "gym" or "gyms".
$element(bwcore,insert_search,N)$
Click this link to search for something in our Queens Business Directory containing over 1,000 listings.
Send this story to a friend by filling in the appropriate box below.
---