Long Island City - LIC Real Estate
LICBDC Hosts Informative LIC Real Estate Appraisal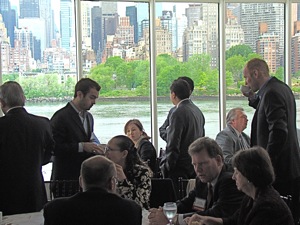 May 19, 2010 / Long Island City LIC / Queens Buzz. I attended a real estate breakfast meeting hosted by the Long Island City Business Development Corporation [LICBDC] at the Waters Edge restaurant in Long Island City. The LICBDC presented four main speakers on a panel to discuss the current state of the real estate market in Long Island City, with an eye toward the future. Approximately 200 people attended the breakfast, largely consisting of real estate, financial services, retail and development / construction professionals.
Residential Development In Long Island City LIC Queens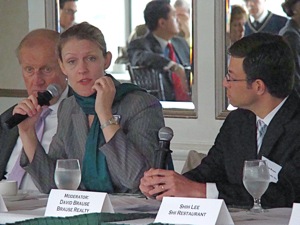 The first speaker was Richard Anderson, the President of the New York Building Congress [far left]. He talked about how the construction industry had gone from building 35,000 units in NYC only a year or two ago, to its current level of activity, which is running at about 6,000 units this year.
Public Infrastructure Projects In LIC Queens
The good news is that this year public infrastructure projects in NYC have picked up much of the slack, which has mitigated a significant fallout. These infrastructure projects, over the long term, will help foster and expedite business activity in the future. And increased business activity leads to job creation, which is the backbone of any sustainable recovery.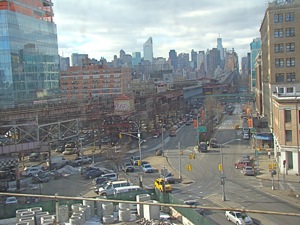 LIC is one of the recipients of the government's largess. Current and future projects include: 1) the Queens Plaza Park which is to be a series of malls and offices near the Queens Boro Bridge, 2) the # 7 subway line extension and 3) the construction of a Long Island Railroad [LIRR] route directly into Grand Central Station [the current route goes directly into Penn Station].
Construction Spending / Outlook 2010 NYC
But in the intermediate term, the outlook is less
clear. There are currently 575 projects in NYC that have stalled due to funding / financing. Business needs to work with city government to find solutions to addressing this loss of liquidity, so that these projects can be brought to completion and in the meantime provide jobs.
The value of construction at the height of the market was rising about 12% per year. This year it's expected to remain flat or continue falling, paving the way for construction opportunities for those who can finance them.
CUNY Law School To Move To LIC From Flushing
The next speaker was Michelle Anderson who is the Dean and a Professor of Law at the CUNY School of Law, which is currently located in Flushing [she's seated in the middle of the photo showing Richard Anderson above]. The CUNY School of Law is in the process of moving from Flushing to 2 Court Square in Long Island City.
Long Island City To Become CUNY Law School Home
Michelle explained to us why they'd chosen LIC which essentially boiled down to about four key variables: 1) a central location with good public transportation connections because the 400 – 450 law students at CUNY travel from all five boroughs, 2) facilities quality, including the suitability of them to fill the students' and school's needs, 3) the ability to expand for future growth, and 4) the cost and structure of the overall deal.
They appear to be in the process of closing a deal for Two Court Square across from Citicorp Center which was once used by Citigroup for training purposes. Hence it doesn't require a lot of remodeling and the space is well designed for its intended purpose. It's centrally located as the 7, E, V and G trains all converge near this location. And, if I understood correctly, they are leasing out a bit more than half the building, which puts them in the position of being able to expand over time.
Restaurants and Retail Real Estate - Long Island City Queens
The next speaker was Shih Lee [pictured in photo below in middle], restaurateur of Shi Restaurant and Skinny's Cantina, both of LIC. He talked about the importance of facilitating an influx of retailers and restaurants to service the growing population of Long Island City so that they don't just sleep here, but actually live here too. Without restaurants and retail, Long Island City will, in time, end up being a bedroom community without the ability to create and retain jobs. Currently Vernon and Jackson Blvds in LIC serve as backbone for the main LIC shopping and dining areas [late night on Vernon Blvd pictured in photo to left] .
Shi rhetorically asked the group to find ways to facilitate retail and restaurant entry into Long Island City. He noted that he's heard on the street, that other business owners who've looked at the possibility of opening retail and restaurant businesses in LIC, wanted to see some zoning changes to help facilitate their move into LIC.
Commercial and Residential Real Estate In LIC
The last speaker was John Maltz, President of Greiner-Maltz Real Estate [pictured on right in photo to right]. He talked about the last four real estate cycles in Long Island City spanning several decades. Prices went from $4 per square foot up to $400 per square foot and back down to about half that or $200 per square foot. He noted how LIC has become home to an evolving film industry [SilverCup & Kaufman Studios], a stable light manufacturing trade dating back nearly a century or longer, and an evolving residential and office space market.
Commercial Space Vacancy & Prices - LIC Real Estate
Currently only about 5% of the commercial space in LIC is available, which has been LIC's long term trend. He went out of his way to mention that available is not the same as vacant, as that is a far smaller number and by most standards it's low. He then talked about prices, noting there are about four pricing tiers based on the size of the space. The rental rates run from about $13 to $25 per square foot, while the sale prices range from $200 to $600 per square foot, depending on all of the factors that go into making a long term commitment to renting or buying real estate in the New York City metro real estate market.
Historical LIC Real Estate Prices Of Commercial / Retail Space
He went on to provide an historical perspective, noting that Long Island City real estate never held steady for more than 24 months. After that time it either started a good climb or a not-so-good decline. In 1982 after a period of stability, Long Island City / LIC real estate prices began to climb, whereas in 1990 after two years of stable prices, Long Island City / LIC real estate prices began their descent.
Factors Affecting Real Estate Prices In LIC Queens
He looks to several variables to clue us in on where LIC real estate prices might go over the next couple of years. They included: 1) the performance of Wall Street, 2) the availability of bank financing, 3) the stabilization of the LIC manufacturing base [it's been shrinking due to higher rents] and 4) the price differential between Manhattan and LIC based apartments. He pointed out that the second factor was likely to be the most important one – how long will it take for the banks to resume 'normal levels' of lending for real estate.
LIC Real Estate - Price Trend Interactions With NYC
Over the past decade, LIC real estate prices have narrowed the gap vs prices in Manhattan, while continuing to trade at a discount. Now that the Manhattan real estate market has cooled and prices have softened, there will likely be some impact price-wise in LIC. That said, he noted that LIC has come a long way, and still provides more
space for the money, so my interpretation of his prognostication, was that it is less clear than in the past as to exactly what the net impact would be on LIC real estate prices.
Residential apartment prices in LIC have risen for studio units versus a year ago. And one bedrooms have apparently retained their price levels too, due to shrinking inventory in the market. But luxury apartments have held or lost value due to rising inventories [it was easier to obtain development financing for luxury apartments in recent years]. In fact some luxury apartments have fallen as much as 50% in price from just a year or two ago.
In the Q&A one realtor quipped,"come to Astoria for better prices". In fact that statement could be made for Sunnyside, Woodside, Jackson Heights and for that matter the rest of Queens too. In recent years the LIC neighborhood has evolved to become one of the leading real estate markets in Queens - no doubt due in part to its close proximity to Manhattan.
LIC Real Estate - The Long Term Perspective
My net take away from the conference was that the real estate market in LIC is, as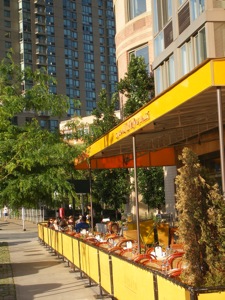 always, in a state of flux. It was noted that the land use will always gravitate toward the highest square foot cost, which at present appears to be residential. Over time there will be a steady decline in light manufacturing in the area, along with these local jobs. And at present local restaurateurs and shopkeepers have not yet seen enough growth in pedestrian traffic to bring in enough revenue to keep pace with rising rents.
Long Island City's future must be managed if the new resident / owners are to prevent their neighborhood from being transformed into a bedroom community. A bedroom community is not an attractive option for LIC because it's less economically vibrant [no retail, restaurant, light manufacturing & related jobs], it's less culturally vibrant [without restaurants and shops, local arts / culture will not flourish], and over the long haul, even LIC real estate prices won't rise to their full potential if the community is not developed in a holistic manner. Lastly, a holistically developed neighborhood is also far more environmentally-friendly than a bedroom community, as the residents don't have to travel out of the community every time they want to get something done or do something fun.
Many thanks to Dan Miner and the LICBDC for their sponsorship of this event.
---
Some Other Queens Real Estate Stories On This Site
Click here to view a story about Queens Real Estate in general with links to stories about Long Island City real estate, Jackson Heights real estate, Sunnyside real estate & Woodside real estate, and Astoria real estate. And click here to go to the Queens Real Estate section of this site. Click here to view Queens Real Estate Classifieds.
---
Queens Realtors - Links
Click here to go to the home page of Halvatzis Realty in Astoria, MPC Properties in Jackson Heights and Welcome Home Real Estate in Sunnyside.
---
Long Island City Real Estate - Related Links
Click here to go to the home page of Ponce De Leon Bank for Mortgages In Astoria & Queens.
Click here to go to the home page of an Allstate insurance agency for Home Insurance In Astoria & Queens.
---
Site Search Tips. 1) For best results, when typing in more than one word, use quotation marks - eg "Astoria Park". 2) Also try either singular or plural words when searching for a specific item such as "gym" or "gyms".
$element(bwcore,insert_search,N)$
Click this link to search for something in our Queens Business Directory containing over 1,000 listings.
Send this story to a friend by filling in the appropriate box below.