Rosario's Italian Food Store
Italian Food Stores Near Ditmars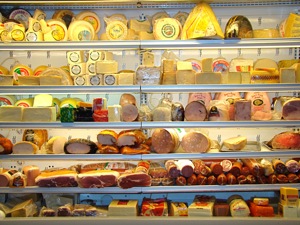 Continued / Astoria. As I browsed through the store, I noticed he stocked Italian packaged goods, some of which are difficult to find elsewhere in Queens, such as a whole host of Italian made olive oils, vinegars, tomato sauces, pastas and chocolates. One of
the most popular packaged goods items he stocks, are his wide assortment of Italian specialty cookies and cakes. Rosario's also stocks a number of expresso machines, pots, pans and other items made by Italian companies that may not have wide distribution in this country. You could probably put Rosario's store right in the middle of Italy and it would fit right in.
Rosario's Italian Food Store And Pizza
Rosario's reputation and main stay has grown to become its deli counter. Rosario has been running this store and deli since 1986, and through the years he's developed a well-rounded portfolio of delicious sandwiches that are popular among neighborhood residents. Many former residents return to taste their once-daily sandwiches at Rosario's.
Rosario's Delicatessen - Ditmars Astoria
Behind the deli counter a young man waited on people lined up to order many of Rosario's sandwiches and ingredients. Tuna, turkey, proscuitto, roast beef, mozzarella and provolone are just a few of Rosario's sumptuous offerings. He offers at least two variations of proscuitto; one that is dry cured [crude] and another that is boiled like ham [sotto?]. In addition to meats and cheeses, Rosario's also makes fresh eggplant and fresh mozzarella almost daily. Rosario's provides generous servings which are made with bread made fresh that day.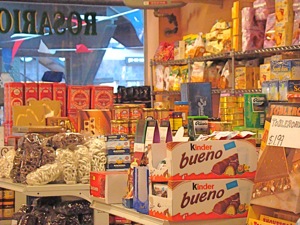 Rosario came over here at the age of twelve without knowing a word of English. He learned the English language in school and now speaks the language like any other American. He started in the food business in his teens making pizzas. About ten years ago, he decided to return to his pizza-making roots and began offering pizza inside his boutique deli and food store.
Pizza In Astoria - Pizza Near Ditmars
Rosario's pizza is well known around the neighborhood. He makes fresh tomato sauce nearly daily and he rolls fresh mozzarella in the back of the store, which he sells at the counter as well as atop his pizzas.
$element(flashss,slideshow,22)$
I had the opportunity to sample Rosario's pizza while talking to him. He had just finished a nice lean simple pizza, made with tomato sauce, hot mozzarella and basil on it. The crust was of fresh dough, which I had seen him flip and it made for a flavorful mid afternoon snack. Rosario's is open 8.30 am - 7.30 pm Mon – Fri and open until 7 pm on Saturday. It's worth adding that he makes a good cup of expresso as well as cappuccino. Salud.
---
Astoria & LIC / Long Island City Related Info
Click this link to go to the Astoria Section / Astoria Restaurants Guide & Map / Astoria Shopping Center & Map.
Site Search Tips. 1) For best results, when typing in more than one word, use quotation marks - eg "Astoria Park". 2) Also try either singular or plural words when searching for a specific item such as "gym" or "gyms".
$element(bwcore,insert_search,N)$
Click this link to search for something in our Queens Business Directory containing over 1,000 listings.
Send this story to a friend by filling in the appropriate box below.
---