Unity Stage Company - Six Cylinder Love
Old Script Strikes Contemporary Chord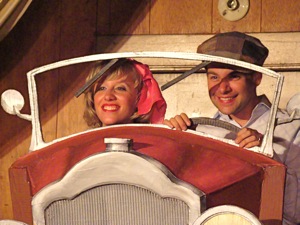 Sunnyside / June 3, 2010. Unity Stage Company opens Six Cylinder Love on Thursday, June 3rd. I had the opportunity to preview the play the night before the opening.
I went into the review quite skeptical, perhaps because the name of the play just didn't resonate with me. Nor did some of the descriptions I'd read beforehand. It sounded too old and too corny to be of interest.
While everything during the dress rehearsal wasn't quite perfect, there was a lot in this production that made it incredibly relevant to the very times we live in today. The professional cast did a superb job of bringing the characters and themes to life, and I later discovered that this play was written by playwright William McGuire who had won the 1936 Academy Award for Best Picture.
---
6 Cylinder Love
Good Old Fashioned Theater
The following early draft preview should give you an idea of what to expect, should you decide to go see the play. It's a great script that starts out slow in Act I as it lays the groundwork of portraying the characters, scenes and what follows. It becomes quite interesting in Act II and completely pulls you in - even a bit emotionally in a 1920's sort of way - in Act III.
Unity Stage Company - Selects Strong Cast
The cast is universally excellent with strong leads and a strong supporting cast. The costumes were well done, as were the three act sets. And while the lights and sound were still being worked on during the dress rehearsal, they didn't detract from the overall production.
Six Cylinder Love - Theater In Sunnyside
If you're in the mood for a bit of old fashioned comedy, a strong story with an incredible amount of relevance to today, and being transported back into a simpler time - then go see Six Cylinder Love. It runs for three weeks, there are only 50 seats per show, the tickets cost $15, and you can reserve seats by calling 718.361.5858.
Click here to view a map showing the location of the ANOROC Democratic Club in Sunnyside near 45th Avenue and 47th Street, which is the theater for Six Cylinder Love by the Unity Stage Company.
We hope to do a complete review when time permits, but in the meantime, the following is a slide show of a number of the photos taken at the preview. Sofia Landon Geier, founder of Unity Stage Company, produced and is directing the play. And more about the actors / actresses will be included in the full preview.
$element(ophoto,photo_slideshow,78,550,,5.00,fade)$
---
Sunnyside Related Sections. Click this link to go to the Sunnyside Woodside Neighborhood News / Woodside & Sunnyside Restaurants / Sunnyside & Woodside Shopping Center & Map.
Site Search Tips. 1) For best results, when typing in more than one word, use quotation marks - eg "Astoria Park". 2) Also try either singular or plural words when searching for a specific item such as "gym" or "gyms".
$element(bwcore,insert_search,N)$
Click this link to search for something in our Queens Business Directory.
---
Click the log in link below to create an ID and post an opinion.
Or send this story to a friend by filling in the appropriate box below.
---