Jackson Heights Garden Apartments
Jackson Heights is the home to the garden apartment building, where it first originated in the nineteen twenties.  The Jackson Heights neighborhood has evolved into one of the most integrated communities in the world, comprised of residents whose families originated in Asia, Latin American, Europe and Africa.  This is a brief introduction into the neighborhood housing stock.
Click here to view the full story on the historic Jackson Heights Garden Apartments.
---
Jackson Heights - Home Of The Garden Apartment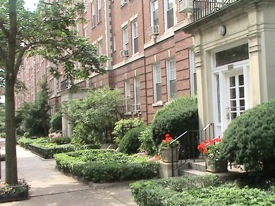 Jackson Heights is the gracious home of the garden apartment and, as we understand it, where the term originated. We had an opportunity to get a tour of one of these lifestyle-friendly buildings from Carmen Carfagna, wife of one the Jackson Heights leading realtors, Michael, and here is what we saw.
This tour took place at Hawthorne Court which, as you can see by the picture, has formal entry porticos, surrounded by gentle landscaping in the front of the building to provide an inviting feel.
Garden Apartments in Jackson Heights - Brief History
Inside the building we looked at one of the apartments which reminded me of my former Gramercy Park apartment, built in the 1920's, which provides an airy feel with nine foot high ceilings, working fireplaces and lots of windows to allow fresh air and breezes to grace the abode. That said, the focus of this first visit was to become more familiar with the garden aspects of the apartment building.
Jackson Heights Historic District - Places To Live In Jackson Heights
Most of the neighborhood is a National Register Historic District as well designated an historic district by the NYC Landmarks Preservation Commission. The garden apartments essentially contain spacious parks within the confines of their walls as you can see by the picture to the right. These parks are large and secure areas where apartment building inhabitants can relax alone or with friends. They also provide an opportunity to get to know your neighbors in a casual, relaxed setting, while still being only a half an hour away from the city. One gets the feeling of being much further away from the hectic pressure cooker we call Manhattan.
Hawthorne Court - Garden Apartments In Jackson Heights
In the apartment building we visited, Hawthorne Court, the building residents had installed a number of park benches, walk ways and comfortable visiting and seating venues for meetings with friends, playing cards or having coffee with friends. As the photo illustrates, these coves provide a touch of privacy within the confines of the garden.
We will continue to post reports about the neighborhood, its housing stock and community events. Click on some of the links below to learn more about Jackson Heights.
---
Jackson Heights / Elmhurst Related Info
$element(adman,groupad,Catgry Realestate)$
Click this link for promotions, discounts and coupons in Jackson Heights, Corona and Queens.
Click this link to go to the Jackson Heights & Elmhurst Neighborhood News / Jackson Heights Restaurants / Jackson Heights & Elmhurst Shopping. Click here to view information about historic Jackson Heights apartments & real estate including condos, co-ops, apartments and houses.
---
$element(adman,groupad,NHoodJHTS)$
Site Search Tips. 1) For best results, when typing in more than one word, use quotation marks - eg "Astoria Park". 2) Also try either singular or plural words when searching for a specific item such as "gym" or "gyms".
$element(bwcore,insert_search,N)$
Click this link to search for something in our Queens Business Directory.
---
$element(adman,groupads,Sectional Ad)$
---
Click the log in link below to create an ID and post an opinion.
Or send this story to a friend by filling in the appropriate box below.
---