---
Click the heading above to view sporting activity & bicycling events this month in Queens. Click the following links to go directly into one of these Queens Neighborhoods: Astoria, Flushing, Jackson Heights, Jamaica, Long Island City and Sunnyside.
---
Queens Swimming Pools - Free Outdoor Public Swimming Pools In Queens
Queens Free Public Outdoor Swimming Pools - Queens NYC
Includes Maps, Contact Info & Links
May 16, 2023 / Queens Neighborhoods / Queens Free Public Swimming Pools / Queens Things To Do / Queens Buzz NYC.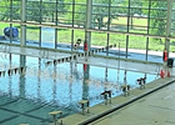 Queens offers easy access to a wide range of recreational swimming pools. The following is our first attempt to provide you with a view of the range of public swimming pools available in the parks of Queens. We encourage you to make use of these facilities because they provide healthy, fun, and frequently free or inexpensive entertainment for both individuals and families with children.
Queens outdoor public pools will open near the end of June 2023. A few of the indoor pools will be closed this summer to allow for construction and improvements.
Generally pool hours are from 11 am - 7 pm daily, with a one hour break between 3 and 4 pm for cleaning. Bring a padlock for your locker and proper swimming trunks are required [for boys this means not shorts as trunks must have liners]. Don't bring food, glass bottles, newspapers, electronics, floaters and no or as few valuables as you can bring to minimize your risk because the park isn't responsible for your losses. Free sunscreen will be made available while supplies last.
As of this posting 5.16.23, masks are no longer required for indoor activity including in the locker rooms, but stay tuned as it's possible that could change.
Click here to view a listing of Queens swimming pools including Astoria, LIC, Sunnyside, Woodside, Jackson Heights, Flushing, Corona, Jamaica, Bayside swimming pools.
---
---
---
queens parks & sports queens
$element(bwcore,article_picker,917-1197,Y,N,page_title_home,N)$
Spring Has Arrived
The Trees are Blooming and Warmer Weather is on its Way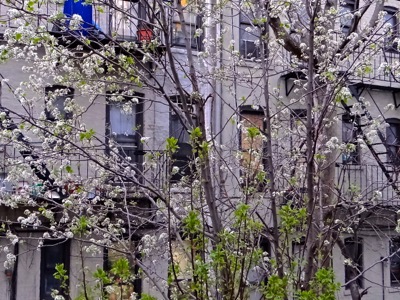 April 17, 2018 / NYC Neighborhoods / Queens Buzz NYC.
This weeks our deciduous trees have begun budding and flowering. We can see the bright pea green buds and the white tree blossoms popping out everywhere. This unique period of springtime lasts only a week or two, so enjoy the majestic beauty while it lasts.
The photo to your right shows what is a very ordinary view of a back wall of apartment windows in NYC, as it comes alive with nature's beauty. The budding trees add oxygen during the day and carbon during the night to our atmosphere. And provide shelter from the hot sun during the summer and some privacy between neighbors as well.
So enjoy these magical week(s) as nature blossoms and our deciduous trees awake from their wintry slumber.
---
A Short Report & Photos of the Solar Eclipse of 2017 in NYC
The Solar Eclipse was an American Communal Shared Experience
August 21, 2017 / Queens Neighborhoods / Manhattan Neighborhoods / Gotham Buzz NYC.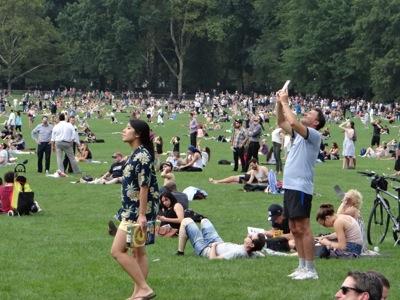 I set about to experience the solar eclipse of 2017, departing for Manhattan at about 1.30 pm which was about the time the eclipse was to begin. As I made my way to the subway, I met a woman who was heading to Hunters Point South Park to do the same. She offered me the use of her eclipse glasses, which I examined but it was far too early to really use to any great effect.
Solar Eclipse Glasses were Opaque
The eclipse glasses were opaque and I couldn't see through them looking down the street. Apparently they only work when you're looking at the sun. The glasses this woman had were sponsored by Cisco Systems through a science camp in Rochester, NY. Consumers were advised to be careful about which eclipse glasses to use, as apparently some would not filter out the harmful, eye-damaging rays of the sun. One eclipse audience member told me that the glasses were being sold online – ten for $100. I'll have more about the protective glasses a bit later as I used the glasses to take what I would call 'meaningful' photos.
There were many reports published about how one can damage their eyes by looking directly at the sun. The Washington Post noted that the damage can begin in as little as one and a half minutes, and that looking at the sun in a sequence of little peaks at a time, may not prevent you from doing real damage. It's worth noting that one can also damage their camera by pointing it directly at the sun for a long period of time. The New York Times noted that the longest the full eclipse will last, is less than three minutes, and that in many places in America it will last less than a minute.
Solar Eclipses Happen Regularly, but Not Where We can See Them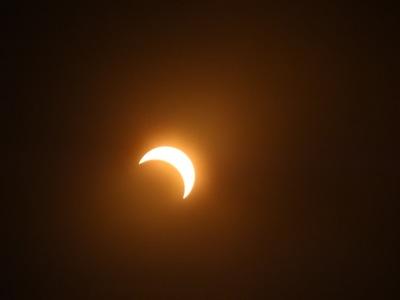 Historically, it's worth noting that the moon eclipsing the sun happens every 18 months, but most eclipses happen over the oceans which cover about two thirds of the planet earth surface. According to the New York Times, the last time America experienced a full solar eclipse was in 1918, a full 99 years ago, so few if any who are old enough to experience the eclipse this time, are likely to see it again.
The eclipse began along the west coast in Oregon at about 1.15 pm, the peak was at about 2.45 pm and the final was at about 4 pm. I'll note a few of my times as we run through the rest of this report.
Solar Eclipse NYC 2017 on the Upper East Side
Anyhow, I arrived at Lexington and 77th Street about 2 pm, about 45 minutes before the peak of the eclipse. A few folks were standing in the street looking up, so I shot a photo of the sun at that time, but it didn't look like much at the blinding rays of light blocked any real photo clarity.
I started journeying westward to Central Park which was my destination. Sheep Meadow to be exact, as I expected there to be a large crowd there – even though it was a Monday afternoon. After all, today was eclipse afternoon in NYC, a once-in-a-century / lifetime event. I wasn't disappointed.
Solar Eclipse NYC Photos 2017 in Central Park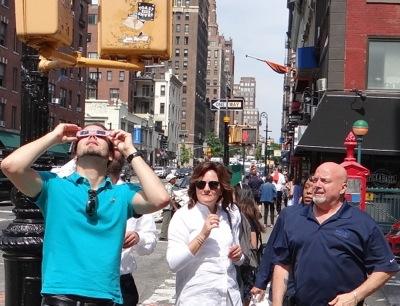 Actually most of Central Park was kind of teeming with life. My first stop was the Conservatory Water just south of the Alice in Wonderland statue along the east side of Central Park. People were milling about, sailing boats and looking upward. Not much seemed to be happening here, so I moved west to the Central Park Boathouse and Bethesda Fountain. I knew I was getting warmer as the fountain area and terrace were pretty packed. Again, folks were looking skyward so I shot a few photos without any filter and got shots that only marginally indicated the eclipse.
Down here on earth, if you weren't looking for it, you wouldn't have known there was an eclipse. And the clouds weren't helping clarify the issue either.
Click here to read the rest of our report on the Solar Eclipse 2017 in NYC with photos of eclipse in Central Park Manhattan & a park in Queens.
---
5 Boro Bike Tour Rides On ...
The 5 Boro Bike Ride has Become an NYC Cultural Institution
May 8, 2017 / Astoria Neighborhood / Bikes Bicycle Events in Queens / Queens Buzz NYC.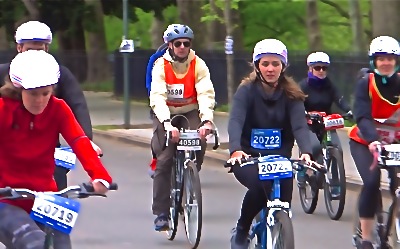 The 5 Boro Bike Tour pedaled through the five boroughs on Sunday, for its 40th year. I have been covering the event for nearly a decade, enjoying conversations with the riders as they make their way through the streets of New York City, without having to contend with hostile traffic. It's a family-friendly event and helps fund bike safety and repair programs designed to teach children and adults how to enjoying bicycling in an urban environment.
Brief History of the 5 Boro Bike Tour NYC
The following is a summary of the 5 Boro Bike Tour history, gleaned from the Bike New York website at www.bike.nyc.
The event began in 1977, starting with a conversation between Sal Cirami of the American Youth Hostels bicycle committee and Eric Prager of the NYC Board of Education. Sal was interested in creating more bicycle-friendly streets, while Prager had been asked to develop a bicyle safety program for NYC school children.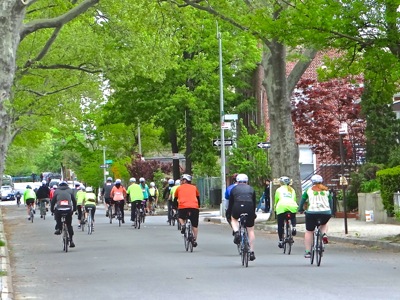 The program started with bicycle safety and repair, and the 5 Boro Bike Ride was to be the culminating event for the participants. Thus on June 10, 1977 Sal, Eric and 250 entrants - most of which also came from bicycle clubs - made their way from Flushing Meadows Corona Park in Queens, down through Brooklyn, over the Verrazano-Narrows Bridge to Staten Island, ferrying back over to Manhattan, and traversing up through Manhattan to the Bronx, before crossing over the Throggs Neck Bridge back to Queens, terminating at Flushing Meadows Corona Park. The streets weren't closed, but the riders were provided with an NYC police escort.
The next year, the newly-elected Mayor Koch, supported the idea of a 5 Boro Bike Tour with city resources. The ride was shortened to 40 miles and the NYPD shut down a moving 40 block long section of streets to pave the way for the cyclists to pass. That year the cyclist count rose to 3,000. Two years later, in 1980, the MTA subway workers went on strike and the 5 Boro Bike Tour participation swelled to 12,000 and then grew to 32,000 before the city capped the ride at that number where it has remained ever since.
5 Boro Bike Tour: Queens, Manhattan, Bronx, Brooklyn & Staten Island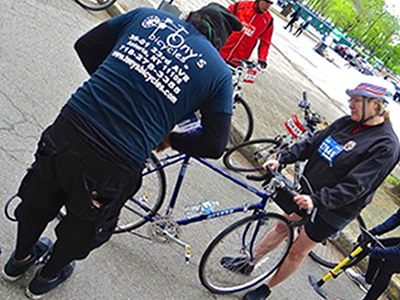 According to Bike New York, this year the 5 Boro Bike Tour attracted 32,000 participants from all 50 states and 65 countries. It was a cool, cloudy day with temperatures in the 50's and 60's. In the mid / late afternoon came a bit of drizzle, but by then I believe most - if not all - had completed the ride. I made my way up to the Astoria rest stop where vast crowds of cyclists converge beginning at between 8 and 9 am and which then continues for a couple of hours, before tapering down by around noon.
I arrived on the tail end of the ride, where I could watch the bicyclists who preferred to take the ride slowly, were streaming along northward along the eastern perimeter of Astoria Park. I made my way down to the rest stop, located in the parking lot just under the RFK / Triborough Bridge, where there were toilets, food and bike repair services available to the riders on their 40 mile journey.
One of the riders I conversed with later that afternoon told me it was exhiliarating to see New York City on bike and to be joined by so many other bicycle enthusiasts from around the city, nation and planet. The entrance fees [$100 for a standard ticket / packet] from the 5 Boro Bike Tour go to Bike New York which is a non-profit dedicated to teaching cyclists about bike repairs and bike safety. Registration generally starts the second week of January and closes out fairly quickly as the 5 Boro Bike Tour is limited to 32,000 cyclists. TD Bank was the sponsor this year as it has been for a number of years.
---
Floating Peace Lanterns
Harbor LAB Organizes Floating Peace Lantern Event on East River to Celebrate UN International Day of Peace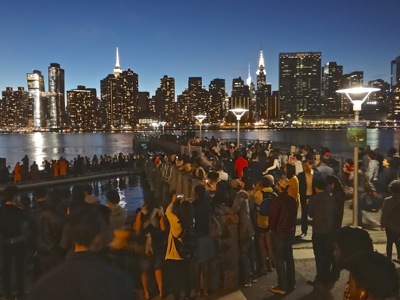 September 25, 2016 / LIC Neighborhood / Queens Social Events / Queens Buzz.
Last Sunday evening I made my way down to the East River waterfront in Gantry Park to observe a celebration of the UN International Day of Peace.
Harbor LAB [Learning / Adventure / Boating], an environmental educations non-profit whose activities center around East River & Newtown Creek kyaking and canoeing, had organized the event.
The celebration started in the afternoon along the East River waterfront at Gantry Park and lasted well into the evening. Activities began at 2.30 pm with public paddling of kyaks and canoes, while simultaneously there were meditations, yoga exercises and the preparing of the peace lanterns.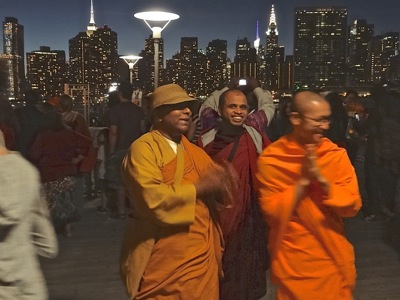 By sundown several speakers for interfaith and peace addressed the crowd before beginning the floating peace lanterns ceremony. The keynote speaker was Ambassador Anwarul K. Chowdhury High Representative for the United Nations, Retired UN Under-Secretary General.
The peace lantern event began with a drum beating by about a half dozen Buddhist monks dressed in traditional bright orange garb. Several hundreds lined up along the shoreline to observe the solemn ceremony and enjoy sunset along the East River.
The first such event was organized by Harbor Lab Founder Erik Bard in 2002. This year Harbor LAB organized the event in conjunction with the Buddhist Council of New York, and the Interfaith Center of New York, Global Movement for the Culture of Peace, and New York Office of Parks, Recreation and Historic Preservation.
---
$element(bwcore,article_picker,917,Y,N,page_title_home,N)$
City of Water Day in Queens
July 2016 / Astoria Neighborhood / LIC Neighborhood / Queens Neighborhoods / Water & Sports Activities Queens / Queens Buzz.
This year [2016] the City of Water Day didn't appear to have a lot going on in Queens. In the few prior years it had been celebrated there were more activities, but I can't say that it had - as of yet - caught on in any large measure.
The following were the City of Water Day events in Queens in 2015. This information was taken from www.cityofwaterday.org website. They are organizers of the event.
Urban Park Rangers - Location: Hallets Cove, 31st Ave. at Vernon Blvd - Time: 10am-2pm - Catch & release fishing
NYC DEP - Location: Hallets Cove, 31st Ave. at Vernon Blvd - Time: 10am-2pm
Long Island Community Boathouse - Location: Gantry State Park, 48th Ave. and Center Blvd - Time: 2:30pm-4pm - Free public walkup kayaking
Long Island Community Gardens Inc. - Location: Gantry State Park, 48th Ave. and Center Blvd - Time: 12pm-4pm - Family festival at Gantry State Park
Hunters Point Parks Conservancy - Location: Gantry State Park, 48th Ave. and Center Blvd - Time: 12pm-4pm - Morning: Gardening in the park, Afternoon: Narrated tour around Gantry State Park; Commemoration for Bill Bilyeski
Friends of Queens Library at Hunters Point - Location: Gantry State Park, 48th Ave. and Center Blvd - Time: 12pm-4pm - Mobile library & story telling
Green Shores NYC - Location: Gantry State Park, 48th Ave. and Center Blvd - Time: 12pm-4pm - Yoga, catch & release fishing off of pier, family friendly events
Long Island Community Boathouse - Location: Anable Basin, 46th Ave. and North Basin Rd - Time: 2pm-6pm - Free public walkup kayaking
This story was first published in July 17, 2015.
---
Tour de Queens
July 2016 / Queens Neighborhoods / Biking Queens / Queens Buzz.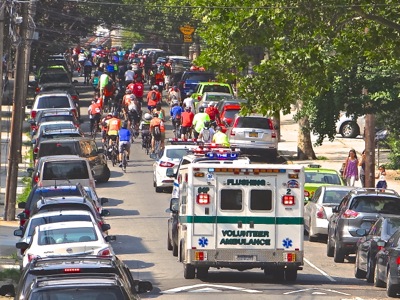 The Tour de Queens did not return this year, nor did the Tour de Brooklyn.
This year Transportation Alternatives, organizers of the events, tried to promote a Brooklyn Queens Tour by merging the Tour de Brooklyn and the Tour de Queens. They set out a 20 mile escorted course with a goal of raising $100,000 for Transportation Alternatives street safety efforts. The Brooklyn / Queens bicycle event took place on Sunday, June 12th beginning at 8.30 / 9 am. The sign up fee was about $20 per rider and began and ended at CitiField.
I understand the merged ride didn't go that well. Generally both the Tour de Queens and the Tour de Brooklyn bike ride events each attract over a thousand riders apiece, while the merged event appears to have attracted only a couple of hundred bike riders according to their Facebook page.
It seems that given the event had historically been a family-friendly escorted bike ride that stayed within the borough / neighborhood, some of the family-friendliness appeal was lost by merging the bike tours. It's also worth noting that there are two other multi-borough events for bike riders - the 5 Boro Bike Ride the first weekend of May and the Century Bike Ride the second weekend of September.
The Century Bike Ride is also organized by Transportation Alternatives and has been growing every year to (tens) of thousands of bike riders who set out on a 100 mile venture through all five boroughs. To register, go to www.transalt.org. The photo above was taken at the Tour de Queens ride in 2015 near Astoria Park.
---
American Poolplayers Association Tourney
APA Leagues Gear Up For Spring & Summer Championships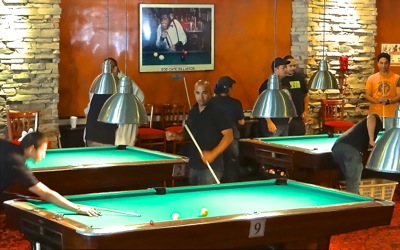 February 11, 2016 / Jackson Heights Neighborhood / Restaurants in Jackson Heights / Queens Buzz.
Last Fall I attended one of the Brooklyn Queens Bronx APA League Tournaments at BQE Billiards & Bar in Jackson Heights. It was an all day event wherein 270 pool players competed as teams, vying for top spot placements in the league, in order to move on to compete for the APA Championship in Las Vegas.
I was surprised by the friendly comraderie of the competitors. I thought they would regard each other more adversarially than they did. In conversing with a number of them I began to get the sense that, at the neighborhood league level, poolplayer leagues are more a community than a competition. Players are generally quite familiar with one another and each other's playing level, in the same manner as other intramural and league sports where the competition is real, but so is the comraderie.
We'll have more at a later date, including a video of league play and interviews.
---
NYC Marathon: A Brief History
A Closer Look At The NYC Marathon Course & Runners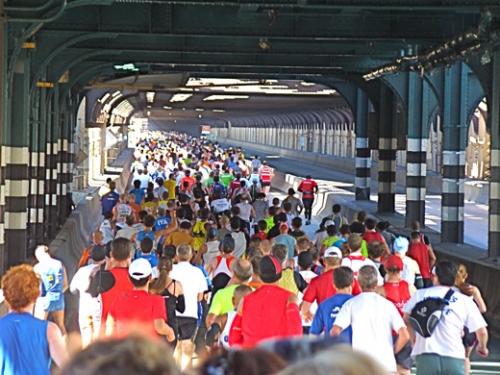 November 2, 2015 / LIC Neighborhood & Queens Neighborhoods / Queens Sports / Queens Buzz. Every year about 50,000 runners converge on New York City on the first weekend of November to run in the New York Marathon. The race begins at 8.30 am with the wheelchair division, is followed at 8.52 am by the athletes with disabilities and handcyclers. And then from 8.55 am until 11 am a horde of 50,000 runners passes the starting line on their 26 mile journey ending in Central Park.
The course has changed since the first NYC Marathon and now runs through all five boroughs, starting in Staten Island, coming up through western Brookyn, cutting through Long Island City between the Pulaski and Queensboro Bridges and then looping up along the Upper East Side before circling back around just north of the Harlem River in the Bronx and heading back south into Manhattan and terminating in Central Park.
The race lasts about eleven hours, as the official end time is 7.30 pm, but the reality is that it's mostly over by about 5 pm. The NYC Marathon began in 1970 and the first one was held entirely in Central Park by having the runners circle around the park on various roadways multiple times. And, of course, it was a much smaller group of runners.
NYC Marathon Runner Demographics by the NYT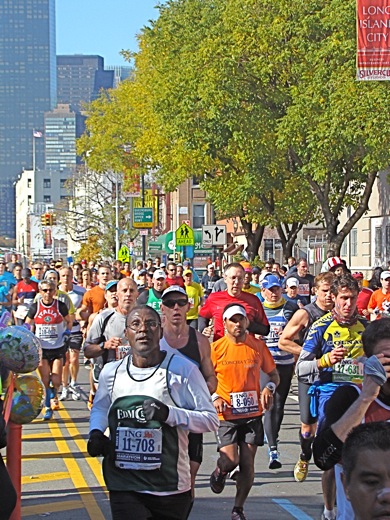 The NYT published a report about the NYC Marathon demographics. In it they noted that about three quarters of the runners make it over the finish line, and that about 40% of the runners are now women, which is up significantly from none in the first NYC Marathon in 1970.
This year only 48% of the runners are Americans, while another 4.5% come from Canada and Mexico, France and Italy represent 14% of the runners [split about evenly], and Britain, Germany and the Netherlands are another 15% (contributing in descending order], other parts of Europe, Latin America, Japan & China, Austrailia and South Africa.
Age-wise the largest group is between 30 and 40, the 2nd largest between 40 and 50, and a good measure from the 20 to 30 and the 50 to 60 demographics. Apparently many reaching their 40th and 50th birthdays like to 'prove that they still have it'. You can find the full report on www.nytimes.com, including some fun graphs.
NYC Marathon Winners Past & Present
The last time an American won the Marathon was in 2009 [Meb Keflezighi - a 2004 Olympic silver medalist born in Eritrea], and the last American winner born in the United States was Bill Rodgers in 1979. This year Meb was the first place finisher among all Americans and he broke the record for Masters Runners.
This year the winner for men was Stanley Biwott of Kenya who ran the NYC Marathon in 2:10:34, the winner for women was Mary Keitany, also from Kenya, who ran the course in 2:24:25, making this her second win in as many years. In the Wheelchair division, Ernst Van Dyk of South Africa beat Josh George of USA by one second coming in at 1:30:54. In the women's wheelchair division, Tatyana McFadden a Russian-born American, broke the NYC Marathon course record by seven minutes. It's been quite a year for her as she also won the marathon in Boston, Chicago and London this year.
Men's & Women's Marathon Times
As you can see by the times above, the best marathoners generally make the trip in a bit more than two hours, which means they ran at a pretty good clip of almost 13 miles per hour for over two hours. And it's worth mentioning that the gap between male and female NYC Marathon runners has been closing and at present is about 15 minutes.
Organizers & Sponsors of the NYC Marathon
New York Road Runners or NYRR is the organizer of the NYC Marathon and this year Tata Consultancy Services or TCS is the premier sponsor. TCS is an Indian software and IT services company based in Mumbai [formerly Bombay].
---
Century Bike Ride Runs & Rests In Queens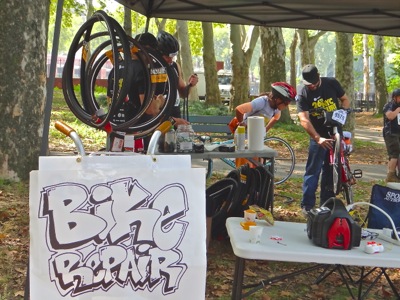 September 14, 2015 / Astoria Neighborhood / Biking Queens / Queens Buzz. The Sunday forecast included a high probability of scattered thunderstorms, but fortunately for the Century bike riders the weather appeared to favor them.
The Century Bike Ride is organized by Transportation Alternatives, an environmentally-friendly group that promotes non-carbon and low carbon 'transportation alternatives' to NYC residents. This is the bike ride they sponsor and the receipts go toward their efforts to ensure the various levels of government do what they can to help promote a safe and regenerative urban transportation environment.
The Century Bike Ride offers four biking alternatives that individuals and / or groups can pursue on their own during the most-of-the-day event. The first start time was at 5.30 am in Central Park [Manhattan] and at 6 am for a Prospect Park [Brooklyn] start and the last rest stops at the two parks closed at 6 pm.
The four bike routes included a 35 mile, 55 mile, 75 mile and 100 mile [hence the name century] loop.The 35 mile loop is called the East River Ride, which runs along the East River primarily in Brooklyn and Queens. The ride started at 7.30 am and was expected to last between 3.5 and 7.5 hours. The 55 mile loop is called the Waterfront Ride which includes the East River loop, but also the Verrazzanno Bridge, Coney Island and part of the Brooklyn Greenway. This ride started at 7 am / 7.30 am and was expected to take about 3.5 to 8.5 hours. The 75 mile loop is called the Rockaways Ride and it excludes the north / south run along the East River in Brooklyn / Queens in exchange for a haul out to the Fort Tilden Beach in the Rockaways then north through a number of Queens Greenways [parks] before turning westward back toward Manhattan. The Century Bike Ride, the 100 miler, starts at 6 am / 6.30 am and is expected to take between six and twelve hours.
The Century Bike Ride started in 1989 and is celebrating its 26th year.
---
Tour de Queens
Transportation Alternatives Hosts 8th Annual Tour de Queens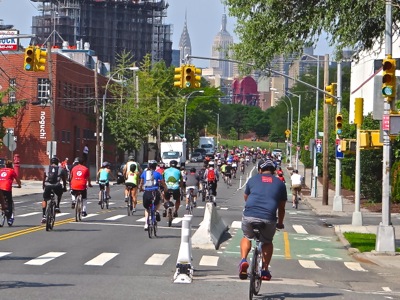 July 15, 2015 / Astoria Neighborhood / Queens Neighborhoods / Queens Biking / Queens Buzz.
The first Tour de Queens took place in 2008. The event was organized by Transportation Alternatives to encourage people to get on their bikes to see their neighborhoods. The idea is once people reaquaint themselves with the ease and joy of bicycle travel, they'll be more apt to get on their bicycle again.
The Tour de Queens route changes every year, and sometimes that includes the starting and end point. This year the event began in Astoria Park again and traveled south through Long Island City, east to Middle Village and north to Jackson Heights before returning to Astoria Park.
Sign up began at 8 am and the tour began promptly at 9.30 am. About 11,000 cyclists signed up for the Tour de Queens which cost $22.50 and $17.50 to register. The Tour de Queens is an escorted ride where the police temporarily set up barricades clearing the route as the bicyclists pass. This differs from both the 5 Boro Bike Ride and the Century Bike Ride where the route is cordoned off for a great de
---
al of the day.
$element(adman,groupad,Catgry Bikes)$
$element(adman,groupad,Catgry Green)$
---
$element(bwcore,article_picker,377-1033,Y,N,page_title_home,N)$
Queens Green Drinks Is Back
Grass Roots Eco-Socials Come Out Of Hibernation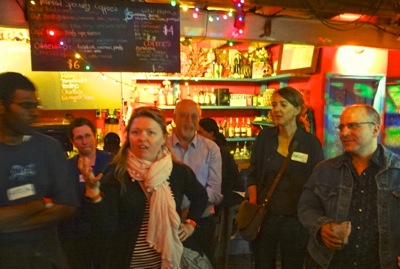 May 4, 2015 / Jackson Heights Neighborhood / Environment & Ecology in Queens / Queens Buzz. Last week there was a Queens Green Drinks social at Terraza 7 just off Roosevelt Avenue in Jackson Heights.
Gathered within were several dozen people who had come from many parts of the borough to have a drink or two and to socialize. The attendees were generally interested or involved in community efforts to create a more sustainable lifestyle in Queens and NYC.
The event was organized by Katie Ellman of GreenShoresNYC, in tandem with Angela Stach Co-Chair of Transportation Alternatives Queens, and Len Maniace the President of the Jackson Heights Beautification Group and Publisher of PlanetNYC.com. Katie is shown with scarf at front, Len Maniace is standing behind her and Angela Stach is shown with name badge at right. Phillip Papas, an avid cyclist, is shown standing on the far right.
Queens Green Drinks is a non-profit grassroots idea that went viral and went global over a decade ago. The intent of it was simple, to organize socials where people interested in a more sustainable lifestyle could meet and get to know each other. That was it. What came of those new relationships was up to those involved in them.
Helen Ho, of Queens was the first to pick up the torch and begin organizing Queens Green Drinks events at various locales around the borough. She kept Queens Green Drinks going for a number of years and through her efforts a community evolved of people who were involved in things like: East River kyaking, cycling in Queens, urban tree and tree bed planting, public park space advocates and defenders, organic food folks, urban farmers, green energy, green architects and green government officials ... to name just a few.
But organizing these get togethers, especially as they were held monthly, was a time commitment and personal effort that can't last forever. In time Helen reduced the frequency of the socials, and eventually the events went on hiatus ... until Wednesday, April 29th when Katie Ellman picked up the "torch of a new generation" and held the first event at Terraza 7 in Jackson Heights.
---
$element(adman,groupad,Catgry Wedding)$
$element(adman,groupad,Catgry Queens)$
---
U.S. Open Ends
Marin Cilic Wins Men's & Serena Williams Wins 18th Slam
September 9, 2014 / Queens Sports / Queens Buzz. After two hard fought weeks, the U.S. Open tennis tournament is over. Newcomer and very much a long shot [66/1 by odds makers], Croatian born Marin Cilic won the men's singles.
Serena Williams, the dominant female tennis player of the past decade, made a comeback of sorts after poor showings in prior slam tournaments earlier this year. She won the women's championship and it was her 18th slam win.
CBS lost the bidding for the broadcast rights for the next decade of U.S. Open tennis tournaments. ESPN picked up the games for $825 million. CBS had broadcast the games for the past 46 years [since 1968].
We heard grumblings about the new configuration for watching the preliminary games. The grumblers complained that the new seating was inadequate enabling only the first slew of spectators to be seated and that the inexpensive tickets were seated too far away from the action. The USTA is in the process of making significant modifications to the tennis center which are expected to be completed in 2018.
---
U.S. Open Begins
All Queens Tennis Tournament In Flushing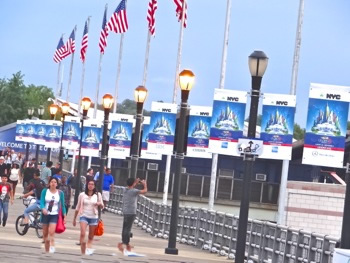 August 25, 2014 / Sports in Queens / Queens Buzz. The U.S. Open began Monday, August 24th with its usual bit of fanfare and stylistic splash. The tennis tournament features mens and womens singles and doubles, mixed doubles and juniors.
The U.S. Open is held at the Billie Jean King USTA National Tennis Center in Flushing Meadows Corona Park. The tournament will last two weeks, ending on September 8th. The number 7 subway line is one of the primary conduits for transporting people from Manhattan to the tournaments and back again. So you can expect to see an influx of new faces amidst your public transit travels.
The U.S. Open has been held at the USTA in Flushing Meadows Corona Park since 1978. The tournament is the last of the Grand Slam tournaments - the Austrailian & French Opens & Wimbledon comprise the rest. And the U.S. Open is one of the oldest tennis tournaments in the world. The tournament began as the U.S. National Tennis Championship - the forerunner of the U.S. Open - and it was first played in 1861 by men only.
So who's favored in the Men's & Women's Singles? Men's Singles. Djokovic was upset the past couple weeks and Nadal is injured, so it appears the Men's Singles championship is wide open. A few of those mentioned as the next champion include Federer, Wawrinka and Murray as a long shot. Women's Singles. Serena Williams is the most formidable contestant, but she's had some issues this year. Agnieszka Radwanska, Sloane Stephens, Petra Kvitova and Maria Sharapova will be the others to watch with an interesting and winding road ahead for most of them.
You can find updates and live play at usopen.org.
---
Randall's Island Bike Ride
Weekend Day Ride Feels Miles Away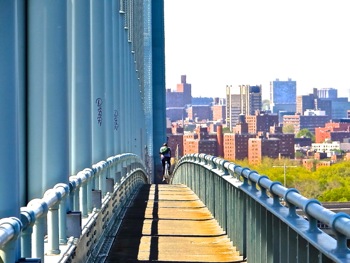 May 12 / Astoria / Queens Bike Paths / Queens Buzz. I decided to attend the Frieze Art Fair on Randall's Island this past weekend. There are three ways to travel to Randall's Island: the ferry service from LIC, driving a car along the Grand Central Parkway part way over the RFK / Triborough Bridge or walking / biking on the pedestrian / bike path over the RFK / Triborough Bridge. I decided to take the latter and bike to Randall's Island.
Randall's Island is located in the middle of the East River, just across from Astoria Park. It is home to Icahn Stadium, an important NY Fire Department complex, a police station and a psychiatric hospital. There are also a number athletic fields which on this particular weekend seemed to be put to good use by a number of soccer leagues.
I started my journey at 27th Street on the north end of Hoyt Avenue which runs alongside the Grand Central Parkway leading to the RFK / Triborough Bridge. The entrance is inconspicuous and you have to carry your bike up a healthy set of stairs. For a while you'll be biking in a partitioned bike lane alongside the incessant flow of speeding traffic of the Grand Central Parkway, before you're taken above the din, up into the lofty heights of the Triborough Bridge. If you have a great fear of heights, this is not the journey for you.
We'll post more about the bike path to Randall's Island, including a photo slide show, at a later date.
---
5 Boro Bike Ride May 4th 2014
April 27, 2014 / Queens Buzz. The 5 Boro Bike Ride will come streaming through Queens this weekend. See coverage in prior years below.
---
$element(adman,groupads,Sectional2 Ad)$
---
$element(bwcore,article_picker,1003-329-690,Y,N,page_title_home,N)$
CB Votes Split On USTA Expansion Plan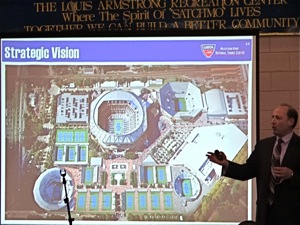 March 14, 2013 / Flushing Corona / Issues Facing Queens / Queens Buzz. The USTA has asked the city of New York to give it .68 of an acre of Flushing Meadows Corona Park so that it can proceed with an expansion plan. The expansion plan is estimated to increase the sports complex capacity for the U.S. Open by about a third, while increasing the USTA footprint in the park by .68 of an acre. The USTA informed the audience attending the Community Board 3 meeting that this will result in more jobs in Queens. They also talked about the positive estimated annual $784 million economic impact that the USTA has had on NYC - according to a study done by a private consulting firm named AKRF, Inc.
The detractors informed the audience that this is the first step in a much larger effort toward a massive privatization of Flushing Meadows Corona Park by several large, well-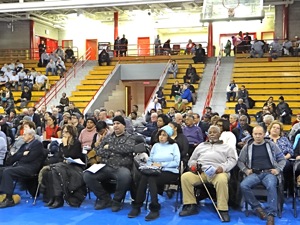 funded corporate interests. The opponents talked about three other proposals which were not a part of the USTA plan. These other proposals to develop private interests on public parkland include the development of a shopping mall by a private investment group in tandem with the owners of CitiField; 2) a condominium / hotel complex done by another group of private investors; and 3) a 13 acre soccer stadium by Major League Soccer, which is also a privately held corporation.
Community Board Tally & Boro Prez Candidates Positions
In the end Community Board 3 voted against the expansion plan, citing among other things, promises not kept when the USTA asked to expand its footpint in 1993. All six Community Boards have now voted on the USTA Expansion proposal, with three voting for it and three voting against it. We'll post a far more complete report on this Community Board Meeting at a later date.
While I was attending the Community Board 3 Meeting in Corona, all six Queens Borough Presidential candidates were attending a forum about the issues facing Queens at the Greater Astoria Historical Society in Astoria. The issue of turning over public parkland to private interests came up during the forum. To date only City Councilmember Tony Avella has come out against giving up public parkland to private interests. NY Senator Jose Peralta is the only other candidate to take a stance on the issue, but only on one of the proposed developments, namely the erection of the MLS Soccer Stadium on 13 acres of FMC Parkland [which he conditionally supports if MLS fulfills all of their promises]. All four other candidates have taken a wait-and-see stance on the issue.
Click here to read our past reports related to the proposed development plans for Flushing Meadows Corona Park. The first report provides an early history of Flushing Meadows Corona Park I and the second report provided an intermediate history of Flushing Meadows Corona Park II which included a number of relevant historic lessons related to sports complex developments in FMCP as well as NYC.
$element(adman,groupad,Catgry Realestate)$
$element(adman,groupad,Catgry Finance)$
---
$element(bwcore,article_picker,955-932-880-844,Y,N,page_title_home,N)$
$element(adman,groupad,Catgry Rest)$
$element(adman,groupad,Catgry Foodwine)$
---
Parks & Sports In Astoria
---
$element(bwcore,article_picker,780-692-575-73-177,Y,N,page_title_home,N)$
$element(adman,groupads,Sectional2 Ad)$
Parks & Sports In Flushing & Corona
---
$element(bwcore,article_picker,974-971-917-105-180-329-453-421-418-172,Y,N,page_title_home,N)$
Parks & Sports In Forest Hills
---
$element(bwcore,article_picker,164,Y,N,page_title_home,N)$
$element(adman,groupad,Catgry Realestate)$
$element(adman,groupad,Catgry Wedding)$
---
Parks & Sports In Jackson Heights & Elmhurst
---
$element(bwcore,article_picker,127-508-474,Y,N,page_title_home,N)$
Parks & Sports In Jamaica
---
$element(bwcore,article_picker,171,Y,N,page_title_home,N)$
$element(adman,groupads,Sectional2 Ad)$
Parks & Sports In Long Island City LIC
---
$element(bwcore,article_picker,690-108-471-377-168,Y,N,page_title_home,N)$
$element(adman,groupad,Catgry Foodwine)$
$element(adman,groupad,Catgry Finance)$
---
Parks & Sports In Queens
---
$element(bwcore,article_picker,403-573-402-410,Y,N,page_title_home,N)$
Parks & Sports In Sunnyside & Woodside
---
$element(bwcore,article_picker,77-176-519-109,Y,N,page_title_home,N)$
---
---
Queens Related Info
Click this link for promotions, discounts and coupons in Woodside, Sunnyside and Queens.
Click this link to go to the Astoria Neighborhood / Long Island City LIC Neighborhood / Sunnyside Woodside Neighborhood News / Jackson Heights Elmhurst Neighborhood / Flushing Corona Neighborhood / Jamaica Neighborhood.
---
Site Search Tips. 1) For best results, when typing in more than one word, use quotation marks - eg "Astoria Park". 2) Also try either singular or plural words when searching for a specific item such as "gym" or "gyms".
---
Archives - TBD
---
$element(bwcore,insert_search,N)$
Click this link to search for something in our Queens Business Directory.
---
$element(adman,groupads,Sectional2 Ad)$
---
Click the log in link below to create an ID and post an opinion.
Or send this story to a friend by filling in the appropriate box below.
---