Mardis Gras Sweeps Jackson Heights
Ever A Mardi Gras Parade In Jackson Heights?
March 7, 2011 / Jackson Heights / Queens Buzz. I just returned from an unexpected pleasure. I had heard through the grapevine about the Jackson Heights Mardi Gras some time ago. So, as the date began approaching, I started chasing the story down.
Mardi Gras History - Begins In The South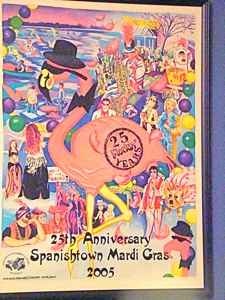 Most Mardi Gras stories in this country are likely have origins somewhere in the south, and likely not far from New Orleans. This one starts in Baton Rouge about 31 years ago in a section of that city called Spanish Town.
Mardi Gras Origins - Spanish Town
I was told that Spanish Town is the hip section of Baton Rouge, full of hippies, greens and gays. While all of Louisiana celebrates Mardi Gras, the Spanish Town began Mardi Gras began to emerge as something special, which near as I can tell, went something along the lines of the NYC Halloween Parade in the Village. From what I hear, the Spanish Town parades and floats had a flair and spicy flavor that began attracting visitors by the thousands to participate in the Spanish Town Mardi Gras. In the photo to your right is a poster of Mardi Gras 2005 in Spanish Town in Baton Rouge.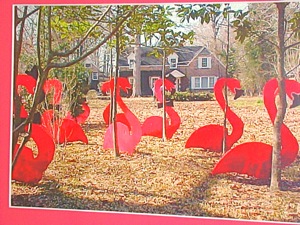 Spanish Town used the pink flamingo as their mascot. And it wasn't long before a custom emerged where party-goers would 'flock' someone's house the night before Mardi Gras, by planting wooden flamingoes all over their property. It was considered an honor to have one's house flocked. The photo to your left shows Tom and Peggy Russell's house in Baton Rouge after it was 'flocked' on Mardi Gras.
Mardi Gras - Spanish Town To Jackson Heights
Enter Tom and Peggy Russell of Jackson Heights. They hail from Baton Rouge and settled into the borough of Queens about five to six years ago. They're a triboro family as they have children who live in both Brooklyn and Manhattan. Tom and Peggy are what I call domestic immigrants [I'm one myself], who like most foreign immigrants, took along a bit of the culture 'from the old country' which in their case is Spanish Town / Baton Rouge.
Mardi Gras - Religious Origins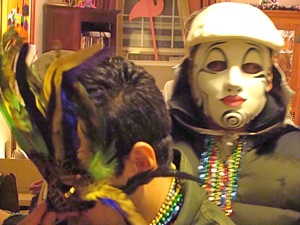 I've known about Mardi Gras all of my life, but it wasn't attending this Mardi Gras that I realized how little I really knew about it. Mardi Gras is literally 'fat Tuesday', which is the Tuesday before Ash Wednesday. Ash Wednesday is the beginning of Lent, which is a season of fasting and penitence leading up to Easter in the Christian faith.
On Ash Wednesday the Catholic church holds a ceremony, where ashes are laid upon one's forehead to remind them that "dust thou art, and to dust shalt thou return". So in advance of the penitential season, Catholics and others, celebrate fat Tuesday or Mardi Gras the day before they begin the period of penitence and fasting.
Like all holidays, celebrations have a way of taking on a life of their own. The famous Carnivale in Brazil, is the Portuguese version of Mardi Gras, and hence that feast also has it origins in the Christian faith. And in some southern locales, the mardi gras festivities can begin as early as November and run through to Ash Wednesday. The photo above shows Mardi Gras party-goers in Jackson Heights just before they head into the streets with their krewe.
Mardi Gras In Jackson Heights - Food & Festival
So I arrived at Tom and Peggy Russells' in Jackson Heights, not knowing a soul there. I was immediately welcomed and put at ease, as various folks began to introduce me into the cultural milieu of the Mardi Gras. The food included real southern gumbo, muffalattos, a king cake and hurricanes.
Gumbo & Muffalattos In Jackson Heights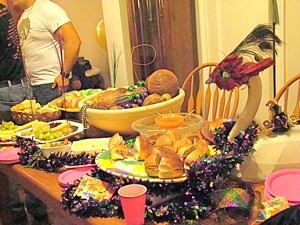 The gumbo was made Louisiana style, which as any good southerner knows, starts with the 'trinity' of bell pepper, celery and onion, gets mixed in with the roux which is made of equal parts flour and oil, and then you add your shrimp and crab meat. Gumbo is believed to have started in the late 1700's in Louisiana. The muffalatto is a sandwich made of salami, provolone cheese, ham, light and dark olives and giardiniera which includes carrots, cauliflower, celery and the like. We also had some delicious miniature deviled eggs, but I wasn't told that these were part of the tradition. In the photo to your right you can see the muffalatto sandwiches in the foreground and the king cake in the background.
King Cake In Jackson Heights Queens
The king cake is covered with a three colored frosting. The colors include purple, green and gold which stand for the Three Kings of biblical times. Inserted inside the tricolor cake is a little statue of baby Jesus and the one who receives the piece of cake with the baby in it can expect good fortune for the rest of the year. They are also charged with bringing the king cake the following year.
Mardi Gras Parade - Krewes In Jackson Heights
The way Mardi Gras works in Louisiana is that everyone celebrates with their krewe. The krewes are believed to have originated in Mobile, Alabama, where the Mardi Gras has strong roots dating back to the early 1800's. Essentially a krewe is similar to a crew or group. The krewe collects dues from its members in order to pay for the party-going efforts of hosting celebrations, putting together costumes and floats and paying for the parade.
Tom and Peggy had collaborated with a second krewe a year ago from one of the other historic buildings in Jackson Heights, but this year due to so many conflicting priorities, they weren't able to organize the collaboration this year. Nonetheless our krewe had in over twenty participants and was able to bring enough energy to the 'parade' to pull it off. In the photo to your left the Jackson Heights krewe heads out into the streets.
A Mardi Gras Costume Ball In Jackson Heights?
Everyone brought their own masks or ball costumes. Tom and Peggy have matching white jackets with the pink flamingoes embedded on the back. Others brought some classic mardi gras costume ball masks. And everyone was given some beads which are also a part of the Mardi Gras custom. Beads are thrown by the parade goers out into the streets, where watchers reach for them to wear as part of their own participation in the event. In the photo above you can see bead throwers in the left frame and bead catchers in the right frame.
Mardi Gras Sidewalk 'Parade' In Jackson Heights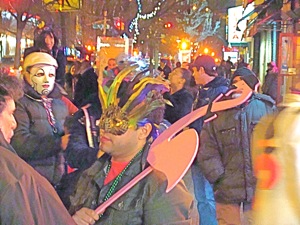 In the case of the Jackson Heights event, the parade was actually an after dinner stroll through the streets, where stops were made at some of the local cafes and restaurants to wish them well in advance of Lent. After several stops, I had to leave for another engagement, but found myself surrounded by a warm after glow.
Mardi Gras in Jackson Heights. Stay tuned as we hope to announce next years events, possibly as early as November 2011 in our Queens Events calendar [see top tool bar]. And who knows, perhaps Mardi Gras in Jackson Heights may one day become a Queens tradition. In the photo to your right are Mardi Gras party-goers mingling with their neighbors in the Jackson Heights neighborhood along 37th Avenue.
Mardi Gras In Jackson Heights Photos
The following is a slide show of the Mardi Gras Ball and Sidewalk Parade in Jackson Heights. To view the slide show at your own pace use the arrows located at the foot of the slide show projector.
$element(ophoto,photo_slideshow,122,520,,5.00,fade)$
Many thanks to Tom, Peggy and Leslie Russell for their warm hospitality. I enjoyed meeting all of their guests, one of whom is the famous Jeff Orlick of iwantmorefood. Jeff leads periodic food tours of the borough.
---
Jackson Heights / Elmhurst Related Info
$element(adman,groupad,Promo Buttons)$
Click this link for promotions, discounts and coupons in Woodside, Sunnyside and Queens.
Click this link to go to the Jackson Heights & Elmhurst Neighborhood News / Jackson Heights Restaurants / Jackson Heights & Elmhurst Shopping.
$element(adman,groupad,NHoodJHTS)$
Site Search Tips. 1) For best results, when typing in more than one word, use quotation marks - eg "Astoria Park". 2) Also try either singular or plural words when searching for a specific item such as "gym" or "gyms".
$element(bwcore,insert_search,N)$
Click this link to search for something in our Queens Business Directory.
---
$element(adman,groupads,Sectional Ad)$
---
Click the log in link below to create an ID and post an opinion.
Or send this story to a friend by filling in the appropriate box below.
---