h1>Events In Queens - September Calendar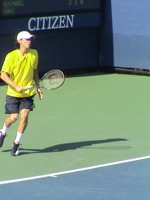 We've finished the first draft of the September Events Calendar. This month looks to be a fun one in Queens. We start the month off with the U.S. Open which runs through the 4th. Then we have PS1's last Warm Up Party and a big cycling event this coming weekend. Jackson Heights kicks off its Food and Film Festival on the 13th.
Queens Restaurant Week starts on the 15th. And there are some great benefit events going on at the Socrates Sculpture Park and the Kingsland Homestead in the middle of the month. As well as various and sundry street fairs, farmers markets and kayaking and canoeing events happening throughout the borough. We have a few more events to add which will happen before they do! Check out the calendar by clicking Events in Queens Also note that we successfully completed the first installment of businesses in the Business Directory.