Restaurants / Wine Bars In Astoria
Winegasm Wine Bar In Astoria Queens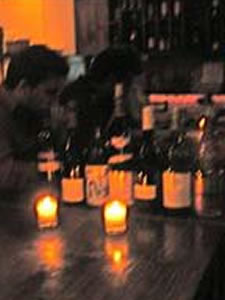 Astoria Neighborhood / Astoria Restaurants / Queens Restaurants / Queens Buzz.
This review was done in 2008 and this restaurant closed in March of 2017.
Winegasm is a wine and tapas bar in Astoria Queens NY. They offer good service, a nice selection of wines and an appetizing array of finger food as well as a few entrees. We were hosted by one of the restaurant's principals, one of whom is there nearly every evening.
Winegasm is located just off Broadway Street between Steinway Street and 31st Street where one can catch the N Subway train. The following review is of some of the wines sampled, along with a variety of appetizers. Click here to read a full review of Winegasm - Restaurants & Wine Bars in Astoria.
---
Restaurants In Astoria
Wine Bars In Astoria - Winegasm Bar & Eatery


Astoria Neighborhood / Astoria Restaurants / Queens Restaurants / Queens Buzz. Continued. I arrived between 6 and 6.30 pm. It was still light out, and Richard, one of the three young entrepreneurs was my host for the evening. Every Thursday he does a wine tasting that starts between 7 and 8 pm which runs for about two hours. During those two hours as many as twenty people sit along the long high table [it's almost like a long wide bar] to enjoy seven wines and seven appetizers; all for $40.


This sounded like the perfect way to get to know the place, so we agreed that would be the venue.


Wine Bars In Astoria - French White Wines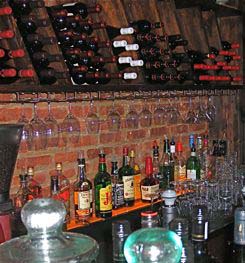 Since the warm summer weather was still with us, Richard appeared to have a preference for the lighter wines. We started with a Lucien Albrecht Rose, which is a sparkling wine from France. It was crisp, acidic and had a light clean taste. Richard and his partners, Laris and Dean, all come from restaurants in Manhattan.


They got to know each other while working for Guastavino's in Manhattan, which is located just under the Queensboro Bridge on the east side. Prior to working there, they had all worked at other well known Manhattan restaurants. Each of the partners has an area of focus, Dean focuses on the wine, Laris is the mixologist and Richard handles the marketing, but I got the sense they collaborated in the making decisions affecting the restaurants offerings.


Winegasm Wine Bar - S. Africa White Wines
It was time for our next taste of wine. These tastes were small samples, a couple of sips, not full glasses of wine. Had they been, I would surely have been trashed by the end of the evening. But since they were not I was able to return home and wrote most of this story the same night of my visit. This wine was from South Africa. A Chenin Blanc which was a nice dry white wine. It tasted very much like a savignon blanc, but it was pointed out to me, that it wasn't as fruity and was much drier.


Winegasm - Bacon Wrapped Prune, Tomato & Goat Cheese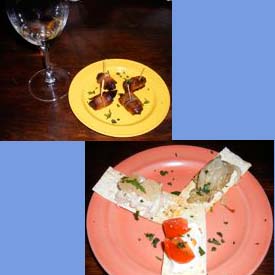 I was served four appetizers by Sarah, who was our waitress for the evening. Sarah is an aspiring actress who has had some success in landing small parts in major productions. The bartender, whose name I will add into this article as soon as I receive it, is also an actress and the two are good friends from acting school. I didn't have the opportunity to talk to her as much, since she was busy behind the bar.


The first appetizer was a bacon wrapped prune, which Richard noted is one of their most popular items, as it combines a tasty blend of sweet and salty in a mushy chewy texture. The cherry tomato and goat cheese over a panini bread was also quite good as both the tomato and goat cheese were freshly bought in the Astoria neighborhood. Richard drew my attention to a theme Winegasm strives for with the food, which was the blending of sweet and salty. The white crab, topped with small pieces of grape fruit, also followed the theme. All of these were clean simple appetizers, and all very pleasant, and all working with the light white wine that my host had selected.


Winegasm New Zealand White Wine


It was time to try a white wine from New Zealand, the Rain Savignon Blanc 2008. This wine was from Marlborough country and had a nice bouquet, but a heavier acidic taste. The hints of fruit in the bouquet were lost on my taste buds.
An interesting genetically proven fact is that the ability of our taste buds to distinguish variety is far more limited than our noses. Perhaps the most interesting of the appetizers was the crushed olive paste topped with carmelized onions. The olives had the salty taste of a fleshy sausage.



Winegasm Clientele & Decor
Winegasm seems to do a fairly good business, particularly given its side street location and the newness of the business. They started this Spring [2008] and they host about 40 to 100 guests each night. And given it was a quiet, financially shell shocked New York Wednesday evening, they seemed to have attracted a pretty good crowd.


Winegasm acquired its furniture from Tuscan Square, an old haunt of mine in Manhattan, many years ago. Tuscan Square was a fun, relaxed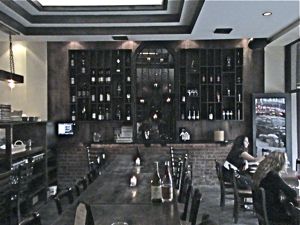 restaurant off Rockefeller Center, but apparently the high Manhattan rents forced them to close. But Manhattanites can still come out to Queens, by taking a 10 -20 minute subway or cab ride out here to enjoy authentic New York cuisine at significantly discounted prices vis a vis what they can get in their borough.


Wine Bars In Queens - A Pinot

So onto the Pinot Gris we went, again by vintner Lucien Albrecht. This was, Richard explained, a French version of the Pinot Grigio. It had a slightly sweet honey flavor and some acidity. This was followed by an American Reisling, Kung Fu Girl [how's that for a hoighty toighty name?]. The Kung Fu Girl, in spite of its name was surprisingly good and very much like a German Reisling, even though it was grown and produced in Washington state.


Winegasm Wine Bar In Astoria - Red Wines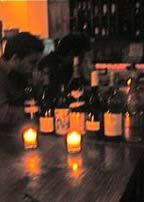 I have to admit, I have a red wine bias, but I was enjoying these whites. So onto the reds we went. Richard produced a French made Vero Pinot Noir from Burgundy which seemed almost too simple and too straightforward for me. He suggested I let it settle down to room temperature and aerate, so we set that one aside and went onto a Terra Rosa Malbec from Argentina. Like many of the Latin American wines, this one was heavy with a full-bodied grape flavor.


Winegasm has about sixty wines on its list and is planning to raise that to eighty five in the coming months. They strive to provide good value for the money, by buying wines from all over the world, to take
advantage of currency fluctuations, rather than be held hostage by them.


So it was time to try the Queens Restaurant Week menu. We started with the appetizer which was the sauteed mushrooms and chorizo with crostinis. The chorizo was quite spicy but it was offset by the mushrooms and crostinis. This was followed by a Chateau Ribebon Bordeaux 2005. This was a hearty red wine.


Main Courses - Roasted Chicken Breast


Laris joined us briefly. He struck me as one of those guys always on the move, as he didn't stay long. Both he and Richard seem to put a lot of energy into the place, which becomes obvious when one looks at what they've accomplished.


The next course was a roasted chicken breast with goat cheese potatoe puree with wilted spinach and chicken thyme jus, which you can see in the photo to the right. It was very lightly seasoned and moist.


Wine Bars In Astoria & Queens - Dessert Wines


So it was time to finish. We ended the evening with a
Brachetto Sparkling wine from Italy. It had a light sweet flavor with hints of raspberry and a clean taste. The crowd was comprised of small groups of single women and men, as well as some couples, all quietly conversing and some conversing across tables. The long high table mentioned at the beginning of the article provides an easy social setting for meeting other people in a format less stiff than along one side of a bar. This seems like a nice place to hang out with friends after a day of work.


It's not a large place, but is nicely appointed in a casual sort of way. The dark solid wood furniture, the wine racks behind the bar and along the wall, the skylight above the long table all provide a nice comfortable setting. Music plays softly on the stereo in the background, and they have doors that open up onto the street. They are in the process of obtaining permission to serve outside as outdoor space at a restaurant is always a popular option during the good weather.


Dessert - Vanilla Pannacotta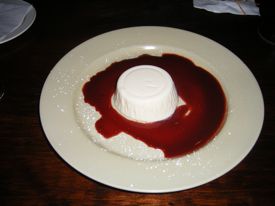 Dessert was a vanilla Pannacotta made by Christian the Chef. He had worked as a sous chef at some of the finer restaurants in Manhattan. The pannacotta was made of vanilla beans, cream, milk, gelatin in a raspberry coulee. It was a very nice ending to an enjoyable grazing at the urban table.


Anyhow, Richard was right in that we had not given the Vero enough time to breathe. What had tasted like a simple clean red wine at the onset, had now become a much more flavorful and complex wine. So check it out. There's still today and next week to restaurant week. And the wine tastings are on Thursdays. Ciao.
Restaurants In Astoria - Winegasm Bar & Eatery
Click this link to view a map of the Winegasm - wine bars in Astoria. Click this link to obtain the contact info and website url for the Winegasm Wine & Tapas Bars in Astoria Queens.
---
Astoria Neighborhood Links
$element(adman,groupad,NHoodAstoria)$
Click on these advertisements for promotions, discounts and coupons by retailers and restaurateurs in Astoria and nearby Queens.
Click this link to go to the:
Astoria Neighborhood or Astoria Business Directory
Astoria Real Estate or Events & Things To Do In Astoria
Restaurants In Astoria or Astoria Shops & Shopping
---
$element(adman,groupad,Catgry Rest)$
Site Search Tips. 1) For best results, when typing in more than one word, use quotation marks - eg "Astoria Park". 2) Also try either singular or plural words when searching for a specific item such as "gym" or "gyms".
$element(bwcore,insert_search,N)$
Click this link to search for something in our Queens Business Directory.
---
Click the log in link below to create an ID and post an opinion.
Or send this story to a friend by filling in the appropriate box below.
---
$element(adman,groupad,Sectional2 Ad)$
---