Business & Real Estate In
Astoria
---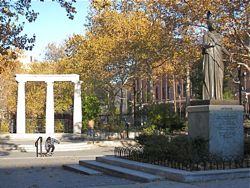 Astoria NY is located in the northwest section of Queens. Astoria is commutable via the N, W, G, V and R subway lines. Astoria's population is about 165,000 and is comprised of Italians, Greeks, Middle Easterners and Latin Americans. Astoria covers about 5 square miles.
The Astoria community offers a wide selection of authentic ethnic cuisines in restaurants with ambiences that would satisfy a wide range of tastes. Astoria also has a robust artistic community, as well as fun and interesting shopping districts that line Steinway, Broadway, Ditmars, 31st Streets and Northern Blvd ... and many places in between.
---
Astoria Cove Real Estate Development
East River Waterfront Transformation Moves North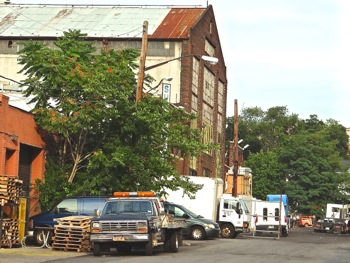 August 18, 2014 / Queens & Astoria Real Estate / Astoria Neighborhood / Queens Buzz. Unbeknownst to at least a few of the folks who live in the far northwest corner of Astoria and Queens, big plans for changes have been taking shape over the past couple of years.
The Hallets Point development passed Community Board One in May of 2013 and the Astoria Cove development is making its way through the governmental gauntlet of real estate development approvals.
The plan calls for a large new complex along the East River which will occupy the location where the building in the photo now stands, along with several other blocks of territory which will become its footprint. The building shown above is about a block east of Build It Green.
Community Board One and the Queens Borough President had issues with the development, primarily calling for a buildout of public infrastructure to support the development as well as for the inclusion of a higher number of affordable housing units. The development will be built completely on privately purchased land, which is in contrast to the Hallets Point development which was done using NYCHA [NYC Housing Authority] property.
We'll have more about this at a later date. By Michael Wood.
---
Steinway Mansion SOLD
Steinway Mansion LLC Purchases Mansion For $2.65 Million
May 5, 2014 / Astoria Real Estate / Steinway Mansion / Queens Buzz. On Friday May 3rd, 2014, the Steinway Mansion was sold for $2.65 million. The mansion went on the market in August of 2010 and was handled by a number of brokers - including Southebys International Realty, Halvatzis Realty Astoria and Prudential Douglas Elliman - before being turned over to Amorelli Realty of Astoria, which closed the deal.
At present, we understand that the land parcel remains intact, which last we heard was between one and two acres. This acreage is down from the 700 acres that Benjamin Pike, the original owner, purchased in the mid 1800's [circa 1858]; and the 70 acres owned in tandem with the mansion by the Steinways [circa 1870]. The most recent owners, the Halberians, held about a two acre lot in tandem with the mansion, which includes the grounds with which those who have visited the mansion in modern times are familiar.
The Steinway Mansion is currently zoned as residential and we were told that - as of this date - that nothing was underway to change that. Rumors have been circulating for months that the mansion would be turned into a restaurant, but we could not find anyone close to the owners who could confirm that.
Bob Singleton of the Greater Astoria Historical Society and Friends of the Steinway Mansion said that those two organizations continue to have an interest in helping preserve the Steinway Mansion an historic jewel for Astoria, Queens and NYC.
As we understand it, the Steinway Mansion is landmarked at federal, state and city levels, which means the outside of the structure may not be alterred nor may it be torn down. We were informed that Steinway Mansion LLC is a locally owned company, but the names of the owners have not yet been made public.
The realtors who closed the deal include Lauren Cornea, Christina Halvatzis and Paul Halvatzis - all of Amorelli Realty.
---
---
Click to view the Astoria neighborhood
---
$element(bwcore,article_picker,1047-751-679,Y,N,page_title_home,N)$
$element(adman,groupad,Catgry Queens)$
$element(adman,groupad,NHoodAstoria)$
---
$element(bwcore,section_full,78,1,N,1000,N)$
$element(bwcore,article_picker,648,Y,N,page_title_home,N)$
Home Improvement & Construction In Queens
---
$element(bwcore,section_full,75,2,N,1000,N)$
$element(adman,groupads,Sectional Ad)$
Banks & Loans In Astoria & Queens
---
$element(bwcore,section_full,32,2,N,1000,N)$
Retail & Shopping In Astoria
---
$element(bwcore,section_full,15,2,N,1000,N)$
Wholesale & Manufacturing In Queens
---
$element(bwcore,section_full,74,2,N,1000,N)$
Restaurants In Astoria
---
$element(bwcore,section_full,47,2,N,1000,N)$
---
Government & Employment In Queens
---
$element(bwcore,section_full,73,2,N,1000,N)$
Transportation In Astoria & Queens
---
$element(bwcore,section_full,76,2,N,1000,N)$
---
$element(adman,groupad,NhoodAstoria)$
Astoria / LIC Neighborhood Links
Click on these advertisements for promotions, discounts and coupons by retailers and restaurateurs in Astoria and nearby LIC.
Click this link to go to the:
Astoria Neighborhood or Astoria Business Directory
Astoria Real Estate or Events & Things To Do In Astoria
Restaurants In Astoria or Astoria Shops & Shopping
---
$element(adman,groupad,Catgry Realestate)$
Site Search Tips. 1) For best results, when typing in more than one word, use quotation marks - eg "Astoria Park". 2) Also try either singular or plural words when searching for a specific item such as "gym" or "gyms".
$element(bwcore,insert_search,N)$
Click this link to search for something in our Queens Business Directory.
---
$element(adman,groupad,Sectional2 Ad)$
Click the log in link below to create an ID and post an opinion.
Or send this story to a friend by filling in the appropriate box below.
---