Restaurants In Long Island City LIC
Da Gianni's Hits A Home Run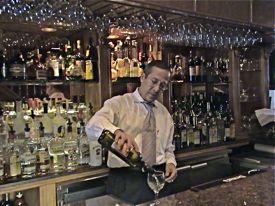 Long Island City Neighborhood / LIC Restaurants / Restaurants In Queens / Queens Buzz. Continued. Da Gianni's CLOSED in the second half of 2013. Da Gianni's Ristorante is conveniently located on 44th Drive, just a block from the Citicorp Center in Long Island City. It's a street level restaurant, with a blue canopy, which has a New York style façade. As I entered the restaurant I was met by Gianni himself, while Vito was tending bar. Gianni walked me past the bar which was well stocked and carefully tended by Vito, and on through the main dining room into the court yard.
Restaurants In Long Island City - Da Gianni's
Just in case you don't have time to read the rest of this review, let me give it to you straight. At Gianni's you can expect some great Italian homemade pastas, excellent seafood, homemade desserts and attentive service. Prices are competitive at $8 to $11 for appetizers, $12 to $18 for pastas and $14 to $28 for main entrees. To view a map, scroll down to the end of this article and click into the map link.
Appetizers In LIC - Grilled Scallops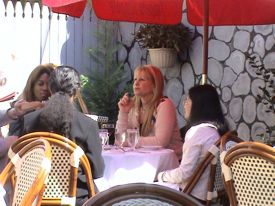 It was a beautiful dry sunny day with temperatures in the seventies. A perfect day for a court yard meal. I sat down and ordered a glass of white wine and asked for the menu. There was a choice of many Italian appetizers and entrees. Unfortunately, the first appetizer sounded so good that I didn't get beyond it before we entered into a discussion of the delicious entrees I was soon to encounter.
For starters I had grilled scallops, which were marinated in a braised endive, radicchio and white truffle mix. The scallops were seared and then lightly cooked. They had a juicy, almost jello-like consistency, such that they virtually melted in my mouth. Hmm, I thought. I think I'm going to like this. The endive, radicchio and herbs had been sautéed into a complementary vegetable mixture with an overall consistency similar to a spinach side dish, but with so, so much more complexity.
Rear Court Yard & Outdoor Space In LIC
The court yard patio has a tightly packed clean brick floor. One of the side walls was made of brick which had been painted to make it look like a stone wall, while across the court yard there was stucco roofing jutting out of the top of that wall. Umbrellas were over every table, sheltering us from the sun, while letting plent of light in. As you might guess from some of the pictures, the umbrella over my table was red. All of this was intended to provide a relaxing Italian ambiance, which it succeeded in doing.
Da Gianni's Ristorante LIC - Customers
Gianni's lunch clientele appeared to be a business crowd. I surmised they were from Citicorp, but was told later many customers come from other surrounding businesses, many of which are fairly new, such as the UN Federal Credit Union, Silver Cup Studios and many of the new condos in the area that had been attracting Manhattanites looking for a more affordable and more urban-suburban lifestyle.
First Main Course - Lobster Ravioli
For the first main entrée – hang on tight, because we're going to be having an Italian feast – we started with a home made ravioli filled with lobster. The ravioli was really quite spectacular. It was fresh, made on the premises that day. Some of the doughy mixture blended with the lobster inside the ravioli to give a warm gentle mushy texture to the soft crunchy lobster flavored ensemble. The dish also included fresh shrimp, adorned with a light fresh chopped tomato, herbs, garlic and olive oil sauce. The shrimp had a light spicy hotness to it, which came from Gianni adding some red pepper to lend a bit of a kick to it. Gianni, who I found has quite a competitive spirit, was hitting them into the bleachers with his pastas.
Long Island City Restaurants - Da Giannis History
Gianni got his start in the restaurant business in his early teens, working for his parents in a pizzeria in Manhattan, some 40 years ago. His family eventually returned to Napoli, ex Gianni, because he'd met the love of his life. He decided to stay and soon married. Gianni worked in a number of Italian restaurants in Manhattan, the last of which was Da Umberto's in Chelsea, before finally venturing out on his own. This was over 10 years ago. He ran his own restaurant in New Jersey, before coming to LIC to start this one which opened three years ago.
Italian Restaurants In LIC - Fresh Tuna
Fresh tuna with potatoes, carrots and string beans arrived. The generous thick cuts had a nice red pink hue and tasted every bit as good as it looked. It was braised on the outside, which gave that part of the tuna a meaty lightly salted flavor, and soft and tender on the inside like a sushi cut. It was complemented by a green pesto-flavored sauce [not sure here] and the vegetables were peppered and al dente.

The way Gianni described his involvement in his business lead me to see him as a blend of Italian restaurateur and American entrepreneur. He loves food and to this day, cooks at home on the weekends. But as the entrepreneurial businessman he does much of his shopping up at the Hunt's Point market in the Bronx. Hunt's Point is one of the largest wholesale food market distribution markets in the world.
LIC Restaurants - Pagliafino Pasta
The next dish was the Pagliafino. This long thick green and white pasta had what I would call a 'soft crunch', meaning it had a thick robust texture, but my teeth slid easily through it. Again the fresh dough of the home made pasta, made my tummy yearn for more. It was covered with a very light mix of parmesan cheese and cream sauce and topped with green peas. There was proscuitto in it which added a salty, almost bacon-like flavor to it.
Gianni's strategy is to stay flexible with his specials so that he can buy the best food at the best prices, and hence deliver top value to his customers. He apparently gets up at 3.30 am several mornings each week to head up to the market to buy food for the restaurant. He then heads onto the restaurant where he begins preparing the food. Gianni is involved in all facets of the business as we will see shortly.
It was 2.30 pm and most of Da Gianni's customers had left to return to work. He sat down and we talked about what he does. As he likes to put it, "I'm the chef, the owner and the dishwasher … I do everything." It was my good fortune to see this played out. He offered to cook a pappardelle pasta so I took him up on it.
$element(flashss,slideshow,15,Nasc)$
Chef Da Gianni - The Art & Pleasure Of Food In LIC
Down into the kitchen we journeyed. In the back, underneath the court yard by a window, I watched him sear the sausage, sautee the garlic, oregano, red peppers in olive oil, with a tomato sauce and wine before adding the freshly cooked pasta into the dish [see slideshow].
Da Gianni's makes its pasta fresh, several times each week. They make a fresh ravioli, fettuccine, pappardelle, and pagliafino. As you certainly noticed above, we had the opportunity to sample the pasta in a couple of different dishes, but apparently the pappardelle is the most popular with Gianni's customers.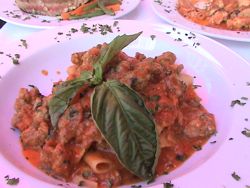 The pappardelle was a hearty mix of fresh pasta, salty Italian sausage and tomato flavors. I could see why it was popular, but confess that I had a new pasta favorite which was the lobster ravioli I had just had. Hey, every one of Gianni's pastas were great. It's like having to choose between Hank Aaron, Mickey Mantle and Joe DiMaggio.
Italian Restaurants In LIC - For Dessert Tartuffo, Tiramisu & Cappuccino In LIC
The time had come for dessert. I ordered the Tartuffo, the Tiramisu and a cappuccino. The cappuccino came first and as I sipped it, I relaxed in the sunlit court yard, enjoying the warm September day. The court yard is surrounded by low rise apartment buildings, likely built some 50 to 100 years ago, so the sunlight is ample and the feeling is warm. I ventured upstairs to take a quick look at a room Da Gianni's frequently uses to serve private parties. It can seat up to 40 people.
The day I was there, the court yard was set up to accommodate about 30, but I was told that about double that could be fit into the space by managing the table / chair configuration differently.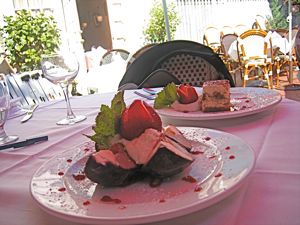 The Tartuffo was a mix of chocolate and vanilla ice cream covered in a light coating of dark chocolate. Inside were fresh maraschino cherries and almonds that were cut into thin slices and marinated in strawberry syrup and a hazelnut and herb flavored liqueur [frangelico]. I enjoyed the sweetness of the cherry, the complexity of the nut, mixed with the fresh vanilla and chocolate ice cream and the rapidly melting chocolate coating.
The tiramisu was also excellent. The sponge cake layer was light and fluffy, with rich coffee and light liqueur flavors. And I savored the soft and an airy creamy cheesy chocolate texture of the mascarpone. The flavors were light and complex, all working together. I am happy to say that this was complemented nicely by the cappuccino which had a rich, full bodied, indescribable right-on-the-money-give-me-some-more, flavor. But alas, it was time to go. Game over. Gianni wins big. Ciao.
DaGianni's - Italian Restaurants In LIC Long Island City - Related Links
Click this link to view a map of DaGianni's Ristorante in Long Island City LIC. Click this link to obtain the contact info and website url for the DaGianni's Italian Restaurant in Long Island City Queens.
---
LIC Neighborhood - Long Island City Links
$element(adman,groupad,NHoodLIC)$
Click on these advertisements for promotions, discounts and coupons by retailers and restaurateurs in Long Island City LIC and nearby Queens.
Click this link to go to the:
Long Island City Neighborhood or LIC Business Directory
Long Island City Real Estate or Events & Things To Do In LIC
Restaurants In Long Island City or LIC Shops & Shopping
---
$element(adman,groupad,Catgry Rest)$
Site Search Tips. 1) For best results, when typing in more than one word, use quotation marks - eg "Astoria Park". 2) Also try either singular or plural words when searching for a specific item such as "gym" or "gyms".
$element(bwcore,insert_search,N)$
Click this link to search for something in our Queens Business Directory.
---
Click the log in link below to create an ID and post an opinion.
Or send this story to a friend by filling in the appropriate box below.
$element(adman,groupad,Sectional2 Ad)$
---