Sunnyside Shorts / Flicks In The Park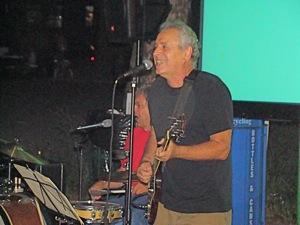 September 10, 2011 / Sunnyside Neighborhood / Queens Buzz. Continued. It seems late last Spring both film festival organizers had approached Sunnyside Gardens Park regarding the possible use of the park for their respective venues. Given that both groups wished to host their festival around the same time [in September], they decided it would be best to join forces to enhance the event.
Phil Valenti and the Broken Hearted Blues Band were recruited to play prior to the films and Sunnyside Pizza volunteered to contribute a number of pizzas for the event.
Phil Valenti & The Broken Hearted Blues Band
While in conversation with Sherri, The Broken Hearted Blues Band began to play. The band is lead by Phil Valenti and is comprised of a number of talented musicians who periodically get together. Some of the band members continue to play professionally, while others continue to play because they love the music. Phil is shown playing an old Muddy Waters tune entitled 'Got My Mojo Working' in the photo above right.
Fifth Annual - Sunnyside Shorts Film Festival 2011
This is the fifth year for the Sunnyside Shorts Film Festival. Sherri gave me the run down on the films I was about to see, including a couple of new films. We didn't go over history and background as we'd had those conversations in prior years. Click here for coverage and background information about the festival and its producers Sherri Gamlin [see SS Shorts 2009] and Susan Walsh [SS Shorts 2010]. Sherri then introduced me to the founders of 'Flicks In The Garden', Emilie McDonald and Tammy Arnstein.
Sherri Gamlin, Emilie McDonald, Tammy Arnstein & Susan Walsh
Emilie and Tammy both moved into the Sunnyside neighborhood within the past ten years and soon thereafter started families. They met through a neighborhood group of mothers, discovering in the process, that they had both studied and worked professionally in the cinematic arts.
This year they decided to put together 'Flicks In The Garden' to showcase neighborhood film making talent. Hence, early this spring they posted notices asking for short film submissions. About a third of the films reviewed made the cut and were to be shown in the Flicks segment of the program tonight. Emilie McDonald, Tammy Arnstein, Susan Walsh and Sherri Gamlin are shown from left to right in the photo above left.
---
---
Sunnyside Shorts 2011
There were just under ten films shown in the first half of the program, entitled Sunnyside Shorts. Five of them were a minute in lenght or less. The Sunnyside Shorts logo is shown to your right.
Lords Of The Playground - Film
Some of the highlights were a string of one minute humorous shorts entitled 'Lords Of The Playground'. The films are vignettes about two fathers sharing a park bench while watching their children. These were humorous takes poke fun at being a father in 21st century America, covering topics like playing with your kids, eating their food and some of the finer points of strollers.
A frame from Lords of the Playground is shown to your left with the 'two lords' discussing the finer aspects of fatherhood.
King Jeff - Light, Humorous Short Film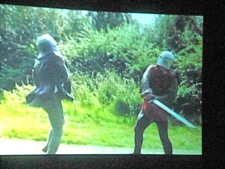 King Jeff was a short film about two crazy guys who believe they are kings living in the 12th century. One challenges the other to war and so they meet with their 'armies' of toy soldiers and Medieval props.
A couple of hoods jump in to hold them up, saying give me your watch and wallet. An example of some of the humor implicit in the film comes through when one of the kings says, "We don't have watches. They haven't been invented yet.".
King Jeff and his mortal enemy are shown in the photo to your right, dueling it out.
Une Dernier Foi - Or One Last Time
Une Dernier Foi or One Last Time came with English subtitles. It's about a couple that is constantly kissing. Then they appear to split. The guy wakes up and everyone around him appears to be dead. Eventually he finds his love and as they're dying they're kissing again.
I suppose there could all sorts of metaphors implicit in the film about life, a nuclear holocaust, or that we're all dying, but there's not much time to develop these sorts of scenarios / themes in a short film and so ... unfortunately its plot was lost on me.
Short Documentary Film - Eighty Eight
Eighty eight was a film about an English street musician who is 88 years old. The film maker takes us into this 'street musician's' life. He has an apartment, was once married, and is still an avid cyclist. He plays music on the street to pick up a bit of cash and to stay connected to the world.
The film ends with some of the man's poetry, which I won't do justice, but went something along these lines: 'I am a knight and a soldier, whose words and songs are his sword and bullets. And when they become dull, I will lay them aside. As I prepare to end my journey's ride.'
Always A Puppet - Humorous Music Video
Always A Puppet is a humorous video doing a take off on Billy Joel's once famous tune Always A Woman To Me.
After a brief intermission, during which Sunnyside Pizza was disbursed, the Flicks In The Garden portion of the festival began.
---
---
Flicks In The Garden - Sunnyside Gardens Park
There were six films in the Flicks In The Garden segment of the program. Two of the films were three minutes or less in length. The Flicks logo is shown to your right.
Coventry Night Club - Sunnyside Night Club In The 1980's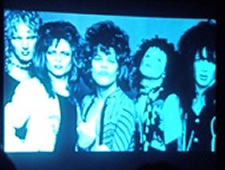 One film was a black and white trailer about the legendary Coventry Night Club in Sunnyside. The night club was located at 47th Street and Queens Blvd. The film talked about some of the Queens music legends like Kiss, the Ramones and other famous bands that once played there.
The other film was entitled A Bagel With A Schmear and was a black and white short about a middle aged guy being cast from his apartment by his wife [?], and then going out into the park where he has a bagel and then plays in the park fountain.
We Will Read Each Other's Mind - Short Films
The short We Will Read Each Other's Mind was about two women who spend their days together taking the subway, walking, reading the paper and books. Observing life together. Existential and pensive. In the photo to your right is a frame from the climax of the film.
Terrebone - Film Festivals In Sunnyside Queens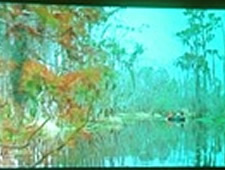 Terrebone is the story of an older sister and younger brother in Louisiana and a turning point in their relationship. The younger brother believes he's spotted a rare bird and calls it into a conservation society who sends someone to check it out. They row through the bayou looking for it, the pretty sister having decided to join her younger brother and the handsome young conservationist. The crew is shown in the photo to your left in a small row boat in the bayou.
The sister's past comes out during their quest, as it seems she's been making some of the wrong choices, although none appear to be devastating. The conservationist, supported by the older sister, gives up hope of finding the bird. The younger brother verbally attacks his sister and she knocks him into the water. Before long, both siblings are wet. As the crew comes to the shore, the sister decides to stay with her younger brother to spend more time looking for the bird. In a short period of time, the film maker and the actors, do a nice job of painting a vignette of sibling rivalry, as their relationship begins to transition into something more profound.
Other Peoples Houses - Short Films In Sunnyside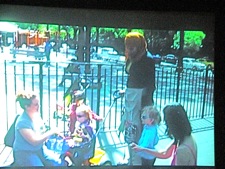 Other People's Houses is about a single mom, ostracized from a very clubby group of neighborhood mothers in – of all places – Sunnyside, New York. In this film we join the mothers and their children at Windmuller Park with their children at play. Our heroine, who is also the producer, is the single mom. Her love for her child is portrayed at the outset and throughout the film, so we know she's a 'loving mother'.
But the other mothers are stay-at-home moms who don't have to bring home the bacon, like the single mom. They live in an insulated world and don't have to go looking for love, like the single mom. The single mom also breaks some of the social norms, like bringing soda pop to an afternoon wine and cheese social, and she feels shunned when she makes a few clumsy remarks.
Most of the other mothers appear to be insensitive to the struggles the single mom must endure. Adding to this are her feelings of not belonging, because the other mothers can afford to congregate at times when the single mom is taking care of all of the other chores that her fellow moms have taken care of by their husbands.
There's a Pakistani mom in the group who shows compassion and seems to understand the single mom's feelings of not belonging. Perhaps because she was born into another culture. And she's an accepted member of the clubby mom's group because she is also a stay-at-home mom. The Pakistani and single mom's seem to share an affinity and their friendship begins to grow.
The short film is well acted. The heroine does a nice job of portraying the tension, angst and insecurity that would attend the situations she portrays. And the smug, nasty mom did a great job of drawing one's ire by constantly undermining the single mom with her rolling eyes and knowing glances.
Broken & Wonderful - Documentary Films In Sunnyside Queens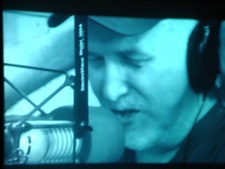 Broken And Wonderful is a short documentary film about Bob Reuter, a musician, radio talk show host and photographer from St Louis. Bob is an artist on many levels and he tells his story as one of good times, camaraderie and survival.
In 1997 Bob began documenting 'the underbelly of rock 'n roll' in St Louis. Hence some of the photos, video footage and music are included in this short. At the end of this short film, Bob leaves us saying that, 'I was born in the middle of the 20th century. I was born in middle America. And so telling my story is the only one I really know. And it's the only story that I've got to tell, because no one else can tell it and no one else can tell it.' I left thinking that that's probably true for all of us.
Sponsors of the event include the two organizers, Sunnyside Shorts and Flicks in the Garden, Sunnyside Gardens Park, Sunnyside Shines and Sunnyside Pizza. Jimmy Van Bramer attended the event and made a few remarks before the show began.
Photos of Sunnyside Shorts / Flicks In The Garden - Slide Show
In the slide show you will see photos of the audience, the four producers of the event, the food court, photos of the Broken Hearted Blues Band, clips from the films and shots of the moonlit night. In order they are as follows [attendant photo notes to come later]:
$element(ophoto,photo_slideshow,146,520,,5.00,fade)$
Click here to go directly to the album containing photos of Sunnyside Shorts & Flicks In The Garden.
---
Sunnyside Neighborhood / Woodside Neighborhood Links
$element(adman,groupad,NHoodSSWS)$
Click on these advertisements for promotions, discounts and coupons by retailers and restaurateurs in Woodside, Sunnyside and nearby Queens.
Click this link to go to the:
Sunnyside & Woodside Neighborhood
Sunnyside Business Directory or Woodside Business Directory
Sunnyside & Woodside Real Estate or Events & Things To Do In Sunnyside & Woodside
Restaurants In Sunnyside & Woodside or Sunnyside & Woodside Shops & Shopping
---
$element(adman,groupad,Catgry Foodwine)$
Site Search Tips. 1) For best results, when typing in more than one word, use quotation marks - eg "Astoria Park". 2) Also try either singular or plural words when searching for a specific item such as "gym" or "gyms".
$element(bwcore,insert_search,N)$
Click this link to search for something in our Queens Business Directory. Also check out Taste of Sunnyside.
---
Click the log in link below to create an ID and post an opinion.
Or send this story to a friend by filling in the appropriate box below.
$element(adman,groupads,Sectional2 Ad)$
---