Arome A Cafe - Neighborhood Dining In Astoria
Update July 5, 2009. This restaurant appears to have closed. This restaurant was opened under the name Bistro Boite a Café, which literally translated means Quick Box Coffee. They recently changed the name to Arome A Cafe, but regardless, to Luis and Amparo Alvarez, Julio Escalante and Milton Ramirez, it means good food in a casual setting. This restaurant opened on August 8th on 40-17 30th Avenue. Click map to see location Arome A Cafe Astoria NY.
Restaurant Review Summary
Let me give you a quick summary of what you'll find at the French styled bistro. A clean, comfortable family-run restaurant, that provides casual but timely service, and tasty stick-to-your ribs food. Prices for entrees range from $5 to $8 for breakfast, $6 to $9 for lunch, and $8 to $18 for dinner. Bistro doesn't yet have its liquor license [expected October 18th] but until then, you're allowed to bring your own beer or wine.
Over the past couple of months, the Luis and Amparo and their son, Andres, have spent much of their time managing the operations of this comfortable corner restaurant deep in the heart of Astoria. They have enlisted the help of chefs Julio Escalante [formerly of L' Express NYC] and Milton Ramirez [currently of Compass NYC] to advise and guide them in the creation of the menu, the food buying and the food preparation.
Restaurant Owners & Background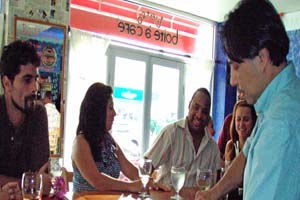 I visited Arome A Café on an overcast drizzling Thursday evening. Andres, son of one of the owners, greeted me. I settled in taking some photos before the evening customers arrived. As I was finishing up, Luis, the owner, arrived. Luis' first job as a teenager was washing dishes for a French restaurant in Astoria. He worked his way up to dressing salads before he left to pursue other business opportunities. And while successful in his other endeavors [transportation], Luis had always had a yearning to return to the restaurant business because he enjoyed it. And about a year ago he made that dream come true by buying the former Paparazzi Restaurant which used to operate at the current Bistro location.
The Paparazzi Restaurant wasn't well aligned with Luis' vision for a restaurant and so last Spring, he teamed up with Julio Escalante, a French styled chef, to create Arome A Café. Julio was instrumental in guiding them toward the casual French bistro concept since it seemed like it would fit nicely into the neighborhood and capitalize on Julio's extensive experience working with traditional French food.
While the cafe started with a French flavor, it is also very American. Milton Ramirez complements Julio's traditional style by mixing it up a bit with variations on the French theme. They intend to vary the menu in keeping with the seasons.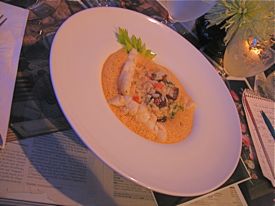 Appetizers
I started with the Sweet Maine Lobster Risotto appetizer. The lobster was fluffy and flavorful. The risotto had a nice hearty pasta bean texture and the lobster foam provided a Parmesan cheese flavor. The sauce included broccoli florets, which were cooked al dente, complemented by soft squishy mushrooms.
Restaurant Decor
Amparo, Luis' wife, joined us. She had done a lot of the decorative paint work found on the table tops, on the window panes above the floor to ceiling street level glass doors, and even on the menu covers. Amparo's decorative painting contrasts a bit with some of the more disheveled French style tables which Luis and Julio put together using newspapers and postcards, and with which they had also lined the walls.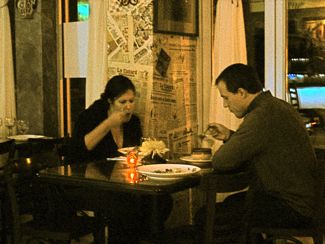 My interpretation of the decor was that it was a blend of French and Latin, which hadn't quite settled into a blended American collage, perhaps because it was all so new. Nonetheless the bistro décor was inviting and attractive. And perhaps because of the contrast, a bit more interesting than if it were all French or all Latin.
The restaurant does a robust breakfast and lunch businesses, although it's still a bit slow on dinner because it does not yet have its liquor license. For budget conscious diners this represents an opportunity, as you are welcome to bring your own wine or beer until they obtain the license. [Editor Update: They now have their liquor license].
Main Entrees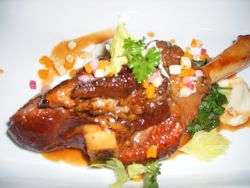 The main entrée, a braised lamb shank, arrived. It was accompanied by a cauliflower puree, Swiss chard which is a beet, glazed root vegetables like carrots, and horse radish relish. The shank was a generous portion of thick meaty lamb, underneath which lied a small bed of spinach.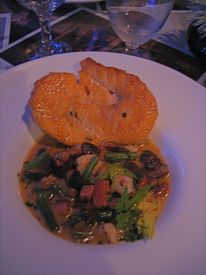 The shank was followed by a Shiso Salmon Roulade with ragout of tomato, bacon lardoons, rock shrimp bits and cranberry beans. The generous cut of salmon was lightly glazed and surrounded by a mix of cranberry beans, which are chestnut flavored beans with a texture similar to kidney beans, mushrooms, tomatoes and hearty pieces of salty tasting bacon lardoons [bits].
Dessert And Coffee
For dessert I had the crepe sucre which had a pastry cream filling used in many French pastries. The cream was made of vanilla, cream, eggs and sugar. A bit of zest [cut orange peel] and cranberry were placed alongside the dessert. The thickness of the crepe was somewhere between a paper thin crepe and a pancake. Desserts are a specialty of one of the sous chefs, who also works at the Compass on the upper west side of Manhattan.
To top off the meal I had a cappuccino, which had been made using coffee from central America, which had a pleasant, clean, straightforward flavor. I recall thinking that the personality of this coffee was kind of like the personality of the Arome A Cafe.
Restaurant Service And Hours
Arome A Café is a bit of the American dream. Luis, Amparo, Julio and Milton all work hard, pay attention to detail, stay flexible in serving their neighborhood customers and it shows. Arome A Cafe serves breakfast from 8 am to 11 am, lunch from 11 am to 3 pm and dinner from 5 pm to 11 pm.
On the weekends they do not serve breakfast but are open for brunch, and they are closed on Mondays. They also intend to accommodate parties.
Arome A Cafe Restaurant In Astoria NY - Links To Maps, Transit, Dining, Events & Shopping

This restaurant closed.
Click this link to go to the Astoria Neighborhood News / Astoria Neighborhood Guide and Map / Astoria Restaurants Guide & Map / Astoria Shops Guide & Map / Queens & Astoria Events / Astoria Business Directory / Astoria Shop Announcements.