Sunnyside Christmas Tree Lighting 2011
T'is The Season To Be Jolly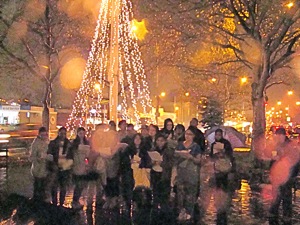 Continued. November 28, 2011 / Sunnyside Neighborhood / Queens Buzz. Last year Sunnyside is host to three separate tree / street lighting ceremonies. This constitutes more tree / street lighting ceremonies than any other neighborhood in the world : )
Entertainment At Sunnyside Xmas Tree Lighting
On this night the Sunnyside Drum Corp came out in the inclement weather and treated us to a few rousing tunes. Their fine work was complemented by the choral voices of the Long Island City YMCA Singers, an informal group of people with angelic voices who like to sing.
Local Officials Present At Sunnyside Christmas Tree Lighting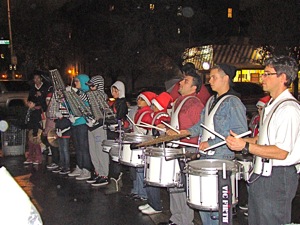 Rounding out the occasion, post consumption of hot chocolates, were a few short speeches by government officials including State Senator Michael Gianaris, City Councilmember Jimmy Van Bramer, Queens Chamber President Rebecca Barker, and Queen of Angels pastor Father Brian Dowd. Joseph Conley - Community Board Two Chairman, John Vogt - Chairman of Sunnyside Shines BID and Luke Adams - Sunnyside Chamber Man Of The Year, were also present. All of these folks may be seen in the slide show below.
Slide Show - Photos Of Xmas Tree Lighting 2011
The following is a slide show containing photos of the Sunnyside Christmas Tree Lighting ceremony of 2011. Click here to go directly to view the photos of the Sunnyside Christmas Tree Lighting 2011.
DSC08986, 8989, 8996, 8908 to 8915 - Sunnyside Drum Corps
DSC08990 - 8995, 9024 to 9026, 9033 - LIC YMCA Singers

DSC09022, 9040 to 9055 - photos of various presiding officials named above
DSC09027 - Luke Adams
$element(ophoto,photo_slideshow,164,550,,5.00,fade)$
---
Sunnyside Neighborhood / Woodside Neighborhood Links
$element(adman,groupad,NHoodSSWS)$
Click on these advertisements for promotions, discounts and coupons by retailers and restaurateurs in Woodside, Sunnyside and nearby Queens.
Click this link to go to the:
Sunnyside & Woodside Neighborhood
Sunnyside Business Directory or Woodside Business Directory
Sunnyside & Woodside Real Estate or Events & Things To Do In Sunnyside & Woodside
Restaurants In Sunnyside & Woodside or Sunnyside & Woodside Shops & Shopping
---
$element(adman,groupad,Catgry Foodwine)$
Site Search Tips. 1) For best results, when typing in more than one word, use quotation marks - eg "Astoria Park". 2) Also try either singular or plural words when searching for a specific item such as "gym" or "gyms".
$element(bwcore,insert_search,N)$
Click this link to search for something in our Queens Business Directory. Also check out Taste of Sunnyside.
---
Click the log in link below to create an ID and post an opinion.
Or send this story to a friend by filling in the appropriate box below.
$element(adman,groupads,Sectional2 Ad)$
---