---
Biking in Queens and NYC is on the rise. It's good for one's health and by not using an automobile, it's also good for the environment. There are saftey issues that one must be sure to address, but generally biking is an interesting and fun sport which is accessible to people of all ages.
---
5 Boro Bike Tour Rides On ...
The 5 Boro Bike Ride has Become an NYC Cultural Institution
May 8, 2017 / Astoria Neighborhood / Bikes Bicycle Events in Queens / Queens Buzz NYC. By Michael Wood.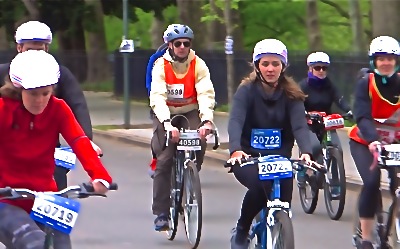 The 5 Boro Bike Tour pedaled through the five boroughs on Sunday, for its 40th year. I have been covering the event for nearly a decade, enjoying conversations with the riders as they make their way through the streets of New York City, without having to contend with hostile traffic. It's a family-friendly event and helps fund bike safety and repair programs designed to teach children and adults how to enjoying bicycling in an urban environment.
Brief History of the 5 Boro Bike Tour NYC
The following is a summary of the 5 Boro Bike Tour history, gleaned from the Bike New York website at www.bike.nyc.
The event began in 1977, starting with a conversation between Sal Cirami of the American Youth Hostels bicycle committee and Eric Prager of the NYC Board of Education. Sal was interested in creating more bicycle-friendly streets, while Prager had been asked to develop a bicyle safety program for NYC school children.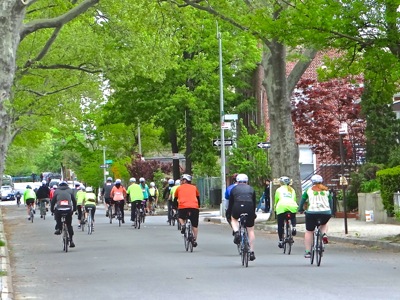 The program started with bicycle safety and repair, and the 5 Boro Bike Ride was to be the culminating event for the participants. Thus on June 10, 1977 Sal, Eric and 250 entrants - most of which also came from bicycle clubs - made their way from Flushing Meadows Corona Park in Queens, down through Brooklyn, over the Verrazano-Narrows Bridge to Staten Island, ferrying back over to Manhattan, and traversing up through Manhattan to the Bronx, before crossing over the Throggs Neck Bridge back to Queens, terminating at Flushing Meadows Corona Park. The streets weren't closed, but the riders were provided with an NYC police escort.
The next year, the newly-elected Mayor Koch, supported the idea of a 5 Boro Bike Tour with city resources. The ride was shortened to 40 miles and the NYPD shut down a moving 40 block long section of streets to pave the way for the cyclists to pass. That year the cyclist count rose to 3,000. Two years later, in 1980, the MTA subway workers went on strike and the 5 Boro Bike Tour participation swelled to 12,000 and then grew to 32,000 before the city capped the ride at that number where it has remained ever since.
5 Boro Bike Tour: Queens, Manhattan, Bronx, Brooklyn & Staten Island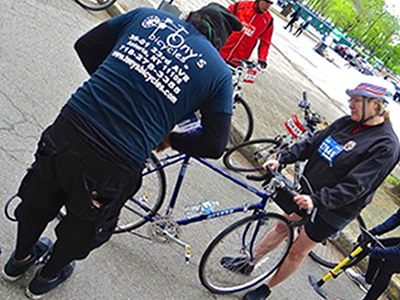 According to Bike New York, this year the 5 Boro Bike Tour attracted 32,000 participants from all 50 states and 65 countries. It was a cool, cloudy day with temperatures in the 50's and 60's. In the mid / late afternoon came a bit of drizzle, but by then I believe most - if not all - had completed the ride. I made my way up to the Astoria rest stop where vast crowds of cyclists converge beginning at between 8 and 9 am and which then continues for a couple of hours, before tapering down by around noon.
I arrived on the tail end of the ride, where I could watch the bicyclists who preferred to take the ride slowly, were streaming along northward along the eastern perimeter of Astoria Park. I made my way down to the rest stop, located in the parking lot just under the RFK / Triborough Bridge, where there were toilets, food and bike repair services available to the riders on their 40 mile journey.
One of the riders I conversed with later that afternoon told me it was exhiliarating to see New York City on bike and to be joined by so many other bicycle enthusiasts from around the city, nation and planet. The entrance fees [$100 for a standard ticket / packet] from the 5 Boro Bike Tour go to Bike New York which is a non-profit dedicated to teaching cyclists about bike repairs and bike safety. Registration generally starts the second week of January and closes out fairly quickly as the 5 Boro Bike Tour is limited to 32,000 cyclists. TD Bank was the sponsor this year as it has been for a number of years.
---
Tour de Queens
July 2016 / Queens Neighborhoods / Biking Queens / Queens Buzz.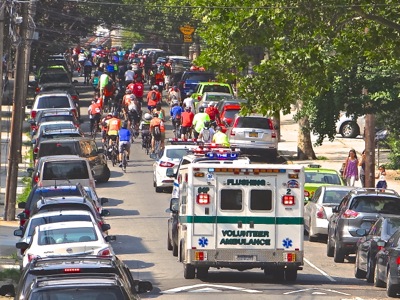 The Tour de Queens did not return this year, nor did the Tour de Brooklyn.
This year Transportation Alternatives, organizers of the events, tried to promote a Brooklyn Queens Tour by merging the Tour de Brooklyn and the Tour de Queens. They set out a 20 mile escorted course with a goal of raising $100,000 for Transportation Alternatives street safety efforts. The Brooklyn / Queens bicycle event took place on Sunday, June 12th beginning at 8.30 / 9 am. The sign up fee was about $20 per rider and began and ended at CitiField.
I understand the merged ride didn't go that well. Generally both the Tour de Queens and the Tour de Brooklyn bike ride events each attract over a thousand riders apiece, while the merged event appears to have attracted only a couple of hundred bike riders according to their Facebook page.
It seems that given the event had historically been a family-friendly escorted bike ride that stayed within the borough / neighborhood, some of the family-friendliness appeal was lost by merging the bike tours. It's also worth noting that there are two other multi-borough events for bike riders - the 5 Boro Bike Ride the first weekend of May and the Century Bike Ride the second weekend of September.
The Century Bike Ride is also organized by Transportation Alternatives and has been growing every year to (tens) of thousands of bike riders who set out on a 31 / 62 or 100 mile course through all five boroughs. To register, go to www.transalt.org. The photo above was taken at the Tour de Queens ride in 2015 near Astoria Park.
---
Century Bike Ride Runs & Rests In Queens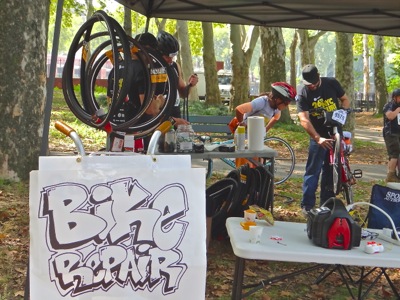 September 14, 2015 / Astoria Neighborhood / Biking Queens / Queens Buzz. The Sunday forecast included a high probability of scattered thunderstorms, but fortunately for the Century bike riders the weather appeared to favor them.
The Century Bike Ride is organized by Transportation Alternatives, an environmentally-friendly group that promotes non-carbon and low carbon 'transportation alternatives' to NYC residents. This is the bike ride they sponsor and the receipts go toward their efforts to ensure the various levels of government do what they can to help promote a safe and regenerative urban transportation environment.
The Century Bike Ride offers four biking alternatives that individuals and / or groups can pursue on their own during the most-of-the-day event. The first start time was at 5.30 am in Central Park [Manhattan] and at 6 am for a Prospect Park [Brooklyn] start and the last rest stops at the two parks closed at 6 pm.
The four bike routes included a 35 mile, 55 mile, 75 mile and 100 mile [hence the name century] loop.The 35 mile loop is called the East River Ride, which runs along the East River primarily in Brooklyn and Queens. The ride started at 7.30 am and was expected to last between 3.5 and 7.5 hours. The 55 mile loop is called the Waterfront Ride which includes the East River loop, but also the Verrazzanno Bridge, Coney Island and part of the Brooklyn Greenway. This ride started at 7 am / 7.30 am and was expected to take about 3.5 to 8.5 hours. The 75 mile loop is called the Rockaways Ride and it excludes the north / south run along the East River in Brooklyn / Queens in exchange for a haul out to the Fort Tilden Beach in the Rockaways then north through a number of Queens Greenways [parks] before turning westward back toward Manhattan. The Century Bike Ride, the 100 miler, starts at 6 am / 6.30 am and is expected to take between six and twelve hours.
The Century Bike Ride started in 1989 and is celebrating its 26th year.
---
Tour de Queens
Transportation Alternatives Hosts 8th Annual Tour de Queens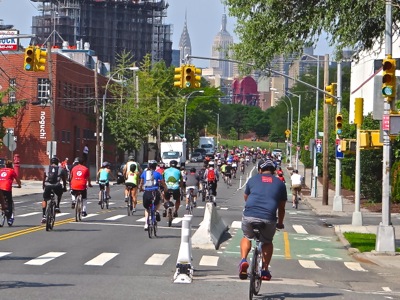 July 15, 2015 / Astoria Neighborhood / Queens Neighborhoods / Queens Biking / Queens Buzz.
The first Tour de Queens took place in 2008. The event was organized by Transportation Alternatives to encourage people to get on their bikes to see their neighborhoods. The idea is once people reaquaint themselves with the ease and joy of bicycle travel, they'll be more apt to get on their bicycle again.
The Tour de Queens route changes every year, and sometimes that includes the starting and end point. This year the event began in Astoria Park again and traveled south through Long Island City, east to Middle Village and north to Jackson Heights before returning to Astoria Park.
Sign up began at 8 am and the tour began promptly at 9.30 am. About 11,000 cyclists signed up for the Tour de Queens which cost $22.50 and $17.50 to register. The Tour de Queens is an escorted ride where the police temporarily set up barricades clearing the route as the bicyclists pass. This differs from both the 5 Boro Bike Ride and the Century Bike Ride where the route is cordoned off for a great deal of the day.
---
Air Beam: What Are You Breathing?
Adventurous Bike Ride With TA Queens ... On The Road To Find Out
November 10, 2014 / Queens Neighborhoods / Biking Queens / Queens Buzz. I just returned from a bike ride that began at the Central Park Boathouse and ended in Jackson Heights at 34th Street and the BQE Expressway. Celia Castellan, who is the organizer for Transportation Alternatives Queens [aka TA Queens] collaborated with me on this story which is about Queens & Manhattan air quality and also about biking. Celia is shown in the photo to your right, atop the Queensboro Bridge around 6 pm Monday night as we bike commuted from Manhattan to Queens.
It was a beautiful night with clear, dry air and temperatures around 60. Our mission was to test the Air Beam, a new device designed to enable people to measure the air quality, and then map the information to a public website, so that the public can begin to see what's going on with the air they breathe. The Air Beam is a blue, slightly-larger-than-a-cell-phone device, that you wear to measure the air [quality].
We began the ride in Central Park. We were on our way after receiving only a couple minutes of instruction. The device is brand-spanking new and must be sync'ed to an Android cell phone. The inventors work for a non-profit and are trying to raise a bit of money to mass produce it.
I'm going to take you on the rest of the ride, including a sampling of the air quality readings along the way, and provide some photos of the Queensboro Bridge bicycle commute a bit later this week. In the meantime, check out the Air Casting website and if you want to help, there are a few more days left on their Kickstarter campaign.
---
Century Bike Tour In Astoria Park & Queens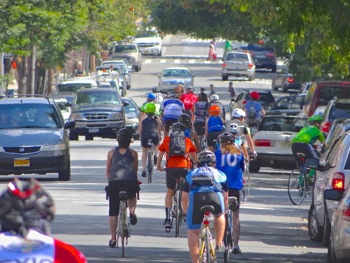 September 8, 2014 / Astoria Neighborhood / Biking Queens / Queens Buzz. The Century Bike Tour came rolling through Queens all day Sunday. It's a 100 mile bike ride, but designed to also accommodate those with less ambitious plans of 25 and 50 mile bike rides too.
The course includes four of the five boroughs [not Staten Island] and it is neither police escorted, nor are the roads blocked off to accommodate the ride. NYC has become far more bike-friendly over the past decade. So while riding along with the other bikers, you'll find drivers become aware that this is a big bike day. One biker also told me that the police are stationed at key artery intersections - like the Brooklyn Bridge - to handle the traffic management complexities.
It costs $65 and registration remains open up to the event day as the tour is designed to accommodate large numbers of bikers. About 6,000 bikers registered this year which is near an all time high. The event is sponsored by Transportation Alternatives which uses the funds to advocate for safer streets. We'll have more on this including a photo slide show at a later date.
---
Randall's Island Bike Ride
Weekend Day Ride Feels Miles Away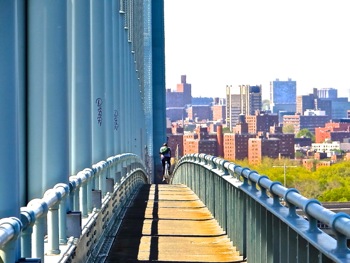 May 12, 2014 / Astoria / Queens Bike Paths / Queens Buzz. I decided to attend the Frieze Art Fair on Randall's Island this past weekend. There are three ways to travel to Randall's Island: the ferry service from LIC, driving a car along the Grand Central Parkway part way over the RFK / Triborough Bridge or walking / biking on the pedestrian / bike path over the RFK / Triborough Bridge. I decided to take the latter and bike to Randall's Island.
Randall's Island is located in the middle of the East River, just across from Astoria Park. It is home to Icahn Stadium, an important NY Fire Department complex, a police station and a psychiatric hospital. There are also a number athletic fields which on this particular weekend seemed to be put to good use by a number of soccer leagues.
I started my journey at 27th Street on the north end of Hoyt Avenue which runs alongside the Grand Central Parkway leading to the RFK / Triborough Bridge. The entrance is inconspicuous and you have to carry your bike up a healthy set of stairs. For a while you'll be biking in a partitioned bike lane alongside the incessant flow of speeding traffic of the Grand Central Parkway, before you're taken above the din, up into the lofty heights of the Triborough Bridge. If you have a great fear of heights, this is not the journey for you.
We'll post more about the bike path to Randall's Island, including a photo slide show, at a later date.
---
$element(bwcore,article_picker,1033-1003-895,Y,N,page_title_home,N)$
---
Tour De Queens Changes Starting Location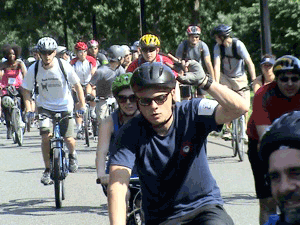 April 22, 2013 / Biking in Queens / Queens Buzz. The Tour De Queens will be starting and ending in western Queens this year. This year the Tour De Queens will start and end in Astoria Park in northwestern Queens. The Tour De Queens is scheduled for Sunday, July 7th and registration begins on June 4th. The Tour De Queens bike ride is sponsored by Transportation Alternatives and the police escorted bike ride will travel through the following Queens neighborhoods: Astoria, Long Island City, Ridgewood, Maspeth, Rego park, Middle Village, Forest Hills, Corona, East Elmhurst and the rest stop will be held in Juniper Park. The cost of registration is $15 / $20 and you can click here to read the registation details on the Tour De Queens website.
The Tour De Queens [see related stories below] is a roughly 20 mile, family-friendly bike ride [casual & slow] through several neighborhoods around the borough of Queens. The neighborhoods change each year, giving the cycliing participants an opportunity to really 'tour Queens'. This is the 6th annual Tour De Queens, and you can view reports and photos of prior Tours De Queens by scrolling down.
---
No New Bike Lanes For Queens in 2013
April 30, 2013 / Biking in Queens / Queens Buzz. Last fall I attended one of the Community Board Meetings on Bike Lanes in Queens. At the time the Department of Transportation had come to solicit input from the Community with the idea of building additional bike lanes in the borough. At the time they were talking about adding 50 miles of new bike lanes in NYC in 2013, of which about 10 miles were planned for Queens.
In a recent visit to the DOT website, I found quite a changed picture. Currently they are planning about 31 miles of bike lanes and no new bike lanes for Queens. I wonder what happened?
| | | |
| --- | --- | --- |
| Location | Borough | Miles |
| 14th and 15th Street Traffic Calming and Bicycle Lanes | Brooklyn | 1.9 |
| Columbus Avenue Bicycle Path Extension (update) | Manhattan | 1.6 |
| Brownsville and East New York Bicycle Network | Brooklyn | 7.2 |
| Crotona Avenue-Southern Boulevard Bicycle Route | Bronx | 4.2 |
| Bronx River Greenway Southern Connections | Bronx | 1.9 |
| West 15th and 16th Street Bike Routes | Manhattan | 2.1 |
| West Midtown Crosstown Route Extensions | Manhattan | 2.9 |
| Ocean Avenue Shared Lanes | Brooklyn | 3.4 |
| Union and Sackett Street Connections | Brooklyn | 1.6 |
| Queensboro Bridge Connections | Manhattan | 0.6 |
| Co-op City corridor safety improvements | Bronx | 3.6 |
| Brooklyn and Manhattan Bridges Bicycle Access Improvements | Brooklyn | 0.6 |
| NEW QUEENS BIKE TRAILS | QUEENS | 0000 |
| 2013 Total Lane Miles Planned | NYC | 31.6 |
Why did they indicate we were going to get ten new miles of bike trails last fall? Are we still going to get them, but at a later date? Or is something else going on? Stay tuned.
---

---
Bike Lanes In Queens
Queens County comprises about 100 square miles of relatively flat land, that runs from the Long Island Sound to the Atlantic Ocean and from the East River to Nassau County on Long Island. There are hundreds of miles of bicycle trails in NYC, but bike lanes are relatively new to Queens, in spite of the fact that Queens has some of the most relaxing and enjoyable bike treks in the city.
---
$element(bwcore,article_picker,881-882,Y,N,page_title_home,N)$
---

---
Bike Groups In Queens
Transportation Alteratives and its membership is one of the leading cyclist groups in western Queens. They sponsor a number of biking events and rides.
---
Coming soon. The following are maps of advertising bike shops in Astoria Queens.
$element(bwcore,article_picker,719-712,Y,N,page_title_home,N)$
---
$element(adman,groupads,Sectional Ad)$

---
Bike Events In Queens
Queens hosts and participates in a number of fun biking events each year. Events include the Five Borough Bike ride in May, the famous Tour de Queens bike ride in July, and the Century Bike Ride in September. The events are nicely spaced out over the warmer weather and allow for bike racers as well as casual bikers.
May 2013 - 5 Boro Bike Ride In Queens
The Five Boro Bike ride is a Manhattan centric event that starts in Central Park and makes its way into Queens over the Queens Borough Bridge. It moves on up to Astoria Park, then turns around and heads south to Brooklyn across the Pulaski Bridge.
July 2013 - The Tour De Queens
The Tour De Queens is a Queens-centric event that promotes casual biking and family biking as a nice way to see the borough. Each year they cut a different trail through a series of neighborhoods.
September 2013 - NYC Century Bike Ride Queens
The NYC Century Bike Ride traverses Queens every year, traversing through Astoria Park and using at least one of the Queens Bridges [RFK / Queens Borough Bridge].
---
$element(bwcore,article_picker,932,Y,N,page_title_home,N)$
---
$element(adman,groupad,Catgry Bikes)$
$element(adman,groupad,Catgry Queens)$
---
$element(bwcore,article_picker,780-575-573-421-418,Y,N,page_title_home,N)$
Century Bikers Greeted In Astoria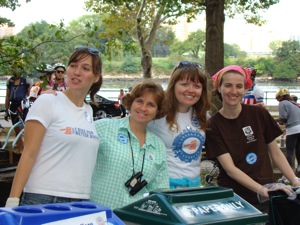 September 16, 2009. Sunday was certainly a beautiful day for a bike ride through the Queens borough. Century Bike Riders came rolling through Astoria Park last Sunday on their way through the 15 to 100 mile course they had signed up to ride. They were greeted warmly by the hospitable rest stop workers of Astoria Park as shown in the photo to your left.
Rest stop staffers were volunteers of the Queens Botanical Gardens, the Astoria Park Alliance, Green Shores NYC and Transportation Alternatives [the sponsor of the event]. Click here to enter page two of the Astoria Park photo album showing some of the riders as well as the volunteers.
---
$element(adman,groupad,Catgry Bikes)$
Site Search Tips. 1) For best results, when typing in more than one word, use quotation marks - eg "Astoria Park". 2) Also try either singular or plural words when searching for a specific item such as "gym" or "gyms".
$element(bwcore,insert_search,N)$
Click this link to search for something in our Queens Business Directory.
---
$element(adman,groupad,Sectional2 Ad)$
---
Click the log in link below to create an ID and post an opinion.
Or send this story to a friend by filling in the appropriate box below.
---