The Wedding ... Community Theater With Redemptive Theme
Can One Marry A Billionaire And Still Keep Their Sense of Self?
December 12, 2011 / Jamaica / Theater in Queens / Queens Buzz. Saturday afternoon I made my way to the York College Performing Arts Center in the Jamaica neighborhood of Queens to see a new play entitled The Wedding.
The play was written by Beverly Morrison Caesar for Arts in Christian Theatre [ACT] which is associated with the Pentecostal Church on Guy Brewer Blvd. Beverly's plays contain a redemptive message and are performed by volunteers from the church and surrounding community.
I spoke to Beverly about how the play originated and how she combined theater, pantomime and a fashion show all in one grand performance. Click here to read more about The Wedding at the Performing Arts Center at York College in Jamaica Queens.
---
The Wedding ... Community Theater With Redemptive Theme
Can One Marry A Billionaire And Still Keep Their Sense of Self?
Continued. December 12, 2011 / Jamaica / Theater in Queens / Queens Buzz. I arrived shortly before the performance began and found a comfortable seat is the front section of the large amphitheater at the York College Performing Arts Center. In the lobby there were a number of vendors selling various gift items in order to raise funds to support the work of the Arts in Christian Theatre [ACT] which had sponsored and produced the event.
Fashion Show at York College Performing Arts Center
The performance opened with a number of women walking up and down a runway created on the stage set of The Wedding play. Each of the women was beautifully dressed in a range of full length gowns, and they were ushered onto the stage as if they were entering the church for a wedding. This went on for upwards of a half hour and you can view most of the women who participated in this portion of the performance in the photo slide show below.
The Wedding - Community Theater with a Redemptive Message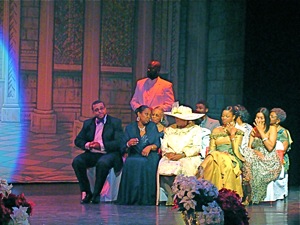 The fashion show easily segued into The Wedding as the models started taking seats in the pews on stage. The narrative began as the actors and actresses performed the pantomime in accordance with the script.
The show started out by providing the backdrop for The Wedding. Darlene, an inner city girl is about to wed a billionaire son of a wealthy fashionista businessman. His family isn't too keen on the idea because 'he's marrying down'; while her family is generally for the marriage as she seems happy and, as mama used to tell me, it's "just as easy to marry a rich man as it is a poor one".
As both sides of the family are being seated, the narrative conveys some of their thoughts. Many of them are much like you'd expect at any wedding, with the young males checking out the females, and vice versa; while the older folks contemplate the vagaries associated with an everlasting union.
Darlene, the bride, grew up in a poor section of town, but her parents always maintained an air of dignity by keeping their home safe and clean; and by encouraging Darlene to be successful in her endeavors. The family lead a Christian life in accordance with such principles. Darlene's brother attends the wedding, and while a street savvy guy, he too handles himself well in polite society.
On the groom's side of the aisle, sit the wealthy family and friends of Michael, Darlene's husband-to-be. Michael's father isn't too keen on him marrying down, but Michael's mother likes Darlene and thinks she's ok because she makes Michael happy. Michael's sister is a very successful fashion designer with a chip on her shoulder, and she starts scheming to destroy the union before it becomes official. And Michael's female friends cattily size up the bride's family, conceding that there seems to be some sense of style in spite of their economic position in society.
In the background is a man dressed in white, who plays the role of a positive energy field, or guardian angel. After the pastor asks, "If anyone objects to this union, speak now or forever hold your peace." Michael's sister makes her move … and both families approach the brink of war … but something happens as the man in white sort of freezes everybody, and then a calmness moves in and the potentially disastrous moment passes. At the end of Act I, Darlene and Michael have been safely and properly married. But Michael's sister hasn't given up the idea of making mischief as we depart for the wedding reception.
Intermission - ACT & Bethel Gospel Tabernacle Church
At the intermission I had the opportunity to speak with Playwright, Producer and Director Beverly Morrison Caesar and her husband, Bishop and Pastor Roderick Caesar of the Bethel Gospel Tabernacle Church. Beverly informed me that she has written five plays, including this one. The others include Hedge, Airport, Kings Gate, and Love, Lies and Money. Three of her plays have biblical themes, and while Airport and The Wedding do not, they do contain a redemptive message.
Beverly got the idea from one of the Bethel Gospel parishioners who wanted her to include a fashion show in one of her theatrical productions. The Wedding seemed an ideal venue as generally people in attendance at a wedding dress up for it. And on the wedding day everyone watches with great interest as the people invited by the bride and groom are ushered to their seats.
Bethel Gospel Tabernacle Church & Other Churches in Jamaica NY
The cast includes seventy volunteer actors and actresses who came from Bethel Gospel Tabernacle Church, as well as other nearby churches and the general Greater Jamaica area. Casting is generally open to all. Due to the large cast, Beverly decided to go with a narrative overlay. She then choreographed the actors and actresses to pantomime their roles in accordance with the narrative. In this manner, rehearsing and coaching the large cast became manageable within the time frame allotted.
A Brief History of Bethel Gospel Tabernacle Church in Queens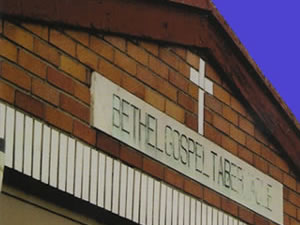 Beverly had to run back stage before the curtain opened for the second half of the show. This gave me an opportunity to speak with Roderick Caesar who is the Bishop and Pastor of the Bethel Gospel Tabernacle Church in Jamaica Queens. The church was founded in 1932 by Roderick Caesar Sr., Roderick's father. It originally stood on South Road where the York College Athletic Field stands today. In the 1940's the church moved to New York Blvd, which some twenty years ago was renamed Guy R. Brewer Blvd. Currently the church has some 2,000 parishoners, most of whom are active in the church.


Arts in Christian Theatre - Community Theater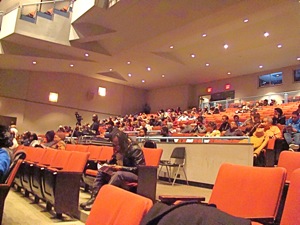 ACT or Arts in Christian Theatre was one of the sponsors of the event [also sponsored in part by York College Performing Arts Center]. Arts in Christian Theatre [ACT], tries to teach participants verbal and dramatic expression. It works with volunteers on community oriented theatrical productions, which as Bishop Roderick Caesar had informed me, generally contain a redemptive theme. The lights were dimmed indicating that the intermission was nearly over.

Part Two – The Wedding Reception in Queens
I returned to my seat and soon found myself entering the wedding reception of the play The Wedding. In the first half of the play, some of the bridesmaids and groomsmen had identified their 'intendeds' for the wedding reception. As the play progresses, many of these subplots begin toevolve, revealing who each of the players really is and what itis they are really after.
Undoubtedly the most significant subplot of them all is the one unleashed by Michael's sister. Robin, appears terribly envious and beyond herself, that her brother might find happiness beyond the family fortune. She too was in love with someone who, like Darlene, was considered to be 'someone beneath her station'. But unlike Michael, she yielded to her father's wishes and had been carrying on a liaison with this man unbeknownst to anyone. In fact she asked him not to accompany her to her brother's wedding, which is why, she had plotted to deny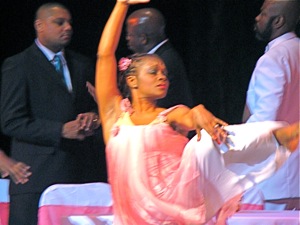 her brother Michael, something she was denying herself.
There was some dancing [what's a wedding reception without dancing?], including some modern dance performance. And in the end, things happened 'for a reason', as Robin's boyfriend makes an uninvited, surprise appearance at the reception. Robin digs down deep and finds that part of her true self still intact, and finally does the right thing by her man, instead of the wrong thing. And there were a few lessons in all of this about how one should conduct themselves to stay on the right path.
Future - Arts in Christian Theatre & Bethel Gospel Tabernacle Church
It was an interesting tale, enjoyably pantomimed by a large cast, that did a great job of providing an interesting visual and theatrical experience. You will find more of these productions coming in 2012 by the Arts in Christian Theatre and the Bethel Gospel Tabernacle Church in Jamaica Queens. Oftentimes the group presents its productions at the York College Performing Arts Center in Jamaica Queens.
At Queens Buzz we try to stay abreast of things, by posting events in the Member Calendar and encouraging non-profits, like community theater groups, to post their own events in our Member Calendar.
Please note that The Airport, another play by Beverly Morrison Caesar and Arts in Christian Theatre, will be playing one day only on February 13th, 2012 at 3 pm and 7 pm at the York College Performing Arts Center in Jamaica.
Cast & Crew of The Wedding Play by Beverly Morrison Caesar
Bride: Darlene Jamerson - Lydia Caesar
Groom: Michael Ryan - Wil Gilyard
Bride's Mother: Mrs. Jamerson - Beverly Caesar Sherrod
Bride's Father: Mr. Jamerson - Ernest Sutton
Bride's Sister: Yvette - Nancy Gadson
Bride's Cousins: Raquel Ffrench & Sharon Ffrench
Bride's Brother: Larry Jerome - Robert Morgan
Groom's Mother: Mrs. Ryan - Renee Freeman
Groom's Father: Mr. Ryan - Andre Lambert
Groom's Sister: Robin - Roberta Elder
Groom's Cousin: Karen - Ebere Osu
Flower Girl - Kayliah Motes
Page Boy - Kalen Harley
Soloist: Jessie - Olivia Gilmore
Minister: Rev. Richards - Vincent Lewis
Mystery Guest: Isaac Williams - Dexter Laughton
Holy Spirit - Khayree Jannah
Bridesmaids - Judith Crawford, Alvida McIntosh, Olivia Gilmore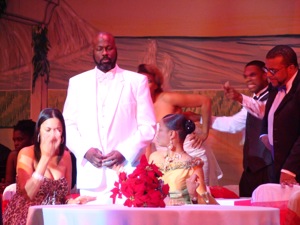 Groomsmen - Steven Bell, Joe Bell, K. Richard Karim
Maid of Honor: Barbara - Nishon Brown
Best Man: Albert - Brian Hunter
Photographer: Edwin Thompson
Poetry - Kayo
Narrators - Naomi Caesar, Rodney Harrison
Hostesses / Waitresses - Ismay Phillips, Sharon Brown, Donna Grant, Theda Campbell
Models & Guests - Joe Bell, Arlene Boyce, Sharon Brown, Theda Campbell, Eleanor Caviness, Camille Codner, Judith Crawford, Margaret Curtis,
Cecilia Donovan, Daisy Gadson, Clara Glasgow, Donna Grant, Brenda Gross-Nixon, Debbie Harrison, Alicia Johnson, Angel Joyner, Dexter Laughton, Glenmore Marshall, Denise Nero, Ebere Osu, Ismay Phillips, Walter Sanderson, Kristina M. Thomas, Estena Turner, Odette Wills, Vanetta Wright
Dancers - Iman Abdul (solo), Michelle Hunter, Glenmore Marshall, Dyavian McDowell, Amirah Reaves, Kristina M. Thomas, Estena Turner, Inayah Webster
Photos of The Wedding at York College Performing Arts Center
The following is a photo slide show or you can click this link to view the photo album of The Wedding at the York College Performing Arts Center in Jamaica.
$element(ophoto,photo_slideshow,169,520,,5.00,fade)$
---
Jamaica NY & Related Info
$element(adman,groupad,Catgry Wedding)$
Click this link to go to the Jamaica Neighborhood News / Jamaica Restaurants Guide & Map / Jamaica Business Directory / Jamaica Shopping Center and Map. Click here to view the home page of a provider of wedding halls / wedding receptions in LIC & Queens.
$element(adman,groupad,NHoodJamaica)$
Site Search Tips. To find restaurants, shopping or other things to do in any of the neighborhoods, use the search function: 1) For best results, when typing in more than one word, use quotation marks - eg "Astoria Park". 2) Also try either singular or plural words when searching for a specific item such as "gym" or "gyms".
$element(bwcore,insert_search,N)$
Click this link to search for something in our Queens Business Directory containing over 1,000 listings.
---
$element(adman,groupads,Sectional Ad)$
---
Click the log in link below to create an ID and post an opinion.
Or send this story to a friend by filling in the appropriate box below.
---