Flicks in the Garden
Moonlit Night Creates Enchanted Evening For Kids At Sunnyside Gardens Park
September 22, 2012 / Things to do in Sunnyside / Queens Buzz. The weather was nearly perfect this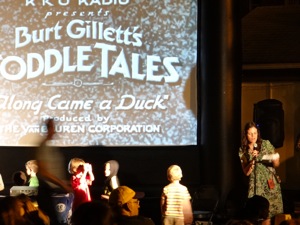 past Saturday evening. Temperatures were in the high 70's and it was dry as I made my way to Sunnyside Gardens Park to take a look into the second annual Flicks in the Garden event.
Last year Flicks in the Garden was done in tandem with the organizers of the Sunnyside Shorts Film Festival [which this year goes on indefinite hiatus], and this year the event morphed into an animated film series for the kids. The event organizers, Emilie McDonald and Tammy Arnstein, are both moms as well as members of Sunnyside Gardens Park; where the event was hosted. It's also worth mentioning that both Emilie and Tammy are independent filmmakers.
The animated films were curated by an avid animation print collector, Tommy Jose Stathes of Flushing. Click here to read the rest of our report about Flicks in the Garden at Sunnyside Gardens Park.
---
Flicks in the Garden
Moonlit Night Creates Enchanted Evening For Kids At Sunnyside Gardens Park
September 22, 2012 / Things to do in Sunnyside / Queens Buzz. I had an opportunity to talk to Tommy Strathes about his passion and the films to be shown this evening. Tonight we would see some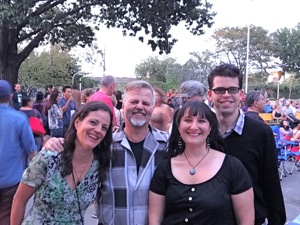 of the classics including Betty Boop, Popeye and Felix The Cat. None of them were produced in Queens [one of Paramount Studios was located in Astoria in 1920's], but several of them were produced in Manhattan at a Paramount Studio on 44th Street near Times Square.
In the photo to your right are from left: Emilie McDonald, Paul Maringelli, Tammy Arnstein and Tommy Jose Stathes.
Cartoons On Film – Tommy Jose Stathes
Stathes started videotaping as a youngster and began seriously collecting animated prints in his teens. He started buying prints from antique stores, other collectors and eventually through ebay, paying as little as $5 and as much as hundreds of dollars for each print. His passion, became his hobby, and appears to have evolved into a successful business which Tommy manages through his website cartoonsonfilm.com. Tommy, age 23, is also a student at Queens College studying … what else … but film.
Copyright Term Extension Act of 1998
Tommy told us that the proprietary rights to most of the animated films in his collection have expired. He informed us that many of the rights had expired prior to the Copyright Term Extension Act of 1998 which extended an author's rights to their work from: 1) their lifetime plus 50 years, to 2) their lifetime plus 70 years. Corporate copyrights were extended to 120 years from creation of the work, or 95 years from the time of first publication. There was an exception for the copyright extension – that being all copyrights previously expired and in the public domain. Any copyright prior to 1923 was not included and is in the public domain.
Flicks in the Garden at Sunnyside Gardens Park
Emilie and Tammy had done a nice job of organizing the event. They featured an Irish
'warm up band', the New York Trad, wherein Peadar Hickey and Pio Ryan played some fancy fiddling music for the kids to dance to. The kids sure seemed to enjoy it, as you can see in the photos. You can find these folks at newyorktrad.com and please note that I took some poetic license above as they play banjo and guitar.
After the music, accompanied by pizza and popcorn, ended; the sun settled over the horizon and the silvery moon came out. A few announcements were made to thank the sponsors [see below] and City Councilmember Jimmy Van Bramer made a few
remarks. We shot a photo of him with Sunnyside graphic artist and musician, Paul Maringelli. Then came the animated films, with an old classic leading the way, followed by Popeye, Betty Boop, Felix and several others.
By the end of the evening, the dark of night had set in, and the kids had calmed down a lot … zzzz. So we made our way out of the garden under the flickering moonlit skies to home sweet home.
Sponsors of the event included Go Natural organic food on Queens Blvd, The Dog & The Duck restaurant on Skillman Ave, 99 cents Pizza Dealz on 49th Street, the office of CM Jimmy Van Bramer, Tiny You store for kids, Sunnyside Shines BID and Pink Icing on Queens Blvd.
Photo Slide Show of Flicks in the Garden at Sunnyside Park
The following is a photo slide show of the Flicks in the Garden event at Sunnyside Gardens Park. Use the arrow keys on the slide projector to move through the show at your own pace or click the link above to go to the photo album.
$element(ophoto,photo_slideshow,207,660,,5.00,fade)$
---
Sunnyside Neighborhood / Woodside Neighborhood Links
$element(adman,groupad,NHoodSSWS)$
Click on these advertisements for promotions, discounts and coupons by retailers and restaurateurs in Woodside, Sunnyside and nearby Queens.
Click this link to go to the:
Sunnyside & Woodside Neighborhood
Sunnyside Business Directory or Woodside Business Directory
Sunnyside & Woodside Real Estate or Events & Things To Do In Sunnyside & Woodside
Restaurants In Sunnyside & Woodside or Sunnyside & Woodside Shops & Shopping
---
$element(adman,groupad,Catgry Foodwine)$
Site Search Tips. 1) For best results, when typing in more than one word, use quotation marks - eg "Astoria Park". 2) Also try either singular or plural words when searching for a specific item such as "gym" or "gyms".
$element(bwcore,insert_search,N)$
Click this link to search for something in our Queens Business Directory. Also check out Taste of Sunnyside.
---
Click the log in link below to create an ID and post an opinion.
Or send this story to a friend by filling in the appropriate box below.
$element(adman,groupads,Sectional2 Ad)$
---