Hurricane Sandy On Its Way
The Facts vs The Fear of the Approaching Storm
October 28 2012 / Weather in Queens / 8 pm Sunday night / Queens Buzz. As currently predicted by the National Weather Service, NYC is not in the direct path of Hurricane Sandy. According to the National Weather Service, high winds are forecast to hit Queens starting Monday morning, with the prime time for high winds of between 30 to 50 miles per hour expected to occur between the hours of 2 pm and about midnight on Monday. Wind gusts could go as high at 75 mph. Please be careful as high winds can tear loose objects and cause harm to people and property.
We are expected to get somewhere in the neighborhood of two to four inches of rain according to the National Weather Service. And they predict the possibility of the two to three foot tidal surge in our area, with a possibility of six to eleven foot surges. In Queens, some flooding is expected, particularly in southern Queens, with the possibility of power outages. As in the case of most hurricanes hitting Queens County, the Rockaways & Hamilton Beach are most at risk by a wide margin.
Click here to read more about Hurricane Sandy in Queens, including public infrastructure shutdowns.
---
Hurricane Sandy On Its Way
The Facts vs The Fear of the Approaching Storm
October 28 2012 / Weather in Queens / 9 pm Sunday night / Queens Buzz. Continued. NYC / NYS Government Action.
Government Mandated Zone A Evacuations
In reaction to this pending weather system, NYS government again mandated that people evacuate Zone A. NYC made this same order in August of 2011 for Hurricane Irene, but most people stayed put in their homes with little by way of incidents to report. Most Zone A locations in Queens are in the Rockaways and Hamilton Beach, but a few are in Long Island City along the East River and Newtown Creek.
Be advised that the outcomes of the last storm are not reliable predictors of outcomes for the current storm.
Southern Queens Hurricane / Storm Emergency Evacuation Centers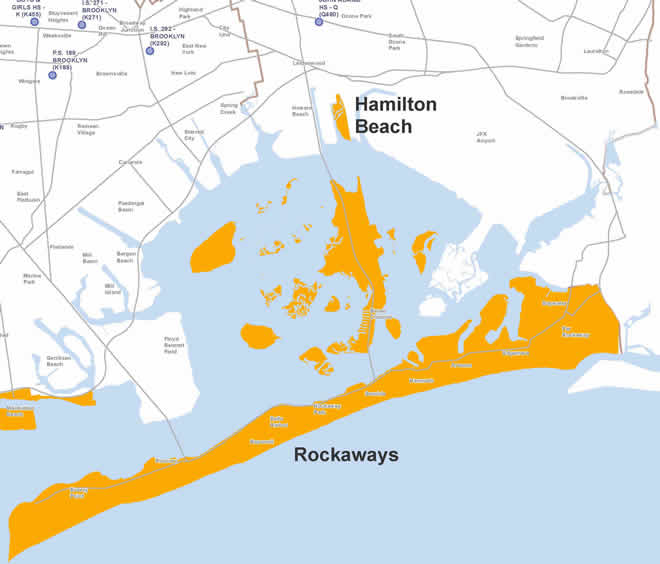 Public Transit Will Be Down Monday & Tuesday
The MTA will be shut down Monday and Tuesday. The MTA shutdown in Queens begins at 7 pm Sunday night until Wednesday. This is the second time within fourteen months that the MTA has been shut down. The first time was an NYC shutdown for Hurricane Irene in August 2011.
It's worth mentioning that in the prior century the MTA may have been shut down only once or twice since it began running in 1903 / 1904. It's well known from Hurricane Irene that shutting down public transit will result in a significant economic loss for most businesses and denizens of the city. Somewhere between 65 and 76 [we've seen differing reports of the numbers] Emergency Shelters will be open. Scroll to the bottom of this page to view a list of Emergency Shelters in Queens and the other boroughs.
Public Schools Will Be Closed Monday, Maybe Tuesday
Queens public schools will be closed on Monday and may be closed on Tuesday.
Monitoring The Storm Progress - National Weather Service Website
There are significant dangers associated with large weather systems and, as such, they should be taken seriously. But that said, we have technologies that enable us to fairly accurately forecast and monitor the path and magnitude of the systems.
Thanks to the internet, the general public can monitor the storm on their own by clicking into the National Weather Service website.
Storm Precautions - A Few Suggestions That Could Matter
There are a few things everyone should do, like stock up on water because it's the one substance, besides air, we can't live long without. It's also good to have some extra canned food or food that requires neither refrigeration or cooking, and a flashlight and a few candles that could last a long time. And lastly make sure you have some cash on hand [remember when the electricity went out and we couldn't use the ATMs] and a radio with batteries so that if all else fails, you can stay tuned to emergency radio broadcasts.
For home owners the list is far longer, but the one essential is to make sure there is nothing loose hanging around the house or yard. Depending on where you live it may make sense to cover windows from possible damage from high winds, and for those who experience flooding, do what you have to do in terms of moving things out of harms way and taking whatever preventative measures make sense.
Queens and NYC have a number of emergency evacuation centers open that provide beds, bathrooms and water in a building with security personnel. We have provided the list below.
Northern Queens Hurricane / Storm Emergency Evacuation Centers
Sometimes Weather Systems Are Nature's Way Of Giving Us A Day Off
The only real potential upside to any huge storm is getting a forced day off. Since you can't do much about the weather, you may as well make the best of it. Catch up with your family and friends, watch some old movies, listen to some old tunes, or go after that project you've been putting off for far too long.
Stay safe and may you enjoy your day(s) off. If you're interested, you can scroll down to links of our coverage of Hurricane Irene last year.
Emergency Shelters in Queens & Other Boroughs of NYC
1. Queens - Addresses for Public Emergency Shelters in Queens
• Queens College, 65-30 Kissena Boulevard
• Queensborough Community College, 222-05 56th Avenue
• York College, 94-20 Guy R. Brewer Boulevard
• Grover Cleveland High School, 21-27 Himrod Street
• I.S. 217, 85-05 144th Street

• Belmont Racetrack, Hempstead Turnpike & Cross Island Parkway
• John Adams High School, 101-01 Rockaway Boulevard
• P.S. 136, 201-15 115th Avenue
• P.S. 19, 98-02 Roosevelt Avenue
• I.S. 74, 61-15 Oceania Street
• J.H.S. 185, 147-26 25th Drive
• Bayside High School, 32-24 Corp. Kennedy Boulevard
• Forest Hills High School, 67-01 110th Street
• P.S. 175, 64-35 102nd Street
• William C. Bryant High School, 48-10 31st Avenue
• P.S. 20, 142-30 Barclay Avenue
• Newcomers High School, 28-01 41st Avenue
• P.S. 166, 33-09 35th Avenue
• Newtown High School, 48-01 90th Street
• Flushing High School, 35-01 Union Street
• Hillcrest High School, 160-05 Highland Avenue
• Aviation High School, 45-30 36th Street
2. Brooklyn - Addresses for Public Emergency Shelters in Brooklyn
• NYC Technical College, 300 Jay Street
• Park Slope Armory, 361 15th Street
• J.H.S. 57, 125 Stuyvesant Avenue
• I.S. 111, 35 Starr Street
• I.S. 117, 300 Willoughby Avenue
• I.S. 136, 4004 4th Avenue
• P.S. 189, 1100 East New York Avenue
• I.S. 246, 72 Veronica Place
• P.S. 249, 18 Marlborough Road
• I.S. 271, 1137 Herkimer Street
• I.S. 55, 2021 Bergen Street
• I.S. 292, 300 Wyona Street
• I.S. 383, 1300 Greene Avenue
• Franklin K. Lane High School, 999 Jamaica Avenue
• Brooklyn Tech High School, 29 Fort Greene Place
• Boys & Girls High School, 1700 Fulton Street
• John Jay High School, 237 7th Avenue
• Bushwick High School, 400 Irving Avenue
• I.S. 187, 1171 65th Street
• Franklin D. Roosevelt High School, 5800 20th Avenue
• Clara Barton High School, 901 Classon Avenue
3. Manhattan - Addresses for Public Emergency Shelters in Manhattan NYC
• City College, 181 Convent Avenue
• John Jay College, 445 West 59th Street
• Hunter College, 695 Park Avenue
• Baruch College, 155 East 24th Street
• I.S. 88, 215 West 114th Street
• I.S. 90, 21 Jumel Place
• I.S. 118, 154 West 93rd Street
• P.S. 171, 19 West 103rd Street
• Seward Park High School, 350 Grand Street
• George Washington High School Educational Campus, 549 Audobon Avenue
• Louis D. Brandeis High School, 145 West 84th Street
• High School of Graphic Communication Arts, 439 West 49th Street
• I.S. 136, 6 Edgecombe Avenue
• P.S. 154, 250 West 127th Street
4. Staten Island - Addresses for Public Emergency Shelters in Staten Island
• P.S. 80 (Petrides Complex), 715 Ocean Terrace
• I.S. 51, 20 Houston Street
• Curtis High School, 105 Hamilton Avenue
• Tottenville High School, 100 Luten Avenue
• Susan E. Wagner High School, 1200 Manor Road
5. Bronx - Addresses for Public Emergency Shelters in Bronx
• Lehman College, 250 Bedford Park Boulevard West
• Bronx Community College, 80 West 181st Street
• I.S. 201, 730 Bryant Avenue
• I.S. 98, 1619 Boston Road
• P.S. 102, 1827 Archer Street
• M.S./H.S. 141, 660 West 237th Street
• I.S. 145, 1000 Teller Avenue
• P.S. 211, 1919 Prospect Avenue
• P.S. 92, 700 East 179th Street
• P.S. 306, 40 West Tremont Avenue
• William H. Taft High School, 240 East 172nd Street
• Evander Childs High School, 800 East Gun Hill Road
• Harry S. Truman High School, 750 Baychester Avenue
• P.S. 5, 564 Jackson Avenue
---
Queens Weather - Hurricane Sandy in Queens
Click here to read our report before Hurricane Irene in August 2011 and after Hurricane Irene in Queens.
---
$element(adman,groupad,Catgry Foodwine)$
$element(adman,groupad,Catgry Realestate)$
---
Site Search. 1) For best results, when typing in more than one word, use quotation marks - eg "Astoria Park". 2) Also try either singular or plural words when searching for a specific item such as "gym" or "gyms".
$element(bwcore,insert_search,N)$
Click this link to search for something in our Queens Business Directory containing over 1,000 listings.
Send this story to a friend by filling in the appropriate box below.
$element(adman,groupads,Sectional Ad)$